By Lele Galer, Columnist, The Times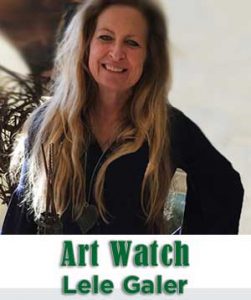 Fall First Friday Art shows are back, with the wonderful West Chester Gallery Walk and Kennett Square's First Friday Art Stroll – both happening this Friday October 6th from 5-9pm. With exciting new gallery openings as well as pop up art spaces at various local businesses, these First Fridays are a terrific, fun way to spend an evening.
Food, drinks and live music are usually part of these First Friday events, so make sure to allow time for parking and reserve a table well in advance for your Friday night dinner.  With art events going on from Downingtown to Wilmington, where to begin? Perhaps you could start  your weekend early on a Thursday, and head to Church Street Gallery in West Chester.
West Chester Gallery Walk is this Friday October 6th from 5-9pm with pop up art shows throughout West Chester.  For a link to the West Chester Gallery walk map of shops, galleries and art shows, go to:
http://greaterwestchester.com/wp-content/uploads/2017/09/GalleryWalkAutumnMap2017web.jpg
This First Friday October art week begins on Thursday October 5th from 5-9pm, with a special preview party for encaustic neo-pop artist Jeff Schaller, for his solo show "The Pleasure Principle" at Church Street Gallery  in West Chester.  Jeff Schaller combines his eye-catching images of beautiful women, colorful alcoholic drinks and candy bars, with advertising slogans and secondary imagery that invite the viewer to make some sense of it all.
His newest themes are "the cinema" where he irreverently merges iconic movie images with candy bars: Stars Wars with a Milky Way, and Superman with a Clark Bar. He also has a "Baby Ruth in a swimming pool"; can you figure out what movie that refers to?  When he thinks up these dualities, he hopes for the "ah-ha" moment, but admits, "I do it and then I wonder if anybody gets it. " Whether you get it or not, his images are expertly painted and full of fun and a sense of" Mad Men" style cool.   Jeff said that he is "Happy to be back in West Chester for my first solo show there in 8 years!"  If you have to miss the opening night, Jeff will also be in the gallery all during Friday's famous West Chester Gallery Walk the following day.
Just around the corner from Church Street Gallery, The Art Trust at the Meridian Bank is hosting "Rock, Paper, Scissors"  featuring the work of multi-medium artist Jeremy McGirl.  The title for the show continues the gallery's year-long theme of children's games, and I am excited to see what they came up with for "Rock, Paper, Scissors!"  Jeremy's work is a combination of drawing, paper cuttings and paint, that are used to create a private keyhole into a delightful world, full of color, songbirds and childhood memories.  Always packed with people, food and beverages, this fun-filled art openings at  The Art Trust is during West Chester Gallery Walk Friday from 5-9pm.  Also remember to check out Clay Days at the Chester County Art Association October 5,6, & 7, as well as at the Knauer Gallery  at West Chester University and Five Senses Gallery in West Chester.
In Kennett Square, First Friday's Art Stroll begins at Mala Galleria with the opening reception for celebrated West Chester artist Philip Jamison and local sculptor John Rush.  The art  reception is from 6 -9pm at Mala Galleria, located at 200 State Street in Kennett Square.  The show will include 35 original paintings by Philip Jamison as well as 14 wood sculptures by artist John Rush.  Originally Stella Scott, owner of Mala Galleria, had contacted John Rush for a solo show, and when Philip Jamison heard about the show he asked Stella to tell him when it was because he collected John Rush's work.  It turned out that John Rush is a huge fan of Mr. Jamison's artwork as well, and from their mutual admiration, the "Philip Jamison and John Rush Show" at Mala Galleria was born.  The show continues through October 30th, and it should be a huge treat to collectors of these two fine artists' works.
If you would prefer an artistic day outside of town, check out the beautiful  Ivystone Studio, located at 138 Moore Road in Downingtown, this Friday, October 6.   From 6-10pm, sculptor Remo will give an art demonstration of how to patina cast bronze.  Remo utilizes the "lost wax" method of sculpting  his bronze cast sculptures. Once Remo's works are cast into bronze,  he finishes them by applying metal patinas. According to the Philadelphia Museum of Art, "Patination is the process by which a metal object develops a thin layer of oxidized metal on its surface. This thin layer is called the 'patina,' and it can be formed intentionally (by using oxidizing chemicals) or unintentionally (by exposure to an oxidizing environment, such as polluted air)."  Watch as Remo heats up bronze to effectively take on a surface oxidation of an intentional patina through the application of chemicals. While you are there, be sure to check out the three-stories of paintings and sculpture that fill this one of a kind destination gallery.
Make sure to listen to Art Watch Radio on station WCHE am 1520 every Wednesday from 1-1:30 as various art hosts chat with local artists and art lovers about art in our area. This Wednesday October 4, clay artist Rhoda Kahler talks with fellow clay artists about Clay Days, happening this weekend.For past free podcasts of Art Watch Radio, go to www.lelegaler.com.