By Lele Galer, Columnist, The Times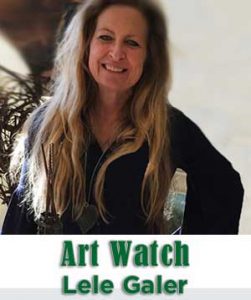 There are 100 different clay creatures (Clay-tons) hidden throughout Chester County by the 20 clay artists involved in the Annual Clay Days art exhibition. This year, "Clay Days" is revving up the excitement by including an art-inspiring treasure hunt all over the county.
If you find one of these hidden clay creatures, it is yours to keep, and the artists ask that you follow the instructions on the tag to post the finding on Facebook or Instagram to encourage people to come to the Clay Days exhibitions October 5,6, & 7, held at Chester County Art Association, October 3-29 held at The Knauer Gallery at West Chester University and on October 6-8 at Five Senses Gallery in West Chester. What a great way to get involved in this exciting clay art event!
The Clay Days artist group is comprised of 20 local clay artists who show together once a year. Clay artist Harriet Wentz started the group several years ago with a fabulous Clay Days show in her home in West Chester. The show grew in size and was so much fun for the artists and the buyers, that when Harriet moved to Oregon, she made sure to find "Clay Days" a new West Chester home, which is now the Chester County Art Association. This year Clay Days falls on the same weekend as "First Friday Gallery Walk" in West Chester – which is a huge art event all over downtown West Chester that happens twice a year. During Gallery Walk on October 6th, dozens of stores become mini-pop-up art galleries to showcase local artists. Many stores, including Five Senses Gallery on Market Street in West Chester, will be highlighting the work of ceramic artists, in conjunction with Clay Days. Five Senses will be featuring clay works by Bob Deane, Rhoda Kahler and Mitch Lyons.. on Gallery Walk Friday, and all weekend long.
At the Knauer Gallery in West Chester University, artist Andrew Snyder will have live clay demonstrations all Saturday, October 7th (please check the University website for exact times), and he will be showing in the Knauer Gallery all month long with fellow clay artists and students. Andrew Snyder was featured on the cover of this month's West Chester FIG magazine, which has a great article about him and his beautiful work. Andrew Snyder is Assistant Professor of Ceramics at West Chester University as well as a practicing ceramic artist.
Renown clay artist Rhoda Kahler and her friend and fellow ceramic artist Suzanne Kent came up with the idea of making little "Clay-tons" and hiding them all over Chester County. I happen to see Rhoda at last week's grand Anniversary opening and "Graham, Galer & Durnin" art show at Gallery 222 in Malvern, and I saw her hide a "Clayton" there.
Rhoda Kahler must be one of the busiest artist in all of Chester County. At Station Gallery in Greenville, Rhoda Kahler and clay artist Mitch Lyons will have a show "Twogether" opening October 6th, through October 28th. The show will feature the gorgeous clay monoprints and ceramic vessels of Mitch Lyons and Rhoda Kahler's sculptures as well as her signature tiles pieces. This Wednesday night, September 27, Rhoda Kahler will be at the Oxford Arts Alliance's "Artists Talk" to discuss the current "Schaller, Friends and Family" show at the Oxford Arts Alliance. Encaustic artist Jeff Schaller put together this wonderful gallery show that includes works by Jeff Schaller, his daughter Mia Schaller, and fellow artists Heather Davis, Paul Downie, Teresa Haag and Rhoda Kahler. For a particularly special treat, check out the collaboration artworks by each of these artists. I love the rounded sculptural form created by Rhoda and painted over by Jeff Schaller – what fun! Make sure to check out the Artists Talk this Wednesday September 27th at 7pm at the Oxford Arts Alliance!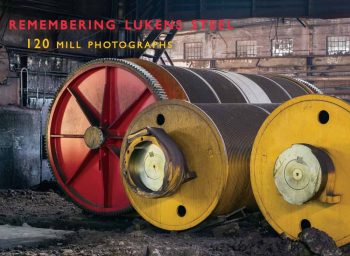 This Thursday, September 28th from 5-7pm join the photographers of "Remembering Lukens Steel" for an artist's reception at the Luken Executive Office Building, 50 South First Avenue in Coatesville. "Remembering Lukens Steel, 120 Mill Photographs" is located at the National Iron & Steel Heritage Museum in Coatesville . The exhibition showcases images by ten Pennsylvania photographers: Anita Bower, James Bryan, Vincent Feldman, William Hill, R. Andrew Hoff, Eric Loken, Janet Martin-Aylam, Stephanie Thorn, Irene VanBuskirk, and Cheryl Lee White. Photographs in the exhibition were created in a workshop organized to memorialize Coatesville's industrial landscape.
Photographers were granted unique access to the former Lukens Steel Mill 120 on the grounds of the National Iron & Steel Heritage Museum. The site afforded views of iconic steel structures that were fabricated in Coatesville, including the Tridents (trees) from the Twin Towers and a nuclear submarine sonar sphere. The show continues through December 28th. Coatesville is experiencing a huge artistic rejuvenation right now that is very exciting, and The Art Partner's Studio, which is responsible for "Remembering Lukens Steel" is a huge part of kick starting this new vitality to Coatesville.