By Denny Dyroff, Staff Writer, The Times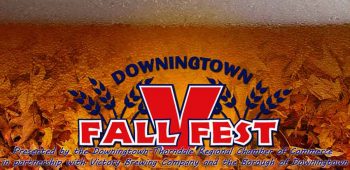 Things will be hopping in Downingtown on September 24 when the Victory Brewing Company, the Downingtown-Thorndale Regional Chamber of Commerce and the Borough of Downingtown join forces to present the 11th Annual Downingtown Fall Fest (East Lancaster Avenue between Wallace Avenue and Green Street, Downingtown, 610-514-7000,http://downingtownfallfest.com).
The popular street festival, which runs from noon-4 p.m. and will be held rain or shine, will feature live music, a wide assortment of vendors, and the Victory Beer Garden.
The Victory Beer Garden featuring the Brewpub on Wheels will be located in the parking lot next to Minquas Fire Department. There is no cost to enter the beer garden.
Food and beer will be available for purchase the beer garden. Children are permitted inside the fenced area but must be supervised by an adult at all times.
Live entertainment will be provided by the Downingtown School of Rock House Band, Tommy Froelich Duo, the Walton Marquette Project, and Gina Miller & Friends.
The roster of food and beverage providers includes Amani's, PJ Whelihan's Pub, Righteous Felon Beef Jerky, Victory Brewing Company, Mid-Atlantic Food Service, Crossan Concessions, Dia Doce, J-Dogs Catering, Gigi's & Big R Soul Food, Deke's Food Truck, D's Nuts, Ka'Chi, Nabrasa Brazilian Steakhouse, and Nooner's Wood Fired Pizza.
Aldso participating will be Old Red BBQ, Philly Fry, Race to Taste Curbside Grill, Ruffin-it BBQ, Thai Master Grill, Timothy's Lionville, Dos Hermanos Tacos, Kona Ice, Shripman Inc., The Cow and The Curd, Blazing Swine BBQ, Katja's, Rita's Italian Ice, and The Happy Pita.
Additionally, more than 120 vendor and display booths will be set up at the festival covering a wide range of interests.
The all-ages event is free and open to the public.
The Chaddsford Winery Harvest Festival will be held September 23 and 24 at the Chaddsford Winery (632 Baltimore Pike, Chadds Ford, 610-388-6221,http://www.chaddsford.com).
The festival will feature an onsite Oktoberfest Bier + Wein Garten with German-style beers and warm Bavarian pretzels, expanded complimentary tours at 11 a.m. and Reserve Winery Tours at 12:30, 2:30, and 4:30 p.m. that offer an inside look at cellar activity during the height of production.
There will be complimentary samples of select premium wines. Other items available for purchase are Specialty Wine Cocktails, Citrus-Fruit Infused Sangria + Chester County Cooler, and Sweet Tea Wine Slushies featuring Spiced Apple Wine.
The "Live Music Schedule" features Sam Capolongo and MK & Col on September 23 and Drew and Colin on September 24.
The "Food Truck Schedule" includes Mama Mia on September 23 and 24.
Admission is free, and all wine and food purchases are pay-as-you-go.
Galer Estate Winery (700 Folly Hill Road, Kennett Square, 484-899-8013, www.galerestate.com) has three special events happening this weekend starting with the "First Day of Fall Harvest Walk" on September 22 from 6-8 p.m.
Participants pay $10 for a glass of wine with light pairings and also receive a guided tour of our Red Lion Chardonnay Vineyard by Galer's Winemaker, Virginia Mitchell.
There will also be live entertainment by Christine Kinslow from 5-7 p.m.
On September 23, there will be live music by Denise and Max from 5-7 p.m.
September 24 will feature the winery's "Huricane Irma Relief Day" with 10 per cent of all proceeds going to relief efforts in Florida.
On September 22 and 24, "Yoga in the Vineyard" will be presented by Penns Woods Winery (124 Beaver Valley Rd, Chadds Ford, 610-459-0808, www.pennswoodswinery.com).
According to Penns Woods people, the aging of wine is a noble process that can serve as a metaphor for healthy aging of a human being.
As a result, they are inviting visitors to enjoy a 60-minute gentle yoga class with MERRYoga in their vineyard followed by a wine tasting and local light bites farmers plate. The experience will emphasize youth, not as skin and muscle tone, but as "the vibrancy of spirit when balance is practiced."
Each class is $35 and includes the yoga class; wine tasting of five wines with plate including a selection of fresh and local veggies, cheeses, and crackers; a Penns Woods Winery souvenir wine glass; and 10% off all wine purchases after the class. Participants are instructed to wear comfortable clothing, dress for the weather and bring a yoga mat.
The "Sunset Yoga Class" will be held on September 22 at 6 p.m. The "Sunday Morning Yoga Class" will be held on September 24 at 10:30 a.m.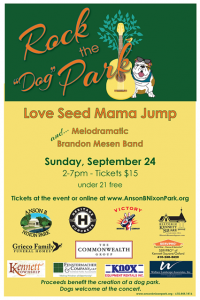 If you're looking for a rocking good time this weekend, head to Anson B. Nixon Park (North Walnut Road, Kennett Square, www.AnsonBNixonPark.org) on September 24 for "Rock the Park 2017," a live concert by local band favorite Love Seed Mama Jump.
The rocking sextet from Dewey Beach, Delaware is celebrating its 26th anniversary this year.
The opening acts are Melodramatic and Brandon Mesen and his band, "Mesén Around."  Love Seed Mama Jump will finish the show with a set slated to begin at 4 p.m.
Beer from Victory Brewing Company and wine from Paradocx Vineyard will be sold to adults. ID is required for anyone wishing to drink alcohol. There will also be a variety of food truck vendors.
Activities throughout the afternoon include sports demonstrations by the Kennett Area YMCA and Bike Kennett.  Face painting and a moon bounce are planned for kids and a selection of Silent Auction items will offer temptations for all.
The Park gates at North Walnut Road in Kennett Square open at 2 p.m. Admission is $15 for adults and free for anyone under 21. There is no charge for parking.
The Chadds Ford Historical Society (1736 North Creek Road, Chadds Ford, www.chaddsfordhistory.org, 610-388-7376) looks back at history – both normal and paranormal.
This fall, the society has a number of events that focus on the paranormal.
The CFHS is hosting two paranormal-themed events at its site designed to get visitors into the "spirit" — Paranormal 101 introductory classes and Paranormal Investigations.
At the Paranormal 101 class, participants will learn about the tools, techniques and process that Delmarva Historic Haunts uses to explore ghostly paranormal activities.
This fall's Paranormal 101 Class will be conducted by Delmarva Historic Haunts and hosted by the Chadds Ford Historical Society. This class will prepare participants to get involved in the Paranormal Investigations.
Paranormal 101 Classes are scheduled for September 21 and October 5.
The Paranormal Investigations will feature paranormal fun while the staff and the experts investigate different locations at The Chadds Ford Historical Society.
Participants will learn about the tools that Delmarva Historic Haunts uses to explore paranormal activities and will participate in investigations first-hand at the Society's historic site.
Paranormal Investigations are scheduled for September 23 and October 14. Tickets are $25.
Chester County's annual schedule of equestrian activities is getting near the end – but not quite yet.
The annual Dressage at Devon (Devon Horse Show grounds, Lancaster Avenue, Devon, 484-358-5510, http://dressageatdevon.org), is running from September 26-October 1.
The popular annual event combines world class dressage competition and the world's largest open breed show. The six-day event attracts hundreds of horses from around the world and thousands of spectators.
The event also includes the Fall Festival at Dressage at Devon, which features a large selection of vendors and an equally large number of specialty boutiques where visitors can shop for arts and crafts, clothing, horse-related items and gourmet food.
Tickets are $10 for adults and $5 for children (ages 3-12).
This is the time of the year when you can treat your taste buds to a wide array of authentic cuisines from around the world and never have to step foot inside a restaurant.
When autumn arrives, there are ethnic food festivals almost every weekend. The schedule for the next week has events representing western Europe (Greece) and eastern Europe (Poland).
The 40th Annual Greek Affair at St. Luke's Greek Orthodox Church (35 North Malin Road, Broomall, 610-353-1592, www.st-luke.org) is running now through September 24.
The free festival focuses on food — tasty Greek main dishes such as moussaka (eggplant dish), shish-ka-bob (meat and vegetables on skewers) and placki (fish) and Greek dessert treats including baklava (phyllo, nuts and honey) and kataifi (shredded wheat and nuts).
Other activities at the free popular annual event are midway rides, vendors with crafts and Greek items, live music by Greek-American bands and folk dancing demonstrations. Additionally, the Taverna will be open from 9 p.m.-midnight on Friday and Saturday.
Fans of polka music, Polish beer and Eastern European cuisine that features fresh and smoked kielbasa should head to the St. Hedwig's Polish Festival (Frawley Stadium parking lot, Wilmington Riverfront, Wilmington, Delaware, 302-594-1400, www.polishfestival.net) which is running now through September 23.
The 61st annual staging of the festival offers a variety of Polish treats including placki (potato pancakes), pierogis (dough filled with cheese and/or potato, holubki (stuffed cabbage), kielbasa (sausage) and chruschicki (bow cookies).
The free festival will feature a full slate of live entertainment featuring Melody Sounds III Band on September 22 and The Golden Tones on September 23.
Dinner will be served Friday from 5-10 p.m. and Saturday from 3-10 p.m. The Midway, which is a large midway with over 20 rides along with a variety of amusement games, will open at 6 p.m. each night.
This weekend, Winterthur Museum, Garden and Library (Route 52, Wilmington, Delaware, 302-888-4600, www.winterthur.org) will host the "Winding River Fashion Jackets Trunk Show."
The event will be held in the Galleries Reception Area from September 22-24 from 10 a.m.-4 p.m. each day.
Winding River Jackets are billed as the perfect accent to any outfit.  Made in America, the fabrics are woven to be wrinkle resistant which makes them just right for traveling.
All purchases help support Winterthur's educational programming.
Visitors to Winterthur will also be able to check out the site's latest exhibition.
"Treasures on Trial: The Art and Science of Detecting Fakes," is a major exhibition offering visitors a Sherlock Holmes-style investigation of some of the most notorious fakes and forgeries of our time.
"Treasures on Trial" includes 40 examples of fakes and forgeries associated with masters such as Henry Matisse, Coco Chanel, Paul Revere, Antonio Stradivari, Louis Comfort Tiffany, and others. The pieces on display have been drawn from the Winterthur Collection and public and private sources.
The exhibition offers visitors the opportunity to view a broad range of works that provide a rather startling view of the scope and sophistication of the counterfeiting market – including fine art, sports memorabilia, couture clothing, wine and antique furniture.
The new exhibition will close on January 7, 2018.
Admission fees for Winterthur are $20 for adults, $18 for seniors (62 and older) and students (12 and older) and $5 for children (ages 2-11).
The Greater Philadelphia Expo Center (100 Station Avenue, Oaks, 484-754-EXPO, http://www.phillyexpocenter.com) is hosting two events this weekend — the Americana Indian Art & Jewelry Show from September 22-24 and the East Coast Reptile Super Expo on September 23.
American Indian art has become a popular motif for home decorating — especially artwork produced in the American Southwest. This weekend, you can find a lot of examples of this art style at the show in Oaks.
This show provides visitors with an excellent opportunity to get a look at artifacts and other items related to the history of Native Americans. The show is presented by Americana Indian and Western Shows and admission is free.
The Americana Indian and Western Gallery had its beginning in 1947 when its founder Lee Anderson attended school on a Navajo reservation and worked after school for his uncle in the trading post. The family collected American Indian art such as Navajo rugs, pottery, baskets, and other Indian and western items.
Anderson's sells Navajo, Hopi, Zuni, and Santo Domingo jewelry, as well as Navajo rugs, Hopi and Zuni kachinas, baskets, pottery, art and collectibles. One of the most respected Native American art dealers in the United States, Americana Indian Shows brings thousands of items direct from the Southwest to the show attendees.
Show hours are 11 a.m.-8 p.m. on Friday, 10 a.m.-8 p.m. on Saturday and 10 a.m.-7 p.m. on Sunday and admission is free.
The other show this weekend at the center in Oaks is definitely a not for anyone suffering from herpetophobia ("the fear of reptiles") or ophidiophobia ("the fear of snakes").
The East Coast Reptile Super Expo, which is always a well-attended event, will run from 9 a.m.-4:30 p.m. this Saturday. Tickets are $8 with children (under five) admitted free.
If you think snakes and lizards are interesting creatures and maybe even fun pets to own, you should check out the show on Saturday. A wide array of reptiles will be on display as part of the popular exhibition.
One of the show's main attractions is a sales exhibit area featuring a large number of vendors with live reptiles, amphibians and arachnids as well as food items, supplies, books, cages, and related accessories.
The roster of very diverse vendors includes Corralus Creations, Rogue Reptiles LLC, Garden State Tortoise LLC, Reptile Addicts, Bob's Critters, Franken Chams, MCO Reptiles Livecargo Pets &
Terrarium Supply, VSCV Ventures LLC, Outback Reptiles, Dachiu Dragons, Tom Rogan Reptiles, Native Exotics, Jon & Wess Reptiles.
This weekend, there will be a special event dealing with Native Americans at Norristown Farm Park (West Germantown Pike and Barley Sheaf Drive, 2500 Upper Farm Road, Norristown, 610-270-0215).
On September 24 from 10 a.m.-3 p.m., Norristown Farm Park will present its annual Native American Day. Blue Jay and Nokomis will be back with lots of Native American crafts, games, and please touch items for children.
Other presenters will be featuring demonstrations and displays of Lenape culture — including flint knapping, jewelry, clothing, tools, and foods.
The free event will also feature children's games and crafts. The activities will take place at the picnic pavilions near Parking Lot 3.
With the Major League Baseball playoffs and the World Series looming on the horizon, the interest in baseball is running high for sports fans.
It's a perfect time for collectors of sports memorabilia, trading cards, comic books and action figures to take a break from watching games and head out to a collectors' event. One of the top annual events — the Philadelphia Baseball Card and Sports Memorabilia Show at the Valley Forge Casino Resort (First Avenue, King of Prussia, 610-524-0822,www.phillyshow.com) — is running now through September 24.
Some of the familiar names on the long list of autograph guests are Roy Halladay, Lydell Mitchell, Bobby Shantz, Frank Thomas, Bill Bradley, Joe Pepitone, Herm Edwards, Bill Bergey, Bobby Wine, Ron Jaworski and John Montefusco.
Dealers from around the country recognize this show as an event where they can find a market for their highly specialized goods. Similarly, collectors know that if what they're looking for is out there, it will be there at the Philadelphia show. Collectors also know they will find excellent selections and competitive prices.
This weekend's event, which runs from 3-8 p.m. today, 9 a.m.-5 p.m. on Saturday and 10 a.m.-4 p.m. on Sunday, also features former professional sports stars as autograph guests.
Admission to the show is $8 per day or $21 for a three-day pass.
The show will feature more than 250 vendor booths with a huge array of sports memorabilia — ranging from highly collectible items from a century ago to the latest sports card issues featuring today's stars.
The Marshall Steam Museum at Auburn Heights Preserve (3000 Creek Road, Yorklyn, Delaware, 302-239-2385, http://auburnheights.org) will stage one of its major annual events on September 24 when it hosts Auburn Heights Invitational Historic Auto Display.
The annual Auburn Heights Invitational features an exceptional array of historic automobiles from the classic era. This year's fundraiser event includes a spotlight display on roadsters and runabouts, alongside a broad representation of high-end motor cars from the dawn of the automotive age through 1942.
Selection is based on significance of the marque, authenticity, presentation and the history of the vehicle. Limited to approximately 20-25 autos, the Auburn Heights Invitational offers a rare opportunity to compare and contrast early and later classic-era vehicles — all at the elegant Auburn Heights estate.
Some of the featured vehicles will be 1906 Stanley Vanderbilt Cup Race Car, 1907 Stanley Model K Semi-Racer, 1911 Mercer Raceabout Model 35R, 1913 Mercer Raceabout Model 35J, 1916 Pullman Speedster, and 1920 Mercer Series 5 Raceabout.
More than just a car show at a classy venue, attendees enjoy delicious fare by the Country Butcher Fine Foods Inc., wine and beer tastings, ice cream from Woodside Farm Creamery, rides on the Auburn Valley Railroad and tours of the Auburn Heights Mansion, plus special exhibits and presentations, a silent auction, raffle and more.
The event will get underway at 12:30 p.m. and admission is $25.
The first continuing Halloween attraction of the 2017 season is arriving this weekend.
"Terror Behind the Walls" (Eastern State Penitentiary, 2124 Fairmount Avenue, Philadelphia, 888-763-NITE, www.easternstate.org), will celebrate the new season with its opening weekend that starts today.
The truly scary attraction, which is running through November 11, takes place at a penitentiary site that was once was an active prison and is now a National Historic Landmark. It is a scream-inducing event featuring laser and special-effect lighting, digital sound, sinister scents, animatronic creatures and 3-D illusions.
A new attraction this year is "Blood Yard." It will join the previous attractions – "Infirmary," "Machine Shop," "Lock Down," "Break Out!," and "Quarantine 4D."
Admission prices, which vary with the date, range from $19-$45.
It's time to welcome autumn and one of the best ways to do this is by checking out the corn mazes at Ramsey's Farm (Ramsey Road, Wilmington, Delaware, 302-477-1499,www.ramseysfarm.com). The farm's event season lists September 23 as 2017's "Opening Day."
Corn mazes, along with hayrides, a pumpkin patch and scarecrows, will be featured at Ramsey's Farm, which is located in northern Delaware on Route 92 just south of the Pennsylvania-Delaware state line. The new season runs on weekends now through October 30.
Ramsey's "Pumpkin Patch" has been in operation since 1995 and the farm's varied mazes have been delighting and baffling visitors who return each year for the popular annual event. The owners of Ramsey's Farm raise pumpkins, gourds, ornamental corn, popcorn, feed corn and hay.
The farm's pumpkin field stretches over 12 acres and yields approximately 20,000 pumpkins each season. Hayrides around the farm will be offered from 11 a.m.-5 p.m. each day. Visitors will be able to shop for pumpkins and other items at the farm store. There will also be hot food and beverages available for purchase.
Tickets are $7 for the corn maze, $4 for the sorghum maze, $3 for the hay maze, $2 for pumpkin painting and $3 for a hayride.
This is the time of the year when farms in the area become a bustle activity — a time for harvest. But, it is not harvest matters that are causing a bustle of activity at Cherry Crest Adventure Farm in Ronks (150 Cherry Hill Road, Ronks, 717-687-6843, www.cherrycrestfarm.com).
The farm's popular annual "Flashlight Maze" is now underway and will continue every Friday and Saturday night through November 4. Cherry Crest Adventure Farm has reserved several weekends during the autumn months for Flashlight Maze.
This special activity allows visitors to experience the Amazing Maize Maze in total darkness. All you need are flashlights and a few friends.
The Flashlight Maze is a nice, non-scary, Halloween alternative that has appeal for people of all ages. The Flashlight Maze, which has a $12 admission fee, is open from 6:30-10 p.m. with the last entrance into the Maze at 9 p.m.
The main attraction is Cherry Crest's "Amazing Maize Maze," which is billed as "the world's most dynamic and interactive corn maze." It is a five-acre corn maze with over two-and-one-half miles of paths, scenic bridges, and clues.
Participants can walk at their own pace as they encounter the "Kernels of Knowledge" along with a variety of clues, tunnel slides, and watering stations. They can also check out a bird's eye view from the two bridges and watch everyone's flags waving high above the corn.
The average time to complete the "Amazing Maize Maze" course is one hour. Tickets are $17 on Thursday and Fridays and $20 on Saturdays.
The Ratha Yatra Festival (Benjamin Franklin Parkway in front of the Museum of Art, Philadelphia, 215- 247-4601, http://iskconphiladelphia.com), which is scheduled for September 23, is one of the oldest continually celebrated spiritual festivals in the world.
It is celebrated by devotees of Lord Krishna all over the world.
Ratha Yatra, the festival of the chariots, is a procession of Lord Krishna in his form of Jagannatha, Lord of the Universe. Traditionally held in Puri, eastern India, where hundreds of thousands of pilgrims sing and dance in the procession, the festival now takes place in cities globally.
Every year in September, their Lordships Sri Sri Jagannath, Baladeva and Subhadra Devi grace the streets of Philadelphia in a Parade of Chariots beginning from Love Park and ending at Eakin's Oval, in front of the Philadelphia Museum of Art. Following the parade, a grand festival is held at Eakin's Oval, complete with music, workshops on yoga and meditation, dance performances, exhibits, gift shops, and a spectacular vegetarian and vegan feast.
The free annual event runs from 11 a.m.-7 p.m.
The Reading Terminal Market (51 North 12th Street, Philadelphia, www.readingterminalmarket.org) will present "Global Feast: A Celebration of Philadelphia's Cosmopolitan Canopy Through Food and Culture" on September 23 from 10 a.m.-4 p.m.
In partnership with Peace Day Philly, the Reading Terminal Market will celebrate the diversity of cultures in Philadelphia through intercultural food demos in City Kitchen, live world-fusion music, children's activities and an interactive public art project.
This weekend, it's time once again for the Scarecrow Competition and Display at Peddler's Village (Routes 202 and 263, Lahaska, 215-794-4000, www.peddlersvillage.com).Hours are 10 a.m.-6 p.m. both days.
Visitors can also stroll around the Village to see the Scarecrow Competition and Display, which showcases more than 100 creative and colorful scarecrows. The Scarecrows are on outdoor display through October 29.
The public is invited to vote for the winners. Ballots are available in all shops and restaurants. The ballot boxes are located in the Hospitality Center at the Cock 'n Bull, Giggleberry Fair, and Buttonwood Grill.
On September 15 and 16, Linvilla Orchards (137 West Knowlton Road, Media, 610-876-7116, www.linvilla.com) is hosting its annual Apple Festival.
Linvilla Orchards' Apple Festival honors apples every autumn. This legendary festival is hosted by Makin' Music – a band that will also be performing both days.
"Pick Your Own" apples are at the height of their season and visitors who want to pick can choose from a wide variety grown in Linvilla's orchards.
As always, loads of fun will be had by competitors and spectators at the annual apple pie eating contests.
Pumpkinland will also be in full swing. The family-oriented activity features costumed characters, games and contests and live music.
Another attraction, which runs through October 30, is "Hayride to the Witch's House." Admission is free and hayrides are $9 per person. There will also be "Harvest Hayrides" and "Autumn Moon Hayrides" starting later in September.
The Pennsylvania Renaissance Faire (Pennsylvania Renaissance Faire Shire, Mount Hope Estate and Winery grounds, Route 72, Cornwall, 717-665-7021, www.parenfaire.com) is hosting its "Time Travelers" event on September 23 and 24.
From 11 a.m. until 8 p.m. each day, the huge faire will be dedicated to time travelers.
The soothsayers have foreseen a chronological convergence of time travelers, doctors, treckers of the stars, the steam-punkified, slayers and many more of the fictions of science as they gather upon the Shire of Mount Hope.
At the Adult Costume Exhibition, all adult time travelers are invited to gather for an exhibition of their most creative fashions, Stand-out participants will receive wondrous prizes.
At the Children's Costume Exhibition, youngsters are invited to show off all your finery for the whole Shire.
With Royal Dog Days, His Majesty has issued an invitation to the lover of dogs to join him and the Royal Hounds upon the Fairegrounds Saturdays and Sundays in September.
Admission is $31.95 for adults and $11.95 for kids ages 5-11.
If you're looking for something different to do, check out "Cai Guo-Qiang: Fireflies" on the Benjamin Franklin Parkway, Philadelphia (http://www.associationforpublicart.org/project/cai-guo-qiang-fireflies/#opening).
The display, which is internationally-renowned artist Cai Guo-Qiang's largest public art project in the Unoited States in a decade, was commissioned by the Association for Public Art with Fung Collaboratives on the occasion of the Benjamin Franklin Parkway's centennial.
Running through October 8, it will feature 27 customized pedicabs adorned with hundreds of luminous colorful lanterns that will glide along the Parkway at night — drawing on memories of the traditional lantern festivals of the artist's childhood
Free public rides in the pedicabs will be offered Thursdays through Sundays from 6-10 p.m. with one-way trips from Iroquois Park to Sister Cities Park and vice versa. Walk-ups are welcome and online reservations can be made.
Philly's Cheesesteak and Food Festival is scheduled for September 23 from 12:30-5 p.m. at Citizens Bank Park (Pattison Avenue and 11th Street, Philadelphia,www.cheesesteakfest.com).
The event's debut two years was a huge success and last year's festival took it to new heights with an expanded line-up of offerings, including other traditional Philadelphia foods such as hoagies, roast pork sandwiches, pretzels, and water ice.
Premium tickets, which are $45, include 10 samples, two Philadelphia Phillies game tickets and free parking. VIP tickets, which are $65, include 15 samples, two Philadelphia Phillies game tickets, free parking, 90-minute early entry, access to the VIP rooftop and a commemorative festival hat.
General admission is $20 with children (ages eight and under) admitted free.
Celebrating its 33rd anniversary in 2017, Chestnut Hill's Fall for the Arts Festival is returning to the Chestnut Hill Brewing Company (8229 Germantown Avenue, Philadelphia,https://chestnuthillpa.com/events/fall-for-the-arts-festival) on September 24.
Philadelphia's Garden District kicks off the fall arts season with more than 100 artists, along with live entertainment, al fresco dining, and artisan shopping along Germantown Avenue between Willow Grove and Rex Avenues.
Visitors are invited to enjoy a day filled with art, music, culinary delights, and boutique shopping. Germantown Avenue will be transformed into an outdoor arts and crafts marketplace, and will serve as a backdrop for artists from here to as far away as New Mexico.
The Makers Village will be back for its third consecutive year and will celebrate both the beauty of a finished piece of art as well as the act of making it.
Admission to the festival is free. Rain date is October 1, 2017.
On September 23, the annual Chinatown Mid-Autumn Festival (10th and Arch streets, aaunited.org) will take place at the China Friendship Gate from 12:45-6 p.m.
Officially billed as "The 22nd Annual Mid-Autumn Festival
Promoting the Culture & Well-Being of Our Community," the family-friendly event will feature a carnival, arts activities, a mooncake-eating contest and other kids' attractions.
Visitors
can enjoy a variety of live performances including music, dance, Tai Chi, Kung Fu, and Beijing Opera.
Other festival highlights are a Dragon Dance, a Lion Dance and a Lantern Parade through Chinatown. Lanterns will be available for purchase.
Philadelphia's Puerto Rican Day Parade (16th and Benjamin Franklin Parkway, elconcilio.net) is scheduled for September 24 from 10 a.m.-2 p.m.
Each year, Concilio hosts the Annual Puerto Rican Festival Parade, a vibrant event which has been woven into the Philadelphia fabric for many years.
The parade is a celebration of Puerto Rican culture in the Delaware Valley community, and each year it follows a particular theme.
The 2017 theme is "The Rhythm of Our Culture/El Ritmo de Nuestra Cultura."
Participating groups get the opportunity to display this theme and put their cultural pride on display for friends, family and members of the community.
Held on the Benjamin Franklin Parkway, the Puerto Rican Festival Parade typically has around 1,500 marchers; more than 5,000 attendees; and 96,000 watching it broadcast live on 6ABC.
Here's something good to do on September 22 — have a brew or two and help the zoo. From 5:30-9 p.m., the Brandywine Zoo (1001 North Park Drive, Brandywine Park, Wilmington, Delaware, 302-571-7747, www.brandywinezoo.org) is hosting its annual "Brew at the Zoo."
Visitors to the zoo, which is located in Brandywine Park along the banks of the Brandywine Creek in downtown Wilmington, will be able to enjoy ice cold craft beer and ale from local distributors and chow down on delicious food from local restaurants such as Chelsea Tavern and Two Stones Pub. Tickets are $50 at the door with $25 tickets available for designated drivers.
An event that takes a look back a different era in American history will take place on September 23 and 24 at the Colonial Pennsylvania Plantation (Ridley Creek State Park off Route 3, Media, 510-566-1725, www.colonialplantation.org). The historic site just outside Media will host its annual "Civil War Battle and Camp."
The South is invading Pennsylvania again. Visitors to the Colonial Pennsylvania Plantation will have the opportunity to observe firearm demonstrations, drills, a burial squad, camp life and use of herbs in the 1860s.
There will be a period fashions on display as well as glimpses at what civilian life was like during that era. Battles will take place on Saturday at noon and 4 p.m.  Sunday's battle will be at 2 p.m.
In the skirmishes, the army of the North will attempt to defend the plantation against the invading forces from old Dixie.
The Colonial Pennsylvania Plantation is an 18th-century living history farm museum located within Ridley Creek State Park. It is most easily reached via the park's Route 3 entrance just west of Newtown Square.
The event will run from 11 a.m.-5 p.m. on Saturday and 11 a.m.-3 p.m. on Sunday. Admission is $12 for adults and $8 for children (ages 4-12).