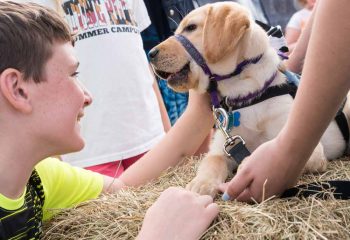 COATESVILLE — Join Canine Partners for Life (CPL) for its annual Open House and Cow Bingo on Saturday, September 16 from 1 to 5pm at a new location (Manor Presbyterian Church, 505 Street Road, Cochranville, PA). Round up the entire family for an afternoon of free fun to discover how service and companion dogs change the lives of individuals with disabilities.
"The Open House is my favorite CPL event," said Darlene Sullivan, CPL Founder and Executive Director. "It is a great opportunity to share our mission with the community – those who love dogs, those who have an interest in the world of disabilities, and those who are just touched by the human/animal bond."
Visitors will be given a passport to travel through all aspects of CPL's mission. At the service dog demonstration area, you can watch the dogs demonstrate a variety of skills including tugging jackets off, retrieving dropped objects, carrying items, and paying a cashier. At the "Life with a Service Dog" booth you can meet CPL recipients and hear their inspiring stories firsthand.
As you make your way through the passport, don't miss the popular "Puppy Kissing" booth for all the puppy snuggles and smooches you can handle! There are also opportunities to shop from local vendors, listen to live music, enjoy a BBQ lunch (while supplies last), play kids' games, and more! Even though we will be off-site this year, you can take a quick shuttle up the road to tour our kennel and the construction of our new Marian S. Ware Program Services Center.
The day wouldn't be complete without our ever-popular Cow Bingo! Cow Bingo is a game of chance that pits your luck against the cow "doo"ing her thing. If the cow heeds the call of nature on your square, you are the lucky winner of $5,000! Tickets are $10 each. Squares are randomly assigned and chances are 1 in 3,000. The cow will be released at 4:00pm. Tickets sold out last year so purchase your tickets before it's too late! Tickets can be purchased online here or by calling 610-869-4902 ext.225. Winner does not need to be present to win.
This event is rain or shine. Personal pets are not permitted. To learn more, visit CPL's website or Facebook page. All event proceeds benefit CPL's mission.