By Denny Dyroff, Staff Writer, The Times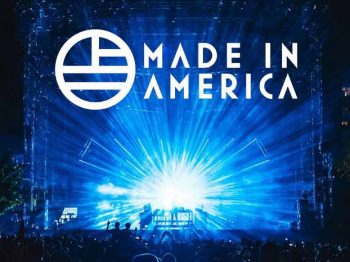 It's Labor Day Weekend and that means it's time once again for Philadelphia's largest annual outdoor music event – the Budweiser Made In America Festival.
The Budweiser Made In America Festival (www.madeinamericafest.com) is huge – a two-day musical celebration that occupies the Benjamin Franklin Parkway in Center City every Labor Day weekend.
The event is curated each year by Jay-Z, a top rap artist/music entrepreneur who has won more than 20 Grammy Awards, sold more than 100 million records and is one of the record industry's all-time best-selling musicians.
Budweiser Made in America Festival was founded in 2012 by Jay-Z as a way to bring together music and culture. The inaugural event was held on September 1 and 2 in 2012 on the Benjamin Franklin Parkway.
Event headliners in 2015 included Beyoncé (Jay-Z's wife), The Weeknd, Bassnectar, and Modest Mouse. Last year's top acts were Rihanna and Coldplay.
The name at the top of the list of this year's performers is also the name of the boss – Jay-Z. Other top headliners are J. Cole, The Chainsmokers and Solange (Beyoncé's sister).
On Saturday, there will be an artist whose performance will command attention from the throngs of music fans gathered along the Parkway. Her name is Rapsody.
While many rappers focus primarily on the rhythmic patterns and the rhyming lyrics, Rapsody has been blazing her own trail with a combination of insightful storytelling and catchy rhymes.
The internationally-acclaimed rap artist first appeared on the scene as a member of the successful indie group Kooley High around 2004.
In 2008, she left the group to pursue a solo career. She hooked up with 9th Wonder's Jamla Records and has released a steady stream of successful EPs and LPs, including her debut album "The Idea of Beautiful."
In 2015, Rapsody was the lone rap guest appearance on Kendrick Lamar's Grammy-winning "To Pimp A Butterfly" – joining him on the song "Complexion (A Zulu Love)."
"I've always had a love of music," said Rapsody, during a phone interview Monday from her home in Raleigh, North Carolina. "I've been a fan of hip hop all my life. I connected in a way that was fun. It was beautiful. I loved the storytelling and the action of hip hop.
"I got involved when I was in college at North Carolina State. I hosted rap battles at school. I also hung with friends in the studio when they were making mixtapes."
Rapsody got into rapping around the same time she first met 9th Wonder, the legendary producer known for working with artists like Mary J Blige, Ludacris, Jay Z, and Drake.
"It was just fun," said Rapsody, who was born Marlanna Evans in 1983 in Snow Hill, North Carolina.
"One day when they were making mixtapes, a friend told me to get in the booth and rap because he knew it was my passion. I did it and then met 9th (Wonder) a month later.
"After I was started working with 9th, he heard my first two songs and said I was a star. It was my first time to hear that from someone in the industry.
"He saw something that no-one else saw. My career came in waves. When 9th signed me to Jamla, that was an early-career high bar. I started working with some really great artists."
After she started rapping, Rapsody put out eight projects in four years. She also worked with the top-flight acts such as Kendrick Lamar, Mac Miller, Big K.R.I.T, Erykah Badu, Marsha Ambrosius, DJ Premier, and Big Daddy Kane.
"The highest point was making the 'Complexion' version with Kendrick," said Rapsody. "That put me on a whole other platform. I was asked to be on the most massive album of the decade."
Rapsody's career has continued an upward trajectory.
When Barack Obama was POTUS, Rapsody was invited by Michelle Obama to perform at the White House. Last November, she signed a deal with Jay-Z's Roc Nation.
"I just finished my sophomore album," said Rapsody. "I'm getting it ready to give to the people. I think when people hear it, they're definitely going to hear a lot of growth. I want to always build on what I've experienced."
The festival officially gets underway at 1:15 p.m. on September 2 with a set by Queen of Jeans on the Skate Stage.
The long list of participating acts includes Kaskade, Marshmello, Migos, Run the Jewels, Little Dragon, 21 Savage, Sampha, Cash Cash, Green Velvet, Beach Slang, R3hab, Pusha T, Vic Mensa, DMX, DJ Mustard, Marian Hill, and Tiwa Savage.
Other acts performing this weekend are Getter, KYLE, Wizkid, Stormzy, Lizzo, Dirty South, Broods, Kelela, Tommy Genesis, Smino, Mozart La Para, Francis and the Lights, Ugly God, Yung Lean, PnB Rock, A Boogie Wit da Hoodie, and Rob Stone.
The impressive roster also features Netsky, Salva, Burns, Jorja Smith, Vanic, THEY, Kap Slap, Devault, Nick Grant, Mt. Joy, Mannequin Pussy, Kodie Shane, Flor, Earthgang, Medasin,  Carter Winter, Maleek Berry, Karen Rodriguez, J.I.D., Busty & the Bass, Ari Lennox, and Downtown Boys.
Video link for Rapsody – https://youtu.be/PAQWa6m2VJU.
Rapsody will perform on the Rocky Stage at 2 p.m. on September 3. Two-day tickets for the festival are $162.
At the same time that rap, hip hop and EDM music are filling the air along the Parkway in the west side of Center City, the heavy sounds of metal music will be rattling ribcages in the east side of downtown Philadelphia on September 2 at the Voltage Lounge (421 North Seventh Street, Philadelphia, 215- 964-9602, www.voltagelounge.com).
Saturday night's show at the Voltage Lounge will feature a trio of hard-hitting metal acts — Enterprise Earth and Make Them Suffer along with opener Promise Breaker.
Make Them Suffer travelled a long way to take part in this tour. But then, the band has had to travel a long way to play shows in its own country.
The metalcore quintet — Sean Harmanis (dirty vocals), Nick McLernon (guitar), Tim Madden (drums), Jaya Jeffery (bass) and Booka Nile (keyboards, lean vocals) – hails from Perth, Australia.
Perth, which is the capital and largest city in the Australian state of Western Australia, is in the far western part of the island country while most of the nation's population and big cities are in the southeast and east.
"We were together for a few years until we were able to get out of Perth in 2011 to play in other cities in Australia," said Harmanis, during a phone interview Tuesday from a tour stop in Orlando, Florida.
"It really was pretty hard to get out of Perth and play elsewhere. We're way out west – far from everything. Perth is the most isolated capitol city in the world."
After releasing two albums on Roadrunner Records – "Neverbloom" in 2012 and "Old Souls" in 2015 – Make Them Suffer signed with Rise Records and released its "Worlds Apart" album earlier this year.
"We were working on the new album over the Australian summer – September through November last year," said Harmanis. "We went in the studio in January. Some of the songs were written previously.
"We recorded the album in Perth. The vocals were recorded at Templeman Audio and the bass and drums at Suno Studio. The guitars we tracked ourselves. We have our own studio in Perth."
The boys from Down Under have found themselves in a different position on this tour.
"When we toured for our previous album "Old Souls,' we were a support band," said Harmanis. "We've done three tours here in the states and this is the first as a headliner.
"Headlining is quite a different experience. It's quite tiring actually – but it's great. For example, we never played in Florida before.
"Last night, we had 250-300 out for our show and that's pretty humbling. It's pretty mind-blowing for us to be headlining a tour.
"Our live set is a pretty evenly mixed – some old stuff from the 'Lord of Woe' EP and the first album, a couple songs from 'Old Souls' and four from 'Worlds Apart.' It's definitely a mixed bag."
Not surprisingly, "Worlds Apart" is a good demonstration of the quintet's growth as a band.
"The biggest difference is the way we've integrated the singing," said Harmanis. "There are more singing hooks and choruses.
"And, the guitar writing has more memorable riffs. We were also using a lot of elements and embracing a style of layering to add texture and depth."
Video link for Make Them Suffer — https://youtu.be/nM4D95ZRK5Y.
Enterprise Earth is a deathcore band from Spokane, Washington featuring Dan Watson (vocals), Byron James "BJ" Sampson (guitar), Yusef Johnson (guitar), Aaron O'Toole (drums) and Gabe Mangold (guitar).
Watson and Sampson formed the band in the late summer of 2014. Watson came up with the band's name after researching the Illuminati and conspiracy theories. It took only a short while for the band to establish a large internet following.
Enterprise Earth's recorded output includes the "XXIII" EP in 2014, the "Patient Ø" LP in 2015 and the recently-released "Embodiment" album.
"Philadelphia will be the final show of a month-long tour," said Watson, during a phone interview Tuesday from a tour stop in Orlando, Florida.
"We're touring 'Embodiment.' We're playing four songs from the new album, a couple older ones and two from 'Patient Ø.' That is our whole set.
"As an opening band, we only get 30 minutes. I think 30 minutes is about a perfect time for me. It means I can perform more – move around the stage more without having to preserve energy."
Like many bands, Enterprise Earth was formed by players who were leaving previous bands.
"I was approached by BJ after I had split from my old band," said Watson. "We discussed forming a new band – what we wanted out of a band and what type of music we would play.
"He was in Washington state and I was in Valparaiso, Indiana. We sent recording files back and forth for the EP 'XXIII.' We wrote the EP on the internet and then recorded it at a studio in Washington state.
"With 'Embodiment,' BJ did most of the writing. After he was finished, he sent me the instrumentals and I did the lyrics.
"We wanted to do it the traditional way but it was more efficient to do it this way. We still all have jobs at home so we can pay the rent.
"We recorded the album with producer Ricky Oruzo in Portland, Oregon. We did the vocals there. After that, we got an engineer to mix the album."
While the making of the album sounds like a long-distance love affair, the end result is a cohesive-sounding collection of intense songs.
"I'm not surprised how consistent the sound is," said Watson. "Right from the beginning, BJ and I had the same vision. The sound has meshed really well."
Video link for Enterprise Earth — https://youtu.be/wtzPxQC9BQ8.
The all-ages show at Voltage Lounge, which features Enterprise Earth, Make Them Suffer and Promise Breaker, will start at 6 p.m. Tickets are $14.