Unionville Class of 2005 grad to play the Tin Angel Saturday, June 18

By Eddy K. Foster, Staff Writer, UnionvilleTimes.com
NEWLIN — Singer, Songwriter, Harpist and Unionville graduate Gillian Grassie who has put out two albums, is working on a third. While her music has taken her to Europe, Asia, and South America, she has not forgotten her hometown roots.
Gillian flourished at Unionville High School. "I was involved in a bunch of the musicals, choirs, plays, orchestras and other creative goodies offered by Mr. Throne and Mr. Litzenburg at Unionville, as well as the Kennett Symphony Children's Chorus. I actually met my longtime harp teacher, Janet Witman, at a concert she was playing at the Kennett Square Meeting House," Grassie said. "I wound up finishing high school a year early and jumping into the Philly singer-songwriter scene to see what that lifestyle was all about and whether there was any interest in the music I was making."
She put out her first EP, "To an Unwitting Muse", in 2005. "It was a collection of six songs mostly written during high school," she said. "It's kind of interesting for me to listen to now because I can really hear myself taking the good stuff from my years of studying Classical Bel Canto voice without being too operatic or dramatic. Certainly it accomplished what I needed it to in terms of getting my foot in the door of the local music scene and even received some airplay from WXPN and WSTW."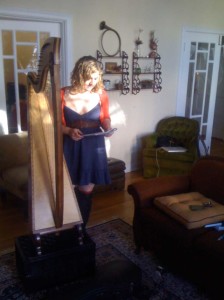 Her second album, "Serpentine", was released in 2007. "The song 'Silken String' from that album wound up placing second in the 2008 New York Song Circle Competition, earning me my first Philadelphia Inquirer coverage and some much-needed prize money. "The Train" was recently placed in an indie film, "Lebanon, PA", that debuted at SXSW last year and received regional distribution and a NY Times Review," she said. "In the years since its release, 'Serpentine' continues to find new fans through national triple-A radio coverage, Pandora.com, and friends passing it along. I've started to receive fan email from places I've never been before, like Bulgaria, and it means a lot to me to hear strangers identifying with songs like "Tamlin," "Better or Worse," and "Tell Me," songs that I dug deep for."
For her next album, tentatively named 'The Hinter Haus," Gillian needed to raise some starter money to fund the process. She ended up turning to a new source for fundraising. "Kickstarter  is a website that facilitates "crowdfunding," where creative projects are financed collectively with small individual donations from an artist's fan base and supporters. I set a goal of raising $8,000 in 30 days, sent it out to my mailing lists and held my breath. I had a few friends who'd funded projects on Kickstarter so I was optimistic about having a successful campaign, but the end result blew me away. In a month we were able to raise not $8,000, but over $14,000, much of that from new fans reached through folks reposting the campaign on their facebook and twitter accounts.
"One of the incentives for backers of the project was to have me cover any song request. I'd learn a version of the song on harp and post videos of the covers on YouTube. One of the requests that came in was for the theme song of a popular role-playing video game, The Elder Scrolls: Morrowind. My friend posted the video on Reddit.com and then it was picked up by a bunch of other gaming sites and spread really rapidly through the online gaming community. There were 15,000 views in the first 24 hours and now it's something like 55,000. Anyway, the video brought my music and the kickstarter campaign to the attention of a much wider audience and got a bunch more people involved during the last few days of the campaign, which was terrific. In the end, I received contributions from 179 backers living in the United States, Canada, Switzerland, Senegal, China, France, Ireland, Italy, Sri Lanka, and Australia."
Gillian just returned from a State Department-sponsored tour of South America and is also the recipient of the Thomas J. Watson Fellowship, which took her round the world. "The Fellowship is awarded to 40 graduating college seniors annually to pursue independent study projects of their own design outside of the United States for twelve consecutive months. I wrote a proposal to explore emerging music scenes and new business models for musicians in Europe and Asia that was funded from July 2009 to July 2010," she said.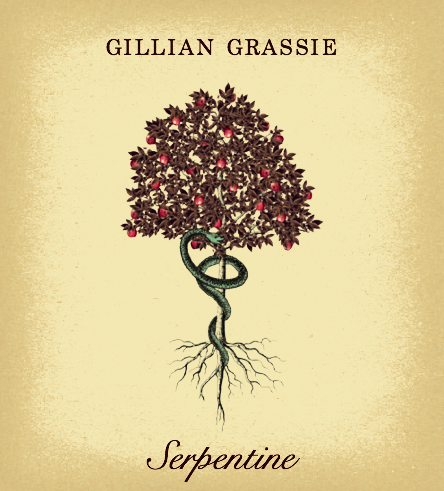 "When I started out in Paris that summer, I had absolutely no idea what I was doing or how I was going to deal with transporting my harp in India or anything. I think every single one of the hypotheses I put forward in my proposal turned out to be red herrings and almost all the people I listed on my initial contact sheet were not particularly fruitful interviews. But instead I stumbled upon the most amazing individuals in the most unlikely places who proposed much more interesting ideas anyway. The incredible thing about traveling alone and being dropped into a situation where you have to figure things out and improvise is that you learn that the world is full of people to help you on your journey. You learn to say "yes" a lot more often and to accept the incredible kindness and hospitality of strangers."
At the Tin Angel this Saturday, Gillian promises a great show. "I'll be debuting at least one new song from the upcoming album and probably playing a few of the covers I learned for my fundraising campaign, which I don't usually do. The last few shows I've done at the Tin Angel have sold out, so I'd strongly encourage anyone who's interested in coming to reserve their tickets in advance online: ."
The Tin Angel is located at 20 S 2nd St, Philadelphia, PA – Doors 10 PM, show at 10:30. Tickets are $10 and you must be 21 or older.  Margaret Glaspy will be the opening act, Saturday.
Gillian is available to do house concerts and other bookings. She can be contacted at info@gilliangrassie.com. You can follow her on Twitter, or her website: www.gilliangrassie.com