By Lele Galer
,
Columnist, The Times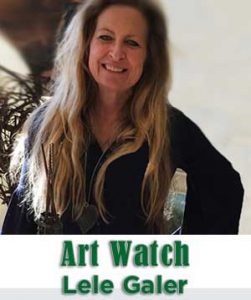 First Friday this July 7th kicks off with brand new exhibits from Kennett Square Pennsylvania to Elkton Maryland, as well as artist demonstrations at local galleries. Blockbuster museum shows, including "Andrew Wyeth-In Retrospect" at the Brandywine River Museum of Art and "The Original Mad Man: Illustrations by Mac Conner" at The Delaware Art Museum are both happening now through September 17th. Weather forecasts are showing lots of rain for this Friday, so skip the beaches and head in to the galleries and museums for a refreshing change of view.
First Friday openings start in Kennett Square with Mala Galleria's "In the Looking Glass", paintings by Helen Stockar, with reception July 7 from 6-9pm. Helen Stockar recently passed away in Avondale Pennsylvania, leaving behind a legacy of beautiful abstract figural paintings that echo her passionate response to a lifetime born of war and upheaval in her native Czechoslovakia. Family and friends were taken to concentration camps during World War II, her country was torn apart, and she lived in fear and deprivation that went on through the Russian occupation after the war. For this artist, "You know what helped me? My art," Stockar said. She emigrated to the States in the late 1960's and continued painting, exhibiting in museums and galleries all over the country. Mala Galleria owner Stella Scott writes, "She painted figures that seemed to bend and sway as if they were buffeted by some fierce wind. Fear from the past, homesickness in the present, the knowledge that others in the world were suffering, it all poured out onto Stockar's canvasses in vivid, dramatic, arresting images." I'm looking forward to this show at Mala Galleria, and I'm glad that Stella Scott will be there to represent this fascinating artist.
In Downingtown, Ivystone Studio will have a reception and artist demonstration this Friday from 6-10pm at their beautifully renovated barn location at 138 Moore Road in Downingtown. Painter Lynnette Shelley and glass-blower Justin Smith will both be demonstrating their unique artistic skills during this First Friday evening event. The Ivystone Studio gallery is stocked full of three floors of every kind of art, wood, glass, ceramic, jewelry, furniture, collage, sculpture and painting. When you visit, make sure to ask about their list of interesting art classes that they have just started to offer.
In Elkton Maryland, the eclectic gallery The Palette & The Page has an opening reception this Friday from 5-8pm for "Capturing the Moment: God as Viewed Around the World", with images by photographer Matthew O'Brien. This Friday is the first-ever "Elkton Art Loop" with art shows and pop ups throughout the town. This is also Matthew's first-ever art show, and he will be at the reception to discuss his images taken from his travels all over the world. The art show continues through July 28th.
The Station Gallery at 3922 Kennett Pike in Greenville Delaware has its First Friday reception for the annual Summer Group Show and Framing Sale. The Summer Group Show features paintings, wood collage, ceramics, art glass and jewelry – something for everyone, including many well known local artists like Frank DePietro and Mary Ann Weselyk. Just a couple minutes from The Station Gallery is Somerville Manning Gallery, at 101 Stone Block Road, which continues its "Andrew Wyeth: A Survey" exhibition through July 29th. Somerville Manning offers a rare opportunity to own original Andrew Wyeth paintings and drawings, in celebration of the painter's 100th birthday. Also in Delaware, Blue Streak Gallery, near Trolley Square in Wilmington, is exhibiting "Some Thing's Afoot" through July 14, and has artist satellite shows now through September: at Toscana restaurant is Bennett Siegel; at Greenville Country Club is Kerstin Tyreus ; at River Tower at Christiana Landing is Sue Stefanski; and Carson Zullinger at Fit Fitness .
While you are visiting galleries in Delaware, be sure to check out The Delaware Art Museum, which has so many events for the whole family every week that it is impossible to write them all down. Go to their website www.delart.org, and plan to stay all day. "The Original Mad Man: Illustrations by Mac Conner", is currently their major Summer exhibition showing now through September 17th. The museum writes that "His work is a "time capsule" of an era when commercial artists helped to redefine American style and culture." The images are strong, lively, sexy and fun and will hit notes with every age of family member. Every Thursday from 5-7pm the museum will have happy hours ala Mad Men, live music and a chance to walk through the show while sipping a happy hour treat in hand. Next week, 7-9pm on July 14th is the "Artini" event with Mad-Men era cocktails and an adult-only art painting workshop working with retro patterns and prints. Fun!
Listen to Art Watch Radio WCHE 1520am this Wednesday July 5th from 1-1:30pm, when I chat with Margaret Winslow and Molly Giordano of The Delaware Art Museum. We will hear more about the museum's offerings throughout the Summer, as well as the "Mad Man" exhibition of the work by Mac Conner. Art Watch Radio is now every Wednesday from 1-1:30, featuring art themes that impact our area, with a variety of art-loving hosts and guests.