By Denny Dyroff, Staff Writer, The Times
Independence Day Weekend is here – a long weekend with the hot weather that traditionally accompanies it.
Area residents know that the arrival of the multi-day holiday weekend means it is time for two of Chester County's longest-running and most popular Independence Day events — Downingtown Good Neighbor Day (Kerr Park, Downingtown, 610-285-1119, www.goodneighborday.com) and Freedom Fest (Nottingham County Park, 150 Park Road, Nottingham, 610-932-2589, www.chesco.org/ccparks).
Every year, Independence Day is celebrated in style in the southern part of Chester County when Nottingham County Park (150 Park Road, Nottingham, 610-932-2589,www.chesco.org/ccparks) presents its annual Freedom Fest.
The 26th Annual Freedom Fest will be held on July 1 from 6-11 p.m. at Nottingham County Park, which is located six miles south of Oxford, off U.S. Route 1 just above the Maryland State Line.
A number of activities are slated to get underway at 6 p.m. Visitors to the event will be able to climb the attraction "Jacob's Ladder" or take a turn at twisting and spinning on one of three Orbotrons. Designed by a former NASA engineer, the Orbotron allows riders to flip, spin and swirl based on their body movements.
Live music will begin at 7:15 p.m. with a performance by the rock band On the Rise.
The gala aerial fireworks display — a spectacular 30-minute show — is scheduled to start at 9:30 p.m.
Visitors will be treated to a show that also features ground displays set to patriotic tunes and a grand finale incorporating the traditional raising of the American Flag.
Herr Snack Trucks and "Chipper" will distribute free snacks throughout the evening beginning at 6 p.m. and there will be a wide array of food vendors with festival food items such as hot dogs and ice cream.
Visitors may also bring a picnic of their own menu items and are advised that — because of security concerns — all coolers, bags and similar items are subject to being searched.
Because it is a county park, no alcoholic beverages or pets will be permitted.
Field seating is available for both the concert and fireworks. Visitors are encouraged to arrive early and to bring blankets and lawn chairs. There will be a $10-per-vehicle parking fee at Nottingham County Park and Herr's Corporate Center.
In the event that weather prohibits the setup or safe shooting of the fireworks show, Freedom Fest will be postponed to July 2. Parking vouchers will be distributed at the parking locations.
The 39th Annual Downingtown Good Neighbor Day will be held on July 4 at Kerr Park in Downingtown from 6:30 a.m.-10 p.m. Activities will get underway with a "Prayer and Flag Ceremony" at 7:40 a.m. and then it will be time for the races.
The 39th Annual Run for Life (5K, 10K & 15K) and the 22nd Annual 5K Freedom Walk are scheduled for 8 a.m. while the 24th Annual Kids-K Fun Run starts at 10 a.m.
The large array of crafts, food and vendors' booths will open at 8 a.m. Carnival rides, amusement games and festival food will be available from 10 a.m. until closing.
Other activities scheduled for the pre-noon hours are the Annual Bicycle Decorating Contest at 10:30 a.m., the Big Wheel Race and the Canoe Race at 11 a.m.
A special attraction at 11:30 a.m. will be "Hunters of the Sky!," which is a live bird of prey program in the Gazebo. Then, at 12:30 p.m., it will be time for the 28th Annual Duck Race and music by Walt Kinsey & Friends Band.
A number of other music acts are scheduled throughout the day, including the Pennsylvania Surfers from 2-3 p.m., the Moondawgs from 3-4 p.m., Jeff Domenick with Jeff Byrne from 4-5 p.m., Paradox from 6:30-8:30 p.m. and School of Rock! at 8:30 p.m.
The "Wife Carrying Contest" is also scheduled for 8:30 p.m. The day's festivities will conclude with a Tom Edwards Productions Entertainment Show from 8:30-9:30 p.m. and a fireworks grand finale at dusk.
Additionally. The "Red, White and Food Drive" will take place from 10 a.m.-6 p.m. with donations of non-perishable food items requested.
Wawa Welcome America (www.welcomeamerica.com), which runs now through July 4, is a festival of free events in Philadelphia in celebration of our nation's birthday — a huge party that hits its peak with an abundance of festivities on Independence Day Weekend.
Activities on June 30 include Sand Sculpture Spectacular at Shops at Liberty Place (also July 1, 2, 3 and 4), World Heritage City Exhibition at the Philadelphia International Airport (also July 1, 2, 3 and 4), Free Museum Day at Penn Museum, PECO's Go 4th & Learn at Penn Park (also July 1, 2), Free Museum Night at Eastern State Penitentiary, "Philly @ the Movies: The LEGO Batman Movie" at 6 p.m. at Panati Playground.
The day's events will conclude with The Philadelphia Orchestra Concert & Fireworks on the Great Plaza at Penn's Landing at 8 p.m. and "Wawa Welcome America! Waterfront Fireworks" at 9:30 p.m. at Penn's Landing.
Activities on July 1 will include Free Museum Morning at One Liberty Observation Deck, Red, White & Brew Fest on the Waterfront at SugarHouse Casino, The Food Trust Night Market Spruce Hill, "Philly @ the Movies: Rogue One – A Star Wars Story" at 6 p.m. at Vernon Playground, "Pershing's Own Concert" at 8 p.m. at Penn's Landing and the "Wawa Welcome America! Waterfront Fireworks" at 9:30 p.m. at Penn's Landing.
The schedule for July 2 features "Free Museum Day – Barnes Foundation" (2025 Benjamin Franklin Parkway), Museum Day at Philadelphia Museum of Art, and "Philly @ the Movies: Rocky" at 8 p.m. on the steps at Philadelphia Museum of Art.
Special activities on July 3 will be Free Museum Day at The Charles L. Blockson Afro-American Collection at Temple University, Free Museum Day at National Liberty Museum, Philadelphia's Historic District Block Party, "Philly @ the Movies: SING" at 9 p.m. at Franklin Square and "POPS! on Independence" at Independence Hall at 8 p.m.
On July 4, activities will include the "Celebration of Freedom Ceremony" from 10-11 a.m. on the steps of Independence Hall, "Free Museum Day – National Museum of Jewish American History" (101 South Independence Mall East), and the Independence Day Parade which runs from 11 a.m.-1 p.m. throughout the historic district of Philadelphia.
From noon-7 p.m., the Benjamin Franklin Parkway (from 20th Street to the Eakins Oval) will host "Party on the Parkway." The all-day party features blocks of exciting activities, games, entertainment, and food for the whole family. The headline act will be "The KIDZ BOP Kids: Life of the Party Tour."
The main event — "Wawa Welcome America! July 4th Concert" — will run from 5-10 p.m. at the Benjamin Franklin Parkway's Eakins Oval. It is a free five-hour show celebrating the sounds of Philadelphia with a family-friendly, only-in-Philadelphia lineup of talent.
The scheduled entertainers are Mary J. Blige, The Philly POPS, Boyz II Men, Mandy Gonzalez, Tony DeSare, and Luis Figueroa.
Festive fireworks displays will be presented by several of the area's professional baseball teams.
The XFINITY Fireworks Show at Citizens Bank Park (1080 Pattison Avenue, Philadelphia, http://philadelphia.phillies.mlb.com) is scheduled for July 6.
To celebrate America's independence, the Philadelphia Phillies illuminate the sky above Citizens Bank Park following the baseball game against the Pittsburgh Pirates. The fireworks occur 15 minutes after each game.
On June 30, and July 2 and 3 at 7:05, the Wilmington Blue Rocks (Frawley Stadium, 801 Shipyard Drive, Wilmington, Delaware, 302-888-2015, http://www.milb.com) will play the Salem Red Sox and then present a fireworks extravaganza after the game.
The Reading Fightin' Phillies (First Energy Stadium, 1900 Centre Avenue, Reading, http://www.milb.com) will play the Richmond Fighting Squirrels on July 1, 2 and 3 at 6:35 p.m. each night. All three games will be followed by "Stars & Stripes Mega Blast," which is billed as the largest fireworks show in the stadium's history.
The Lancaster Barnstormers (Clipper Magazine Stadium, 650 North Prince Street, Lancaster, 717-509-3633, http://www.lancasterbarnstormers.com) will play the Somerset Patriots at 7 p.m. on July 1 and then have a gala fireworks show following the completion of the game.
Another interesting way to check out a fireworks display is being offered by the Wilmington and Western Railroad (Greenbank Station, 2201 Newport-Gap Pike, Wilmington, Delaware, 302-998-1930, www.wwrr.com).
On July 4, the Wilmington & Western Railroad will run a special "Fireworks Express." Passengers will board at Greenbank Station and the train will depart at 7 p.m. for Hockessin, which is presenting a festive Fourth of July fireworks extravaganza. The excursion takes about four hours. Tickets are $22 for adults, $20 for seniors, and $18 for children (ages 2-12). Children under 2 can ride for free.
The West Chester Railroad (Market Street Station, West Chester, 610-430-2233, www.westchesterrr.net) is running its special "Summer Picnic Special" trains every Sunday now through September 17.
The round trip train ride travels to the village of Glen Mills and back and lasts for 90 minutes. During the brief layover in Glen Mills, riders can explore the historic Pennsylvania Railroad station and have a snack in the railroad's picnic grove along the Chester Creek.
Riders can order a boxed lunch when they purchase their tickets online. Sandwich choices are ham and cheese hoagies, turkey and cheese hoagies, and PB&J. All lunches, which are made fresh, come with chips, fruit, drink and cookies.
Additionally, the lunches are packed in a special reusable lunch bag emblazoned with the WCRR logo. Tickets for the train rides are $15 for adults, $13 for children ages 2-12 and free for kids under two.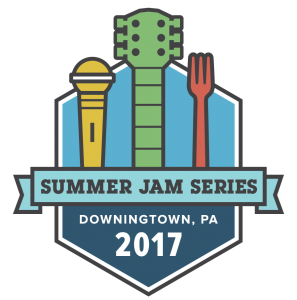 Downingtown's 2017 Summer Jam Series (Mill Alley, Downingtown, 610-269-1523, http://www.downingtownmainstreet.com/calendar) gets underway on June 30 with live music and an array of food vendors, music acts and lots of food.
The Summer Jams will be held on June 30, July 28 and August 25 from 5-9 p.m. each night.
On June 30, live entertainment will be provided by The Sermon! and Josh Komorowski.
Food vendors will be The Happy Pita, Katja's, Rita's Italian Ice and Race to Taste Curbside Grill.
The roster of crafters includes Eclipsed Crafts by Amber & Katherine, Kaiya Naturals, LulaRoe by Kim & Rachel, Stella & Dot, Usborne Books, and Fizzy Bath Bombs.

This is the weekend that one of the summer's most popular annual events gets underway. The 68th Annual Kutztown Folk Festival (Kutztown Fairgrounds, off Route 222, Kutztown, 888-674-6136,www.kutztownfestival.com) opens on July and runs through July 9.
Settlers from Germany played a major role in the early history of Pennsylvania and their influence is still being felt. These pioneers and their customs are honored each summer at a Pennsylvania German folk festival in Kutztown — an event that has been around for more than a half-century and is still growing.
The popular annual event, which is billed as a celebration of Pennsylvania Dutch culture, features traditional crafts, food, music and folk life.
The festival features country auctions, parades and bands, fiddling, live music and dancing, comedy, storytelling and historical seminars. Daily activities include displays of farming and gardening, churches and weddings, folk life, Pennsylvania Dutch dialect and folklore, furniture, spinning and weaving, country cooks and candle making.
The festival also offers non-stop entertainment with country auctions, parades and bands, fiddling, live music and dancing, comedy, storytelling and historical seminars. Additionally, over 200 juried folk artists and traditional American craftsmen will be participating with both sales and demonstrations.
There will also be a lot of attractions for children including puppet shows, make-and-take crafts sessions, visits with baby farm animals, real-life haystacks, story time sessions, a hay maze, sing-alongs and a variety of hands-on activities.
As always, there will be plenty of booths featuring Pennsylvania Dutch food treats and beverages, including family style feasts, shoo-fly pies, sausage sandwiches, pastries, country chicken dinners, strawberry shortcake, funnel cakes, ox roasts, sarsaparilla and chicken potpie.
The festival will open its gates each day at 10 a.m. and run until 8 p.m. on July 3 and 4 and 6 p.m. on July 5. Admission to the festival is $14 for adults, $13 for senior citizens and $5 for students (13-17) with children (12 and under) admitted free.
This weekend will mark the 2017 opening of the "Summer Movie Nights in Historic Philadelphia Franklin Square Summer Movie Series."
Screenings are scheduled for July 3, 8, and 22 and August 5 and 19 from 7-11 p.m. each night at Franklin Square (Sixth and Race streets, Philadelphia,www.historicphiladelphia.org).
The schedule for "Saturday Night at the Movies in Franklin Square" is: July 3, "Sing;" July 8: "The Secret Life of Pets;" July 22: "Ferris Bueller's Day Off;" August 5: "Lego Batman;" and August 19: "Finding Dory."
Guests are invited to bring a blanket and experience these cinematic hits on the Great Lawn. Games and pre-show activities will begin at 7 p.m. and featured films will be shown at 8:30 p.m.
Parks on Tap Jr. will provide a beer garden and other specialties on July 8 and August 19 only. Admission is free.
The historic district of Philadelphia also hosts "Betsy Ross House First Friday Movie Nights Under the Stars & Stripes" on July 7, August 4, and September 1 at 5 p.m. each night.
The schedule for the screenings at Betsy Ross House (239 Arch Street, Philadelphia) is July 7: "The Giant Claw;" August 4: "Earth vs. the Spider;" and September 1: "The Amazing Colossal Man."
A $5 admission includes a tour of the Betsy Ross House, pre-show activities, Quizzo, and a courtyard movie. Movie-goers are welcome to bring food and wine to enjoy during these unique evenings.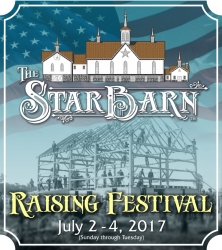 The historic 1877 Star Barn (1 Hollinger Lane, Elizabethtown, www.thestarbarn.com, 717-902-9791) and its ancillary structures have been disassembled and moved from Middletown to Stone Gables Estate in Elizabethtown where they are being meticulously reconstructed and restored.
To commemorate the historic re-raising of The Star Barn, the "Crown Jewel" of the complex, the community is invited to attend "The Star Barn Raising Festival," which will be held July 2-4.
Visitors will be able to watch and participate in the re-raising of the timbers, walls, rafters, and center cupola of this Gothic Revival treasure.
This educational ticketed event features live entertainment and activities for the whole family.  Fireworks will be held after dark on July 4.
The list of the event's attractions includes peg making workshops; self-guided walking tours of Star Barn outbuildings and Ironstone Ranch; 1:12-scale replicas of The Star Barn Complex and Fertility Farm on display; arts and crafts exhibits at Star Barn Art Gallery; and hitch wagon rides.
There will also be tractor-pulled hay wagon rides; pony rides; oxen; plein air Star Barn painting by artist, Julie Riker; mechanical bull riding; bounce houses; animal interaction: long horn steer, alpacas, donkeys, draft horses, mini horses, and pot belly pig; face painting; and demonstrations of spinning, blacksmithing, and basket making.
"Celebrate Lancaster" (717-291-4758, http://www.visitlancastercity.com), which will be held on June 30 in downtown Lancaster, is designed to display the culture and diversity of Lancaster and the people who live and work here.
Attendance has grown to close to 15,000 in recent years for the festival — an event that offers local food, local wine and beer, entertainment, fireworks, and a festive atmosphere in downtown Lancaster.
From 11:30 a.m.-10 p.m., more than 20 food vendors will be selling their tasty treats along North Queen Street and in Lancaster Square.
Later in the day, there will be live music on two stages at Penn Square and Binns Park from 5-10 p.m. Additionally, the festival will have two pub areas featuring beer and wine.
The event will come to a festive conclusion with a gala fireworks display at 10 p.m. from the top of the Duke Street Parking Garage.