By Denny Dyroff, Staff Writer, The Times
Guitar ace Quinn Sullivan is headlining a show on June 22 at the Sellersville Theater (24 West Temple Avenue, Sellersville, 215-257-5808, www.st94.com) and will be performing dates with blues legend Buddy Guy later this summer.
Three weeks ago, Sullivan was sitting in class as a student at New Bedford High School in Massachusetts.
On June 1, Sullivan graduated from New Bedford High. Two days later, he and his band played a blistering set at the Western Maryland Blues Festival in Hagerstown, Maryland.
Last weekend, Sullivan headed to the Deep South for shows in Meridian, Mississippi and Baton Rouge, Louisiana.
"I was out for a few days in Meridian and Baton Rogue filming for a documentary about me and Buddy Guy," said Sullivan, during a phone interview Tuesday morning from his home in the New England whaling town. "I'm really excited about it."
Sullivan's history with Guy goes back more than a decade – which is pretty impressive considering Sullivan just turned 18 in March.
"I first saw Buddy Guy play was in a video of the Crossroads Festival in 2004," said Sullivan. "I was playing a guitar but wasn't into blues yet. Prior to that, I was playing rock. Blues came into the picture after I saw Buddy Guy."
Sullivan began taking guitar lessons at age three. He first gained national media attention at age six when he appeared on The Ellen DeGeneres Show.
"Once I saw Buddy and how he played his guitar, I said to my family – we have to go see this guy play," said Sullivan. "In 2007, he came to New Bedford to perform at the Zeiterion Theater.
"We made friends with the people at the theater and got to go backstage. I went to his dressing room and he was very welcoming and signed my guitar. I was seven or eight at the time. He asked me if I could play. I played a few licks for him and he looked at me and said – be ready when I call you."
Guy did follow through and make the call.
"That started the journey I've been on for the last 10 years," said Sullivan. "In July 2007, he came for a show in Lowell, Massachusetts and I got to jam with him for a second time. That was when it clicked for us.
"We kept going to see him every time he came to the area. Eventually, he asked me to open some shows for him. The first time I opened for him was in Arlington, Kentucky when I was 11. It got to a point where we were opening a lot of shows for him."
Sullivan has released three of his own albums – "Cyclone" in 2011, "Getting There" in 2013 and "Midnight Highway" in 2017.
"I recorded the 'Cyclone' album in Nashville in 2010 and it came out in 2100," said Sullivan. "That was my first time in the studio and it taught me so much.
"I was working with Buddy Guy's producer Tom Hambridge. He pushed me a lot – which was needed. I've worked with Tom on all three albums. We recorded at Blackbird Studio in Nashville which is a legendary studio.
"We made the new album over the course of eight months. I was still in school so I couldn't go to the studio for months at a time. Time management came into play.
"We've been working 'Midnight Highway' since it came out in January. Summer is chock full of dates and we're going to keep promoting it.
"In the live show, I'm playing most of the songs from 'Midnight Highway' and some from 'Getting There.' I'll be doing shows this summer with Buddy in the United States and in Norway. I'll probably start working on a new album at the end of the year."
Video link for Quinn Sullivan –https://youtu.be/_F48l-mWfAI.
Video link for Quinn Sullivan (age 8) — https://youtu.be/ix4TNJvVk8M.
The show at the Sellersville Theater will start at 8 p.m. Tickets are $25 and $40.
Other upcoming shows in Sellersville are Alejandro Escovedo Band on June 23; Voyage (Journey Tribute) on June 24; and Fates Warning on June 28.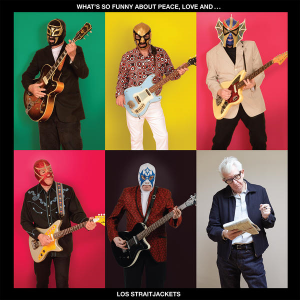 Los Straitjackets may be a band of instrumentalists but their latest endeavors feature rockers who are singer-songwriter-guitarists.
The band's new album "What's So Funny About Peace, Love and Los Straitjackets" exclusively features songs written or co-written by the British songsmith Nick Lowe, who recently toured with the instrumental band from Nashville.
On Los Straitjackets's current tour, they are sharing the bill with Marshall Crenshaw, another artist known for his way with words. The tour will touch down locally on June 22 at the World Café Live (3025 Walnut www.Street, Philadelphia, 215-222-1400, www.worldcafelive.com).
Los Straitjackets are the leading practitioners of the lost art of the guitar instrumental. Using the music of The Ventures, The Shadows, Link Wray and Dick Dale as a jumping off point, the band has taken their unique, high energy brand of original rock & roll around the world. Clad in their trademark Lucha Libre Mexican wrestling masks, the "Jackets" have delivered their trademark guitar licks to 16 albums, thousands of concerts and dozens of films and TV shows.
The current line-up features Danny Amis, guitar; Eddie Angel, guitar; Pete Curry, bass; Chris Sprague, drums; and Greg Townson, guitar.
"I've bene with the band 14 years and we've got a lot of records out," said Curry, during a phone interview Wednesday morning as the band traveled from Harrisburg, Pennsylvania to a gig in Richmond, Virginia.
"The new album is a departure for us. It's all Nick Lowe songs. Someone suggested the idea to us and we said O.K. We had toured with Nick and some some instrumental versions of his songs.
"Sometimes, it's difficult to come up with different interpretations of songs. You have to embellish each verse to keep it interesting.
"We had a list of 25-30 Nick Lowe sings that we went through and tried. Every song we started, we finished except for one. We had a lot of pretty good ideas."
Once the song selection was complete, Los Straitjackers set about making the record.
"We recorded it at my studio – the Pow Wow Fun Room," said Curry. "We did it in four days in March 2016 on 13-trck tape. The tracking was all analog. We always do it that way. It fits our sound better.
"Then, Neil Brockbank, who is Nick Lowe's producer, took it back to England to do the mixing. Nick Lowe seems to like what we do. We've done three tours with him. We play four Nick Lowe songs on this current tour with Marshall Crenshaw."
The band's new tour is a bit different.
"It's all one long show," said Curry. "It's partly our show and partly Marshall's show. The first half hour is just us and the second half hour is Marshall Crenshaw. Then, we finish up together."
Video link for Los Straitjackets – https://youtu.be/FOEOKST5nlU.
The show at the World Café Live, which also features Sarah Borges & Feast of Snakes along with Marshall Crenshaw, will start at 8 p.m. Tickets are $27.
Other upcoming shows at the World Café Live are The Joe Trainor Trio and Friends present An Evening of Billy Joel Songs on June 24; Dr. B's Groove on June 27; and Dan Mills and Andrew St. James on June 28.
Interestingly, there will be a show in Philly on June 23 featuring an artist named Lowe who is known for his long-time work with an instrumental band and is now touring solo after releasing a singer-songwriter rock album.
On Friday night, Kung Fu Necktie (1248 North Front Street, Philadelphia, 215-291-4919, kungfunecktie.com) will present a show by RG Lowe.
Lowe is a core member of Austin, Texas-based band Balmorhea. This instrumental group is known for post-rock compositions for scoring a variety of movies and television shows.
Lowe just released his solo debut record "Slow Time" just came out on Western Vinyl, an Austin-based label that is also the home of Balmorhea.
The new disc presents a musical side of Lowe that was not exhibited with Balmorhea – a side that features songs with well-crafted lyrics and influences of R&B and old-school pop.
"Balmorhea's music is a real particular thing," said Lowe, during a phone interview Wednesday evening from a tour stop in Chapel Hill, North Carolina.
"It's post-classical, emotional and somewhat dark. We have our own world sonically. The band started with Michael Muller and me when I was 21, I've spent a lot of years touring with that project.
"All the while, I knew it wasn't the only music I wanted to pursue. I knew I wanted to try my hand at writing pop songs. And, I knew I had to step away from the project and fulfill my desire – so I did.
"But, it was really hard to shift modes. It took me quite a while t figure it out – a year to develop the idea, a year to get songs, a year to record and a year to get the record out."
Lowe still lives in Austin – as he has for the last 14 years — but he considers Philadelphia his second home. So, he came to Philly to make the album.
"I recorded a lot of the album in Philly over the last few years," said Lowe. "I've spent a lot of time in Philly. My friend Jeff Ziegler lives in Philly.
"Jeff produced my new album. We recorded it at Uniform Recording in Philly's Eraserhood neighborhood. And we did some mixing at Kawari Sound in Wyncote.
"I knew I didn't want to make the record in Austin. With Balmorhea, everything had been recorded in Austin. I wanted a new landscape. And, my girlfriend was living in Philly at the time. The fit was right."
Fortunately for fans of Balmorhea, Lowe's neew album is just a side project not an indication of the demise of the band.
"With Balmorhea, we were in a long hiatus for the last three years," said Lowe. "That was when I worked on my own album. Balmorhea has a new album coming out in late September and then we'll be out on tour."
Video link for RG Lowe — https://youtu.be/OBZxdhrqPHA.
The show at Kung Fu Necktie, which has Rosali and Valley Exit as opening acts, will start at 8 p.m. Tickets are $7.
Other upcoming shows at Kung Fu Necktie are Wo Fat and The Well on June 22; TWRP and X-Hunters on June 24; Super Doppler and My Son Bison on June 25;Thelma and the Sleaze, The Robotrippers, and Mirrorsigns on June 26; Liz Cooper & The Stampede, Airpark, The Dawn Drapes on June 27; and Pronoun, Aster More, and So Totally on June 28.
On June 23, The Ardmore Music Hall (23 East Lancaster Avenue, Ardmore, 610-649-8389, www.ardmoremusic.com) will host veteran singer-keyboardist Jon Cleary.
A few weeks ago, Cleary, a New Orleans R&B/funk multi-instrumentalist and Grammy winner, released his new album "Live at Chickie Wah Wah" on FHQ Records and now is on the road supporting the release.
Known for his work with The Absolute Monster Gentlemen, Cleary is one of the few keeping alive the tradition of New Orleans-style piano and voice.
His regular Tuesday night shows at Chickie Wah Wah have become a favorite of both locals and visiting music lovers alike. The new disc, which is his first solo outing, is a simple recording of a New Orleans rhythm and blues piano player at work.
Cleary's profile as a musician became a lot stronger two years ago when his album "GoGo Juice" was nominated for a Grammy Award in the Best Regional Roots Music category. It became a lot more intense when "GoGo Juice" won the Grammy.
"My whole world completely changed when that happened," said Cleary. "I'm still doing what I've been doing for the last 30 years. If it (winning a Grammy) allows more people to hear my music, then it's a good thing."
When he was a young man, Cleary crossed the Atlantic Ocean, arrived in New Orleans and quickly adopted the Crescent City as his hometown. He was born in Kent, England but moved to New Orleans when he was 17.
"As soon as I got out of school, I got on the first plane to New Orleans," said Cleary, who is a vocalist, keyboardist and songwriter. "I had $100 in my pocket when I ended up in New Orleans.
"I grew up in a musical family — lots of musicians and music lovers. My uncle had lived in New Orleans and he brought back hundreds of obscure 45s — Clifton Chenier, Professor Longhair, Huey Smith and the Clowns. It was a perfect introduction to the joy and exhilaration of music."
When his uncle — musician Johnny Johnson — returned from New Orleans in the early 70's and brought back two suitcases of rare and obscure local 45s, Cleary pursued his study of R&B in great depth with special attention to the New Orleans sound that increasingly captivated him.
"Part of the charm of the music of New Orleans is that it's strong and it exists even though it has been ignored by the mainstream," said Cleary. "Every once in a while, there is some notice.
"The music business in Los Angeles is fashion industry. What we have down here is real. New Orleans music always has been hard to quantify and categorize. I like the status of being an outsider. I'm a round peg in a square hole. I'm a guitar player playing piano — a New Orleans musician born in England.
"There is a huge sense of camaraderie with New Orleans musicians — not just artists but they're artisans. There is a great deal of pride down here in being a good musician — not really a sense of competition. New Orleans is one of the last vestiges of real music tradition.
"All New Orleans musicians know that there are 12 notes — four beats in a bar. The idea is to improvise and pick a note to make people smile, dance and be happy. It's all music down here."
Video link for Jon Cleary – https://youtu.be/7c15B6fLqzo.
The show at Ardmore Music Hall, which has The Sermon! as the opener, will start at 8 p.m. Tickets are $22.
Other upcoming shows at Ardmore are Screaming Headless Torsos, Darla, and Muscle Tough on June 22; and Tarrus Riley featuring Dean Fraser and The Blak Soil Band, Jah Works, Jah People, and DJ Thriller Attoine on June 24.
Kennett Flash (102 Sycamore Alley, Kennett Square, 484-732-8295, http://www.kennettflash.org) will have Trench Boy, See Through Dresses and Carrier on June 22; Better Than Bacon on June 23; and Edgardo Cintron & The Inca Band – A Tribute to Santana on June 24.
The Steel City Coffee House (203 Bridge Street, Phoenixville, 610-933-4043, www.steelcitycoffeehouse.com) will host
Heston and Lori Ann Strunk on June 23; and Comedy Night at Steel City on June 24.
The Keswick Theater (291 N. Keswick Avenue, Glenside, 215-572-7650, www.keswicktheatre.com) presents "1964…The Tribute" on June 23 and Purple Xperience on June 24.
The Candlelight Theater (2208 Millers Road, Arden, Delaware, 302- 475-2313, www.candlelighttheatredelaware.org) is presenting "Crazy for You" now through June 25.
Video link for "Crazy for You" — https://youtu.be/FsUwE4R4oXk.