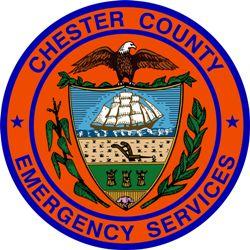 Chester County has received two achievement awards from the National Association of Counties (NACo) for programs developed by the county's Department of Emergency Services.
The two programs – Care Under Fire and Youth First Responder's Career Training – picked up the accolades within NACo's Criminal Justice and Public Safety category. Both awards will be formally recognized on July 23 at NACo's annual conference and exposition in Columbus, Ohio.
"Public Safety has always been one of our top priorities, and our staff in the Department of Emergency Services works closely with all first responder agencies to create and run programs that are worthy of awards," said Michele Kichline, Chair of the Commissioners. "The NACo recognition for both programs is well deserved."
"The 'Care Under Fire' program is a one-day, 10-hour training course for police officers that focuses on how and why it is crucial to provide lifesaving first aid procedures for their partners and colleagues while in the line of duty," said Bobby Kagel, Director of the Chester County Department of Emergency Services. "The course gives police officers a basic understanding of what it takes to stay alive when faced with a traumatic injury, and we have found that police officers who have received the training quickly become ambassadors for the value of the program."
In the "Youth First Responder Career Training Partnership", Chester County Emergency Services partners with the Octorara Area High School to present the Octorara Area Homeland Security and Protective Services Career and Technical Education program. The program prepares students to apply technical knowledge and skills required to perform entry-level duties in law enforcement, firefighting, emergency medical technician and other safety services. This program stresses the techniques, methods and procedures specific to the areas of criminal justice and fire protection especially in emergency and disaster situations.
"Protecting the public is a crucial part of governing, and we take that very seriously in Chester County," said Commissioner Kathi Cozzone. "With the declining number of volunteers in our first responder agencies, a program such as this not only provides national fire service and emergency medical service certifications, but it also introduces high school students to the true value of being a volunteer first responder."
Nationally, the NACo awards are given in 18 different categories that reflect the vast, comprehensive services that counties provide. The categories include children and youth, criminal justice, county administration, information technology, health, civic engagement and many more.
Commissioner Terence Farrell said, "NACo recognizes that counties across the nation overcome complex challenges, provide essential services and continually must do more with less, and this awards program honors that. This national recognition again proves that Chester County is one of the best counties in the country in which to live, work and raise a family."