By Denny Dyroff, Staff Writer, The Times
Only a handful of American rock bands that have been able to rise to the top and then remain there indefinitely.
The Mavericks, who will be performing on June10 at the Sugarhouse Casino (1001 North Delaware Avenue, Philadelphia, 877-477-3715, www.sugarhousecasino.com),www.thefillmorephilly.com), are one of those bands.
The band came together in Miami just over 25 years ago and immediately built a strong following with its eclectic mix of rock, country, Latin, rockabilly, standards and cowpunk.
Despite personnel changes, financial difficulties, internal conflicts, a few periods in limbo and a variety of other challenges, the Mavericks are still going strong more than a quarter-century later.
Recently, the group released its new studio album "Brand New Day" on its own label – Mono Mundo Recordings.
The current line-up of The Mavericks includes founding members Raul Malo (vocals) and Paul Deakin (drums). Jerry Dale McFadden has been the band's keyboardist since 1994 and guitarist Edie Perez joined in 2003.
Coming off of a sold-out album release show at the legendary Ryman Auditorium in Nashville and a historic trip to Havana, Cuba to tape an upcoming PBS special, The Mavericks continue their trek from East Coast to West Coast in support of "Brand New Day."
"We recorded 'Brand New Day' throughout the year in 2016," said Malo, during a phone interview Thursday as the band travelled from Nashville to New York. "We recorded some of it a Capitol's studios in L.A.
"With this record, instead of waiting for an entire batch of songs to be written, we'd book time in the studio as I wrote the songs. Then, we'd have time to tinker with them.
"I like to play some of the songs first before going into the studio with them. So, we'd sneak some into our live set along the way. Infusing new material into a set makes it fun for us.
"We have an interesting situation compared to most bands. Our fans really like to hear our new songs live. We can put a new song in the set and leave out one of our big hits and no-one will bat an eyelash. We find a good balance between old and new. We make sets lists that we like and we know audiences will like."
"Brand New Day" represents a milestone for The Mavericks' career. The collection is the first independent full-length studio release on their label, Mono Mundo Recordings.
The group chose to break away and become the sole overseers of their creative process, label and management and take full control of their long-standing career.
"It really came down to how the business was working for us," said Malo. "Now, we're able to work the way we want to because we've taken control of all aspects of our business.
"The way businesses are set up for a band like us, we can't afford to be on a major label. It wasn't working for us. With what we're doing now, the power is in our hands to do what we want to do."
This business model is especially important for a band whose music spans a wide range of genres.
"We're a band you can't describe," said Malo. "Polka, Cuban, country, rock – we play it all but never call ourselves any of it. We were named the Americana Music Awards Duo/Group of the Year.
"We also earned two Grammy nominations — Best American Roots Song for 'All Night Long' and Best Americana Album for 'Mono.' We won our first Grammy in 1996 for Best Country Performance by A Duo or Group with Vocal for 'Here Comes the Rain.'
"But, I never ever said we were a country group. From a general point of view, we're just a rock and roll band."
Video link for The Mavericks — https://youtu.be/ezv2q99BGK8.
The show at the Sugarhouse Casino will start at 9 p.m. Tickets are $49.
Also on June 10, another American band that plays rootsy music and has been around for more than a quarter-century will be performing in the area when Rusted Root headlines the Wayne Music Festival (Wayne Avenue, Wayne, www.waynemusicfestival.com).
Some bands get excited when they enter their second decade. Rusted Root sailed past that marker a long time ago and now is entering its second quarter-century. The internationally-acclaimed band has a long and interesting history.
Actually, the veteran group of musicians long ago established its legacy as one of the premier rock bands to come from Pennsylvania. The group, which still includes three of the original five members, continues to write, record and tour. And, it still calls Pittsburgh home.
The trio of founding members includes Michael Glabicki (lead vocals, guitar, harmonica, mandolin), Patrick Norman (bass guitar, backing vocals, percussion) and Liz Berlin (percussion, backing vocals). Rounding out the quintet are Preach Freedom (percussion, backing vocals) and Dirk Miller (guitar, backing vocals).
"It's really exciting to be out playing now," said Glabicki, during a recent phone interview from his home in Pittsburgh. "It's extra exciting to play intimate clubs and small outdoor shows. This way, we can tell the experience has blown the audience away.
"We've been pretty busy this year and last year. We had a great tour around the country. We went to Japan. We went to Guam and played for the troops over there. And, we did a West Coast tour with Toad the Wet Sprocket.
"We stayed pretty busy touring in the fall. It seemed that with the election, people needed a distraction. On the average, we play 160-170 shows a year. The numbers have been going up recently.
"We've picked up momentum. The band is clicking. We're more relaxed with a more intimate flow onstage."
In honor of its 25th Anniversary, Rusted Root embarked on an extensive national tour several years ago to support its most recent album "The Movement," which is described by Glabicki as "an extremely joyous recording with seriously deep undertones."
"The Movement" was released on Shanachie Records in 2012.
Rusted Root, which is known for its fusion of acoustic, rock and world, has recorded eight albums and sold over three million records worldwide.
The band's music has been featured in films such as "Ice Age," "Twister" and "Matilda" and TV shows such as "Ally McBeal," "New Girl" and "Charmed."
"We've had this lineup together for over five years now," said Glabicki "Colter (Harper), our other guitarist, left after the last album to teach school in Ghana. Preach has been our drummer for six years. Before that, he was our percussionist."
While "The Movement" was more of a spiritual, highly-creative work, Rusted Root's next album looks to be heading in a different direction.
"We've been working on our next album and we're getting closer to finishing it," said Glabicki. "We've been performing a lot of the music live — fleshing it out for live audiences.
"We took 70 songs and narrowed it to 12-15 for the album. There are 10 that are definitely going to make it. We're pretty excited about some of the new sounds.
"There are different vignettes throughout the song instead of a whole song being just one vignette. The background vocals are laid out differently. And, I've been writing the blueprints for the arrangements first. Each song is its own entity and there is a lot of variety.
"Some songs are about heartache — powerful explosive ballads. One is an intimate spiritual song. Other songs go from that to a faster groove. I keep having more visions – a lot of sounds and different directions. We have a lot in the can but we keep clicking and opening up new doorways.
"'The Movement' was a celebration of what we learned over the first 25 years. The new album is the start of the next 25 years.
"I can see the band being together for that long. I don't see why not. The band keeps getting better. There are more landscapes to explore musically. And, we're still getting bliss from the audience."
Rusted Root's first major success came with the band's 1994 album "When I Woke," which went platinum, and its breakout song was a catchy tune called "Send Me on My Way."
"We've been playing that song so long that it has a life of its own — we just follow it where it goes," said Glabicki. "We've been getting great responses with the new songs. It's a little scary because the sound is different — but the crowd gets it. The grooves are more organic and moving. There's a little bit of funk — and some straight-ahead rock grooves."
Video link for Rusted Root — https://youtu.be/IGMabBGydC0.
Rusted Root's set at the free festival is scheduled for 9 p.m. and will be followed by a fireworks display.
Other acts slated to play at this year's Wayne Music Festival are Help the Doctor, Brian Seymour, The Fractals, Hurricane Hoss, Darla, Huffamoose, Kevin Sousa, Ben Arnold, Rugby Road, Mason Porter and Matt McAndrew.
Greg Sover has just released "My City," a record that is his tribute to Philadelphia, and is celebrating with an all-star concert to benefit North Light Community Center on June 11 at the World Café Live (3025 Walnut Street, Philadelphia, 215-222-1400, www.worldcafelive.com).
The concert, which will run from 1:30-4:30 p.m., features the Greg Sover Band — Allen James, Garry Lee, Tom Walling and special guest Wally Smith – along with Jeannie Brooks, Richard Bush, Deb Callahan, Lizanne Knott, and the North Light Community Center Singers.
"'My City' is a track from the new album," said Sover, during a phone interview this week from his home in Philadelphia. "It's just me showing my love for the city – me giving back. So, I'm doing a benefit for North Light – just trying to give back to the community."
Sover, who grew up in Philly and attended William Penn High, has been making music for a while. But, it has only been recently that he has started taking his career to a higher level with the release of his debut album "Songs for a Renegade."
"I've been playing a lot more shows lately," said Sover, during a phone interview this week from his home in Philadelphia.
"I've been opening for a lot of bands. I just opened for Ana Popovic at Sellersville last week. People have been receiving me well. I've been building up my fan base that way."
Sover became fascinated with the guitar at age 13. His father taught him the French song "La Maladie d'Amour" and Sover took it from there. He taught himself how to play guitar, how to write songs and, eventually, how to sing.
"I was born in Brooklyn, N.Y. and my family moved to Philadelphia when I was 10," said Sover. "I was exposed to music when I was really young.  I had musicians on both sides of my family. My whole life I've had access to the guitar. With guitar, I started really knowing what I was doing when I was around 15. At the same time, I was playing electric bass at my church."
Sover says his music doesn't fit into one particular genre. It includes elements of "blues and rock with a dash of everything else."
He has been influenced by artists in multiple genres including Bob Marley, Stevie Ray Vaughn, Dwight Yoakam, Jay-Z, Gary Moore (Thin Lizzy and others) and Jimi Hendrix. Songwriting has been an outlet for him to express his struggles and passions and he believes that his songs resonate with his fans.
Sover first attracted serious attention when he won the 2015 Hard Rock Rising competition at Philadelphia's Hard Rock Cafe. His development is due in large part to his band, which is comprised of three Philly veterans with extensive resumes – bassist and album co-producer Garry Lee, guitarist Allen James and drummer Tom Walling.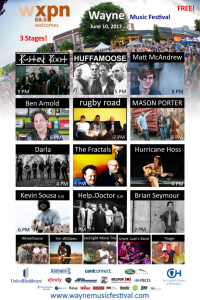 Lee, who has played with June Rich and The Rhythm Cats Revue, is currently the bassist in the Deb Callahan Band. Lee assembled the band for Sover — enlisting James and Walling, his long-time band mates in the Deb Callahan Band. Their cohesiveness as a unit enabled Sover to develop as an artist and take his music to the next level.
"The band all started with Gary Allen," said Sover. "I played an open mic at the Grape Room and Gary was doing sound that night. Garry really helped me get my career going.
"I needed top level musicians and he brought them. It's been amazing working with Garry and I've really learned lot from these guys. Allen is one of my favorite guitarists ever."
Sover's favorite guitarist is a player who tops many musicians' "favorite guitarist" list — Jimi Hendrix.
"Jimi Hendrix is one of my major influences," said Sover. "I'm really influenced by a lot of the music from that era. The music of the 60s spoke about things. It was very political."
Those influences can definitely be heard on "Songs for a Renegade."
"We recorded the album at two studios — one in Center City Philadelphia and one in Mount Airy," said Sover.
"We worked on it last November and stopped recording at the beginning of this year. When we finished, we had nine originals and one cover. The cover I did was 'Ain't No Sunshine' by Bill Withers."
Video link for Gary Sover — .https://youtu.be/8LAygpzHyWM0.
The show at the World Café Live will run from 1:30-4:30 p.m.
Tickets are $25.