By Denny Dyroff, Staff Writer, The Times
Memorial Day Weekend is a time for mini-vacations, barbecues and traditional events.
Longwood Gardens (Route 1, Kennett Square, 610-388-1000, www.longwoodgardens.org) will have an eagerly-anticipated special event this weekend.
"Summer of Spectacle" will open on May 27 and run through September 30.
The Main Fountain Garden is making its grand return and Longwood Gardens is planning an unforgettable summer of celebration.
The fountain project took two years and $90 million in renovations. The fountain features more than 1,300 jets and streams, a similar ampount of LEDs, a variety of flame features and a wide array of plants from around the world.
The culmination of the legacy and vision of Pierre S. du Pont, the garden combines classic landscape design with art, innovation, technology, and extraordinary fountains.
Special events will be held throughout the summer in addition to glorious gardens, live music, special exhibits, and jaw-dropping fountain performances.
Fountain performances will be presented daily at 11 a.m. and 1, 3 and 5 p.m.
Video link for Main Fountain Garden — https://youtu.be/MX1DUqQ2wqg.
Daily visitor programs, including gardening demonstrations, behind-the-scenes tours, and talks add to Longwood's charms. Children will enjoy the many activities in the outdoor Children's Area, and the imaginative fun of the Indoor Children's Garden.
Admission to Longwood Gardens is $23 for adults, $20 for seniors and $12 for youth (ages 5-18).
When Memorial Day Weekend arrives in the Brandywine Valley, it's time once again for the Brandywine River Museum Antiques Show and Sale. The popular annual event is celebrating its 46th anniversary this year.
The show, which runs from May 27-29 at the Brandywine River Museum (Baltimore Pike, Chadds Ford, 610-388-2700, www.brandywinemuseum.org), offers antique collectors — and anyone just interested in looking at vintage collectibles – a good option for a fun activity on the holiday weekend.
The annual show features more than 30 top-flight antiques dealers from states all over America (including New York, New Hampshire, Connecticut, Maryland, Pennsylvania, Virginia, Delaware, Michigan, and Maine), who will be displaying and selling their wares at the three-day event.
The roster of in-state exhibitors includes Ayscough Antiques (Chadds Ford), Harley N. Trice (Pittsburgh), Margaret Johnson Sutor Antiques (Lafayette Hill), Priscilla Boyd Angelos (Flourtown) and Joseph Lodge (Lederach).
Some of the other featured exhibitors are Mark & Marjorie Allen, Priscilla Boyd Angelos, Dover House Antiques, Federalist Antiques, Hilary & Paulette Nolan, The Norwoods' Spirit of America, Olson Antiques, Shaeffer's Antiques, West Pelham Antiques and White & White Antiques.
The list also includes The Hanebergs Antiques, Hanes & Ruskin, W. M. Schwind, Jr., Shaia Oriental Rugs of Williamsburg, J & R Ferris Antiques, Dubey's Art & Antiques, Brennan & Mouilleseaux, Harold E. Cole/Bettina Krainin Antiques, Brill's Antiques, James M. Kilvington, Inc., Lisa McAllister, Aileen Minor, and Tucker Frey Antiques.
Visitors to this weekend's event at the museum will be able to select from a huge array of fine antiques including quilts, glass, ceramics, folk art, American and English furniture, Oriental and European porcelain, metalware, rugs and other fine collectibles.
A special feature each year is a program of booth talks by antiques dealers on Sunday and Monday.
There will be a special "Breakfast and Tour" event on May 27 at 9 a.m. The theme is "Sipped and Savored: The Art of Chocolate."
Show hours are from 9:30 a.m.-5 p.m. both days. Admission is $18 per day.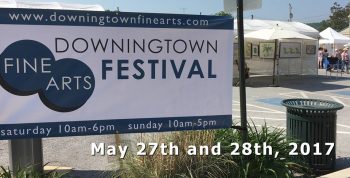 Another event where you can spend some time and money and add to your collection of art and antiques is the 2017 Downingtown Fine Arts Festival (Lancaster Avenue, Downingtown, 610-864-3500, http://downingtownfinearts.com). The festival's hours are 10 a.m.-6 p.m. on May 27 and 10 a.m.-5 p.m. on May 28.
The Downingtown Fine Arts Festival, which is free and open to the public, is presented by David Oleski Events and the Downingtown Main Street Association, in partnership with the Borough of Downingtown.
Visistors to the festival will be able to check out an impressive variety of art in a wide range of categories including photography, paintings and jewelry.
Some of this year's paerticipating artists are John Balacki, Chan Wang, Barri Wiley, John Pompeo, Robert Lott, William Lewis, Chris Bruno, Pauline Brown, Sang Kim, Scott Krycia and Marleen Book.
As an added attraction, tasty food treats will be available for purchase from the festival's featured food vendors as well as from the assortment of restaurants in the center of Downingtown.
The Brandywine River Museum's event, which is closing in on its 50th anniversary, is pretty old. But, when it comes to longevity, it pales in comparison with the Devon Horse Show (Lancaster Avenue, Devon, 610-688-2554, www.devonhorseshow.org).
No-one on earth right now is older than the Devon Horse Show – not even Violet Mosses Brown, who turned 117 this year. The 2017 show, which is running now through June 4, is the 121st Annual Devon Horse Show and Country Fair.
The Devon Horse Show is and always has been special.
More than just another annual equestrian event, it is a family event that spans generations and traditionally marks the start of summer. It is a place where attendees go as much to see and be seen as to watch horses compete — a sporting event and a tradition-based social event.
The Devon Horse Show began in 1896 as a one-day show with 28 classes. By 1914, it had grown immensely and had become the largest outdoor horse show in the country — a distinction it still holds.
In 1919, it was decided that a "Country Fair" should be held in conjunction with the horse show and that the event should benefit Bryn Mawr Hospital.
In 2010, the Devon Horse Show became just the fourth American horse show to be honored with the designation as a USEF Heritage Competition.
This award is reserved for those competitions that have been in existence for more than a quarter century, promoted and grown the equestrian sport, and made a contribution to the community outside the gates of the horse show by achieving, maintaining and promoting the equestrian ideals of sportsmanship and competition.
More than 3,000 horses are entered in the Devon Horse Show in over 30 divisions and more than 200 classes with prize money totaling over a quarter of a million dollars. The equestrian competition reaches its peak the final few days with the Devon Grand Prix and the Idle Dice Open Jumper Stake.
The Country Fair offers concessions featuring lemon sticks, cotton candy and buckets of fudge. Other main attractions at the fair are the a garden café, sales booths featuring antiques, toys, hand-crafted items, Devon Horse Show souvenirs and over 30 other shops with jewelry, art, clothes and equestrian-related items.
Another popular family attraction is the Midway with its huge ferris wheel, old-time carousel and wide array of amusement rides and games — plus kid-favorite goodies such as popcorn, cotton candy and funnel cake.
Admission is $15 for adults and $5 for children (under 12) and seniors (over 65).
Kennett Square's annual Memorial Day Parade (West State Street, Kennett Square, http://historickennettsquare.com), which honors the area's veterans, is scheduled for May 29.
The parade, which is expected to feature more than 1,000 participants and twice as many spectators, will get underway at 10 a.m.
Participants in the parade will represent a wide array of interests with historic battle re-enactors, antique military vehicles, bagpipers, fife and drum units, color guard groups, high school bands, and local youth sports teams.
The parade route for the Memorial Day Parade goes this way — Kennett High School to East South Street, South Union Street to East Cypress Street, South Broad Street to West State Street, to North Union Street to the Union Hill Cemetery on the left.
The parade will come to an end at the Union Hill Cemetery and will be capped with a memorial gun salute.
Warm weather provides an ideal environment for sipping wine while listening to live music in a pleasant outdoor setting. Not surprisingly, several area wineries put the two activities together for special events on Memorial Day Weekend.

The Chaddsford Winery (632 Baltimore Pike, Chadds Ford, 610-388-6221, www.chaddsford.com) is hosting its Memorial Day Music Festival from May 27-29.
Live music performances on May 27 will be presented by Hake & Jarema from noon-3 p.m. and Revolution Heroes from 3-6 p.m. Sunday's schedule will feature Adam McCue from noon-3 p.m. and Roger Girke from 3-6 p.m. and Monday's schedule has Bruce & Sam fron noon-3 p.m. and The Little Red Rooster Band from 3-6 p.m.
Tasty food items will be available for purchase from the featured food truck M&M Catering.
Admission to the festival is free, and all wine and food purchases are pay-as-you-go. Chaddsford Winery reserves the right to refuse entry to any individual not accompanied by an adult.
Black Walnut Winery (3000 Lincoln Highway, Sadsburyville, 610-857-5566, www.blackwalnutwinery.com) will present its Seventh Annual Black Walnut Winery Blues Festival this weekend with shows on May 27 and 28 from noon-7 p.m. each day.
On May 27, the free family event will feature music will be provided by Bushmaster featuring Gary Brown and Blue Bizness. Acts scheduled for May 28 are the Dukes of Destiny and the Deb Callahan Band.
Uncle B's BBQ Shack of Phoenixville will be on site making and selling their famous BBQ specialities.
Admission is $10. Visitors can bring their own picnic lunches but no outside alcohol is allowed on the site. Guests can also bring their own blankets and chairs.
The Mount Hope Estate & Winery in Cornwall's Great Pennsylvania FlavorFest has evolved into one of the winery's most popular annual events.

This year's 10th Annual Great Pennsylvania FlavorFest will be held May 27 and 28 on Mount Hope's grounds (Route 72, Cornwall, 717- 665-7021, www.parenfaire.com) from 11 a.m.-5 p.m. each day.
Thie annual feast for the taste buds features many of the region's finest wineries sampling and selling their vintages, cooking demonstrations, specialty foods for sampling and for sale, master artisans, live music and an interactive Crafty Kid's area.
One of the nicest aspects of the event is that it is free — free admission, free tastings and free parking.
There will be 20 wineries from Pennsylvania offering samples of and selling of their many varieties. Local restaurants and food vendors will also be offering samples from their menus.
Some of the featured wineries are The Winery at Wilcox, Star Hill Vineyard & Winery, Ferro Vineyards & Winery, Juniata Valley Winery, HeritageWine Cellars, Benigna's Creek Vineyard & Winery, Bee Kind Winery, and Franklin Hill Vineyards.
The roster also features Sand Castle Winery,  Boyd's Cardinal Hollow Winery, Broad Mountain Vineyard, Buddy Boy Winery, Shade Mountain Winery, Capra Collina Winery, Mount Hope Estate and Winery, Mazza Vineyards and Cullari Vineyards & Winery.
FlavorFest will feature a variety of specialty food vendors. Visitors will be able to sample and purchase gourmet food items such as sauces, dips, pastries, cheeses – along with Pennsylvania Dutch favorites such as whoopie pies and traditional shoo-fly pie.
As an added attraction, chefs from local restaurants will present cooking demonstrations each day highlighting gourmet dishes in their restaurants' signature styles.
If you have an interest in classic automobiles, antique tractors, vintage Mustangs or just cars in general, you should plan on making a trip to Kimberton this weekend.
On May 28, the 38th Annual Chester County Car Show will be held at the Kimberton Fire Company Fairgrounds (Route 113, Kimberton,215-646-4265,http://www.chescoacc.com).
The event will begin with auto registration at 9 a.m. A wide array of vehicles will be on display, including antique cars, motorcycles, classic cars, antique tractors, hit-and-miss engines, Mustangs and street rods.
In addition to all the cars on display, the one-day event will also feature an automobile flea market, an arts-and-crafts show, a food court and music by a deejay. There is no admission fee but a $2 parking donation is requested.
"Historic Autos at Winterthur" (Route 52, Wilmington, Delaware, 302-888-4600, www.winterthur.org), which is included free with museum admission, provides visitors with the opportunity to see a variety of vehicles from the past that have been maintained in pristine condition.
There have been different displays every Saturday through the month of May. The final presentation is schedule for May 27. The theme for Saturday's event is "Cars of the 1950s: Winterthur Museum Opens to the Motoring Public."
Additionally, there will be a special lecture by Thomas A. Guiler on May 27 at 1 p.m. — "America's Sensational Sports Car: The Corvette in American Culture, 1953-1969 and Beyond."
Admission to Winterthur is $20 for adults, $18 for seniors and students, and $5 for children (ages 2-11).
If you enjoy walking around garden displays or if you like to look at model railroad layouts, then you should definitely check out the Garden Railway Display at the Morris Arboretum (100 Northwestern Avenue, Chestnut Hill, 215-247-5777, www.business-services.upenn.edu/arboretum/index.html).
The ultra-popular Garden Railway Display has become a major summer attraction at The Gardens at Morris Arboretum. The 20th annual edition of the display has its official season opening scheduled for May 27 and then will remain open until September 5.
This year's theme is "Arboretum in Motion."
The railway has a quarter-mile of track featuring seven loops and tunnels with 15 different rail lines and two cable cars, nine bridges (including a trestle bridge you can walk under) and bustling model trains.
The buildings and the display are all made of natural materials – bark, leaves, twigs, hollow logs, mosses, acorns, dried flowers, seeds and stones – to form a perfectly proportioned miniature landscape complete with miniature rivers.
Philadelphia-area landmarks are all meticulously decorated for the holidays with lights that twinkle. There is even a masterpiece replica of Independence Hall are made using pine cone seeds for shingles, acorns as finials and twigs as downspouts.
Video link for Garden Railway — https://www.youtube.com/watch?feature=player_embedded&v=RSJUqYxoHb4.
Admission is $17 for adults; $15 for seniors (65 and older); $9 for students (ages 13-17 or with ID), active military and retired military; and free for children (under 3).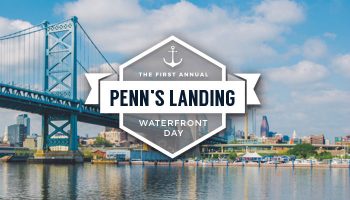 A new holiday event is arriving in Philadelphia this weekend — Penn's Landing Waterfront Day and Memorial Day Fireworks (http://www.delawareriverwaterfront.com/events).
Several of the attractions along Penn's Landing have teamed up to present the inaugural Penn's Landing Waterfront Day. The event, which will be held on May 28 starting at noon, is an all-day festivity with live music, a pop-up beer garden on a boat, and special offers at Penn's Landing attractions.
Independence Seaport Museum will charge a discounted price of $20 for paddle boat rental and museum admission. Patriot Harbor Lines will feature half-price tours from noon-5 p.m. and Blue Cross RiverRink Summerfest will offer roller skaters $3 discounts per session.
The event will conclude with a free show by the United States Air Force Band and with a gala fireworks show above the Delaware River. The concert will get underway at 8 p.m. followed by the fireworks at 9:30 p.m.
As part of Historic Philadelphia's 11th anniversary celebration at Franklin Square (200 Sixth Street, Philadelphia, www.historicphiladelphia.org ), the organization is illuminating the park with its inaugural Chinese Lantern Festival.
Now through June 12, Franklin Square will come alive every night with illuminated lanterns, handcrafted giant flowers and a wide array of other spectacular displays. All creations were constructed by lantern artisans from China.
Chinese-inspired performances will take place in Franklin Square twice nightly. Performances, which celebrate Chinese performance art and entertainment, are 30-minutes long and are scheduled for 6:30 and 8:30 p.m. Sunday through Thursday and 6:30, 8:30 and 10 p.m. on Friday and Saturday.
Festival hours are 6-10 p.m. Sunday through Thursday and 6-11 p.m. on Friday and Saturday. Admission is $17 for adults, $12 for youth, and $15 for seniors and military.
Much of the world's tastiest cuisine comes from Mediterranean countries such as Italy, Turkey and especially Greece. Two of the area's top Greek festivals are on the schedule for the next two weeks.
The Grecian Food Festival at St. Sophia Church Grecian Festival (900 South Trooper Road, Jeffersonville, 610-650-8960, www.stsophiavf.org) is running from May 31-June 4.
The 2017 Greek Festival at the Holy Trinity Greek Orthodox Church (808 North Broom Street, Wilmington, 302-654-4446, www.holytrinitywilmington.org) opens on June 6 and runs through June 9.
The list of main dish items at St. Sophia's festival has a wide variety of meat and vegetable items. Chicken Oreganato is Grecian-style chicken roasted with a mixture of lemon, oil and oregano, while souvlaki is grilled pork tenderloin marinated with special herbs.
Gyros are pita sandwiches featuring a spice-infused ground beef-and-lamb mixture that is grilled, sliced fresh and served with tzatziki (cucumber and yogurt sauce), tomatoes, onions and olives.
Pastitsio is a macaroni dish with braised ground lamb and beef that is topped with béchamel sauce and baked. A similar entrée is mousaka, which features layers of eggplant, potato, ground lamb and beef, which is then baked and topped with a light béchamel sauce.
Saganaki is a dish with seared vlahotiri cheese that is flamed with brandy and lemon and served fresh. Greek Salad, which is always a favorite, includes lettuce, feta cheese, tomatoes, Greek olives, oregano, salt, onion, cucumbers tossed in a light olive oil dressing.
Other selections that can either be a main meal or a side dish are tyropita, which is a Greek-style cheese pie in a crispy phyllo crust; spanakopita, which is a tyropita that has spinach added; and Dolmades, which are rice and meat wrapped in grape leaves.
The menu at St. Sophia's also includes a fried calamari dish with fresh lemon, and patates tiganitres, which are deep-fried potatoes that have been lightly seasoned with Greek herbs and spices and topped with feta cheese.
For dessert, it's impossible to go wrong with any of the traditional Greek pastries. The most well-known Greek dessert is baklava, which is made with multiple layers of thin buttered phyllo dough cooked with walnuts, spices and honey syrup. Kataifi features shredded wheat with chopped nuts and honey syrup.
Loukoumades , the Greek version of doughnuts, are deep-fried and dipped in honey with a dash of cinnamon. Floyeres is a baked dessert prepared with thin layers of buttered pastry sheets, almonds, spices, and honey syrup. Galaktoboureko is a custard dessert baked between carefully placed pastry sheets and covered in syrup.
Karidopita is a moist walnut cake with spices and syrup. Kok, which is the Greek version of Boston cream pie, is a chocolate-covered cake that is filled with custard.Diples are crunchy treats featuring crisp folds of thin rolled pastry dough that are deep fried and topped with syrup, cinnamon and nuts.
Greek cuisine also includes a variety of mouth-watering cookies including melomakarona (oval cookie dipped in honey and rolled in nuts), kourabiedes (butter cookie served with confectioner's sugar), paximadia (zwieback-type cookie that is baked then sliced and toasted in the oven), koulourakia (butter cookie that is twisted, basted with egg yolk and baked.)
And, Greek Festivals offer a wide array of live entertainment.
Greek-American groups from the Delaware Valley will play popular Greek songs and standards and theer will be performances of traditional Greek folk dances. The festival also features a taverna – a bistro-style site for dancing and drinking.
Other attractions are Greek grocery stores and sales booths with items such as Greek music, icons, custom-made jewelry, leather goods and fabric. There will also be a variety of children's activities.