By Mike McGann, Editor, The Times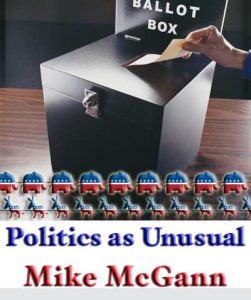 Just when the healthcare mess seemed ready to drown our local Congressvictims in a Jonestown Flood like deluge, President Trump's firing of FBI Director James B. Comey, Tuesday, swooped in and saved them by changing the subject.
And by saving them, I mean sparing them from a looming electoral firing squad by hitting them with a flaming asteroid.
While Pennsylvania's two U.S. Senators — Bob Casey Jr. and Pat Toomey — responded in a predictable manner, Casey calling the move "Nixonian" and Toomey mostly praising it, the local congressional delegation was more circumspect, ranging between openly questioning the move and a deep beige vagueness.
Casey, suddenly feeling the wind at his back for his 2018 reelection effort, was at his angry best:
"This is Nixonian," Casey said in his statement. "Deputy Attorney General Rod Rosenstein must immediately appoint a special counsel to continue the Trump/Russia investigation. On March 20th Director Comey said, 'I have been authorized by the Department of Justice to confirm that the FBI, as part of our counterintelligence mission, is investigating the Russian government's efforts to interfere in the 2016 presidential election and that includes investigating the nature of any links between individuals associated with the Trump campaign and the Russian government and whether there was any coordination between the campaign and Russia's efforts.' This investigation must be independent and thorough in order to uphold our nation's system of justice."
Toomey, though, went all in with Trump's move, giving it the thumbs' up, even if the timing was less than perfect.
"I have doubted the ability of Director Comey to lead the FBI effectively for some time now but the timing of his dismissal is unfortunate," Toomey said. "It is now up to the president to appoint, and the Senate to confirm, a successor who has unimpeachable credentials and integrity and who enjoys the confidence of the American people. The next FBI director should continue pursuing ongoing investigations, including the 2016 presidential campaign."
The county's three congress members — Ryan Costello (R-6), Patrick Meehan (R-7) and Lloyd Smucker (R-16) — expressed varying ranges of response ranging from dismay to trying to say as little as humanly possible about the subject.
Smucker, somewhat uncharacteristically, pulled no punches and argued for a renewed investigation into the alleged Russia-Trump campaign connections.
"The decision to dismiss Director Comey raises serious and legitimate questions about timing, intent, and the integrity of ongoing investigations," Smucker said in a statement. "My constituents deserve answers and I hope to see a full explanation soon. Additionally, while I support current congressional investigations into Russia's interference in the 2016 presidential election, I believe we need a fresh start. It's time for Congress to fully examine all circumstances surrounding Russia's involvement, and to look at ways to ensure a fair and straightforward investigation."
Costello attempted a more nuanced approach, suggesting while Comey had generated concerns, the firing and the White House spin on it were problematic.
"There has been ongoing bipartisan concern regarding the FBI Director for a variety of reasons," Costello said in a statement. "To date, the explanation for the firing has been insufficient and the timing raises additional questions. I have always maintained that any investigation into Russian efforts to interfere in the 2016 election must have the confidence of the American people. My constituents must have assurances that a non-partisan investigation will yield independent, well-grounded conclusions, and I certainly support that effort. At this time, I am continuing to gather more information."
Meehan said nice things about Comey — and blamed Hillary Clinton for getting him into a big mess — which was 180 degrees from the reasoning that the Trump White House initially gave for the firing (three or four explanations ago), which was the Comey mistreated Clinton. He then proceeded to say nothing much else about the firing before disappearing into vagueness like White House spokesman Sean Spicer into a bush:
"James Comey is a man of the highest integrity, ability and intellect and I thank him for his years of public service to the Justice Department," Meehan said in a statement. "He and the FBI were dragged into an impossible situation by Hillary Clinton's decisions and her mishandling of classified information. He was confronted with no good choices in the height of an election season.
"It's regrettable that in recent months, both Republicans and Democrats have lost faith in the Bureau to act above partisan politics. I'm hopeful that new, independent leadership will restore this confidence and continue to conduct ongoing investigations into Russian interference in our elections with integrity."
Kind of a word salad with ranch dressing, suggesting that the former U.S. Attorney either didn't know what to say — or knew what he couldn't say — so he spouted the verbal equivalent of packing peanuts.
On the bright side, all three now can enjoy a pause from protests at their offices regarding health care. On Friday, a group gathered to protest Comey's firing outside of Costello's West Chester office, instead. Variety is the spice of life, right?
Like the famous (infamous) scene in Wes Anderson's Magnolia — where frogs fall from the sky like a summer rain shower for no evident reason — all three of these guys have to look at the political landscape and ask themselves "what the @#$% is coming next?"
Pundits and pollsters seem to have an early answer and it's not good for incumbent Republican U.S. House members.
Charlie Cook of the Cook Political Report wrote a piece this week in National Journal with the headline: "Surf's up for a wave election."
Then news came that a new Quinnipiac University Poll showed Democrats lead Republicans on a generic poll 54-38, a 16-point deficit, which if accurate — and sustained, which is far from assured — would mean a massive 2018 wave election.
Under more normal circumstances, with a President Bush, Rubio, Kasich, et cetera, the prevailing winds would still be in the faces of the local Congress members — that's just how it goes in mid-term elections, especially with one party controlling Congress and the White House.
This? This is becoming a scene from Twister.
How, if or when our local members of Congress choose to cut bait on Trump may well decide their ultimate fate. Cut them too soon and they'll seem disloyal, too late and it could drag them down with him and drown them.
Not a happy time to be a Republican in Congress from a well educated area.
***
Meanwhile, the protests continue.
Virtually every Friday since Trump took office, local protesters have shown up at the district offices of Meehan, Smucker and Costello.
I stopped by this past Friday and spoke with the two-dozen plus protesters who manned a noon-time protest at Costello's Market Street District Office in West Chester. They've come every week — sometimes as many as 100 — to make sure Costello hears their message.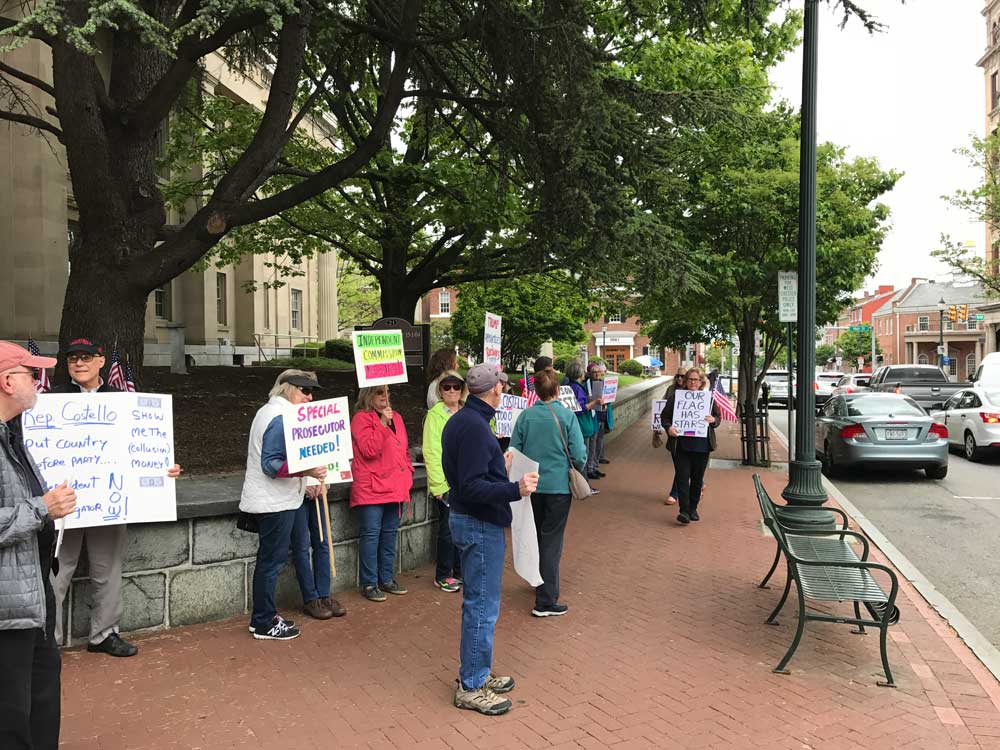 While Costello was not there this week, he has come out a number of times to speak with the protesters, something they give him credit for — from what we can tell, that hasn't been the case with Meehan or Smucker.
I spoke with Claire Witzlaben of Wayne, who was leading last Friday's protest, who said until Trump was elected that she hadn't been actively involved in politics, beyond voting regularly, but that the November election was a wake-up call.
She said her attempts to contact U.S. Sen. Pat Toomey have been fruitless — that the senator has made himself unavailable to constituents — so Costello has been the only way for her to personally express her concerns about what is going on in Washington, D.C. to someone who represents her.
Although she said she thinks Costello did the right thing in voting against the American Health Care Act, she said she's concerned that he's not really listening to his constituents. She cites the "town hall" event he held some weeks back, that was tightly controlled, limited questions and allowed only a handful of people to attend. Sources close to the Congressman suggested that safety was one of the concerns that led to holding the event there. Witzlaben didn't see to buy that.
"Do these people really look that dangerous?" Witzlaben asked, pointing to her fellow protesters, peacefully chanting and holding signs. "If he's so worried about safety, you know what would help with that? Doing something about gun safety."
Meanwhile, Costello can expect to see protesters every Friday outside his office — maybe for the foreseeable future. What impact it will have on the second term Congressman remains to be seen.
***
Big forum on redistricting reform the other night at Unionville High School, led, impressively by State Rep. Eric Roe (R-158) the primary co-sponsor of a bill that would take redistricting out of the hands of party leaders and put it under an independent commission. The bill must pass the legislature in two separate sessions and then be approved by a voter referendum.
Currently, the bill has 88 co-sponsors in the house — including 22 Republicans, including Roe and State Rep. Carolyn Comitta (D-156). A similar senate measure has 12 sponsors, including State Sen. Andy Dinniman (D-19).
The rest of Chester County's legislative delegation: yeah, crickets chirping.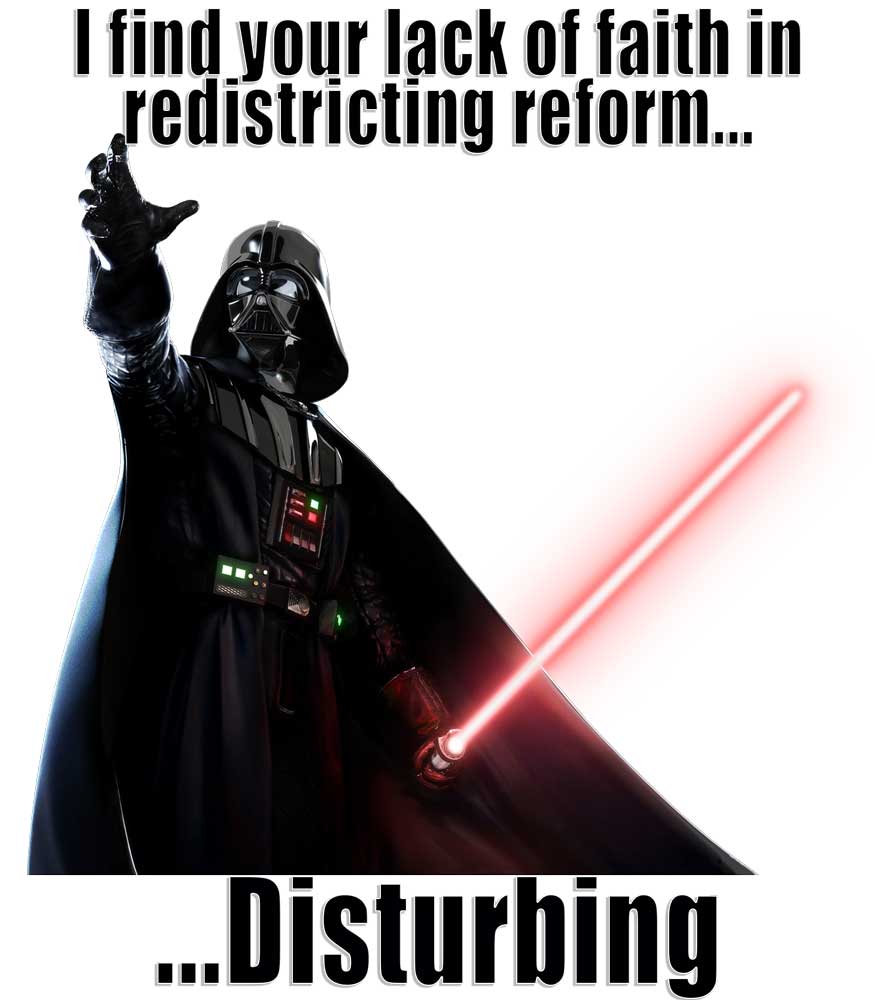 Gerrymandering is the biggest factor in legislative deadlocks both in Harrisburg and Washington, D.C. and yet, it seems like most of our state legislators seem to think it's not worthy of getting behind.
If you think that it is high time that the voters pick their legislators — instead of the other way around, I'd suggest reaching out to them to let them know your feelings.
***
Putting an additional spotlight on the federal immigration efforts that rounded up about a dozen local agricultural workers at local mushroom farms, a group has stepped up locally to make sure that those taken into custody have proper legal representation: Kennett Allies.
The group — which does not have non-profit status yet, so donations are not yet tax deductible — is raising money locally to "pool donations and distribute them to individuals and families immediately affected by the immigration crisis."
If you'd like to help, check out their Web site: kennettallies.org.