By Kelly Hockenberry, Columnist, The Times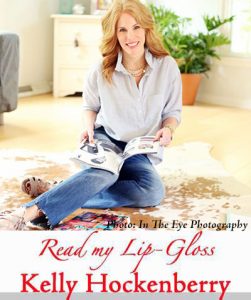 Mother's Day is next Sunday, May 14th! Thankfully, this Super Six will solve all of your problems regarding what to get that special lady. I've done the homework. Here we go…
Old Navy Relaxed Vintage Sweatshirt – I think it's officially the summer of the flamingo (as opposed to 2016, when it was the pineapple). The applique on this (very soft) sweatshirt is a chenille type fabric which makes it seem more expensive than the $25 price tag. Perfect weight for chilly beach evenings. Grab one for Mom here:

http://oldnvy.me/2phydf6

Rungolee Tassel Sandals – Mark your calendar for an amazing trunk show at No.109 Shop featuring resort wear, blouses, dresses, and these gorgeous shoes on Thursday, May 11th from 6-8pm and again on Friday, May 12th from 10-3pm. You can't beat a metallic sandal for the spring/summer. Dressed up or worn casually, Mom will reach for them all season long. 109 W. State Street, Kennett Square.
Lip Sense – How many times a day do you reapply lipstick? I have never officially counted, but, I would guess no less than 5 times. What if I told you that you could put on your lip color in the morning and it would still be visible hours later? I was lucky to be given the opportunity to try Lip Sense, a color and gloss system that is kiss proof, water proof, and smudge proof. There are a TON of colors. I tried a very neutral shade called Bombshell and love it. It makes a great gift for Mom! Interested in learning more? Contact Amber Shader at (302)-562-8976 or by joining her Facebook Group first & little LIPS.
Platinum Initial Charms – If you want to be the #1 child in your mother's eyes (or the BEST HUSBAND EVER), then a necklace complete with the initials of her kids would be the ultimate Mother's Day gift. A few weeks ago, I wrote about fine jewelry designer Alexis Kletjian and her incredible collection. So, naturally I had to include a bauble in my Super Six. Peruse the fabulousness of her website here:

https://www.alexiskletjian.com/

Clare Vivier Navy Woven Tote – I love to switch up my handbag when the season changes and this one is at the top of my list for Summer 2017. The color is a beautiful "nautical neutral" that will go with everything. I am obsessed with the shape and size and the fact that it can be worn cross-body. Perfection. Order one for Mom here:

http://bit.ly/2pS27KW

By Terry Glow-Expert Duo Stick – The ladies at Houppette (101 W. State Street, Kennett Square) always help me pick out the latest and greatest make-up must haves. This blush-bronzer-highlighter in one is my new favorite product. Apply it on the cheeks, chin, nose, forehead, and eyebrow arch for a flawless glow. It enhances your facial features and imparts a healthy, natural luminosity. Mom needs one!
There you have it! Now, in addition to a fantastic present, don't forget to include a card detailing all of the wonderful things you appreciate about Mom. She'll remember that sentiment most of all (even though my suggestions are rather stellar).
Happy Weekend