Updated 5:10 p.m.: Adds comment from Patrick Meehan
By Mike McGann, Editor, The Times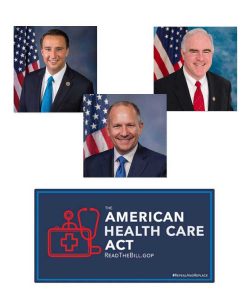 Chester County's Congressional delegation split Thursday in a closely contested vote to pass the American Health Care Act — the controversial bill that would repeal some sections of the Affordable Care Act, a vote that will likely turn the 2018 Congressional Elections into a referendum on healthcare, much as was the case in 2010 — and ended poorly for the incumbent party.
Based on public comments from sitting senators, where the Republicans hold a 52-48 advantage, it appears unlikely the bill in its current form will pass the U.S. Senate.
The process to repeal the ACA, also known as Obamacare, has been fraught with stops and starts for Republicans.
Democrats made it clear that this will be the central issue — and a winning one for them they think — of the upcoming 2018 campaign and some even sung "Na, na, na, na, hey, hey, goodbye," to Speaker of the House Paul Ryan from the house floor after the vote.
Lloyd Smucker (R-16), as was expected voted for the bill, saying the ACA was failing.
"Obamacare is broken," Smucker said in a statement. "Premiums are skyrocketing and insurance options are disappearing. Premiums in Lancaster County increased 40 percent in 2017 – the highest in Pennsylvania," Smucker said in a statement after the vote. "The entire system is unsustainable and on the verge of collapse. It's time for change.
"The American Health Care Act will help ensure Pennsylvanians have access to the care they need at a price they can afford. It returns regulatory power to the states – where it belongs – so that governors can run state-specific programs instead of a top-down, one-size-fits-all approach. It ends Obamacare's costly mandates and provides both a market-driven system that will lower premiums, and tax relief to hardworking Americans to help make health care affordable. Finally, the bill provides protections for those with pre-existing conditions."
Democrats immediately pounced on Smucker's vote. The chair of the Democratic Congressional Campaign Committee, Ben Ray Lujan, issued a blistering statement following the vote on what he called a "Repeal and Ripoff" measure:
"Lloyd Smucker just voted to increase your health insurance premiums and deductibles, toss 24 million Americans off of their insurance, and to slap you with an age tax if you're age 50 to 64 – and they robbed Medicare while doing it," Lujan said. "If that's not bad enough, Smucker also voted to let health insurance companies charge you more if you have a preexisting condition. That means if you, your kids, or your parents are sick with cancer, diabetes or any other illness, insurance will not be affordable."
Lujan promised Smucker would pay a price at the ballot box in 2018.
"Make no mistake about it: Lloyd Smucker must face the music, look his constituents in the eye, and answer for the mess he created," Lujan said. "There is no question that this bill will cause incredible pain for hardworking Americans, particularly those fighting to make ends meet, and this vote will haunt Smucker through Election Day."
Lujan offered somewhat less strident but not particularly loving comments on Ryan Costello (R-6) and Pat Meehan (R-7) who were no votes on the bill, but did earlier this year vote yes in committee on previous versions of the legislation.
Costello (R-6), who frequently expressed concerns in recent weeks about the provisions of the bill changing coverage for pre-existing conditions, was a no vote.
"I pledged to my constituents that protections for those with pre-existing conditions without contingency and affordable access to coverage were benchmarks that needed to be satisfied," Costello said. "I cast a no vote on the legislation today, but as I continue to hear from constituents, doctors, nurses, and healthcare providers about their problematic experiences with the current system, I remain committed to healthcare reform."
Although Meehan's office had not issued a statement to The Times at this writing, he did offer comment on his Facebook page:
"I've been a leader in the fight to repeal and replace Obamacare," Meehan wrote. "I hear from constituents every day who face higher costs for less coverage. There's no question Obamacare is unsustainable.But this legislation doesn't keep the promises I made to my constituents when I said I would do it.
"It threatens people with pre-existing conditions with skyrocketing costs. It threatens essential healthcare coverage like mental health and opioid addiction treatments. Monthly premiums for many, particularly older Americans nearing retirement, will rise. This bill doesn't repeal or fix Obamacare – it simply shifts its failures from one group of Americans to another.
"Even after major changes to the legislation, the House voted today without the benefit of a CBO score that will tell us how much it costs or what it may mean for coverage. It's the product of the same broken process and last-minute deal-making that gave us Obamacare.
"Now the bill goes to the Senate, where the bill will likely see significant revision. I hope that those changes address the concerns I have and that I'm able to support a final repeal-and-replace bill."
Gov. Tom Wolf weighed in, noting the likely negative impact the bill would have on many Pennsylvanians.
"This is a sad day for millions of Pennsylvania families who now continue to worry about their access to health care," Wolf said in a statement. "I will continue to fight to save health care access and consumer protections that help protect the health and financial security of Pennsylvanians. While some in Washington are celebrating today as a victory, this shallow and shameful attempt to score political points at the expense of the sick, poor, elderly and disabled will not soon be forgotten. I thank the Republicans and Democrats who voted 'no' today. We can only hope that the United States Senate cares more about the people they were elected to serve."