By Kelly Hockenberry, Columnist, The Times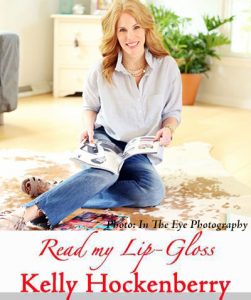 Right now, I'm sitting in a weekend graduate course on Addictive Disorders. While we are focusing primarily on substance abuse, we are also discussing behavioral addictions like gambling, gaming, and….shopping. Eeeeek. 
Why is my face turning red? I don't have a problem.
I mean, arguably shopping is part of my job. How can I advise others about fashion if I'm not actually purchasing anything? I need to be able to speak authoritatively about fit, quality, etc., etc. 
Right?
Isn't that a legitimate reason for the 25 pairs of premium denim folded neatly in my closet? Or, for the tingle of excitement I feel when a new wash/cut hits the floor of my favorite boutique? I have an article to write. A reputation to protect. I really need to "dress the part," so to speak. 
Woah. Denial ain't just a river in Egypt. 
Addiction is a compulsive, psychological need that you can't stop. This is different from using (meaning that you like to do something but aren't enslaved to it) and abusing (meaning that you love it and you may not want to stop). 
As a therapist, the hope is to catch people at the abuse stage in order to prevent slipping into full blown addiction. Motivational interviewing is the preferred method of counseling in order to encourage clients to find the inner-strength to change their behavior. 
BUT,  the key is that the client has to want to change. 
Alas, here's my problem. I haven't hit rock bottom. (My husband disagrees). 
I loooooove to shop. The thrill of the hunt is (almost) as satisfying as walking up to the cash register. 
They don't call it "retail therapy" for nothin'. 
Tackling the ambivalence – "do I really need another pair of white jeans?" versus "I could save the money and wear what I already have," is key. 
So, what to do? Scaling back from shopping requires setting small, manageable goals that are realistic and achievable. I mean, is it practical to think that (perhaps) I really don't need to buy another pair of pants for Spring 2017? 
I think we all know the reasonable answer to this question (as painful as it may be). 
Therefore, let me declare here, in writing, that I am officially addressing my abusive shopping behavior and turning over a new leaf….
But, first, I need to see the new Victoria Beckham collection for Target (available April 9th!!)  
Do you feel my pain? How do you control the urge to shop? Leave me your advice in the comment section below. 
Happy Weekend