By Nathaniel Smith, Columnist, The Times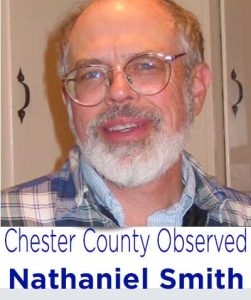 Three years ago, a candidate for the 158th district seat in the PA House withdrew from the race more than a month after the deadline to be replaced on the ballot. The court let a replacement candidate get on the ballot anyhow.
Now a candidate for West Chester Area School Board files his financial papers late and Voter Services says it is up to the School District to decide if the candidate can be on the ballot or not.
Meanwhile, a local supermarket gathers signatures to make East Bradford a liquor-friendly community and turns the petitions in to Voter Services. Many of the signers do not have East Bradford addresses; some used abbreviations and ditto marks, both not allowed; some manifestly signed for relatives; some dates are not legitimate; and in a couple of cases, someone other than the signer has changed the municipality from the actual one of residence to East Bradford.
As a result, the petitions do not have enough valid signatures to qualify to be put on the ballot. But who enforces that? A resident of East Bradford would have to engage a lawyer to file a challenge with the County's Prothonotary Office… within 7 days after the petitions were filed.
I'm sure we all appreciate that democracy belongs to the people. But should the people really be expected to do their own policing of electoral laws and procedures?