Kennett Chocolate Festival is sweet treat before Valentine's
By Denny Dyroff, Staff Writer, The Times
Once the Christmas holidays are over, the dog days of winter start to set in.
A holiday is always a good way to break up the doldrums of a grey winter and Valentine's Day is always equal to the task.
Valentine's Day Weekend has arrived so here are a few suggestions on how to celebrate the occasion with your sweetheart. There are several special events in the area that have become cherished traditional events in this area.
Valentine's Day and chocolates go together like Easter and decorated eggs or Thanksgiving and turkey. One of the best things about February is Valentine's Day and one of the best things about Valentine's Day is chocolate.
On February 12, the Kennett Chocolate Lovers Festival will be held from 1-3 at Kennett Area High School (100 E. South Street, Kennett Square, http://kennettchocolate.org).
Hundreds of chocolate treats, including cakes, brownies, candies, cookies and cupcakes, will be available for attendees to taste at this Festival, which is a benefit for the United Way of Southern Chester County.
Participants can partake in a fun day sampling as many chocolate delights as they wish.
Contestants will vie for awards in the following categories: professionals, amateurs and students (ages 12 up). Last year over 200 entries were available for tasting by the public and the smell of chocolate permeated the air.
Connoisseur tickets: $25 ($45 for two people), includes early timed entry at noon. General admission from 1-3 p.m. is $10 ($30 for family of four) and includes six regular tastings per person. Professional tastings are two tasting tickets. Additional tastings are available for $.50 each.  Tickets are available at the door at 1 p.m. Parking for general admission is $5.00 per car.
If you're up for a drive in the country, you could take your valentine to Hershey for "Chocolate-Covered February in Hershey" (various locations around Hershey, 800-HERSHEY, www.chocolatecoveredfebruary.com).
Hershey has decadent chocolate events planned throughout the month of February including "Chocolate Dinner Extraordinaire," "The Great Hot Cocoa Challenge," "Hersheypark Chocolate Parade," "Hershey's Chocolate Dessert Journey," "Chocolate Tea," "Hershey's Character Breakfast" and "Hershey's Hot Chocolate Pajama Party" at Hershey Lodge.
On February 11 from 11 a.m.-4 p.m., Hagley Museum and Library (Route 141, Wilmington, Delaware, 302-658-2400, www.hagley.org) will host its 2017 edition of "Victorine's Valentine Day".
Victorine's party will be held at Blacksmith Hill, the restored 19th-century workers' community where the lives of the du Ponts and the people who worked for their company connected.
Here lived a woman named Victorine du Pont Bauduy (1792-1861), the eldest daughter of the DuPont Company founder. During Victorine's Valentine Day, "Victorine" will tell her story, as well as other love stories from the 19th century.
Victorine was the eldest daughter of E. I. du Pont, who built the mills on the Brandywine. She fell in love with Ferdinand Bauduy, the son of E. I.'s business partner. E. I. opposed the marriage, believing the couple was too young to be married.
Ferdinand moved to France for two years, during which time Victorine pined for him. After two years, E. I. relented, and the young couple joyfully married in 1813.
Tragically, eleven weeks after their marriage, Ferdinand became ill and passed away. Victorine was heartbroken, but after a long period of grief, she found a new passion in her life. Victorine threw herself into teaching at the Brandywine Manufacturers' Sunday School. She remained the superintendent until her death in 1861.
In addition to the telling of Victorine's story, the event will feature other activities such as making a Victorian Valentine. In the Brandywine Manufacturers' Sunday School, visitors can experience what school was like in the nineteenth century.
A special exhibit featuring antique Valentine cards and chocolate-themed treasures from Hagley's collection will be on display. All activities, including designing a candy bar wrapper and snacking on hot chocolate are included.
Visitors will be able to check out Hagley's current exhibits, explore demonstrations in the Powder Yard, tour the du Pont ancestral home, and enjoy walks along the scenic riverside.
The best place to start a day at Hagley is at the visitor center. Exhibits and dioramas document the Brandywine Valley's early eras as well as the history of the DuPont Company. During the Civil War, the DuPont Company produced almost half of the gunpowder purchased for use by the Union army.
Visitors who go outside can walk along the Brandywine to see how water power was used to run the mills. Stops along the walk include a line shaft, a dam, a mill race and a restored 19th-century machine shop. Guests can also learn how gunpowder was tested using a device called an eprouvette.
Admission to Hagley Museum is $14 for adults, $10 for seniors and $5 for children (ages 6-14).
Valentine's Day events will be held at several area wineries including Kreuz Creek Vineyards (553 South Guernsey Road, West Grove, 610-869-4412, info@kreutzcreekvineyards.com), Paradocx Vineyard (1833 Flint Hill Rd., Landenberg, 610-255-5684, www.paradocx.com), Flickerwood Wine Cellars (116 W. State St., Kennett Square), Galer Estate Vineyard & Winery (700 Folly Hill Rd., Kennett Square), Grace Winery (50 Sweetwater Road, Glen Mills), Penns Woods Winery (124 Beaver Valley Road, Chadds Ford), Ten Gallon Hat Winery (455 Old Baltimore Pike, Chadds Ford), Wilson Vineyard (4374 Forge Road, Nottingham), Chaddsford Winery (632 Baltimore Pike, Chadds Ford, 610-388-6221, www.chaddsford.com) and Black Walnut Winery (3000 Lincoln Highway, Sadsburyville, 610-857-5566, www.blackwalnutwinery.com).
The New Hope & Ivyland Railroad (32 Bridge Street, New Hope, 215-862-2332, www.newhoperailroad.com) is getting into the spirit of Valentine's Day with a "Valentine's Brunch" on February 11 and 12 at 11 a.m. and 1 p.m.
The "Cupid Limited" will feature a three-course meal served onboard the train, a 50-minute scenic train ride in First Class accommodations, a Mimosa for every guest (must be at least 21 years of age), a complimentary rose, a complimentary box of
Pierre's chocolate truffles, coffee, tea and water. Tickets, which include all taxes are $71.95.
From February 10-14, the tourist railroad will be offering a "Valentine's Dinner" and a train excursion called "Nonesuch Love."
These special excursions will feature will feature a four-course meal served onboard the train, a 90-minute scenic train ride in First Class accommodations, a "Champagne Toast" for every guest (must be at least 21 years of age), a complimentary rose, a complimentary box of Pierre's chocolate truffles, coffee, tea and water. Tickets, which include all taxes are $99.95.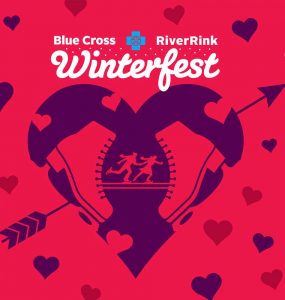 If you're looking for another out-of-the-ordinary way to celebrate Valentine's Day, you might want to consider taking part in the "Sweetheart Skate" at the Blue Cross RiverRink (Market Street at the Delaware River, Philadelphia, 215-923-6533, www.riverrink.com).
"Sweetheart Skate" is slated for February 14 at the outdoor rink with three skating sessions — 7-8:30 p.m. and 9-10:30 p.m. The event's focus is providing a suitable atmosphere for guests to skate with their special someone and RiverRink features one of the most romantic settings in the city.
Tickets, which are $25, include chocolates, flowers, photo booth, and a DJ taking your special requests. Food, beer, and specialty cocktails can be purchased on-site from Garces, Chickie's and Pete's, and Franklin Fountain. 
A deejay will host the evening and serve up a menu of music that will allow guests to skate to their favorite love songs with their significant others. As an added attraction, there will be a variety of special games and opportunities to win prizes.
Dunkin Donuts will be on-site providing complimentary heart-shaped donuts while supplies last.
Chestnut Hill's Visitor Center (Chestnut Hill Visitor's Center, 16 East Highland Avenue, Philadelphia, 215-247-6696,chestnuthillpa.com) is hosting an event called "Valentine's On Ice" on February 11.
The celebration, which will run from noon-2 p.m. along Germantown Avenue in Chestnut Hill and at Laurel Hill Gardens (8125 Germantown Avenue), will feature ice carving by Fear No Ice, an appearance by Queen Elsa from the movie "Frozen" and complimentary s'mores and hot chocolate.
Visitors also will be able to check out an interesting array of one-of-a-kind ice sculptures along Germantown Avenue all day.
The weather forecast is calling for a cloudy day on Saturday with temperatures hovering around 50 degrees and that's good news for all of us.
It's especially good news for the hardy souls participating in a special charity event on February 11 – the 2017 Polar Plunge.
Sponsored by the Brandywine Red Clay Alliance, the ninth annual staging of the Plunge will get underway around 11:30 a.m. After the Plunge, hot chocolate and coffee will be available and Hickory House Catering will fire up a grill to provide burgers, hot dogs and fries. Chili and veggie burgers will also be available.
The attire is swimsuits only – no t-shirts, flip flops or wet suits. No diving or entering the water head first will be permitted.
And, the BRC Polar Plunge will be held rain, snow or shine. Dress warmly.
You almost definitely know people who have tattoos on their body. You also probably do not know anyone with just one tattoo on his or her body. Tattoos are like potato chips. It's really hard to stop with just one.
Tattoos have been worn since the early days of civilization. They seemingly have been around forever and they just keep getting more popular every year. And, their popularity knows no sex or class distinction. Bikers have their "Born to Ride" tats, socialites have their discreetly-placed "butterfly" tattoos and women of all ages have succumbed to the urge to get a "tramp stamp."
From February 10-12, the Pennsylvania Convention Center (10th and Arch streets, Philadelphia, 800- 541-8239, www.villainarts.com) is hosting the Philadelphia Tattoo Arts Convention.
The convention runs from 2 p.m.-midnight today, 11 a.m.-midnight on Saturday and 11 a.m.-8 p.m. on Sunday. The main focus of the convention will be hundreds of booths hosted by top-flight tattoo artists.
The event features a huge roster of special guests including Amy Nicoletto from LA Ink, Alli Baker from Best Ink, Myke Chambers, Reese Hilburn from Tattoo Nightmares Miami, Justin Coppolino from Tattoos After Dark, Philadelphia Eddie, Bowery Stan Moskowitz, Dana Brunson and Shanghai Kate.
Some of the other special guests are The Toxic Avenger, Justin Coppolino from Tattoos After Dark, Sailor Fred, Shanghai Kate, Lyle Tuttle, Anthony Michaels Winner of Ink Master Season 7, Gia Rose from Ink Master Season 8, and Sleazy P. Martini from GWAR.
Other attractions include a video game tournament, free samples, raffles and kids' activities. There will also be opportunities for show attendees to have pictures of their tattoos taken by a number of magazines.
Tickets are $22 per day or $45 for a weekend pass.
Longwood Gardens (Route 1, Kennett Square, 610-388-1000, www.longwoodgardens.org) is hosting its popular "Orchid Extravaganza" through March 27.
The celebration of the orchid species features thousands of orchid blooms along with a variety of displays and special exhibits throughout its four-acre conservatory. "Orchid Extravaganza" will also feature stunning displays of orchids in planting beds, containers and innovative exhibits.
Approximately 5,000 colorful orchids hang from baskets, create inspiring arrangements and adorn unique forms throughout "Orchid Extravaganza." Two of the most interesting exhibits are an oncidium waterfall display and an orchid meadow.
Longwood's "Valentine's Day Weekend" will feature special brunch and dinner menus in the 1906 restaurant as well as live music by violinist Ann Fontanella from 4-7 p.m. on Saturday and Sunday in the Conservatory.
Admission to Longwood Gardens is $23 for adults, $20 for seniors and $12 for students.
An interesting – and educational — way to celebrate Black History month is by visiting the Historic Odessa Foundation's National Park Service Network to Freedom site and exhibit, "Freedom Seekers:  the Odessa Story." 
With your guide at Historic Odessa (201 Main Street, Osdessa, Delaware, 302-378-4119, www.historicodessa.org), you can follow in the footsteps of Sam, a fugitive slave escaping bondage in Maryland, who sought refuge in 1845, at the National Historic Landmark Corbit-Sharp House. 
Admission is free, however, since the site is closed during the months of January and February, reservations are required.
The General Warren Inne (9 Old Lancaster Road, Malvern, 610-296-3637, www.generalwarren.com) is an historic site — a site with a lot of history and a site that is still involved in history of the area.
Since 1745, the Historic General Warren Inne has been center stage for American history and a premier carriage stop for hungry travelers. The Inne was initially called the Admiral Vernon Inne and was named in honor of the naval commander Admiral Edward Vernon who led the 1739 attack and capture of Portobello, Panama.
Now, the General Warren Inne annually presents a series of lectures about America's war for independence. On the second Monday of each month now through May, the Inne will host "Paoli Battlefield Lecture Series" presented by the Paoli Battlefield Preservation Fund.
On February 13, Tim McGrath will discuss John Barry, "The Father of the American Navy," whose exploits are legendary. For example, without a ship during the winter of 1776-77, the ever-resourceful John Barry led a battery of naval artillery at the Battle of Princeton.
McGrath will present a talk based on his award-winning book "John Barry: An American Hero in the Age of Sail."
Seating is limited so it advisable to make advance reservations. Admission, which is $49 per person, includes lecture, buffet, family style sweets, taxes, gratuities and all non-alcoholic beverages. Alcoholic beverages are available at an additional cost.
You can also get a look back at history on February 12 when Bellevue State Park presents a special event called the Cauffiel House Tour (720 Carr Road, Wilmington, Delaware, 302-761-6952, http://www.destateparks.com).
Park guides will discuss the history of this lesser-known historical site in Bellevue State Park – from the house's construction through its purchase by the Division of Parks and Recreation in 1993.
Once the home of Daniel Cauffiel, advisor to the duPont family, the Cauffiel House was built in the early 1920s in the Colonial Revival-style. Influenced by his frequent travels to Europe, Cauffiel decorated the estate with unique furnishings from the 1930s, some of which remain.
The Cauffiel family used the home as a summer residence, and two of his children lived at the house into the 1990s. The State of Delaware acquired the property in June, 1993. The house tour will highlight measures taken to make this a simple yet elegant place to live.
The tour will begin at 1 p.m. with tickets priced at $6 per person.
The Garden State Discovery Museum: (2040 Springdale Road, Cherry Hill, New Jersey, 856-424-1233, www.discoverymuseum.com) is presenting a special program this weekend that is perfectly timed.
On February 10, the Garden State Discovery Museum is hosting its Third Annual Frosty Ball. Participants can meet the museum's cast of "Frozen" characters and enjoy a beautiful night of wintery fun.
There will be tasty treats and frosty creations for everyone. Participants will be able to dance, sing, and craft the night away. And, according to the museum's website, "there will be surprises around every corner."
The activity for February 11 and 12 will be "A Frosty Weekend" with games, crafts and stories celebrating your valentine. Activities run from 11 a.m.-4 p.m. both days.
Admission to the museum is $13.95 for adults and children (12 months and over) and $12.95 for seniors. Children visiting the Museum must be accompanied by an adult 18 or older.
February 11 is also the day that Barnaby's Ridley & The Heritage Ballrooms (2107 MacDade Blvd., Holmes,  610-522-5400, http://www.barnabysridley.com) will be hosting "Freezefest  '17."
The event, which runs from noon Saturday until 2 a.m., will feature more than 10 live bands and DJs along with 10 themed rooms. It will also host a giant outdoor ice bar, food court, a giant Arctic luge, photo booth, custom heated tents, three giant ballrooms, beer pong and baggo tournaments, giveaways, local and national celebrity guests and interesting drink specials.
The headline acts are 52 Pickup and The Juliano Brothers. DJ Jay Roy will be hosting this massive winter celebration along with a variety of the area's best DJ's.
Freezefest will support Vest-A-Cop and Delaware County Law Enforcement Memorial Fund. Tickets are $15 at the gate.
A warmer and more comfortable way to spend Saturday would be attending the "Chinese New Year Celebration: The Year of the Rooster" at the Delaware Art Museum (2301 Kentmere Parkway, Wilmington, Delaware, 302-571-9590, http://www.delart.org).
The free event, which runs from 11 a.m-3 p.m., includes traditional Chinese art activities, artist demonstrations, a gallery scavenger hunt, a lion and folk dance and Chinese yo-yo performance by the Chinese American Community Center Folk and Lion Dance Troupes and Yo-Yo Club, and an additional performance by the popular Chinese Acrobat, Yang Xiao Di.
Artwork created by children from the Chinese School of Delaware to commemorate this holiday will be on view. This program is presented in conjunction with the Hanlin Chinese Culture Association.
There will be Chinese New Year-inspired art activities from 11 a.m.-3 p.m. while the Lion Dance and Folk Dance by the Chinese American Community Center Lion and Folk Dance Troupes will be presented from 11:30 a.m.-noon.
Activities scheduled for noon-1 p.m. and again from 2-3 p.m. are Chinese dough figuring and Chinese calligraphy. From 1-1:45 p.m. there will be a Chinese Yo-Yo performance by the Chinese American Community Center Yo-Yo Club followed by a special performance by Chinese acrobat Yang Xiao Di.