By Kelly Hockenberry, Columnist, The Times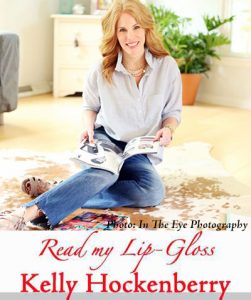 Galentine's Day is right around the corner. February 14th (in case you're confused). It's the national holiday where women should be showered with gifts just because they are fabulous. Conveniently, it is also the first Sunday of the month, which means it's time for my Super Six. So ladies, print out this article and thank me on the 15th. Here we go…
Find Your Perfect Patch Party: happening at No.109 Shop on Friday, Feb. 10th from 10am to 6pm. Bring in (or buy for 25% off) a pair of denim and personalize them with these fun, flirty patches. Open any fashion magazine and these blast-from-the-past accessories are back with a vengeance. I added a few to the pocket of my black, distressed skinnies and they are SO cute. This event is a great outing with your bestie or for a mother/daughter date!
Love Is Project bracelets: While you are in No.109 Shop, pick up my latest #armparty obsession,

the

"Love

Is

Project"

stackable,

beaded

bracelet.

The

jewelry

is

handmade

in Kenya by the women of the Maasai tribe who walk up to 10 miles to bead as a community. As stated on their website: "

The #loveisproject isn't your typical campaign; it's about real people and it's about real connection. It is empowering people around the world to live full lives in community with one another through the common thread of love. The #loveisproject is open to anyone and everyone, it does not discriminate, and it encourages art through the beauty of human connection." Be sure to tell your story of love, along with a picture of your bracelet, and upload to Instagram using the hashtag #loveisproject. Visit No.109 Shop, 109 W. State Street, Kennett Square.
Love t-shirt by Kule: In the spirit of Valentine's Day, I found this (really adorable) 100% cotton shirt perfect to bum around in on the weekends. But, what's even better (in my opinion), is that 30% of the proceeds go to the ACLU in their fight to protect the rights and freedoms of all people, regardless of race, religion, sexual orientation, or gender. It's made in Italy and printed in NYC. Order here, it's a limited edition:

http://bit.ly/2l1XX1r

Wink, Wink Pillow: Isn't this the sweetest? I love the thought of this pillow on the center of our bed. It's whimsical and fun and it's ON SALE for 30 bucks. Just the right price for a little Valentine present, don't you think? Click here:
Kevin Aucoin Lipstick in "Resilient": Just like I struggle with finding a festive, red lipstick at Christmas, I feel the same frustration when searching for the perfect pink in February. The girls at Houppette ALWAYS come to the rescue! This fuscia shade is just what the doctor ordered to brighten up the grey, dreary days of winter. Stop by and they will find the ultimate hue for YOU. Houppette Boutique 101 W. State Street, Kennett Square.
Trader Joe's Cocoa Dusted Truffles: I can't do a Valentine's gift guide without chocolate. That's sacrilegious. These truffles are little pieces of heaven on earth. They are filled with toffee bits. HELLO? Does it get better? I don't think so. Plus, they are inexpensive (but don't look like it).
There you have it…a Super Six she's guaranteed to L-O-V-E. Happy Weekend