By Denny Dyroff, Staff Writer, The Times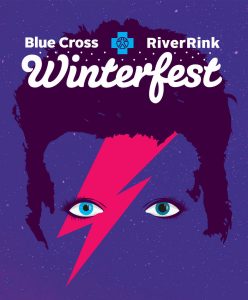 Winter has its drawbacks – without a doubt. But, as long as you can handle cold weather, there are also many things for you to like about winter such as ice skating on frozen ponds (if the weather cooperates), skiing (if the weather cooperates), snowboarding (if the weather cooperates) and winter festivals (in all types of weather).
On January 14, the Blue Cross RiverRink Winterfest which is running now through March 5 at RiverRink (Delaware Avenue at Walnut Street, Philadelphia, 215-925-RINK, www.riverrink.com), will host "A Snowy Bowie Skate" from noon-midnight.
The "Bowie Family — Fun in the Afternoon" event is scheduled to run from noon-5 p.m. with Bowie-themed festivities including ice skating to a Bowie-themed soundtrack, face painting and games, and a screening of "Labyrinth" in The Lodge.
"Bowie for the Star Fans in the Evening," which starts at 5 p.m., features Ice skating to a Bowie-themed soundtrack, Bowie concert footage on the screens in The Lodge, themed drinks and cocktails and a DJ spinning a Bowie soundtrack from 9 p.m.-midnight.
Unlike most of the suburban ice rinks, RiverRink features public skating. Ice skating is the only use of the ice. This winter, RiverRink takes the ice skating experience on the Delaware River waterfront to another level by once again transforming the annual rink into a bona fide winter wonderland.
Open seven days a week, the Blue Cross RiverRink Winterfest is an immersive winter-themed experience with a popular bar and restaurant called The Lodge, winter beer garden-style landscaping, a brand-new light show, and a retail shopping experience from Art Star Gallery & Boutique.
The outdoor rink's hours are 1-10:30 p.m. Mondays through Thursdays, 1 p.m.-12:30 a.m. on Fridays, 11 a.m.-12:30 a.m. on Saturdays and 11 a.m.-10:30 p.m. on Sundays. Skating admission prices are $13 and include skate rental.
The Philadelphia Loves Bowie Week features a wide array of activities around the city. The roster of events for January 13 includes "Sound & Vision: a #PhillyBowieWeek Happy Hour" from 6-9 p.m. at Trestle Inn (339 North 11th Street) and "Let's Dance! Sex Dwarf Spotlights David Bowie" at 10 p.m. at Club Mousai (1227 Walnut Street).
Activities on January 14 will include "A Night of Stardust" at 8 p.m. at World Cafe Live Philly (3025 Walnut Street) and The Donny McCaslin Group at 8 p.m. at The Arden Gild Hall (The Highway, Arden Delaware).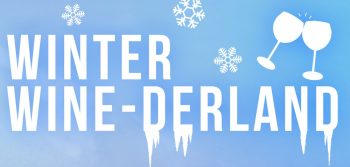 This weekend, it's time for the "Winter WINEderland at Chaddsford Winery" which is scheduled to run on January 14 and 15 from 11 a.m.-6 p.m. each day at the Chaddsford Winery (632 Baltimore Pike Chadds Ford, 610-388-6221, http://www.chaddsford.com).
There will be live ice carving both days. Visitors will be able to enjoy hot mulled wine by the winery's fire pits, buy tasty items from a variety of food trucks and purchase specialty items from an interesting array of vendors including Baby Blues BBQ and Sweet Josephines
Live music will be performed on January 14 by Hake and Jarema from 1-4 p.m. and January 15 by Tino & Ashley.
The first 100 guests to arrive on Saturday and Sunday will receive a free winter scarf.
Visitors also will be able to take part in the "Niagara Falls" Ice Luge and enjoy an extra-cold shot of our the winery's award-winning Niagara wine.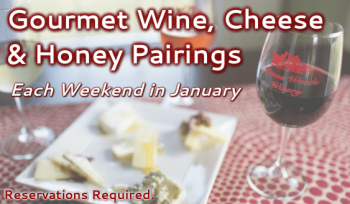 Participating in the "Wine, Cheese & Honey Pairings at Penns Woods" at Penns Wood Winery (124 Beaver Valley Road, Chadds Ford, 610-459-0808, http://www.pennswoodsevents.com) is another good way to enjoy the artful combination of wine and food.
Penns Woods Winery is joining forces with local cheese makers and local honey artisans to present exclusive pairings of wine, cheese and honey. The tastings will feature five premium Penns Woods wines, each paired with various cheeses and honey from local farms.
The mouth-watering tastings will be held every weekend in January from 11 a.m.-6 p.m. on Saturdays and 11 a.m.-5 p.m. on Sundays. As an added attraction, live music will be performed on January 14, 21 and 28 from 2-5 p.m. each day.
Tickets cost $28 per person in advance and reservations are required. Cancellations must be made within 72 hours or ticket holders will be charged the full amount of the tasting. Reservations are made and kept on the hour.
On January 15, there will be an "Open House and Tour of Locktender's House" from 1-4 p.m. at Lock 60 at the Schuylkill Canal Park (400 Towpath Road, Mont Clare, 610-917-0021, www.montcopa.org/1145/Lock-60-at-the-Schuylkill-Canal-Park).
The Schuylkill Canal Park boasts a number of outdoor recreational experiences. This site is a treasure trove for nature lovers featuring areas for wildflower walks, premier birding paths, a favorite local fishing spot, a public boat launch, and a five-mile water loop trail. Beautiful views of the Schuylkill River make for a pleasant visiting experience.
In addition to its outdoor beauty, the site holds many pieces of historical interest. A fully restored, working lock on the Schuylkill Canal, originally built as part of the Schuylkill Navigation system, is demonstrated for groups and during special events. This lock, one of 72 originally built on the canal, was constructed in the 1820s and was originally part of the Oakes Reach. The site includes the original Locktender's house (exterior restoration) as well as canal information and memorabilia. The house is open by appointment and during special events.
There is a great event this weekend that will get kids' creative juices flowing — Hagley Museum's annual Invention Convention. This year, the popular family event begins on January 14 and runs through January 16 at Hagley Museum (Route 141, Wilmington, Delaware, 302-658-2400, www.hagley.org).
Visitors to the Hagley Museum, a 230-acre historical village on the site of the original du Pont Company gunpowder mills in northern Delaware, will be able to learn the secrets and solutions of inventions through a wide array of hands-on science activities.
Invention Convention will explore how videographers create videos that entertain and inform us.
There will be plenty of video-related activities for participants to try. Visitors can celebrate the early animators by making thaumatropes and flip books to create blended, moving images, and they can become a Foley artist by using unusual objects to create sounds for a silent video sequence. Visitors can also create their own stop motion video.
Throughout the event, science shows and live demonstrations will captivate audiences — especially Franklin Institute's "Motions and Machines" shows and the "Cool Chemistry" shows. "Tinkering Tables" will allow visitors to explore the inner workings of electronic gadgets, and the "Create-an-Invention" area will allow them to make their own invention. The "Hands-On Science Fair" will give everyone opportunities to conduct experiments led by Hagley staff and community partners.
Invention Convention is being held in Hagley's Soda House and Library, so visitors are instructed to use the Buck Road East entrance off Route 100. Admission is $8 for adults and $6 for children (ages 4-14).
If you're a pet owner or just a lover of pets in general, there's an event for your enjoyment this weekend at the Greater Philadelphia Expo Center (Station Avenue, Oaks, 800-677-4677, www.horseandpetexpo.com). From January 13-15, the huge convention hall is hosting the Greater Philadelphia Pet Expo.
The Expo features a huge number of vendors offering virtually everything pet-related including pet food, supplies, training, pet hospital information, treats and lodging. There will also be booths operated by humane groups and rescue services.
The line-up of special attractions includes Gail Mirabella and The Dynamo Dogs, the Parade of Breeds, "Superfit Canine," Rainforest Reptiles Show, the Delco Bird Club, Hard Drive Flyball Club's Flyball Tournament, Buddy's Pet Resort, "Rabbit Hopping," Y2K9 Freestlyers Dancing with your Dog, Illusion Ranch Alpacas, and Valerie Bruder Photograpy.
Admission is $12 for adults, $10 for seniors and military and $5 for children (ages 4-12). As an added attraction, Friday night is "Family Night" with all children under 12 admitted free.
There will be a lot of model trains and a lot of toys on display and for sale when Greenberg's Train & Toy Show visits the area for a two-day stop at the Greater Philadelphia Expo Center.
The show, which is scheduled for January 14 and 15 from 10 a.m.-4 p.m. each day, will have a wide variety of toys for sale — space toys, Thomas the Tank Engine items, dolls, collectible bears, Barbie, Matchbox, action figures, die-cast models, wrestling stars, Pokemon figures and much more. And, there will be an amazing array of toy trains.
The event will feature a number of operating train displays, including Allegheny Western Lines HO Scale Layout, Philadelphia N-Trak N Scale Layout, Train Collectors Association O Gauge Layout, Keystone N-Trak N Scale Layout, Royersford Modular Model Railroaders HO Scale Layout, Southeast Pennsylvania Garden Railway Society G Gauge Layout, East Penn Traction Club HO and O Scale Traction Layout and Strasburg Model Railroad Club HO Scale Layout.
Other special attractions will be the "Roaming Railroad", which is a riding train for kids and adults, Roaming Raceway's "Interactive R/C Car Racetrack", which is one of the country's most advanced model racing tracks.
This weekend's show will also offer free clinics on a wide variety of topics, including track work, using accessories and using a digital command control. There will be a large number of dealers with toys, trains, accessories and hobby publications. Other features include hourly door prizes.
Tickets for adults are $9 and are good for both days. Children (12 and under) are admitted free.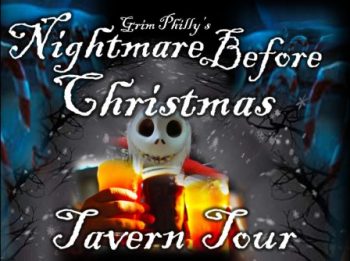 If you're the type of person who is glad Christmas is over and longingly looks back at Halloween, then you should visit Dilworth Park (1 South 15th Street, Philadelphia, www.dilworthpark.org, 215-983-1291) on January 13 for the annual Zombie Skate hosted by Center City District and Terror Behind the Walls.
Zombies from Eastern State Penitentiary's annual fright fest will skate their way around the rink, and guests are encouraged to dress as zombies. Rothman Cabin, which is adjacent to the rink, will be serving up zombie-themed food and drink specials throughout the evening.
The skate/horror activity will run from 7-11 p.m. and the cost is billed as "Pay As You Go."
The Rothman Institute Ice Rink at Dilworth Park is an unparalleled entertainment experience on Philadelphia's center stage in a wonderfully urban and unique setting. 2016-2017 season hours are: Monday-Thursday: noon-9 p.m.; Friday: noon-11 p.m.; Saturday: 11 a.m.-11 p.m.; and Sunday: 11 a.m.-8 p.m.
The rink will be open through February 26, 2017. Regular admission is $5 for adults and $3 for kids (10 and under).
"Grim Philly's Nightmare Before Christmas Tavern Tour!" (856-829-3100, http://www.grimphilly.com) will be held January 13, 15, 20 and 22.
Participants will have the opportunity to toast with the ghosts of Christmas past while drinking in the yuletide spirits of grog and nog on this entertaining fact-filled tour.
The evening's activities include trivia and drinking games for chances to win free beer, drink and/or food samples for all at each stop and a variety of drink specials.
Participants can relax in warmth enjoying authentic handmade Christmas beverages, snacks and prizes (included) as they learn a full range of the surprising histories of Yule, and Viking lore and Saturnalia — all which have worked their way in to our modern Christian celebrations including ideas of magick, gift giving…and origins in even infanticide and human sacrifice.
Guests will be able to revel in little known facts of our holiday past including the season's pagan roots in Roman, Celtic & German traditions, while learning of medieval, and New World additions in mumming & mistletoe. The event will feature Keebler elves, yule logs, and a jolly flying fat man delivering Hollister and IPods from some secret snow kingdom to the north.
The tour price of $50 includes guided historic tour of "Grim" Philly, three tavern admissions and three drinks. The tours, which run from 6-10 p.m. each night (4-8 p.m. on Saturdays), will depart from Infusion, located at 16 S. 2nd Street, Philadelphia, PA 19106.
Do you ever feel like howling at the moon?
If so, you should consider attending a "Full Moon Tour" at the Wolf Sanctuary of Pennsylvania (465 Speedwell Forge Road, Lititz, 717-626-4617, http://wolfsanctuarypa.org).
The Sanctuary offers this tour once a month on the closest Saturday to the full moon. This month, the date is January 14 and the full moon is known as the Wolf Moon. This is an event in which participants are invited to create their own experiences.
Instead of following a tour guide from pack to pack at a regulated pace that fits within a 45-minute time line, you get to go at your own pace from pack to pack. There is also the option of talking to a tour guide who is stationed at each pack. You can listen to what they have to say about the wolves when stopping at a station or you can ask questions. 
With this tour, you move at whatever speed you find comfortable. If you get tired, you can go over and sit next to a roaring bond fire (weather permitting) and just relax. Visitors are requested to bring a blanket, a flashlight, a chair and maybe some hot dogs and marshmallows.
The tour starts at 7:30 p.m. Tickets are $20 and no reservations are required. The next "Full Moon Tours" this year will be Snow Moon on February 11.
Last year's Second Annual Big Philly Beerfest at the Pennsylvania Convention Center (12th and Arch streets, Philadelphia, http://bigphillybeerfest.com) was one of Philly's best events in January. It's back again this year with a two-day run on January 13 and 14.
The Beerfest, which is scheduled to run from 8-11:30 p.m. each night, will host more than 90 breweries and feature unlimited sampling of more than 300 craft beers. Obviously, naming it the "Big" Beerfest was no exaggeration.
There will be breweries from all across America including, Terrapin (Georgia), Harpoon (Massachusetts), Lagunitas (California), Abita (Louisiana), Smutty Nose (New Hampshire), Oskar Blues Brewing (Colorado), Heavy Seas (Maryland), Great Lakes Brewing (Ohio), Elysian Brewing (Washington), Allagash (Maine), Sixpoint (New York), River Horse Brewing (New Jersey) and Long Trail Brewing (Vermont).
Some of the participating breweries will come from thousands of miles away while others will come from as close as Downingtown (Victory Brewing) and Adamstown (Stoudt's Brewery).
The festive and lively event is a fundraiser for Animal Rescue Partners, an organization dedicated to supporting numerous animal rescues, pet adoption groups and community spay/neuter programs.
Tickets are $45 in advance and $55 at the door and include unlimited samples in a five-ounce souvenir acrylic mug.
Another event with an emphasis on food and drink is the Ambler Restaurant Week, which is running now running from January 16-23. Ambler area restaurants will be offering enticing specials and prix-fix menus. At 16 popular participating restaurants throughout the town, diners can enjoy serious discounts on lunch and/or dinner.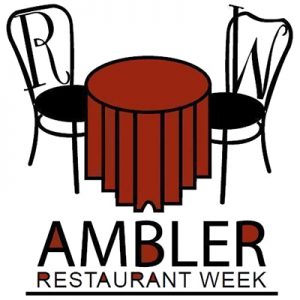 The list of restaurants participating in Ambler Restaurant Week (www.amblermainstreet.org) include Cantina Feliz, Dettera Restaurant and Wine Bar, Massa, Trax Restaurant and Café, Bridget's Steakhouse, Zakes Café, From The Boot, The Lucky Well, Saffron, KC's Alley, Sweet Briar Café, Gypsy Blu, Costa Deli, 555 Lagiola, Forest & Main Brewing Company, and Pie and Plate Café.
Food and drink will also be the main attractions now through January 14 at Peddler's Village when the Cock 'n' Bull Restaurant (Routes 202 and 263, Lahaska. www.peddlersvillage.com) presents "Bavaria in Bucks," a cultural event that will feature the cuisine and beverages of southern Germany.
The chefs of The Bavarian Inn will prepare a variety of authentic German cuisine including schnitzel and strudel. As an added attraction, a number of businesses in the shopping-dining-lodging complex will participate with special menus and offers.
On January 13, visitors can enjoy a Bavarian Buffet with traditional German Beers at Cock 'n Bull Restaurant. On January 14, Cock 'n Bull will feature Bavarian Ala Carte specialties with traditional German Beers in addition to the regular dinner menu.
There will be birthday celebrations this weekend in Philadelphia for one of the city's most famous historical figures — Benjamin Franklin. A number of events celebrating Franklin's 310th birthday will be staged around Philadelphia's historic district from January16-19.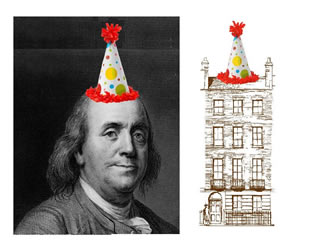 The Benjamin Franklin Museum (Franklin Court, Third and Market streets, Philadelphia, 215-965-2305, http://www.nps.gov/benjaminfranklinmuseum.htm) will offer free admission from January 17-19. Hours are 9 a.m.-5 p.m.
 "Benjamin Franklin Tippler's Tour" (Historic Philadelphia Center, 6th and Chestnut streets, Philadelphia, 215-629-5801, http://historicphiladelphia.org/tipplers-tour) will be held on January 16, 17, 23 and 24 starting at 5:30 p.m. each night.
The over-21 set joins a Colonial guide for the Tippler's Tour with Ben Franklin. It is a rollicking pub crawl with stops for drinks and snacks at four Old City establishments — at The Franklin at Independence Park, National Mechanics, Victoria Freehouse and City Tavern.
Ben Franklin, the "Birthday Boy," will join the tour along the way. He will hang around to chat with guests at City Tavern, the final stop, and to enjoy a Yards Brewing Company Franklin Spruce Ale. 
On January 16 from 11-11:30 a.m., the American Philosophical Society (105 South Fifth Street, Philadelphia, http://www.ushistory.org/celebration), which is one of the many organizations created by Franklin, honors him with a procession and wreath-laying along with a number of other activities.
Prior to the wreath-laying, visitors can attend a free morning seminar on the topic of "Public Health" from 9-11 a.m. at Benjamin Franklin Hall (427 Chestnut Street, Philadelphia). At 11 a.m., a procession will move up Fifth Street from the American Philosophical Society Library to Dr. Franklin's grave at Christ Church Burial Ground (500 Arch Street, Philadelphia).
Martin Luther King Weekend will be celebrated on January 14, 15 and 16 at the Eastern State Penitentiary (2027 Fairmount Avenue, Philadelphia, 215-236-3300, www.easternstate.org) from 10 a.m.-5 p.m. each day.
Eastern State Penitentiary commemorates Dr. Martin Luther King, Jr. and his 1963 Letter from Birmingham Jail with special readings from the landmark text and opportunities for visitors to respond to its relevance today.
The event examines the following questions — Why did the civil rights leaders of the 1960s choose jail time to demonstrate their plight? How did Dr. King's letter, written in the margins of a newspaper and smuggled out of Birmingham Jail, create a pivotal moment in the American civil rights movement? If Dr. King were alive today, what issues would his letter address?
Professional actors will read excerpts from King's letter three times a day on Saturday, Sunday, and Monday at 11:30 am, 1:30 pm, and 3:30 pm. An informal Q&A moderated by a civil rights scholar follows each reading, giving visitors an opportunity to respond to the letter's relevance today. The readings are free and open to the public, subject to availability.

In partnership with Art Sanctuary, children ages 7-12 and their families can create art in response to themes found in the letter, and read stories about Dr. King's life and legacy. Family activities are available on Monday, January 16, free and open to the public. No reservations required.
The Philadelphia Comic-Con, which is scheduled to run from 10 a.m.-4 p.m. on January 15 at the Clarion Hotel Conference Center (76 Industrial Highway, Essington, 856-217-5737, www.philadelphiacomic-con.com), features comic books, trading cards and other collectibles — both modern and vintage.
The event, which has an admission fee of $3, also features a number of special autograph guests. This Sunday, the guest artists are Paris Cullins (Artist – Blue Beetle, Blue Devil and New Gods), Greg Larocque (Artist – Flash and Exiled studios), Robbie Dubbryan (Artist – Dubbryan Studio's Howl) and Laura Inglis (Sketch Card Artist).
The popular collectibles event, which is the area's longest running comic convention, will host dealers from all over the Northeast with sales booths featuring Gold & Silver Age comics, action figures, non-sport cards (including Topps' 2016 election-inspired "Garbage Pail Kids Disg-Race to the White House".
Also featured will be Japanese Manga, gaming cards such as Pokemon and Magic the Gathering, original artwork and all the latest issues of today's popular comic book series.
As an added attraction, there will be hourly door prizes beginning at 11 a.m. with $100 in show cash to be given away.