By Lele Galer, Columnist, The Times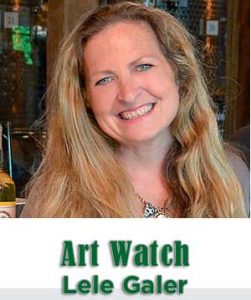 This Friday January 13th be prepared for a treat at Church Street Gallery, with the opening of "The Texture of Serenity" paintings by Portia Mortensen. Once a year, Church Street Gallery changes it up and presents an exhibit of purely abstract art, and Portia Mortensen is the abstract painter chosen for 2017. The artist reception is this Friday, January 13th from 5:30 – 9pm, where food and refreshments will be served, along with lively conversation and an opportunity to talk with this engaging, talented painter.
Portia Mortensen hails from Zimbabwe, but has lived in the States for the past 17years, first in California and now in Chester County where she also works her horse farm. She says that her life is "spilt between horses and painting." Portia describes the influence of her work with horses on her artwork: "My other passion in life, dressage, is about balance, cadence, tempo and rhythm. All these elements are central themes of my work. In riding, and painting, the artist has to work through a set tonal structure and trust her instincts to find her way out of a maze of infinite possibilities. A painting is a living thing, and, like a horse, must be listened to." She writes that she knows when a painting is finished, when she "can hear it."
Portia Mortensen received her art degrees in Africa and in London, but didn't return to painting full time until ten years ago when she moved to this area. Like so many artists, living here in the Brandywine Valley inspired her to "Go for it" and commit to making the effort to paint.
Portia works in oil on primarily large canvas surfaces, 60 x 48 inches, and puts herself wholeheartedly into one painting at a time. Even though there is a common thread to her work, each abstract piece has its own life from start to finish.
She comments on her process, that she "builds them", confessing "I make a total mess first and then I fix the mess!" While her pieces all have a strong expressionistic presence of the artist's brush or knife, they are not actually messy at all. Her layers of strokes and textures build upon each other to create abstract atmospheres that shimmer and respond to light. The shifts of color undulate like water or air. Her paintings are best appreciated with excellent lighting. She says, "My paintings are alive when the daylight comes and then they die with the evening."
Carol GIblin, owner and curator of Church Street Gallery, aptly named this show "The Texture of Serenity" because one's overall response to Portia's work is serene, even if the surface abounds with countless whirling bits of energetic paint dabs.
I asked her about her painting entitled "Water Lilies 2", a large canvas with a drip technique over a canvas that moves from light to deep blues. She said that the painting was a "complete response to seeing Monet's Water lilies.. the later series." The more you look at it, the more you feel water. Another great water painting is "Swimming Pool", one of my favorites in the show. She said that she often sees and feels water in her paintings, probably due in part to being on the national swim team for most of her youth in Africa. "Being in the water all that time formed how my brain sees color" she laughs, "when you spend all that much time in the water you have a lot of time to think about things like color."
In the gallery you will see large abstract plains, textured geometric shapes within dappled surfaces, and also a few paintings that have round rock-like forms tumbling from top to bottom. When she came back to painting, her "rock" paintings were her first series, as they started with something substantial, as a jumping off point for her abstraction. As her work continued, she moved more to abstracted fields. Looking at the Church Street Gallery, it is interesting and compelling to see her course of abstraction take artistic twists and turns; moving towards more concentrated layers of texture, scratching and drawing with an increasingly stronger presence of the artist's hand at work.
Her smaller works on paper and canvas are very captivating, and not to be missed. They also offer the art lover a chance to buy her art at a very reasonable $200-300 price point. Each one is unique, heavily worked through and built up like her large works, but they hover slightly in their white borders, a bit like the feeling from a Rothko, but with the determined marks and scratchings all her own.
The Portia Mortensen show at Church Street Gallery, 12 South Church Street in West Chester, goes from Friday January 13th – February 25th . The artist reception is Friday January 13th from 5:30-9pm and the Artist's Gallery Talk is February 16th at 7pm. Church Street Gallery Artist talks are always very popular, so make sure to get there on time if you want to have a seat.