From murder mysteries to superheroes, lots of reasons to venture out
By Denny Dyroff, Staff Writer, The Times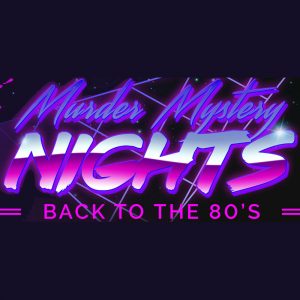 If you're able to block out the winter weather and want to get out of the house to do something fun this weekend, you have some interesting options.
Every Friday and Saturday in January, the Chaddsford Winery (632 Baltimore Pike, Chadds Ford, 610-388-6221, http://www.chaddsford.com) will present "Murder Mystery Nights: Back to the 80s" from 6:30-9 p.m. each night.
Here is the scenario.
It is 1985 and there has been a murder at the opening night of Chaddsford's Club RAVE.
Participants in the "Mystery Night" are asked to help solve the case by uncovering clues to pinpoint the murderer and motive — and to determine if this cold-blooded murder is connected with an international crime syndicate.  
Along with an exciting evening of mystery and suspense, visitors can enjoy heavy hors d'oeuvres and an array of Chaddsford Winery wines. Participants are encouraged to dress the part in throwback 1980s outfits.
The "Menu and Pairing Lineup" features: Assorted Cheeses with Proprietors Reserve White and Craft Beer; Pulled Pork Slider with Apple Slaw with Hard Cider and Craft Beer; Wild Mushroom Ragout on Crispy Polenta with Harbinger; Cheese Tortollini with an Aurora Sauce and Peas with Pinot Grigio; Boneless Breast of Chicken encrusted with Pecans and Cranberry with an Orange-Tarragon dipping sauce with Proprietors Reserve Red; and Assorted Desserts with Spiced Apple Wine and Coffee.
Tickets are $55 and reservations are required.
The "Wine, Cheese & Honey Pairings at Penns Woods" at Penns Wood Winery (124 Beaver Valley Road, Chadds Ford, 610-459-0808, http://www.pennswoodsevents.com) provide a nice way for visitors to enjoy a winter weekend day.
Penns Woods Winery is joining forces with local cheese makers and local honey artisans to present exclusive pairings of wine, cheese and honey. The tastings will feature five premium Penns Woods wines, each paired with various cheeses and honey from local farms.
The mouth-watering tastings will be held every weekend in January from 11 a.m.-6 p.m. on Saturdays and 11 a.m.-5 p.m. on Sundays. As an added attraction, live music will be featured on January 7, 14, 21 and 28 from 2-5 p.m. each day.
Tickets cost $28 per person in advance and reservations are required. Cancellations must be made within 72 hours or ticket holders will be charged the full amount of the tasting. Reservations are made and kept on the hour.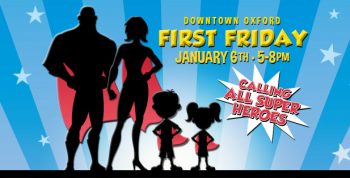 January 6 is "First Friday" and Downtown Oxford has issued a mission statement for the celebratory day. The mission states – "Let's fill Downtown with Superheroes!"
The theme for Oxford's first "First Friday" of 2017 is "Calling All Superheroes."
Visitors are encouraged to wear their best superhero costumes during the First Friday festivities, which start at 5 p.m. Downtown Oxford will have its "super spies" in search of the best-dressed superheroes and the winners will be given a Downtown Oxford gift certificate.
Many of the town's businesses will have special promotions and events going on throughout the night. 
Darth Vader and Princess Leia will be at The Candy Case and visitors to the shop can get pictures taken with them.
Daisy Mae Printing and Design will have its "Grand Opening and Ribbon Cutting" at 6 p.m. with a "Surprise Superhero,' kids' superhero coloring activities and refreshments.
Flickerwood Wine will present live music by Bill Rose from 7-10:30 p.m. At the Maroon Hornet from 6-7 p.m., Greg Cox, who is an author of numerous books, movie novelizations and short stories, will be signing of his latest tie-in novel for the TNT Television Series "The Librarians and The Lost Lamp." Rare Technologies will feature a visit by Batman along with Kindness Rocks and Kindness Counts.
The roster of participating street vendors includes Damsel in Defense, Scentsy, Potchak, Closet Hooked on LuLa Roe, Keystone Animal Hospital, ServPro and Foresters Financial Services.
The General Warren Inne (9 Old Lancaster Road, Malvern, 610-296-3637, www.generalwarren.com) is both a site with a lot of history in its past and a site that, in the present, is still involved in history of the area.
Since 1745, the Historic General Warren Inne has been center stage for American history and a premier carriage stop for hungry travelers. The Inne was initially called the Admiral Vernon Inne and was named in honor of the naval commander Admiral Edward Vernon who led the 1739 attack and capture of Portobello, Panama.
In 1758, the inn's name was changed to the Admiral Warren after the famed Admiral Peter Warren, a hero who defended the American colony at Louisburg, Nova Scotia during the French and Indian War. During the time of the American Revolution, the Inne was owned by John Penn of Philadelphia, who was a loyalist and the grandson of William Penn.
Situated on the main highway between Philadelphia and Lancaster, it became a popular stage stop during the Revolutionary War era — and a Tory stronghold. The Paoli Massacre was planned and launched from the Admiral Warren Inne in September 1777. In 1825, the Admiral Warren was renamed the General Warren, to honor the American hero of Bunker Hill.
Now, the General Warren Inne annually presents a series of lectures about America's war for independence. On the second Monday of each month now through May, the Inne will host "A Revolutionary Lecture Series" presented by the Paoli Battlefield Preservation Fund.
On January 9, noted author and historian Don Hagist of Providence, Rhode Island will talk about his book "The Revolution's Last Men: The Soldiers Behind the Photographs."
Other installments in the series for spring 2017 will be author Tim McGrath on February 13, paranormal investigator Laurie Hull on March 13, "Fort Mifflin: The Fort That Saved America" on April 10, and "Soldiers Stories: Letters from the Valley Forge Encampment" on May 8.
Seating is limited so it advisable to make advance reservations. Admission, which is $49 per person, includes lecture, buffet, family style sweets, taxes, gratuities and all non-alcoholic beverages. Alcoholic beverages are available at an additional cost.
While it might seem like spring is too far in the future to even think about, it's never too early to start thinking about spring cleaning and home renovations.
If you're interested in repairing, refurbishing or upgrading your home, you should plan a visit to the Greater Philadelphia Spring Home Show this weekend at the Valley Forge Casino Resort (1160 First Avenue, King of Prussia, 888-433-3976, www.acshomeshow.com).
The annual show, which is produced by American Consumer Shows, will open on January 6 and continue through January 8. Hours are from 11 a.m.-8 p.m. on Friday, 10 a.m.-8 p.m. on Saturday and 10a.m.-6p.m. on Sunday. The event features free admission and parking.
The event is geared for homeowners in all stages of remodeling, landscaping and decorating their homes. Visitors to the show will be able to check out new products and receive expert advice from professionals. The show's "Kitchen Showcase" features the latest styles and trends installed by knowledgeable, professional, local contractors.
At the popular annual event, homeowners will find a wide array of ideas and inspiration for enhancing their home's functionality, aesthetic appeal, comfort and overall value. The show offers hundreds of exhibits featuring product demonstrations, sample displays of interior and exterior vignettes and a wide variety of related merchandise.
There will be exhibitors representing a huge range of categories, including architects, masonry, lighting, painting, roofing, floors, air conditioning, lighting, home theaters, financing, appliances, plumbing, heating, paving, waterproofing, siding and even spas.
Some of the featured exhibitors will be Acre Window Replacement, BQ Basement Systems, Closets By Design, Daniel Lawn & Garden Spas, Paradise Custom Kitchens, Inc., AquaGuard Waterproofing Corp., BetterLiving Sunrooms, D'Amico Quarry, Inc., Impact Remodeling/Luxury Bath, Dilworth's Custom Design, and Colonial Marble & Granite.
The roster also includes Tague Lumber, Inc., First Place Painting, Mid-Atlantic Waterproofing, Touchstone Kitchens & Bath, LLC, Global Home Improvements Incorporated, Window Nation, Green Mountain Energy Company, RetroFoam of Southeastern PA, Gutter Helmet Systems, Homespire Windows, Spring Hill Chimney, and Rudloff Custom Builders.
The Kimmel Center (Broad and Spruce streets, Philadelphia, 215-731-3333, www.kimmelcenter.org) is teaming up with the Consulate of Mexico and the Mexican Cultural Center to present a special "Three Kings Day" celebration on January 6 at 5 p.m.
Together, they are offering an invitation to partake in one of the most widely-celebrated holidays among Hispanics and Latinos – to join in a reenactment of the story of the Three Wise Men.
Visitors will be able to enjoy an evening of activities, piñatas and a piece of traditional "Rosca de Reyes" bread, which will be the largest one ever made in Philadelphia.
Rosca de Reyes, which translates to "Kings' Ring," is an oval-shaped pastry traditionally eaten to celebrate Epiphany on January 6. Epiphany is also known as Día de Reyes ("Kings' Day") — a day to commemorate the arrival of the three Magi or Wise Men.
The tradition of placing a figurine of the Christ child in the cake goes back centuries. The baby Jesus hidden in the bread represents the flight of the Holy Family, fleeing from King Herod's Massacre of the Innocents.
Whoever finds the baby Jesus figurine is blessed and must take the figurine to the nearest church on February 2 (Candlemas Day, Día de la Candelaria). In the Mexican culture, this person also must host a dinner which includes tamales and hot chocolate.
On January 6, there will also be a free "Three Kings Day Celebration" at Taller Puertorriqueño (2557 North Fifth Street, Philadelphia, 215-423-6320, tallerpr.org).
The celebration will feature a musical procession filled with song and merriment. After the performance, children will receive gifts in tradition of the holiday. In keeping with the tradition, the children must bring a small box with grass. Because this activity is for children, the child must be present to receive the gift.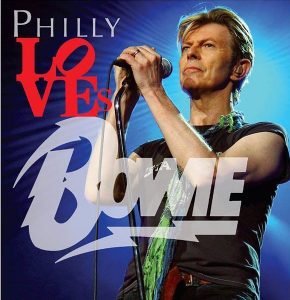 From January 6-14, a wide variety of venues around Philadelphia will take part in celebrating David Bowie's life and death with "Philadelphia Loves Bowie Week."
The event will kick off on January 6 with a Bowie art show at Ruckus Gallery in Olde City and an exclusive tasting at Doobies Bar of Bowie-inspired beer called "Loving The Alien, a BlackStar Saison."
On January 7, Candy Volcano will perform a Bowie tribute at the Theater of the Living Arts and CIBO Ristorante Italiano is hosting a birthday brunch in honor of Bowie. Additionally, Cinder will be celebrating with a special happy hour and Doobies Bar will have Bowie-themed Quizzo.
On January 9, the Roxy Theater will screen the 1996 film "Basquiat," which features Bowie as Andy Warhol.
On January 10, visitors can contribute to a chalk memorial outside Doobies Bar and Johnny Brenda's will host a Bowie karaoke on January 11.
On January 12, the Free Library of Philadelphia will host a spoken-word event at its main branch with area poets reading excerpts from Bowie's writings. The Franklin Institute will host a star-gazing event as a tribute to Bowie. Participants during a stargazing event. Attendees can look to the sky and make a commemorative "Night Skies Bowie Pin."
Also on the 12th, Martha Graham Cracker will perform Bowie hits at L'Etage, Guitar Army Philly will perform a Bowie tribute at The Barbary and Jet Wine Bar will offer a free screening of the film "Labyrinth" and be serving a special Bowie-themed cocktail.
On January 13, the Trestle Inn will host a special happy hour and Sex Dwarf will host a 1980's-themed dance party focusing on Bowie's music.
On January 14, Blue Cross RiverRink will host a family-friendly Bowie celebration with ice skating to Bowie music, screenings of "Labyrinth" and Ziggy Stardust face painting. Additionally, World Cafe Live will host "A Night of Stardust."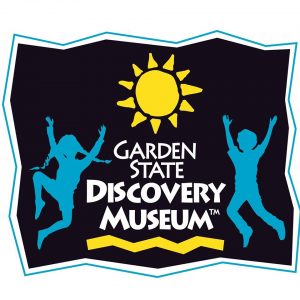 Every year, the Garden State Discovery Museum (2040 Springdale Road, Cherry Hill, New Jersey, 856-424-1233, www.discoverymuseum.com) presents a special program called "Passport to Discovery."
The opening event is the "Passport to Discovery Kickoff," which is scheduled for January 7 and 8 from 11 a.m.-4 p.m. each day. Children will be able to participate in an array of activities to introduce them to the cultures of other countries.
On January 14 and 15, the event will be "Passport to Discovery: India" including the annual Kite Festival featuring kite crafts and high flying science. On January 21 and 22, the museum will present "Passport to Discovery: Chinese Snow & Ice Festival." Participants can learn how to paint with ice and bundle up for some snowy science.
Other activities in the series are "Passport to Discovery: Scotland" on January 28 and 29, "Passport to Discovery: Universal African Drum & Dance" on February 4 and 5, "Passport to Discovery: A Frosty Weekend" on February 11 and 12, "Passport to Discovery: Ireland" on February 18 and 19, and "Passport to Discovery: Darwin Day" on February 25 and 26.
Admission to the Garden State Discovery Museum is $13.95 for adults and children 12 months and over and $12.95 for seniors.
It is usually rather difficult to find ponds around Chester County that are frozen solidly enough to attempt outdoor skating but that doesn't mean you have to rule out skating as a recreational activity.
Fortunately, there are quite a few very good indoor locations for ice skating in the area.
One of the best local skating sites is Power Play Rinks (701 Haywood Drive, Exton, 610-458-9160, www.powerplayrinks.com). The site offers weekday public skating Mondays through Fridays from noon-1:30 p.m. Added weekend hours are from 8:35-10:05 p.m. on Fridays and 1-2:30 p.m. on Saturdays. Admission is $7 on weekdays and $9 on Friday nights.
Another Chester County site for public skating is Ice Line Quad Rinks (700 Lawrence Drive, West Chester, 610-436-9670, www.iceline.info). Hours for public skating are Mondays-Thursdays, 1-2:30 p.m.; Fridays, 1-2:30 p.m. and 8-9:30 p.m.; Saturdays, 2-3:30 p.m. and 8:30-10 p.m. and Sundays, 2-3:30 p.m. Fees are $5 on weekdays and $8 from Friday-Sunday. Skate rental is $2.
The Horizon Riverfront Rink (308 Justison St., Wilmington, Delaware, 302-425-4890, www.riverfrontwilm.com) is entering its sophomore season this year. Hours are 4-9 p.m. Mondays through Thursdays, 4-10 p.m. on Fridays, 11 a.m.-10 p.m. on Saturdays and 11 a.m.9 p.m. on Sundays. Admission is $8 (ages 13 and older) and $5 (ages 12 and younger). Skate rental is $3.
Ice Works Twin Rinks of Aston (701 West Dutton Mill Road, Aston, 610-497-2200, www.iceworks.net) is open to the public every day. Hours for public skating sessions are Mondays-Thursdays, noon-1:30 p.m.; Fridays, noon-1:30 p.m. and 7:30-9:30 p.m.; Saturdays, 2-4 p.m. and 7-9:30 p.m.; and Sundays, 2-4 p.m. Admission is $10 for adults and free for children (four and under) while the skate rental fee is $2.
Haverford Skatium (1004 Darby Road, Havertown, 610-853-2226, www.havtwpparksandrec.com) offers public sessions Mondays through Thursdays from 10 a.m.-noon, Fridays from 10 a.m.-noon and 7-8:30 p.m. and Saturdays from 1:15-3:15 p.m. and 8:45-10:45 p.m. Regular admission is $8 while admission for children under six is $6 and for seniors is $3. Skate rental is $2.
Oaks Center Ice (87 Brower Avenue, Oaks, 610-650-9690, www.oakscenterice.com) has public skating on weekdays from 11:30 a.m.-1:30 p.m., Fridays from 11:30 a.m.-1:30 p.m. and 7:30-9:30 p.m.; Saturdays from 2-4 p.m. and 7:30-9:30 p.m. and Sundays from 2-4 p.m. and 6-8 p.m. Skating sessions cost $6 and skate rental is $2.
Wintersport Ice Sports Arena (551 North York Road, Willow Grove, 215-659-4253, www.wintersporticearena.com) features public skating Monday through Friday from 12-1:30 p.m. Weekend sessions are 8:30-10:10 p.m. on Fridays, 5:50-7:40 p.m. on Saturdays and 12:50-2:30 p.m. on Sundays. Fees are $10 and include skate rental.
Unlike most of the suburban ice rinks, RiverRink (Delaware Avenue at Walnut Street, Philadelphia, 215-925-RINK, www.riverrink.com) features public skating and that's all. At RiverRink, ice skating is the featured attraction — and the only use of the ice.
The outdoor rink's hours are 1-11 p.m. Mondays through Thursdays, 1 p.m.-1 a.m. on Fridays, 11 a.m.-1 a.m. on Saturdays and 11 a.m.-11 p.m. on Sundays. Skating admission prices are $3 and skate rental is $10.
Rizzo Ice Rink (1101 S. Front Street, Philadelphia, 215-685-1593, www.rizzorink.com), which is located along the banks of the Delaware River, offers public skating times from 3:30-5 p.m. every Wednesday, Friday and Sunday. There are also weekend sessions on Friday from 6:30-8 p.m. and on Saturday and Sunday from 5:30-7:30 p.m. Admission is free and skate rental is $4.
Wissahickon Skating Club (650 W. Willow Grove Avenue, Philadelphia, 215-247-1759, www.wissskating.com) is a private club that has guest member sessions each Friday from 8:30-10:30 p.m. and every Saturday from 12:45-2:15 p.m. Admission is $9. Skates can be rented for $3.
Class of 1923 Ice Arena Ice Skating Rink (3130 Walnut Street, Philadelphia, 215-898-1923, http://www.business-services.upenn.edu/icerink) is open for public skating on Mondays, Wednesdays and Fridays from noon-1:30 p.m. Weekend hours for the public are 5-6 p.m. on Saturdays and 1-2 p.m. on Sundays. Fees are $5 while skate rental is $3.
The Rink at Old York Road (8116 Church Road, Elkins Park, 215-635-0331, http://www.rinkoyr.com) hosts public sessions on Fridays from 8-10 p.m., Saturdays from noon-2 p.m. and 8-10 p.m. and Sundays from noon-2 p.m. Fees are $8 and the cost to rent skates is $2.
Now that we're almost one-third of the way through January, most people are ready to close the curtain on the 2016 Christmas holiday.
But, there are also some people who love the holiday season so much that they want to cling to it as long as they can before having to say good-bye. Fortunately for them, there are still a few holiday activities still running through this weekend.
"A Brandywine Christmas" is running now through January 8 at the Brandywine River Museum (Route 1, Chadds Ford 610-388-2700, www.brandywinemuseum.org). The attraction features an extensive O-gauge model. Five moving trains operate at all times and include a 60-car freight train winding past a village, stone quarry, oil refinery, mountains, Herr Foods plant, running waterfall and animated skating
Longwood Gardens (Route 1, Kennett Square, 610-388-1000, www.longwoodgardens.org) is in full holiday mode with its annual presentation of "A Longwood Gardens Christmas" – an event that also features model trains.
Visitors to "A Longwood Gardens Christmas" can check out Longwood's Garden Railway — a whimsical display set into motion with G-scale model trains. This is the 15th year that the railway has delighted visitors with special water features and custom trains traveling in and out of bridges and tunnels.
The festive holiday display at Longwood Gardens, which is continuing through January 8, features spectacular lights, lavish decorations, holiday music and colorful displays featuring thousands of brilliant poinsettias, brightly-decorated trees and fragrant flowers — all inside the heated Conservatory.
Admission to Longwood Gardens is $23 (non-peak), $30 (peak) for adults, $20/$27 for seniors (ages 62 and older) and $12/$16 for students (ages 5-18).
"Yuletide at Winterthur," which is now in its 38th season, is running through January 8 at Winterthur Museum, Garden & Library (Route 52, Wilmington, Delaware,800-448-3883, www.winterthur.org).
With the arrival of the extraordinary dollhouse recently gifted to Winterthur by the McDaniel family, Yuletide at Winterthur 2016 will highlight the holidays through a child's eyes in the 19th and 20th centuries and feature the exquisite house-in-miniature as a central attraction. The 18-room house is fully decorated with wreaths, candles, trees, and more miniature delights.
In celebration of the house's debut, Yuletide at Winterthur will highlight the holidays as experienced by children from 1850-1950 and feature museum room displays that include Winterthur's own collections of miniature objects.
Timed Yuletide Tour reservations are required. Admission to Yuletide at Winterthur is $20 for adults, $18 for seniors (age 62 and older) and $2 for children (ages 2-11).
Pennypacker Mills (3 Haldeman Road, Perkiomenville, 610- 287-9349, www.historicsites.montcopa.org) is hosting "Victorian Holiday Tours" now through January 8 while "Twelfth Night Tours at Pottsgrove Manor" (100 West King Street, Pottstown, 610-326-4014, www.historicsites.montcopa.org) are running now until January 8.
Pennypacker Mills will offer free tours of the 18-century mansion used by General George Washington as temporary headquarters during the Revolutionary War. The home will be decorated for an old-fashioned Victorian Christmas and will feature the warm glow of oil lamps, festive decorations and a candy-making demonstration.
The event at Pottsgrove Manor features guided tours through an elegant 18th-century Georgian mansion that is decked out in period holiday decorations. Tour guides will discuss Twelfth Night celebrations and Christmastide traditions.
Visitors will be able to view the parlor and kitchen as it would have been during colonial times when the Potts family prepared for their holiday guests. They will also be able to check out the servants' quarters and see the rustic holiday celebrations as enjoyed by the household staff.