By Lele Galer, Columnist, The Times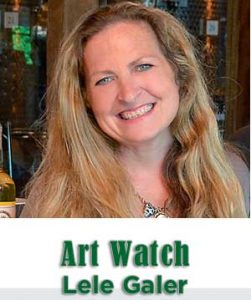 The best place to start this holiday season is at The Brandywine River Museum of Art in Chadds Ford. The whole museum is tastefully decorated for the holidays with fresh wreaths and a holiday train that runs throughout the museum on 2000 feet of track.
Thursdays are particularly enchanting during the Winter, with the museum and café open until 9pm, one can experience all the holiday lights, smells, music and beauty of the museum during the evening. The cozy interior looks out on the rushing Brandywine River and frost-covered landscape; it is magical, inviting and inspiring for the whole family.
The Brandywine River Museum's annual "Critter's Sale" has over 10,000 hand-made nature ornaments for sale throughout December in the gift shop.
Critters are handmade ornaments created from natural materials like seed pods, grapevines, twigs and other findings that are collected over the year by a dedicated group of artistic volunteers. The museum also has a special doll collection exhibit, and of course the blockbuster show "Rural Modern: American Art Beyond the City" continues through January 22.
"Rural Modern" features 70 works by famous American painters including Georgia O'Keefe, N.C. Wyeth, Charles Demuth, Marsden Hartley, Roger Medearis, Charles Sheeler and others loaned from collections across the United States as well as from the museum's own collection. This is an in depth view of an important genre of American painting that is rarely brought together for the public eye.
Elsewhere in the museum, you and your family can wander through the permanent collection of stunning N.C. Wyeth illustrations, famed Chester County painters, and works by Andrew Wyeth, Jamie Wyeth and their contemporaries. The gift store has lovely artisan items, posters and a wonderful collection of art and children's books. Accompanying the Rural Modern exhibition is a brilliant catalogue book with each chapter written by different experts in their field. The catalogue would be a fantastic gift for the art lover in your family. Expertly written, and beautifully illustrated, this is a must-have for any art library.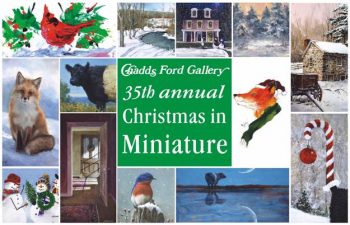 Across from the museum, the iconic Chadds Ford Gallery presents its 35th Annual Christmas in Miniature Exhibit, continuing through December 31, 2016. Framed original art created in miniature for gift giving for family, friends, the office or, an addition to your own private collection.  A great introduction to a variety of mostly regional artists. Located at 1609 Baltimore Pike, Chadds Ford, open Tuesday through Saturday, 10:00 to 5:00, Sunday 12:00 to 5pm. Also in Chadds Ford, at The Gables restaurant, Sunday December 11th from 10am – 5pm, local artists, including Jack Marshall, Mindy Blackman and Patsy Keller will be having an art show and sale upstairs. This is a nice gift buying opportunity, especially if you are at the Gables for one of their delicious Sunday brunches.
Sunday the 11th, at Galer Estate Winery at 700 Folly Hill Road, Cate Kelly will share her wreath making awesome skills, from 2-6pm at the winery. Also in Kennett Square, downtown, at Liberty Place, check out the current photography show on display by artists from The Kennett Senior Center. I heard it is a great show, and while you are grabbing some coffee, a crepe, or a glass of wine, it is a fun way to pass the time and get inspired.
South of Kennett Square, sculptor Jill Beech has her eagerly awaited Annual Open Studio December 10th and December 18th, from 10am – 4:30pm Square at 6 Park Avenue in East Fallowfield. You might have seen her ethereal porcelain cut-out vases at Mala Galleria or The Chadds Ford Art Show last year. After a lifetime of practicing as a veterinarian at New Bolton, Jill dived whole heartedly into creating art. Travelling the world over for inspiration from hard-to-find anthropological and historical sites, Jill fuses multi-cultural points of view with myriad shapes and mediums. The last time I visited her studio she was working on a series of "Refugees", clay forms wrapped in hand-pummeled papers made from seed pods. The line usually goes around her property to get into this special open studio, so get there early if you can. I wouldn't miss it. Last year I made two shopping trips there with my car!
Sunday December 11th at 1pm, join local renowned artist Robert Jackson at The Delaware Art Museum for a painting art demonstration. I can't wait! This demonstration is in conjunction with the terrific exhibit "Truth and Vision:21st Century Realism", which was inspired by Robert Jackson's book "Behind The Easel: The Unique Voices of 20 Contemporary Representational Painters." This museum is also very much decked out for the holidays and offers myriad opportunities for families to enjoy holiday activities, shop in the gift store with a holiday discount (including Robert Jackson's book!), and delight in the permanent and new exhibitions and collections.
Wilson Art Gallery, at Wilson Vineyard, will celebrate their 3rd year anniversary with an art show of local favorites including: Cindy Losco, Mitch Lyons, Susan Heaver, Ki Cittenden and Sally Wilson. There will be live music, food and wonderful Wilson Vineyard wine at their December 10th Anniversary party. The following day, December 11, from 3-6pm, watercolor artist Marilyn Guest of New London will exhibit her beautiful work in this pop up show. Wilson Gallery is located at 4374 Forge Road in Oxford, and complements its lovely gallery with wine tastings and wine purchases all year round.
December 9th is the kick-off party reception from 5:30-7:30 for the Holiday Craft Market at The Main Line Art Center, located at 746 Panmure Road in Haverford, PA, just off of Lancaster Avenue. The show continues free to the public on Saturday December 10th from 10am – 5pm, and Sunday from 11am-4pm. This craft show and sale offers fine to funky art crafts that are great gifts for the holidays. There is plenty of hand-crafted jewelry, ceramics, felt gnomes, candles and also food trucks from 11am -3pm both days. Also at the Main Line Art Center, throughout the month of December is the "Annual Members' Exhibition", with reception Friday December 2nd from 5:30-7:30pm. Members' works include photography, painting, sculpture and ceramics, so while you are at the Craft Market, checkout the Member's exhibition too, and also consider becoming a member!
Also on the Main Line, in Malvern, clay artist Rhoda Kahler will be doing a gallery talk about her exhibit at Gallery 222, located at 222 King Street in Malvern. The talk is scheduled for this Thursday at 7pm, but you can go early and chat with the artist starting at 6pm. Rhoda's beautiful wall pieces are created with much love and attention to detail, texture and subtle color, making each piece unique and personal. While at Gallery 222, remember to visit the other acclaimed showcased artists: pastel artist Barbara Berry and painter Michael Iacobucci. This is a perfect evening to visit Gallery 222!