Also: area shows offer great holiday gift options
By Lele Galer, Columnist, The Times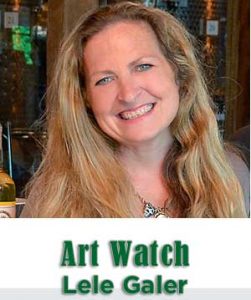 For this last week in November, several holiday art shows present great gift giving ideas, and the new Ivystone Studios in Downingtown has it opening show this Friday.
This weekend, November 25-26, 4-10pm, is the highly anticipated grand opening art show of Ivystone Studios, located at 138 Moore Road in Downingtown. This is a great chance to check out the beautifully renovated Chester county stone barn, meet the exhibiting artists, and share complimentary food and local wines.
Owner and glass artist Justin Smith had created a stunning new exhibition space that artists are lining up to show at. Some of the 20 artists showing in this first exhibit include: Laurie Murray, Joanne Mark, Heather Davis, Stan Smokler, Rob Sigafoos, and Bob Hakum. This is the first of many exhibitions to come, so check it out, enjoy music, art, food and lively conversation.
Art is the perfect gift, and there are plenty of galleries and art shows starting up this weekend where you kind find something beautiful and affordable. Starting in West Chester, The Art Trust at Meridian Bank has their "Gifted" art show going on through the holiday season, with twenty artists all presenting art for sale under $500.
The exhibiting artists are chosen by the board members of the Art Trust, and I look forward to this show every year. Last year I bought a small encaustic by artist Ben Richardson, who is exhibiting again this year along with another encaustic artist favorite, Lorraine Glessner. Andrew Snyder has interesting handmade ceramic bowls that have terrific textures combined with imbedded photographic images. There are also paintings and jewelry selections. While at the Art Trust, walk around the corner a couple blocks to Church Street Gallery, 12 South Church Street, where the show "Beauty in the Open" presents the gorgeous paintings of artist Elise Phillips, through December 3rd.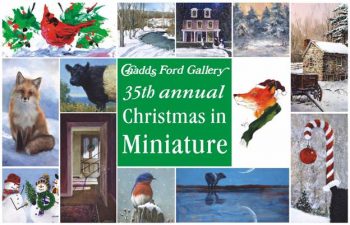 Opening next week, Wednesday, November 30, the Chadds Ford Gallery presents their 35th Annual Christmas in Miniature Exhibit, opening, 1:00pm to 8:00pm. Framed original art created in miniature for gift giving for family, friends, the office or, an addition to your own private collection.  A great introduction to a variety of mostly regional artists. Located at 1609 Baltimore Pike, Chadds Ford, open Tuesday through Saturday, 10:00 to 5:00, Sunday 12:00 to 5pm. The exhibit continues through December 31, 2016.
In Oxford, The Oxford Arts Alliance has its annual "Petite Paintings" sale this Saturday from 9am-11am at Flickerwood Wine Cellars at 33 South Third Street (across the street from The Oxford Arts Alliance). These small 6″ x 6″ paintings all sell for $30 each and are donated by many local artists affiliated with the Oxford Arts Alliance. The proceeds 100% benefit the Richard Beards Scholarship Fund for local high school seniors who are continuing their education in the fields of art and music.
At Hardcastle Galleries at 5714 Kennett Pike in Centreville Delaware, the preview for its "Annual Holiday Small Works Art Show" is on Black Friday from 10am – 5pm. The show continues through January 7th, and includes small, affordable artworks from over 70 local artists, in a wide variety of artistic mediums. Artists include popular painters such as Monique Sarkessian, Madeleine Kelly, Diane Cannon, and Su Knoll Horty, as well as glass artist Lore Evans, pastel artist Denise Vitollo and many more. Opening Night is the following week, on December 2nd 5:30-8:30, but the preview is a great chance to get a sneak peak, and first dibs.
Also in Delaware this Friday, the Somerville Manning Gallery in Greenville Delaware opens its new exhibition of paintings "Trees" by popular local landscape painter Mary Page Evans, November 25 – December 23. I asked Rebecca, who works at the gallery, to tell me a bit about the artwork in the show, and she said that the paintings have a very contemporary feel of Joan Mitchell, mixed in with a likeness to Monet; expressive brushwork with bright, joyful colors, which create tree vistas that are dreamlike and ethereal. The artist also has a series of tree etchings, which are prefaced with an inspiring quote from American Poet Laureate Howard Nemerov "Before you can learn the trees – you have to learn the language of the trees. " The opening reception is this Friday from 5:30-7:30, with food and wine, and a nice opportunity to chat with the featured artist.