New president will cast a deep shadow over 2017 elections and area schools
By Mike McGann, Editor, The Times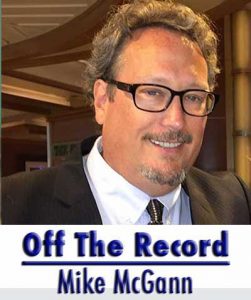 Things boiled over and got a bit testy Monday night, as a simmering feud between two Unionville-Chadds Ford School District Board of Education Members Michael Rock and Jeff Hellrung erupted during the board's work session, Monday night. The dispute was putatively over issues related to the electrical workers union (IBEW) and its conduct on a Phoenixville project for the Chester County Intermediate Unit.
But really, it wasn't about the IBEW — which isn't even close to my favorite union, in part because its apprenticeship policies appear to have a wall keeping out anyone who doesn't appear to be male and white and in part because it regularly betrays the rest of organized labor by playing footsie with the GOP locally — it was really about Donald J. Trump's election in my view.
In fact, as Rock was making his point, you could see the blood pressure of board president Vic Dupuis start to climb toward four digits. Dupuis — a Republican — was clearly none-too-pleased as the talk about unions seemed to morph into discussion about Trump. Hellrung, for his part, looked as if someone had turned his birthday cake into a latrine.
But here's the problem: this isn't going to be a one-time issue — and a resident who spoke Monday night during the board work session kind of underlined the issue the district and others around Chester County now face: if a majority of board directors voted for and supported Trump, didn't they just endorse the sort of bullying, ethnic and sexual discrimination that every school district claims it seeks to prevent? What kind of message does that send to the kids?
To be fair, I know a lot of people held their nose and voted for Trump — deciding he was the lesser of two evils as compared with Hillary Clinton — to me a bit like choosing a sucking chest wound over a migraine, but I guess I sort of understand the logic. Sort of.
If it is difficult for adults to reconcile that disconnect, let us imagine how that plays with students. Kids are annoyingly perceptive and almost always notice when the adults around them are full of crap.
It is in this environment that such decisions will almost immediately be re-litigated in the coming weeks and months, as a pair of board members, Hellrung and Elise Anderson from Region A, announced their intention to seek election in 2017 Monday night and jointly endorsed each other during the board meeting. Other candidates will likely follow suit in the coming days and weeks.
Before you ask — and I've been asked this a disquietingly large number of times in recent weeks — I am not a candidate in Region B in 2017.
First, there are some concerns about owning and operating The Times and serving on the board — yes, I could take a "hands off" approach to coverage, hire another reporter to cover the meetings and have the copy edited by our News Editor, Lauren Parker-Gill (and yes, I'm aware that Doug Stirling managed to balance his role on the Kennett Consolidated School Board and his radio work) — but it seems like a stretch. Plus, it would be awkward for the other media outlets in the area, who seem to enjoy me slightly less than cancer.
Also, I would have some concerns about my eligibility: Brandywine New Media, LLC, the parent company of this site, did have a business relationship with the school district on a publishing venture (full disclosure, we didn't make any money, and actually lost a decent amount) — but said venture might disqualify me under Section 324 of the School Code.
Additionally, I have to admit I think my fellow Pocopson resident Steve Simonson has done a good job on the board and has been a steady, smart voice of reason. While there are other board directors I think somewhat less highly of, I can't imagine a scenario where it would make sense to run against Steve, assuming he plans to re-up. I think Rock, while having a professor's tendency to get lost in the weeds at times, brings a needed voice of questioning both the status quo and conventional wisdom to the board.
Penultimately, I've made it clear that "retired" from politics means retired.
Lastly, there's my wife. As a rule of thumb, I try very hard not to anger people with access to lots and lots of sharp objects (she's a dentist) and I suspect she would not look kindly upon such an effort. Frankly, it's more fun and effective (not to mention safer) to anger those a bit less sharp in my role here at The Times.
So, while maybe not quite Shermanesque, hopefully that clears things up.
Anyway, back to our regularly scheduled discussion:
So while as yet there haven't been reports of any major Trump-related issues in Unionville-Chadds Ford Schools that we know of, there have been in neighboring districts, from fights to protest marches. It's not a stretch for kids to see their parents' endorsement of Trump as an endorsement of his and some of his less evolved followers' behavior in the last week and take that to school.
Although it may take some mental gymnastics for some to find a way to reconcile supporting Trump with efforts to build inclusion in the district and community at large, it's going to be important to speak to the kids. Having spent much of the last week as an informal crisis hotline for my adult friends, I know some of the kids are even more unnerved.
In some way, we need to find a way to reassure them that we haven't lost our core values of inclusion and appreciating diversity, even if the actions of late suggest otherwise.
Even if as adults, we're kind of screw ups (on a lot of things of late, but especially this), we need find a way to reassure our kids, especially the ones who see themselves as different (and I think there are more of them than we suspect) that they will not be targeted for bullying, hatred or abuse for who they are.
Of course, that we find ourselves having to do that is well, sad.
But that is a matter for another day.