Ads start to go negative, too, shockingly
By Mike McGann, Editor, The Times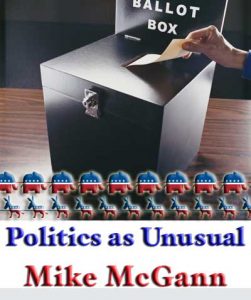 Last week, in this space I noted that Democratic candidates would be looking to staple their Republican opponents to GOP presidential nominee Donald J. Trump.
Based on a flurry of TV ads and mailers I've seen this week, I had it mostly right, except maybe the implement: Democrats are using a nail gun, and one has to wonder how much bleeding this linkage of the self-immolating Trump to local Republicans is going to cause.
From Marty Malloy's mailers — the Democrat running against state Sen. Tom Killion (R-9) — to Carolyn Comitta's TV ad that can only be described as Thomas The Tank Engine's Scary Nightmare featuring Deplorable Donald The Tank Engine with Your Friendly Conductor, State Rep. Dan Truitt. Spoiler alert: the train flies off the tracks and things end badly.
And yes, it's true that Truitt has long ago fled Trump like diners running from Chipotle during one of its semi-regular food contamination scares, but as the GOP presidential nominee has made clear, truth is overrated in politics — and in his case, to be avoided whenever possible.
In a campaign where "No, you're a puppet" were actual words uttered in a presidential debate, it doesn't seem like much of a losing prospect to burden local GOP candidates with Trumpy McTrumpface — as those wacky kids love to call him on the Internet — and see them attempt to do damage control.
There seems to be three options (and we've seen all three from Republicans in the county): denounce and abandon Trump (and then try to change the subject); condemn him and his comments du jour (women, voter fraud, Russia, etc.) that are the day's latest media sensation but stick with him or grimace, say little and hang tough with Trump.
All three are problems, though.
Those bailing on Trump — and this is one of those your milage may vary things depending on where in Chester County you're running — stand to lose support from that warm and fuzzy portion of the party that is in open rebellion against the county party leadership, the southwest portion in the county in particular. Without those votes, the numbers are tough.
For those sticking with Trump, especially in the more affluent and educated areas, the "giant sucking sound" is married women dropping their support. Again, without those votes, the numbers are tough.
Which leaves the last option: don't say much and hope no one notices. Or do that and run attack ads on your opponent.
Option 3 (and 3A) seems to be the most popular choice, so far.
All of them problematic, of course. Or as Col. Walter Kurtz put it so well in Apocalypse Now, "The horrors, the horrors."
***
Trump's move Wednesday to say he wouldn't necessarily accept the results of the election — in essence delegitimizing the election process — puts local legislators are in an extra bind. Many of them have banged the drum of voter fraud during recent pushes for Voter ID, which to be honest, was a ham-handed attempt to depress minority, largely Democratic turnout (as the courts have noted). That makes it hard to take a hard stand against Trump's argument — or to be taken seriously when expressing "outrage."
Let's be honest: there's a bit of voter fraud and a decent amount of voter intimidation in Pennsylvania, but statewide it is generally balanced out between the parties. Let's just say any pro-Democrat edge from dead people voting in Philadelphia has generally been cancelled by the combination of voter intimidation in Delaware County (which also has been known to cast a few post mortality votes for the GOP, by the way) and yes, in Chester, Montgomery and Bucks counties.
And yes, I've seen voter intimidation in person — at least in Delaware and Chester counties.
The claims that illegal aliens are voting — at least in Chester County — are silly and without merit. As someone who's spent time trying to register voters among the Latino community, it's a tough sell to get the naturalized and native-born Hispanic citizens to register and vote. Illegal aliens? They want nothing to do with voting or much of anything that might attract attention from the authorities.
Are these bipartisan shenanigans something to be proud about? No. Is it statistically significant? No. In fact, human error (mis-tallied or misreported results, people making ballot errors) likely has a bigger impact on the outcome of races — again, tiny and statistically insignificant.
Did my Tammany ancestors steal elections? Sure. But it only went so far — or my great grandfather, Edward Cox (where my middle name comes from), would have been elected Queens (N.Y.) Borough President in 1929, instead of getting routed by a Fiorello La Guardia-backed fusion ticket just days after the great market crash that kicked off the Great Depression.
Today — with the checks and balances — widespread fraud is almost impossible. Trump's attacks on the Philadelphia vote is an indictment of former Pennsylvania Secretary of State Carol Aichele — a former Chester County Commissioner. Apparently, in Trump's world, Aichele turned a blind eye to fraud and handed the election to Barack Obama in 2012.
Except, of course, Aichele did no such thing. While one might not of have agreed with her on everything, consensus is that she ran a fairly tight ship and worked to keep the election process in the state honest during her time in office.
There are lines that shouldn't be crossed and this one is one.
***
Thankfully, not all of the attack ads out this week are Trump-related — but not surprisingly they have some calling foul.
State Senate candidate Jack London (R) is taking exception to a mailer in support of Sen. Andy Dinniman's campaign — paid for by the state Democratic Party — portraying him as a muscular body builder — complete with a faux-Wheaties box suggesting that London doesn't pay his bills and supports digital billboards.
All of the images come from London's time as a professional bodybuilder — he competed in the 1990s in the sport, after serving as a police officer. Since the end of his sports career, London has worked in the financial services industry.
London's campaign has a press conference Sunday to denounce Dinniman for alleged body shaming.
It is important to note that the GOP went negative first in local cable TV commercials — suggesting that Dinniman has gotten "millions" in state pension money while serving in government. Dinniman is a former West Chester University professor and earned a pension from that position. He also is eligible to collect a pension from his terms as a Chester County Commissioner — which he was until winning election to the State Senate in 2006. Whether it is a fact that that Dinniman has collected "millions" is somewhat unclear — but it is important to note that Dinniman paid into the pension fund during his employment, so at least a portion of the  pension checks he receives were funded with his own money.
The GOP has also aired moderately "nasty" commercials against Congressional Candidate Mike Parrish (D) who is running the Sixth Congressional District against U.S. Rep. Ryan Costello. Parrish has had well-documented financial issues — which he attributes to a messy divorce. The Costello commercial hammers him over those issues.
While it's a legitimate argument, it begs some questions: if Costello is truly as far ahead as some polling suggests, is running an ad like that a bit like trying to score a touchdown with 2:00 left when you have a 50-0 lead? Or — is the Costello campaign seeing concerning internal polling numbers driven by the Trump debacle?
Also on the trash train: State Rep. Harry Lewis, Jr. — backed by the House Republican Campaign Committee — went negative on Downingtown Mayor Josh Maxwell in the 74th District race, hitting him over his previous DUI charges — an issue during the last campaign cycle.
Look, here's an ugly truth: while everyone says they don't like negative ads, they work. If they didn't, we wouldn't keep seeing them.
However, when one party goes to the well a lot on negatives, it kind of hurts their credibility when they claim to be incensed when the other party does the same thing.
***
Meanwhile, Democrats seemed primed to pile on London, pointing out this week that the Avondale resident has only voted seven times in the 30 years of his adult life — which they say suggests someone not very involved or committed to political or civic life.
Chester County Democratic Chair Brian McGinnis took issue with that this week:
"It is beyond astonishing that Jack London, the hand-picked candidate of the local GOP power players, has barely voted in his adult life," McGinnis said in a statement. "As a registered voter, he chose to stay home 83% of the times that his fellow citizens went to the polls to choose our local, State or Federal leaders. This does not even include the 10 years he spent as an unregistered adult. We already knew that Jack was an inexperienced candidate with little to offer in the way of civic involvement or even ties to our community. Now we also know that he has spent decades of his life in total indifference to the important issues our government deals with every day."
For his part, London said that was correct and that he was focused on his professional and family life.
"That's correct," London said in a statement. "I am not a career politician nor have I been involved in politics prior to my race at any level.  Like many people, I have focused on my private sector career and family.  I am small business owner, family-man and former professional athlete. My opponent, however, is a career politician who has lived off the taxpayers his entire career. He and his political bosses are waging a negative campaign after claiming to be above it on social media. Their attacks have been personal in nature even going as far as to mock and ridicule my appearance. The same body-shaming which unfortunately goes on in our schools and promotes bullying. I will stick to the issues, and I am undeterred.  I look forward to addressing these issues publicly on Sunday during the debate. Thanks to this process and folks like Senator Dinniman, I will always be involved in the political process moving forward."
***
A new polling memo is out from Christina Hartman, the Democrat running to replace the retiring U.S. Rep. Joe Pitts in the 16th District. Her new polling suggests that the race against Republican Lloyd Smucker is a three-point contest, with her trailing 45-42.
We reached out to Smucker's campaign for comment on the poll, but did not get a response. The GOP campaign previously declined to release its own polling data.
The poll of 400 likely voters this past week took place before the third presidential debate and subsequent meltdowns seen at the top of the ticket, so it is possible that the numbers could be trending even worse for Smucker right now.
An interesting tidbit: the poll suggest that Hartman enjoys a double digit lead in the Chester County portion of the 16th. If true, that could be a good sign for the legislative candidates in that area: state Senate Candidate Marty Malloy, state representative candidate Susan Rzucidlo and state representative candidate Josh Maxwell.
I'm told that Public Policy Polling is in the field with a poll on Malloy's race, the Truitt-Comitta contest and potentially more legislative contests. It will be interesting to see those numbers from a well-established national polling outfit, likely early this week. While PPP typically has a Democrat "house effect" or lean, according to FiveThirtyEight.com, PPP has actually had a bit of a GOP lean this year. If PPP shows the races as close, it should be a good indicator of the current state of play.