Meanwhile, local candidates gather and talk issues thoughtfully
By Mike McGann, Editor, The Times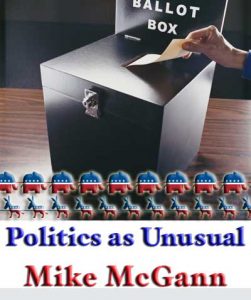 Well, that was a week to be proud of in politics, right?
As Donald Trump continues to loom over the election of down ballot candidates much as he did over Hillary Clinton during last Sunday night's town hall forum — frankly, all it needed was slasher movie music to make it perfect — it seems likely that things are going to get much, much worse before they get better.
With Trump jumping on the scorched Earth strategy — as woman after woman comes forward to suggest that he had inappropriate sexual contact with them — the impact on down ballot races is starting to become obvious and not in a good way for Republican candidates in Chester County.
Breaking down the cross tabs in this week's Bloomberg Politics polling of the four-county "collar" area surrounding Philadelphia, Chester, Bucks, Montgomery and Delaware counties, the numbers are dire for the GOP and don't show any signs of improvement unless something fundamental changes in the race.
The top line numbers are harrowing enough for down ballot candidates: Bloomberg says that Clinton leads Trump 59-31 — by 28 points — in the four-county area, based on a survey taken Oct. 7 through 11. The survey has a margin of error of 5.1 points — suggesting a best-case scenario for Republicans is that the top of the ticket is down 23 points. The worst case scenario? Trailing by more than 30 points — a shock in an area where the race should be about 5 points in a normal year.
But — this is not a normal year.
Barring pictures emerging of Clinton murdering someone, it appears that Trump will lose and lose badly around here. The open question is what it means to local Congressional and state legislative candidates. The wild card is Trump — who not only is claiming wild conspiracies against him, but is in attack mode on the leadership of his own party — and how much damage he will do down ballot.
By doubling down on the Breitbart/Alt-Right talking points, Trump is locking down the rabid, foaming at the mouth portion of the party (paging would-be governor state Sen. Scott Wagner — the GOP candidate incumbent Democratic Gov. Tom Wolf is praying for, as he's something like Trump on Prozac) but scaring off the moderate to mainstream conservative part of the party, driving off independents and causing large, loud celebrations by Democrats.
Trump has a net negative favorability rating of -18 in the four-county area — and Clinton is just -3 (ironically, she's the best thought of candidate for president; Gary Johnson pulls a rugged -27 and Jill Stein is -21). Plus, 68% of local voters are "bothered a lot" by the Access Hollywood tape.
Interestingly, there are some non-Trump data points that are also a concern for GOPers: 78% percent of respondents in the four-county area oppose making abortion illegal — in opposition to a position held by virtually all local GOP candidates (admittedly, some more intensely than others). 63% want to legalize marijuana, 66% support same-sex marriage and 62% want to ban discrimination against gay and transgender people.
So, to recap: based on the Bloomberg polling data, Trump is wildly unpopular and the socially conservative positions that local GOP candidates are running on are even more unpopular.
This is not a recipe for big election day success. Add in the continued worries about the respective party's turn out operation — and apparently added concerns about funding on the GOP side — and things look pretty gloomy for the Republicans right now.
***
Grim news aside, eight local candidates gathered last Thursday for EmergeUSA's forum — seven Democrats and Republican State Rep. Dan Truitt — held in West Goshen.
I was lucky enough to moderate the event and I have to say that the entire evening was filled with thoughtful questions from the audience — EmergeUSA is one of the top advocacy groups for Muslim-Americans — and serious, well thought-out answers from the panel. Talking points seemed to get a rest for the night as an overflow crowd asked questions and got thorough answers.
Attending were Congressional candidates Mike Parrish (D) running in the 6th Congressional District, Mary Ellen Balchunis (D) running in the 7th Congressional District, State Senate Candidate Marty Malloy (D) running in the 9th Senatorial District, Downingtown Mayor Josh Maxwell (D) who is running for the 74th District State Representative seat, West Chester Mayor Carolyn Comitta (D) who is running for for the 156th District State Representative seat, Hans Von Mol (D) who is running for the 157th District State Representative seat, Susan Rzucidlo (D) who is running for the 158th District State Representative seat and Truitt (R), who is seeking a fourth term from the 156th.
Special kudos go out to Truitt — he was the only Republican who appeared — and all GOP candidates were invited, according to the event organizers (I asked a second time when at least one campaign claimed not to have been invited — and organizers offered to show me the email trails as proof).
A wide range of subjects were covered, from standardized testing and school funding, to opioid addiction and yes, the voices of division and discrimination and even bullying.
Although we managed to make sure everyone had their say — a bit of extra focus was given to Truitt and Comitta, as they are running against each other in the 156th. Both were highly civil, respectful and gave thoughtful answers to questions from the audience, as well as my follow ups. While they have clear areas of disagreement, they both made their arguments well. It is a shame that one of them won't be going to Harrisburg — both showed exceptionally strongly.
We hope to be able to post the video of the event Monday — we shot it with a new 4K video system that we're working the bugs out of (it will ultimately allow us to broadcast live from remote sites) — but we think the event was worthy of watching to learn more about the candidates who attended. Watch for a link.
***
Bits And Pieces: Whispers on polling — the 158th race is either a dead heat or Rzucidlo is up a slightly, according to a pair of different polls I've seen. Worse for challenger Eric Roe, unprompted, a long-time, well-known Republican in East Marlborough recently talked to me about a door visit from him in less than favorable terms, saying the youngster came off as "smug" — oddly, the same word popped from another individual I know well, again, also unprompted…Hearing similar issues on polling in the 16th District Congressional race — Christina Hartman continues to hold a small single digit lead over Lloyd Smucker, just as the Democratic Congressional Campaign Committee is moving big money and resources into the race.
Better news for the GOP: polling right now appears to show Truitt and State Rep. Harry Lewis, Jr. (R-74) with solid leads in their respective races. Ryan Costello (R-6) also appears to have a strong lead over Parrish as well.
Shocker: Balchunis is apparently right on the heels of U.S. Rep. Pat Meehan (R-7) as they battle for America's Most Gerrymandered District (TM) — which is why some think Meehan moved so strongly to denounce Trump and call for his withdrawal. Balchunis — campaign sources say — has pulled within the margin of error in polling. Meehan and Truitt (who is openly supporting Libertarian Gary Johnson) appear to be the only local GOP candidates who have fully backed away from Trump.
Also hearing some internal carping among GOP insiders angry at the money (Update: CCRC chair Val DiGiorgio knocked down earlier claims on spending saying it was less than $250,000 and that the house seat races are being well funded) being spent on Jack London's race to unseat the popular state Senator Andy Dinniman (D-19) — every poll we've seen shows that race in the double digits with Dinniman securely in the lead. With money being in short supply, some in the party question whether the funds would have better spent on state house races.