By Denny Dyroff, Staff Writer, The Times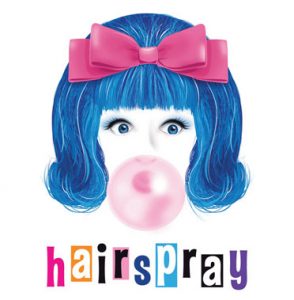 "Hairspray" started out many years ago as a John Waters movie – a typically off-beat Waters piece that eventually became a cult favorite. In 2002, the musical version of "Hairspray" made its debut at Seattle's 5th Avenue Theatre. Two months later, it opened on Broadway to rave reviews and went on to win eight 2003 Tony Awards – including "Best Musical".
Now through October 30, the Candlelight Theater (2208 Millers Road, Arden, Delaware, 302- 475-2313, www.candlelighttheatredelaware.org) is presenting the popular musical "Hairspray."
The show is a lavish production with great singing, sparkling dance routines, top-notch acting and colorful sets and costumes. It is also a thought-provoking story that is set in the early 1960s and deals with prejudices against blacks and fat people.
The story has a lot of messages – especially about discrimination and desegregation. But, it's not a heavy show – it's a feel-good show. The main thing is that people have a good time when they come to this show.
The focal role in the show is that of Tracy Turnblad. The challenge of performing the energetic role is handled wonderfully by Janine Merolla.
Tracy Turnblad, an overweight teenager with all the right moves, is obsessed with the Corny Collins Show. Every day after school, she and her best friend Penny run home to watch the show and drool over the hot Link Larkin, much to Tracy's mother Edna's dismay.
After one of the stars of the show leaves, Corny Collins holds auditions to see who will be the next person on the Corny Collins show. With all of the help of her friend Seaweed, Tracy makes it on the show, angering the evil dance queen Amber Von Tussle and her mother Velma.
Tracy then decides that it's not fair that the black kids can only dance on the Corny Collins Show once a month. With the help of Seaweed, Link, Penny, Motormouth Maybelle, her father and Edna, Tracy sets out to integrate the show.
"It's such a great show – such a well-written show," said Merolla, during a phone interview Monday afternoon. "It's funny. It's catchy. It takes place in 1962 but it is still relevant.
"The show moves at a good pace and goes by really quickly. Even though it moves quickly, it never feels rushed. As an actress sin the show, there is a lot to remember but it's easy because it flows so well.
"Tracy has such a bubbly personality. Link is shallow but he sees Tracy as much more fun that Amber. She has a bright optimistic look about the future."
Merolla is a veteran actress whose long list of credits include performing in a "Broadway in the Borough" production by West Chester's Resident Theatre Company. The Lewisburg native and Bucknell University grad also has done a number of shows at the Walnut Street Theater in Philadelphia and the Ritz Theater in Haddonfield, New Jersey.
"This is my third show at Candlelight," said Merolla. "I played Miss Jones in 'How to Succeed in Business without Really Trying' and Enid in 'Legally Blonde.' This is such a great place to perform. The productions are always really good and really professional.
"I love 'Hairspray' and so do the audiences. It has the attitude of inclusion and accepting people. And, the show has so many catchy songs. The finale is one of the greatest songs in musical theater."
Video link for "Hairspray" — https://youtu.be/TgstDv6xFwU?t=3.
Performances are Friday and Saturday evenings (doors 6 p.m./show, 8 p.m.) and Sunday afternoons (doors, 1 p.m./show, 3 p.m.). Tickets, which include dinner and show, are $59 for adults and $33 for children (ages 4-12).
On October 13, the Ardmore Music Hall (23 East Lancaster Avenue, Ardmore, 610-649-8389, www.ardmoremusic.com) will present a show with a headline act featuring a hybrid of two music styles.
Charli 2na, founding member and emcee of legendary hip-hop collective Jurassic 5, is taking another step outside of the box in his newest collaboration with New Orleans-based future-funk outfit Naughty Professor. With support from the jazz-infused, contemporary movements of the up-and-coming sextet, Chali 2na will provide his unmistakable baritone vocals to a different side of music.
Naughty Professor, which was formed in New Orleans in 2011, features Bill Daniel (guitar), Noah Young (bass), Sam Shahin (drums), Nick Ellman (alto and baritone saxophone), Ian Bowman (tenor saxophone) and John Culbreth (trumpet).
"We opened for Galactic last year and Chali 2na was performing with Galactic," said Naughty Professor's Sam Shanin, during a phone interview Tuesday afternoon from a tour stop in Washington, D.C.
"He had a chance to watch us play and we got a chance to see what he could do with a live band. We were thinking of making an album with guest. We wanted to show the breadth of what we could do. We decided to send him some demos. Then, he came down and did some songs with us in the studio. We did some of his songs and we did some collaborations."
After performing in New Orleans together on multiple occasions and collaborating on Naughty P's upcoming record, Chali 2na and Naughty Professor have taken take their collaborative show on the road to provide a unique setting for the band's abilities to unfold.
Chali 2na has established himself as one of hip-hop's preeminent and most charismatic personalities. Most known for co-founding music groups, Jurassic 5 and Ozomatli, Chali released his debut solo album "Fish Outta Water" in 2009. Since then, he has toured the world many times over with his three-piece band known as the House of Vibe.
Naughty Professor was nominated for "Best Funk Band" and "Best Funk Album" by Offbeat Magazine in 2016, and nominated "Best Funk Band" by Gambit Magazine's Big Easy Award in 2015, Naughty Professor has become one of NOLA's top new bands.
"The band members met in a practice room at Loyola University in 2010," said Shahin. "I replaced the original drummer in 2012 and we've had the current line-up for the last four years.
"We have a party-driven, meat-and-potatoes funk sound – from a denser jazzy side to the toe-tapping pop side of things….and maybe some avant-garde. We're trying to bridge the gap.
"I would never say we're a New Orleans-style band or that we have a neo-classic New Orleans sound. New Orleans is not a sound we're specifically trying to re-create. But, all those things go into a larger source that we pull from for inspiration."
Video link for Chali 2na and Naughty Professor — http://bit.ly/2cILDfb.
The show in Ardmore, which also features Pitchblak Brass Band, will start at 8 p.m. Tickets are $20.
Other upcoming shows at the Ardmore Music Hall are Echoes (Pink Floyd Tribute) on October 14, David Uosikkinen's In the Pocket on October 15, Yonder Mountain String Band on October 16 and Foy Vance and Trevor Sensor on October 18.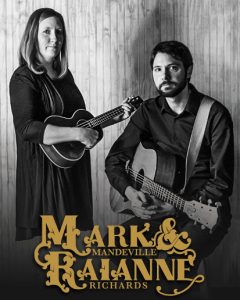 On October 13, Mark Mandeville and Raianne Richards will bring their modern yet traditional Americana sound to the World Café Live (3025 Walnut Street, Philadelphia, 215-222-1400, www.worldcafelive.com).
The two musicians, who are a musical duo and a husband-and-wife team, recently returned from their Seventh Annual Massachusetts Walking Tour, where they organized and performed 18 community concerts in 18 days. The tour went from Provincetown to Swansea and the couple walked to each event with instruments and camping gear. On the trek, which covered just under 150 miles, the two troubadours were promoting their new album "Grain By Grain."
"We did our first hike in 2010," said Richards, during a phone interview Tuesday morning from the couple's home in Webster, Massachusetts.
"We went from the Berkshires to Boston. We made the 161-mile trip in 17 days. That started our career as a duo.
"When I was in high school, I used to go to the Moonstruck Cafe in Charlton, Massachusetts. I saw Mark play there and really liked his music. A year later, we played together and started dating We formed a trio called The Accident That Led Me to the World and played in that group for about five years. When that band dissolved, Mark and I started the Walking Tour."
The duo's career started to take off right from the beginning.
"We did a national tour to Arizona and back," said Richards. "We came back home and started playing and writing with two older guys – Doug Williamson on upright bass, piano and mandolin and Peter Hart on pedal steel. Mark plays harmonica and guitar. I play ukulele, clarinet, guitar and pennywhistle and we sing harmony.
"Mark has been releasing music for 15 years and I released one solo album. Our first album together was 'Hard Times and Woes' in 2014."
The duo's next album was "Grain By Grain," which was released by Nobody's Favorite Records on May 1, 2016. The album includes 10 original songs and was co-produced by Kyle Swartzwelder.
"We came down to Philadelphia to make the album with Kyle in his studio in Roxborough," said Richards. "The first session was spring 2015. We recorded Doug and Peter's parts in Massachusetts. Then, Kyle and Mark did all the mixing.
"When Mark and I write songs, we usually do it separately and then bring the songs to each other. One of us might come up with lyrics and bare bones and then we work on it together. The music we made with The Accident That Led Me to the World was more classical with arrangements that were sparse and small. Where we are now is contemporary folk – leaning to the folk music revival from the 60s."
Video link for Mark Mandeville and Raianne Richards – https://youtu.be/ElzkGj1LUMI?t=2.
The show at the World Café Live, which starts at 8 p.m., will also feature Ladybird and Ethan Pierce. Tickets are $10.
Other shows at the venue over the next week are Eilen Jewel and Jeffery Foucault on October 14, Andrew and the Rhythm Hounds on October 15, Roger Clyne and the Peacemakers on October 16, John Paul White on October 17, Teenage Fanclub on October 18 and Joseph on October 19.
Fans of acoustic music have another good option on October 14 when Philadelphia's Lizanne Knott, one of the area's favorite performers for years, plays a show at Burlap & Bean Coffeehouse (204 South Newtown Street Road, Newtown Square, 484-427-4547, www.burlapandbean.com).
Knott, who is well known in folk circles for her creative songwriting and distinctive vocals, released her newest album "Excellent Day" a few months ago. The album is a showcase for Knott's versatility with a blend of Americana, southern blues, vintage soul and classic Nashville.
"This short tour is with Nathan Bell," said Knott, during a phone interview Tuesday morning from her home in the Norristown area. "He's coming up from Nashville, Tennessee. We're doing co-bills – and we'll be onstage together. He's really good. He co-wrote a song on my last album 'Standing in the English Rain.'
"After my CD release in the spring, I went to the U.K. and had a great tour. I'm more popular in the U.K. than anywhere else. Ever since I came back, I've had a lot of things going on."
A longtime mainstay of the Philadelphia music scene, Knott is also the managing partner of Grammy Award-winning MorningStar Studios in East Norriton. She has performed at some of the most prestigious listening venues, theaters and concert halls throughout the United States, United Kingdom and Europe.
"I started writing for 'Excellent Day' two years ago," said Knott. "I finish one album and then start writing for the next one. I started working in the studio in fall/winter 2014/2105. Some of the vocals were cut in Nashville at Studio Z with Saul Zonana. The rest were all done at my studio with Glenn Barratt producing."
Philadelphia music legend Jef Lee Johnson, who passed away unexpectedly three years ago, had a big influence on Knott's new album.
"The passing of Jef affected me greatly," said Knott. "It was a life-changer because he was my go-to person for everything. I was greatly influenced by his spirit and his music. He did a lot of touring and it nailed him. He died from complications from pneumonia."
Knott followed her usual M.O. when it was time to make the new album.
"I usually get all my writing done and then record everything together," said Knott. "I bring my players in for a few days. As always, I used Philly musicians. I finished it up February 2015. It took a year to come out because I'm part owner of a recording studio and that takes up a lot of my time.
"With this album, I went back to my jazz roots — Delta Blues, New Orleans soul and other roots music. I'm by no means a jazz musician but these have all been influences on my music. I'm moving back to what I originally started to do.
"Lately, I've been writing a lot – doing scratch tracks. Even though I own a studio, it's difficult scheduling my own projects because of other recordings going on there. I'll bump myself at times.
"On this tour, I'm playing some things from the new album, some from all my previous records and some newly-written songs. And, it will be fun singing with Nathan. He is a great songwriter. Burlap and Bean is one of my favorite places to play. The whole energy of the room is amazing."
Video link for Lizanne Knott — https://youtu.be/vzveKgyJAmk.
The show at Burlap and Bean will start at 8 p.m. Tickets are $15.
The other concert at Burlap and Bean this weekend is a show on October 15 that sounds like an order at a fast food joint — Billy Penn Burger with Billy Freeze.
There will be another acoustic show on October 14 featuring a musician not known for performing acoustic concerts.
Eric Johnson, a legendary Texas guitarist known for his distinct sound on electric guitar, will perform an acoustic show at The Sellersville Theater (24 West Temple Avenue, Sellersville, 215-257-5808, www.st94.com).
Johnson began a tour on October 5 in support of his first acoustic solo album – an LP titled "EJ."  The new album, which comes 30 years after his breakthrough solo release "Tones," showcases nine original compositions and four covers.
"On this tour, I'm just doing a solo thing," said Johnson, during a phone interview Tuesday afternoon from a tour stop on Oakmont, Pennsylvania. 'I'm doing part of the new album, some other newer stuff and some older songs. It's a smorgasbord."
Johnson's most recent previous album was "Eclectic," which came out in 2104. "EJ' was released earlier this year.
According to Johnson, "Ever since I was young, I've played piano and acoustic guitar. This type of music has always been a part of me, but I never showcased it on any kind of bigger level — like a full acoustic record. With 'EJ,' I just decided to be more honest with myself and everybody, and show more of my personal side."
The album – and the accompanying tour – allow fans to see a different side of Johnson.
"I've been threatening to do an acoustic album for a while but I haven't had the time," said Johnson, who has 14 albums to his credit. "Playing this music is something I've done in my private life for a while and now I decided to share it. Actually, I've pretty much always had one acoustic song on every album.
"I have my own studio that I built 20 years ago in Austin. I recorded the album there – on-and-off over a six-month period. Of the 13 songs on the album, nine are originals. There are also two Simon and Garfunkel tracks, one Jimi Hendrix song and a Les Paul song. When I was younger, I used to listen a lot to Simon and Garfunkel, Joni Mitchell and James Taylor. I always loved folk music.
"When I'm writing, usually the melody and the chords come concurrently and then I keep working on it. Most of the time, the lyrics come last – but not always. If it's a vocal tune, lyrics are really important. When I was making the album, I actually sang and played at the same time. I played live in the studio. I just tried to keep it as organic and natural as possible.
"I recorded a bunch more than what is on the album. I threw some stuff out. Other songs had good potential but not good takes. I have 10-15 songs that I like that I need to re-record. I plan to do an acoustic album volume two next year. I'm also working on a new electric album. I'm writing all the time."
Video link for Eric Johnson — https://youtu.be/rmZqKBBtntU?t=179.
The show in Sellersville will start at 8 p.m. Tickets are $35 and $50.
Other upcoming shows in Sellersville are Leftover Cuties on October 13, O'Connor Band on October 15 and Bobby Rush on October 16.
If you're in the mood to hear live music on October 14 but you want something with a harder edge, you'll be able to find what you're looking for at the Voltage Lounge (421 North Seventh Street, Philadelphia, 215- 964-9602, www.Voltagelounge.com). The show features four metal acts — All Hail the Yeti, Combichrist, Vicious Alliance and Generation Empty.
Based in Hollywood, All Hail the Yeti is a metal band featuring one L.A. native – bassist Nick Diltz – and a trio of Canadian musicians from Edmonton, Alberta — vocalist Connor Garritty, drummer Junior Kittlitz and guitarist Alan Stokes.
"The band started in 2006 in California," said Garritty, during a phone interview Wednesday afternoon from a tour stop in Syracuse, New York.
"Me and the original guitarist – K.J. Duval — were in other bands in L.A. and we were over that. So, we started writing together. Nick joined the band about two years later. He was our first bass player when we actually started playing shows in 2009.
"The line-up has changed quite a bit over the years. Nick and I have been in the band the longest and this is the best it's been. Junior and I knew each other from Edmonton in the late 90s. And, Alan and Junior had played together in a band in Edmonton."
All Hail the Yeti released its eponymous debut album in 2012. In April this year, the band released its sophomore album "Screams from a Black Wilderness" on Minus Head Records.
"Making the first album took a while because of all the line-up changes," said Garritty. "We toured for a long time after releasing it in 2012. Boing on the road playing shows was more important than making a new record. Touring was the biggest thing.
"We got back from a European tour in February 2015 and that's when we really started diving into it. Still, we didn't start recording until August 2015 because we were waiting for our producer matt Hyde to finish his other projects.
"We did a lot of pre-production in our home studio for a couple months. Matt came into our rehearsal sessions to get a feel for what we were doing. I was a fan of a lot of Matt's previous work. A lot of the production on the new album was done in the studio while we were recording. It gave it a more spontaneous feel."
"Screams from a Black Wilderness" is based on classic, spooky horror stories and presents a different story with each track.
"For me, It's all about storytelling," said Garritty. "I don't want to be writing about my problems. I'm not into writing songs like that. For me. it's always been about painting a picture with lyrics."
Video link for All Hail the Yeti – https://youtu.be/Qn4NNmHHt74?t=3.
The show at the Voltage Lounge will start at 8:30. Tickets are $22.
The venue's schedule for the next week also features Prodigy of Mob Deep on October 16, Mondo Drag on October 17, Nothing Nowhere on October 18 and Sorrow on October 19.
Kennett Flash (102 Sycamore Alley, Kennett Square, 484-732-8295, http://www.kennettflash.org) will present Better Than Bacon on October 13; Kiki Villani and Megan & Grace on October 14; Mary Fahl on October 15; Open Mic with Matt Sevier on October 16; and Muriel Anderson on October 19.
The Colonial Theatre (Bridge Street, Phoenixville, 610- 917-1228, www.thecolonialtheatre.com) will host "1964…the Tribute" on October 14  and Todd Snider with special guest Rorey Carroll on October 15.
The Steel City Coffee House (203 Bridge Street, Phoenixville, 610-933-4043, www.steelcitycoffeehouse.com) will host Jim Boggia on October 14, The "The Band" Band on October 14 and Eric Sommer on October 19.
Chaplin's (66 North Main Street, Spring City, 610-792-4110, http://chaplinslive.com) will host Livvie Forbes on October 14, John Seitz on October 15, and Open Mic Night on October 16.
Doc Watson's Public House (150 North Pottstown Pike, Exton, 610-524-2424, www.docwatsonspublichouse.com) will present 4th Base on October 14 and just for kicks on October 15.
Valley Forge Casino (1160 First Avenue, King Of Prussia, 610-354of118, www.vfcasino.com) will present internationally-acclaimed comedian Tracy Morgan on October 15.
The Keswick Theater (291 N. Keswick Avenue, Glenside, 215-572-7650, www.keswicktheatre.com) presents William Shatner on October 13, Squeeze and The English Beat on October 14, ARW (Jon Anderson, Trevor Rabin and Rick Wakeman) on October 15 and Bianca Del Rio on October 19.