To the Editor,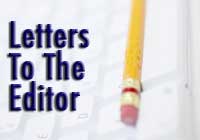 The voters in the PA House 158th district will be choosing a new state representative on November 8th, since Chris Ross is retiring.  We have been waiting for many months to see and read Republican candidate Eric Roe's positions.  Finally, his campaign published three position papers, on "Life, Liberty, and the Pursuit of Happiness." On Oct 2nd his Party or his handlers had him take those position papers down. How can we trust a candidate who won't or can't honestly say what he believes and then stand behind it?
We know from his own resume that Eric has spent the last eight years working in seven political jobs in DC. He recently moved back here and rented an apartment to start what he hopes is a long political career, but the last thing we need in Harrisburg is someone who was trained in Washington.  
In case you are wondering, his website statements included: "Abortion is proof that our society has failed women". On state pensions, he said he "will fight to reduce our liability and fund it fully, preferably through a 401(k) style plan", not understanding that the transition costs have been proven to make this impossible without unconstitutionally reducing current promised benefits.  He would also burden taxpayers and school districts with yet another unfunded mandate by putting "pressure on the Pennsylvania Department of Education to change its curricula and increase awareness in our classrooms" of drug addiction. Eric Roe is too extreme for Chester County and too unfamiliar with the needs of the people. 
Ironically, two very moderate issues that Republican Chris Ross was well known and liked for – namely allowing women rather than government to make their own health choices, and his strong renewable energy policies, are ones that Eric Roe opposes.  Is this why he was hiding his positions now? Is this why his Party pulled them off his website? Doesn't he have the strength of his convictions to proudly share his beliefs or is it not politically expedient to show who he really is and what he really believes?
Roe's opponent, Susan Rzucidlo, on the other hand, has had position papers up on her website from the beginning of the campaign. She is so dedicated to transparency she gives her personal cell phone number to voters. She says it's because if you want to represent the people, you need to be accessible to the people. Susan is a small business owner and long-time Chester County advocate for people who live with special needs, seniors and veterans, and she does care about the same issues  that the voters of Chester County do – environment, property tax reform, economic fairness, and public education.  Susan understands the issues facing Chester County and Pennsylvania and has earned the respect of Democrats, Republicans and Independents alike because she is willing to listen, takes time to learn the issues, and fights for people.  It's been said about Susan, "she's not by any means a politician … but more of a reformer."
On November 8th, you'll have to decide – do you want a candidate who hides who he is, or someone, like Susan Rzucidlo, who has a proven record of getting results and fighting for people?
Brian J. McGinnis
Chair, Chester County Democratic Committee