To The Editor,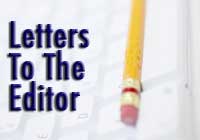 Eric Roe will make an outstanding State Representative for us in the 158th Legislative District. He's one of the hardest working men I know, and he'll work tirelessly for the residents of the 158th in Harrisburg. He's got the work ethic, the skill sets, the private sector experience and the professional acumen to be an effective advocate for families and seniors. He values women and children, immigrants, victims of crime, and the vulnerable in our society. Eric sees the good in people and treats them as if that's all he sees. 
Eric serves on the Board of Directors of the Domestic Violence Center of Chester County. It serves thousands who seek refuge, and Eric helps steer the organization in the right direction. That's not easy, considering how its state funding was held hostage during the recent budget impasse. 
He has taught ESL and a citizenship class for legal immigrants in Kennett Square and uses his Spanish language skills to help newcomers to our community. His own wife is an immigrant to the United States. 
Perhaps most of all, Eric values women. Not only does he serve on the board of the Domestic Violence Center of Chester County, but he and his wife, Alice, also support and volunteer for Chester County Women's Services, a crisis pregnancy center with locations throughout the county. He often refers to his mother, QVC host Mary Beth Roe, as his hero for balancing professional success with a strong family life.
Lastly, he's a class act who works hard. His age is an asset, not a liability. His energy and enthusiasm are unparalleled. Eric has already knocked on over 9,000 doors this year, and you should see him on the rare occasion that a voter tells him they're supporting his opponent. He never says a negative thing about her, and he even takes the time to compliment her. I know this because I've gone door knocking with him. In an otherwise heated election cycle in 2016, where political rhetoric has reached a fever pitch, Eric is a breath of fresh air.  
I'm a values voter, and I'm voting for Eric Roe for State Representative.
Linda Henricks,
East Bradford