As Trump implodes, Republicans pivoting to save down-ballot races
By Mike McGann, Editor, The Times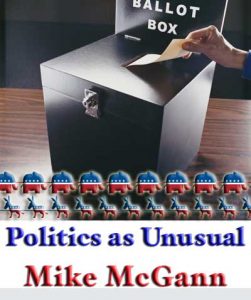 As we suggested last week, the heavy firepower is hitting Chester County now — and is likely to continue right up to the election.
Already this week, we've seen Ted Danson in town stumping for Hillary Clinton and Speaker of the U.S. House of Representatives (and former GOP Vice Presidential nominee) Paul Ryan in county to push U.S. Rep. Ryan Costello (R-6).
The visits will continue — often announced on short notice, as campaign schedules and priorities shift. As an example: Anne Holton — wife of Democratic Vice Presidential nominee Tim Kaine — will be in West Chester Saturday to help kick off a voter registration drive.
Strangely — especially as Donald Trump's polling numbers have begun to plummet down — it almost feels like there are two campaigns going on, one at the top of the ticket and another for everyone else. And as pressure mounts for local and congressional candidates to disavow Trump in light of Friday's release of the GOP candidate's comments on women, that split may grow larger in the coming days.
Ryan's visit — both for Costello and then a fundraising and public appearance for Lloyd Smucker, the GOP candidate to replace retiring U.S. Rep. Joe Pitts (R-16) — seemed an unusual use of power in a pair of districts that have been reliably Republican, in the case of the 16th, for generations.
But as Republicans have been making a "change" argument at the top of the ticket, many of those same arguments could imperil their long-time GOP held seats, especially with an angry electorate. I asked Ryan, during his Chester Springs event in support of Costello, why such high-profile moves were needed to support GOP Congressional candidates in southeast Pennsylvania.
Based on his response, it comes down to one word: anxiety.
"Right now, Americans are very, very, very worried about the future of their country," Ryan said. "When you look at the polling, a significant percentage of Americans are worried about the future of their country. And so, there's just a lot of legitimate anxiety out there. Anxiety about jobs, about economic growth, about income security, about national security, about terrorism. And so, because there's so much anxiety, I think that's being reflected in this public opinion."
And while he didn't come out and say it, it appears that Ryan and other GOP leaders are increasingly worried about being tagged with "The party of No" after nearly eight years of opposition to virtually all of President Barack Obama's legislative initiatives. Combine that with what appears to be an increasing daily drag up and down the ticket from Trump — Friday's headlines are going to be a blunt-force weapon against GOP candidates seeking suburban women voters — and you have the potential for trouble.
"No," he seemed to be suggesting, isn't enough, but rather a full set of policy proposals is needed, with a GOP House leading a discussion for new ideas and directions.
"That's why we're making sure we have hard-working people offering solutions," Ryan said. "We see ourselves in the House as sort of the ballast of the ship, we see ourselves in the House as offering ideas and solutions, kind of adding a rudder and keel to our party, so that we are the party of ideas, of solutions, of action. And that is what we in the house can do to contribute to addressing that legitimate anxiety that our politics have had."
As pivots, go this one makes sense. If you look at the sort of polling Ryan is referring to, it shows that Congress as a whole is really, really unpopular. As the Republicans have had total control of both houses of Congress since 2010, that's a reason for concern. Interestingly, though, the disconnect between the amorphous "Congress" (despised) and voters' own congress members (generally liked) continues.
That's why both Costello and Pat Meehan in the 7th Congressional District have to be seen as safe, but Smucker's race against Christina Hartman in the 16th is proving to be more problematic.
***
Of course, some of Smuckers' issues have been self-inflicted. After a bruising primary against Chet Bieler — one that left a lot of people angry — Smucker, currently a state Senator, hasn't run a good campaign. His fundraising has lagged — forcing him to write large checks, loans, to his own campaign. He continues to struggle with name ID in Chester County and his media and voter outreach efforts are clearly weaker than those of Hartman's.
And this past week, Smucker appeared to have blown off a candidate forum — with the Lancaster Rotary Club (which seems from here like a home game for the GOP candidate). While Smucker's people haven't had much to say about why, Hartman's campaign said it boiled down to one thing: Trump.
"This is the latest example of Senator Smucker refusing to meet Christina face to face to discuss the real issues facing Pennsylvania's families," said Christine Bennett, Hartman's spokeswoman. "Like Gov. Pence on Tuesday night, Senator Smucker does not want to defend Donald Trump's reckless rhetoric and dangerous policies, yet expects the people of this district to vote for him and Trump in November."
Maybe. Or maybe it was just poor scheduling and communication, which have also been issues for the Smucker campaign.
***
Of course, Smucker is hardly the only candidate blowing off voter forums. EmergeUSA is holding a Community Town Hall Forum, next Thursday night at the West Goshen Township Building, an event co-sponsored by The Times, which will be moderated by yours truly.
As of now, two Congressional candidates, Mike Parrish, the Democrat running against Costello, and Mary Ellen Balchunis, the Democrat running against Meehan have said they will attend. State Senate candidate Marty Malloy —  the Democrat running the 9th District against Sen. Tom Killion, is also expected. State house candidates Josh Maxwell (D), 74th, Carolyn Comitta (D), 156th and Susan Rzucidlo (D), 158th are all expected, also.
Now, candidates from both parties were invited — but, one party's candidates are a bit, shall we say, conspicuous, by their absence. More interestingly, the county GOP was particularly exercised that state Sen. Andy Dinniman agree to a forum with Republican challenger Jack London — they're both seeking the seat in the 19th District. Dinniman did — it will be held later this month — but somehow the same logic doesn't appear to apply to GOP incumbents.
As someone might say; "sad."