Whether you go for Alestorm or The Rocketboys, you can't lose
By Denny Dyroff, Staff Writer, The Times
Music fans can certainly get their money's worth at a variety of venues over the next few days, including a two-night stretch at MilkBoy Philadelphia featuring The Rocketboys tonight and The Trews and 7Horse on Friday and a triple bill Friday at the Troc with The Faint, gang of four and Pictureplane.
There are many good choices for anyone wanting to catch a live show in the area tonight. One of the shows slated for October 6 showcases a band which has carved a niche all its own.
Alestorm, which will perform at The Voltage Lounge (421 North Seventh Street, Philadelphia, 215- 964-9602, www.Voltagelounge.com), is a pirate-themed metal band from Scotland — self-identified as "Bacon-powered pirate core."
The band – Christopher Bowes – Vocals; Máté Bodor – Guitar; Gareth Murdock – Bass; Elliot Vernon – Keyboards; Peter Alcorn – Drums — formed under the name Battleheart in 2004. After releasing two demos, the band was signed by Napalm Records in 2007 and changed its name to Alestorm.
Alestorm, which released its latest album "Sunset on the Golden Age" in 2014 on Napalm, got its start in Perth, Scotland.
"We escaped from Perth," said Bowes, during a phone interview Tuesday from a tour stop in Baltimore.
"It's a cold-hearted place – just dreadful. Now, we all live in crazy places – England, Scotland, Hungary. I live in Johnson City, Tennessee.
"Our producer is based in northern Germany so we usually have gone there to record our albums. For our next record, we're thinking about recording in Florida – where it's warm and we can go the beach."
A perfect place and time for Alestorm to record in Florida would be in Tampa in late January when the city hosts its annual Gasparilla Pirate Festival.
Alestorm posted the following on its Facebook site – "Avast, ye landlubbers! From the deepest darkest depths of the Caribbean comes ALESTORM, a drunken band of pirates on an epic quest to drink your beer, steal your beer and be the greatest damn band to ever sail the seven seas.
"From humble beginnings playing shows to farm animals in a field somewhere in Eastern Scotland, Alestorm have evolved into an international party machine hellbent on conquering album charts and festival stages throughout the world, with their infectious brand of 'Pirate Metal' and their dashing good looks.
"Somehow they've managed to convince hundreds of thousands of people from New Zealand to Argentina to Lithuania and everywhere inbetween (except Paraguay), that it's cool to wear a pirate hat and sing stupid songs about getting drunk and stealing ships. So prepare your spleens, because Alestorm are coming to kick ass and chew gum."
Bowes said, "The whole pirate thing started as a gimmick. None of us really like pirates. I refuse to think that anyone really likes pirates – do they?
"But, with us, it's still definitely pirates at the end of the day. We thought that after two albums, we'd run out of pirate-inspired things. But, there is a treasure chest of material.
"Our music is varied. We have the folk melodies. We have pop songs. We play extreme metal. Most people think of us as a metal band but we're a pop band. We'll do anything as long as it's fun."
Alestorm stick to the swashbuckling pirates from the past and steer clear of the Somali pirates that operate now in the Gulf of Aden.
"We don't care about the Somali pirates," said Bowes. "They're boring."
Video link for Alestorm — https://youtu.be/f55CqLc6IR0?t=2
Alestorm's "Super Smashed Turbo Tour 2016," which also features Nekrogoblikon and Aether Realm, will start at 7 p.m. at the Voltage Lounge. Tickets are $25.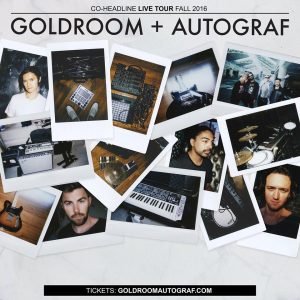 On October 6, Theatre of the Living Arts (334 South Street, Philadelphia, 215-222-1011, http://www.lnphilly.com) will present a twin bill featuring Goldroom and Autograf.
Goldroom is a project by singer, songwriter, producer, and electro- pop artist Josh Legg. Goldroom released his debut album "West of the West" on September 23 via Downtown / Interscope Records.
"I usually perform solo as Goldroom," said Legg, during a phone interview Tuesday from a tour stop in Warwick, Rhode Island.
"On this tour, we're a four-piece when we perform. There's drums, bass, keyboards and I play guitar and keyboards. And, we're touring with another band. It's my first experience on a charter tour bus with 10 other guys."
Legg was in the band Nightwaves for a while a few years ago.
"It's not a big change for me to go from DJ to a band," said Legg, how grew up in Wellesley, Massachusetts and now lives in L.A.
"I've always been in bands – mostly guitar and lead vocal. I've been a singer-songwriter with acoustic guitar my whole life."
Legg began producing music under the name Goldroom in 2011, with remixes of tracks including Niki and the Dove's "Mother Protect."
He took his stage name from the name of a bar in Los Angeles' Echo Park area. Goldroom released his debut EP "Angeles" the same year, followed by the EP "Embrace" in 2013.
"I like DJ and dance music," said Legg. "That has its place but this music is for a band. The production sounds electronic but it's always had live instruments.in with a band format.
"Playing live is so much more fulfilling – to be able to have a one-on-one connection with an audience member. DJ is an art form but live music is on a level that is so much more gratifying."
Video link for Goldroom – https://youtu.be/xq5MZ-qnCJ8?t=3.
The show at the TLA will start at 8 p.m. Tickets are $22.
On October 6, MilkBoy Philly (1100 Chestnut Street, Philadelphia, 215- 925-6455, www.milkboyphilly.com) will present The Rocketboys.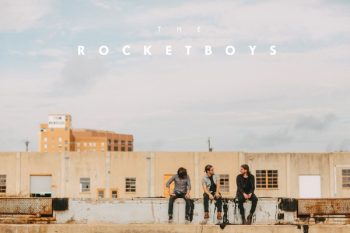 The Rocketboys – Brandon Kinder, Justin Wiseman, Josh Campbell and Lang Freeman – have been mainstays of the Austin, Texas music scene for nearly a decade. Billed as an "anthemic indie rock band," The Rocketboys have steadily built a loyal following with the release of two albums, four Eps and two live recordings – and by performing hundreds of live shows.
The Rocketboys' music has been featured in a large number of films, commercials, and TV shows – including "Glee," "Private Practice" and "One Tree Hill."
In the last 12 months, The Rocketboys have had several career-defining moments including working with Grammy-winning producer Joe Chiccarelli, cracking the worldwide iTunes charts with single "Viva Voce" and touring with and backing Dustin Kensrue, the lead singer of Thrice.
"We started playing music together back in 2005 when we were students at Abilene Christian University," said Wiseman, during a phone interview Monday morning.
"When we finished school, we made the call to make music our career. We moved to Austin in 2009 and we've been there ever since.
"Our first full-length was '20,000 Ghosts' in 2009 and we still play songs from it. Our second album 'Build Anyway' in 2012 was about reconciling a situation when three original members of the band left at the same time. Brandon, Josh and I wanted to keep doing what we had set out to do. We've taken a long time between album because we had to re-invent our songwriting. It was a struggle period sand it took us a while to pull out of it."
Last year, the band released an EP titled "Left/Right."
"That EP came out on Black Magnetic Records," said Wiseman. "It was the most well-received record we've done but it was crazy. Financially, we had to make it on our own. Then, we parted ways with the label.
"We're working on a new album now. We put out one song form it last month – 'You and Everyone Else.' We wanted to put it out first as a thank you to our fans who have been with us on this journey.
"The new album is a 10-song album. It's finished but we have only released that one song. We'll put another song out next month. We're playing a good chunk of the new songs on our live show right now.
"We're planning on releasing the album on January 20. We're going to brave the weather and put out the album in the middle of the winter. It's titled 'Certain Circles' and it will be self-released."
Video link for The Rocketboys — https://youtu.be/61v21lduha0?t=5.
The show at MilkBoy Philly on October 6, which has Sonnder as the opening act, will start at 8 p.m. Tickets are $12.
The Trews will headline the show at MilkBoy Philly on October 7 with 7Horse as the opener.
The Trews — Colin MacDonald (vocals/guitar), John-Angus MacDonald (lead guitar), Gavin Maguire (drums) and Jack Syperek (bass) — just released their latest album "Time Capsule" on September 9 via HOME Music/Entertainment One.
The 20-track collection includes 16 of the band's biggest hits and fan favorites including "Not Ready To Go," "So She's Leaving" and "Highway Of Heroes," along with four brand new recordings — "Beautiful & Tragic," "Lotta Work/Little Love," "Sing Your Heart Out," and "Chinese Kites."
The album gave the band members a chance to take stock of what they've accomplished since the release of their debut album "House Of Ill Fame" in 2003, while formally beginning a new chapter with drummer Gavin Maguire, who officially joined The Trews in 2015.
"We just put out our 'Best of' album two weeks ago," said John-Angus MacDonald, during a phone interview Monday afternoon from a tour stop in Vancouver, British Columbia.
"We also put four new songs on the album. They were written when we were on tour at the end of last year – except for one which was a rewrite of a song that was left off our last album."
The Trews are a Canadian hard rock band from Antigonish, Nova Scotia. The band is currently based in Ontario.
"Some of us are living now in Toronto and others are in Hamilton, Ontario," said MacDonald. "We got our started in Antigonish, where we grew up. We moved to Toronto, started writing our own songs and got our first record contract in 2003."
The Trews released their debut album "House of Ill Fame" in 2003 followed by "Den of Thieves" (2005), "No Time for Later" (2008), "The Trews Acoustic" (2009), "Hope & Ruin" (2011), "Thank You and I'm Sorry" (2012) and "The Trews" (2014).
For more than a decade, the Trews have been moderately popular in America and very popular north of the border.
They have had a lot of success in their native Canada with 16 Top 10 singles. "Not Ready to Go," "Yearning" and "Hold Me in Your Arms" were all chart-toppers with "Yearning" and "Hold Me in Your Arms" both reaching gold record status.
"It's hard for Canadian bands to make it in the United States," said MacDonald. "We're grateful for our success in our homeland. But, we're not content to rest on our laurels and stay home.
"Over the years, our songwriting has become more collaborative. Colin carried the burden in the early years. Then, everyone started bringing their own things in.
"All along, our songs have been acoustic-based. Right now, we have a lot of songs in various stages of completion. At some point, we'll have to bring them in the studio – hopefully early next year."
Video link for The Trews — https://youtu.be/jaQ7jGIxNNM?t=1.
Back in April, the band 7Horse released a new album "Livin' in a Bitch of a World" and followed a national tour in support of the new disc – a tour that played a Philly club date at Fire.
7Horse is an American rock and blues duo formed in 2011 that is most known for its song "Meth Lab Zoso Sticker.
The song was featured in Martin Scorsese's film "The Wolf of Wall Street" — in the second trailer and on the soundtrack.  It was also used by FoxSports on the pre-game show for the NFL playoff season.
The group consists of Phil Leavitt (songwriter, drummer, and lead vocals) and Joie Calio (songwriter, guitars, bass, and vocals) — musicians who also make up two-thirds of the band dada.
7Horse began as a hypothetical — What if, longtime band mates Joie Calio and Phil Leavitt thought, we bury our musical past and see if we can discover rock 'n' roll's Ground Zero? That question was explored in bold fashion on the duo's 2011 debut "Let the 7Horse Run" and continued on its sophomore album "Songs for a Voodoo Wedding."
It was during the time between the first two albums that 7Horse received a phone call from a representative of director Martin Scorsese, saying that the single "Meth Lab Zoso Sticker" was being considered for use in the film "The Wolf of Wall Street."
"'Meth Lab Zoso Sticker' still draws people," said Leavitt, during a phone interview last week from a tour stop in New Orleans. "We were at a festival the other day. We were on at 5 p.m.
"We got to 'Meth Lab Zoso Sticker' and 3,000 people in front of us all knew it. They might not know who we are but they hear that song and a bell goes off."
There is a lot more to 7Horse than just that song but there is no denying its importance to the California-based duo.
"Having Scorsese use our song 'Meth Lab Zoso Sticker' really helped us," said Leavitt. "It was great exposure — and they paid us well. We put every dollar back into the band.
"We've played together for a long time in dada. The music dada made was all above the neck. The music we're making now is for the body. It's rock. It's blues. It's music you can feel. We make a pretty big sound for two guys. We've got this rhythmic lock that is the centerpiece for everything we do."
That groove figures prominently on "Livin' in a Bitch of a World."
"We started making last year," said Leavitt. "We went to the desert — to a studio in Landers, California — and holed up for a few days. We also used my studio in Forestville, California. We spent a week in Seattle doing some tracks at London Bridge Studio and cut a couple things at Echo Park in L.A.
"We're always writing — even when we're on the road. This is a real important album for us. So, we started from scratch. When we were in the studio in Forestville, we stayed in the studio and slept on the floor. We'd start at noon and work until midnight.
"There are only two of us playing so we always cut the tracks together. We try to get it out as quickly as we can. We don't try to get it perfect. If it's really bad, you should do it again. If it isn't, you can leave it. That's what's cool about rock and roll. Anything can happen.
"We didn't want to make music for the head — music that was too smart. We put the focus on from the belt down. Rock and roll has to have a street level vibe. Onstage, it's just the two of us.
"But, my wife is a big part of the organization. She used to just run the merch table but now she is our tour manager. She does a great job – and she's a very colorful personality."
Video link for 7Horse — https://youtu.be/7-W92xs0iMY.
The show at MilkBoy on October 7 will start at 8 p.m. Tickets are $12.
Kennett Flash (102 Sycamore Alley, Kennett Square, 484-732-8295, http://www.kennettflash.org) will feature the West Philadelphia Orchestra on October 7 and Beatlemania Again on October 8.
The Steel City Coffee House (203 Bridge Street, Phoenixville, 610-933-4043, www.steelcitycoffeehouse.com) will host the Second Annual Memorial Open Mic Night for Frank Kelso Wolfe on October 6, Caleb Hawley with Robinson Treacher on October 7, and Jeffrey Gaines with Emily Neblock on October 8.
Chaplin's (66 North Main Street, Spring City, 610-792-4110, http://chaplinslive.com) will have Dad's Wardrobe and Alina Dowdalls on October 7; Pretty Words, Native Riff and Trycheck on October 8; and Open Mic Night on October 9.
The Ardmore Music Hall (23 East Lancaster Avenue, Ardmore, 610-649-8389, www.ardmoremusic.com) will have the North Mississippi Allstars and Anders Osborne on October 6, Sam Bush along with the Boiled Owls on October 7, Ian Hunter (from Mott the Hoople) and the Rant Band on October 8, Allen Stone on October 9, Tea Leaf Green on October 11 and the Nth Power on October 12.
Doc Watson's Public House (150 North Pottstown Pike, Exton, 610-524-2424, docwatsonspublichouse.com) will present Stone Attic on October 7 and Reaction on October 8.
Burlap & Bean Coffeehouse (204 South Newtown Street Road, Newtown Square, 484-427-4547, www.burlapandbean.com) will present Charlie Phillips' Who Tribute with Justin DePaola on October 7 and Brad Cole, Matt Nakoa, and Robinson Treacher on October 8.
The Keswick Theater (291 N. Keswick Avenue, Glenside, 215-572-7650, www.keswicktheatre.com) will present internationally-acclaimed medium James Van Praagh on October 9.
The Sellersville Theater (24 West Temple Avenue, Sellersville, 215-257-5808, www.st94.com) will have Danielia Cotton and Chrissi Poland on October 6, Joe Robinson on October 7, the Outlaws on October 8, Richard Thompson on October 9, the Edgar Winter Band on October 10, Celtic Fiddle Festival on October 11 and the Steppin Stones on October 12.
The Grand Opera House (818 North Market Street, Wilmington, Delaware, 302-652-5577, www.thegrandwilmington.org)
The Steppin Stones & Joe Robinson on October 6 and Lyle Lovett and Robert Earl Keen on October 8.
World Café Live at the Queen (500 North Market Street, Wilmington, 302- 994-1400, www.queen.worldcafelive.com)
Butch Zito and the Prine Time Players on October 7, Paul Lewis on October 8, and Esperanza Spalding on October 11.