By Denny Dyroff, Staff Writer, The Times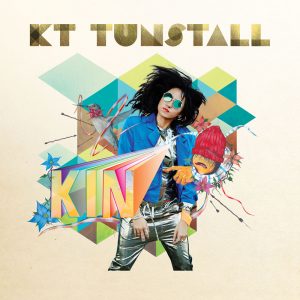 KT Tunstall is a singer-songwriter-musician from Edinburgh, Scotland who burst onto the music scene in 2004 with a live solo performance of her song "Black Horse and the Cherry Tree" on the popular British TV show "Later… with Jools Holland."
In the decade that followed, she released four full-length studio albums, along with a few EPs and live recordings.
Tunstall has had her songs featured in a number of hit movies such as "The Devil Wears Prada," as well as television shows such as "Grey's Anatomy" and "Criminal Minds." Her album sales are approaching 10 million and she has been nominated for a Grammy Award, the Mercury Music Prize and several BRIT Awards.
Two years ago, Tunstall, who will perform on September 20 at Theatre of the Living Arts (334 South Street, Philadelphia, 215-222-1011,  http://www.lnphilly.com), thought she was done with music. She had reached a turning point in her life and she called it quits for her music career.
"Why did I quit — it was really the circumstances," said Tunstall, during a recent trans-Atlantic phone interview. "My father passed away. I broke up with my ex. I was miserable. I created my own story. I was a success musically but I didn't feel happy."
So, Tunstall halted her career as a rock musician, left the U.K. and relocated to Souithen California.
"I had visited Santa Monica (CA) before," said Tunstall. "I had rented a bike and rode around. I realized I could find sanctuary in Southern California. So, I sold everything I owned and moved to Venice Beach. It was the best thing I've ever done.
"I had been defined by music for 20 years. Who I was had become lost in that identity. I wanted music to be what I do not who I am. So, I cut the cord."
Tunstall relocated to Los Angeles, abandoned the world of rock music and set her focus on writing music for films.
"I started composing film music and did some great work with film," said Tunstall.
She studied composing soundtracks at the Skywalker Ranch and composed and performed the following soundtracks — "Winter's Tale," "Million Dollar Arm," "Tinker Brell and the Legend of the NeverBeast" and "About Ray."
"Once I moved to California, I spent a lot of time chilling out and reflecting," said Tunstall.  "I love listening to music in my car. I spent time driving through Laurel Canyon and Topanga Canyon — listening to the music that was made there by acts such as Fleetwood Mac, Joni Mitchell and Neil Young.
"I got inspired. I began writing these really big choruses. At the same time, my mind and my body said 'No.' I was making very unfettered music that wasn't self-conscious. I was writing muscular, emotional pop songs that I would be foolish to have ignored. The writing began around the beginning of 2015. After doing a few tracks, I thought — this is really good material.
"Earlier this year, I went to Taos, New Mexico. I chopped wood in the morning and looked at the snow. I did eight hours a day of just writing — writing on acoustic guitar by the fire. The fire was really a great birthplace for the songs. The landscape in the Southwest was a big inspiration."
Tunstall had hopped off the train before in her career.
In 2008, Tunstall's career had been moving along like an express train. So, she decided it was time to hop off the train and get on a boat – to Greenland. She was part of the Cape Farewell Project, living on a boat with a group of artists, writers and musicians who were invited to create their own response to the harsh landscape and the specter of climate change.
"That was incredible," said Tunstall. "It was a great place to start writing a new record. After that, I kept traveling for awhile."
Over a course of three months, Tunstall went horse riding with gauchos in Chile, explored the wild nature of the Galapagos Islands, walked Peru's Inca Trail to the ruined city of Machu Picchu and visited the Barefoot College of Tilonia in India, where women from villages as far away as Africa are taught how to build solar equipment from scratch.
Tunstall also jammed with local musicians in the Rajasthani desert and traveled through New Zealand in a vintage VW camper van. She arrived in Auckland and collaborated with Johnny Marr, Wilco and musicians from Radiohead at Neil Finn's "Seven Worlds Collide Jamboree."
"It was very magical in the desert," said Tunstall. "After that, I went to Kerala. I really started to write again in India and then wrote more when I got back in my home space in the English countryside. After getting off the road and having a break, there was a re-ignition of the subconscious."
This time, Tunstall has coming roaring back with an album filled with memorable songs. Two years after her latest hiatus began, she made her new album "KIN." Written in L.A. and produced by Tony Hoffer (Beck, Fitz and the Tantrums, Air, M83), "KIN" is guitar pop at its best.
"Tony had been high on my list of people to work with," said Tunstall. "He understood the world of commercial music and also how to push the borderline. Tony and I spent a couple months working on the album."
Video link for KT Tunstall — https://youtu.be/P7OeOGmbF64" https://youtu.be/P7OeOGmbF64.
The show at TLA, which has Conner Youngblood as the opening act, will start at 8 p.m. Tickets are $25. Conner Youngblood opens the 8 p.m.
Hailing from the city of the Beatles, the Mersey River and Anfield, the home of world-famous soccer club Liverpool F.C., OVVLS (pronounced Owls) are starting to make a name for themselves in the world of rock music.
The duo features Lee and Stephannie, who are a musical team and a couple in real life. Now, OVVLS are coming to America for a series of shows — most of which are in this area.
OVVLS will make their North American debut in Philly on September 20 at the Fire (412 West Girard Avenue, Philadelphia, 267-671-9298, thefirephilly.com). On September 21, they will head slightly west for a show at Tellus 360 (24 East King Street, Lancaster, 717-393-1660,   www.tellus360.com).
They will spend three days (September 22-25) in Dewey Beach, Delaware at Dewey Beach Music Conference and then play shows in Manhattan and Brooklyn.
OVVLS then return to the Delaware Valley for a show on September 28 at World Café Live at the Queen (500 North Market Street, Wilmington, 302- 994-1400,   www.queen.worldcafelive.com) and the tour finale on September 29 at The Grape Room (105 Grape Street, Philadelphia, 215- 930-0321, graperoommusic.com).
Residing in the outskirts of the Liverpool, OVVLS are an experimental two-piece captivated by unearthing beauty in the darkest of places.
Drawing inspiration from the natural world, their enchanting lyrics, bellowing vocals and hypnotic rhythms act as lullabies for even the most restless of souls. They have been described as having an atmospheric, brooding sound and their music has been called dark lullabies.
"Basically, we launched this project in February," said Stephannie, during a trans-Atlantic phone interview Wednesday morning from the couple's Merseyside home. We've only been going nine months.
Lee said, "It's only been nine months since we unveiled the band but it will be two years in January since we started working on it. We go from different musical places. Stephannie is more into electric rock while I'm from a metal, hardcore background."
The blend worked.
"It was an experiment," said Stephannie. "When I was in previous projects, lee asked me to do this project. We were musicians who were together as a couple and he said –let's work together."
Lee said, "We went to and arts and music festival. Watching all those diverse acts inspired us."
The seed for OVVLS had been planted. Now, the duo has released three singles as part of what it calls the "Recrudescence Series" — "Pain Is Beauty,: "Winter" and Abandoned Ship." All three singles were produced by Brian Campbell of the band Clinic.
"The early sessions were very rough," said Stephannie. "The Recrudescence Series songs were written in tiny garage we converted into a rehearsal space during the winter months. Lee had an acoustic drum set and I salvaged a keyboard I had when I was five or six.
"It was very raw. What was nice is that we had no limitations. If we tried something and it didn't work, we threw it away."
Lee said, "We just wrote whatever we felt at the time. When we first started writing, it was in that little garage in the middle of winter. It was so cold that we could see our breath in the air. And, we could barely feel our fingers. We intended the music to be quite dark so the coldness added to it."
Stephannie said, "For me, the first material we worked on was a case of was it going to work or not. What jumped out to me was finding beautiful things in dark places.
"We put the first single of the Recrudescence Series out on vinyl and the second single on cassette.
"The third one is a limited-edition run of 50 glass bottles that have been individually designed and corked with a USB containing the single and a spoken word B-side. All three songs were written and recorded at the same time. We wrote a lot and those three were born out of the same moment."
Video link for OVVLS —   https://youtu.be/1fKn9h9fiNE.
Just like so many other things in its home area, Portland's Ages and Ages grew organically.
The band — Tim Perry, Rob Oberdorfer, Sarah Riddle, Colin Jenkins, Annie Bethancourt, — just released its third album "Something to Ruin." The album support tour brings them to the area on September 20 for a show at MilkBoy Philly (1100 Chestnut Street, Philadelphia, 215- 925-6455,   www.milkboyphilly.com).
"We were just Portland buddies who knew each other from the music scene there," said Perry, during a phone interview Wednesday as the band travelled from a gig in South Dakota to a show in Minnesota.
"We wrangled together a crew of people who were looking for something different to do. We started playing house parties and other venues in Portland and then made our first album 'Alright You Restless' in 2011.
"Then, it was a couple years until we made our second album 'Divisionary.' It took awhile because we all have day jobs. And, there is the process of making an album where you record it, sit on it, do a video and then it finally gets released. We sat on 'Divisionary' for about a year.
"We started working on 'Something to Ruin' about a year-and-a-half ago. We went in the studio and started fleshing out the songs we had. We did quite a lot of it at our bass player Rob's studio here in Portland"
Early on in the writing process of this record, band leaders Perry and Oberdorfer traveled to Central America and visited indigenous ruins partly engulfed by surrounding forests – a tangible reminder of the impermanence of human civilization and the resilience of nature.
Back at home in Portland, Oregon, their community was being engulfed by something entirely different. Like so many other cities around the country, rapid growth and development were changing both its landscape and culture.
"Something to Ruin" came out of this reflection — exploring what it's like to watch your surroundings implode in a frenzy of real estate development and lifestyle branding. Songs like "Kick Me Out" and "My Cold Reflection" describe an existence where almost everything is monetized and loses its meaning. The album's first track "They Want More," deals with the struggle to live an honest life in this type of superficial cultural landscape.
To set the stage for this narrative, Perry and Oberdorfer embraced synthetic sounds and artificial textures– a marked difference from the organic and documentarian approach on their previous albums. The record is also more groove-laden, with electronic experimentation pushed to the surface.
"We try to be pretty thematic with all our albums," said Perry. "With this album, there were two goals. The first was to combine the acoustic elements always in our music with synthetics and keyboards.
"The second was the theme of conflict and struggle with respect to humans and their relationship with nature — from climate change to population growth. It's about a society that places money ahead of human lives."
Ages and Ages has evolved musically over the last 10 years — and has gone through some personnel changes.
"There are three of us who have been in the band since the beginning," said Perry. "There always has been an element of a revolving door. In our live shows, we definitely draw from our entire repertoire. But, the bulk of our set list is made up of the songs from the new album."
Video link for Ages and Ages —   https://youtu.be/-BAU9mKJjdU.
The show at MiklkBoy, which features Chris Pureka as the opening act, will start at 7 p.m. Tickets are $10 in advance and $12 at the door.
Also on July 20, Josiah and the Bonnevilles will be in Philly for a show at Boot and Saddle (1131 South Broad Street, Philadelphia, 215-639-4528,  www.bootandsaddlephilly.com).
Josiah & The Bonnevilles hail from Tennessee, and they unveiled their debut EP entitled "Cold Blood" a few months ago. Co-produced and mixed by Dave Way (Fiona Apple, Paul McCartney, Macy Gray), the release features of four tracks that reaffirm Americana's core principles — sincere and universal insight, as well as genuine storytelling.
Josiah & The Bonnevilles — Josiah Leming, Stephen Johnson
Josh Nyback — write songs that hearken back to a different era — an era from the past when the words have as much meaning as the music itself.
"I played piano when I was a kid and music just connected with me," said Leming, during a phone interview last week. "I started writing songs when I was around 10. I was influenced by bands like the Smiths, Blur and Echo & the Bunneymen.
"I was 17 when I dropped out of school in Morristown, Tennessee. The first place I went was Fort Worth, Texas. Then, I moved to Jacksonville then St. Louis then Atlanta. I was drifting around working odd jobs and playing open mics.
"I lived in L.A. for about four years — from 18-22 — and then left. I was in Las Vegas for awhile but realized that my time was up there. It was dead energy.
"So, I went back to L.A. and moved in with a friend there. I played a couple gigs and then hit up some friends to see if they wanted to back me on a show. We got into a rehearsal space and it sounded really great. That's when I knew  it had to be a band."
Under the name Josiah & The Bonnevilles, Josiah, guitarist Stephen Johnson, and bassist/percussionist Josh Nyback landed a residency in LA that quickly garnered a devoted fan base. The power of the live shows and the audience reactions inspired Leming to bring his new bandmates into the studio to flesh out several tracks and finally complete work on the album.
"We went into the studio about three months after that first rehearsal," said Leming. We cut one song. Then, we cut two more. We kept building songs for an album. The album will be half done in L.A. and half done in Vegas.
"Most of the album was written when I was in Vegas prior to going back to L.A. I was living alone and detached from the main world. Music should be emotional. I couldn't have written those songs if I had been in a good frame of mind.
"Now, I've got a lot of new stuff I've been working on. Some of it is similar. But, I've been making a bit of an effort to write from another place."
Video link for Josiah and the Bonnevilles — https://youtu.be/xNcNAnO1XKk.
The show at Boot & Saddle, which also features Thin Lips and Allison Weiss, will start at 8 p.m. Tickets are $12.
On September 21, The Temperance Movement will be in Lancaster County for a show at Chameleon Club (223 North Water Street, Lancaster, 717-299-9684, HYPERLINK "http://www.chameleonclub.net" http://www.chameleonclub.net).
Based in London, England and Glasgow, Scotland, The Temperance Movement is a five-piece band featuring front man Phil Campbell, bassist Nick Fyffe, guitarists Paul Sayer and Matt White, and drummer Damon Wilson. Prior to forming the band, the members each played and performed with prominent acts including Deep Purple, Jamiroquai, Ray Davies, The Waterboys, Jack Bruce and even James Brown.
"We were all in London doing various things and touring with different people," said Sayer, during a trans-Atlantic phone interview last week. "We hadn't played together but we had crossed paths.
"We decided at the same time that we wanted to do something of our own. It started off as a songwriting project more than a band. We got some songs, Then, after a few months, we were a band."
When the friends got together for a jam in 2011, everything they'd experienced as sidemen and session men coalesced, and The Temperance Movement was born. 2012's five-track "Pride" EP introduced them to the world, and their debut studio album, 2014's "The Temperance Movement" announced the arrival of a major rock band. "White Bear," the band's new album, is a giant step forward.
"Our first show was in 2013 at a venue in London for 200-300 people," said Sayer. "It was in the back room of a pub called Water Rats. We actually did quite a few shows there. We kept writing songs and doing recording on our own.
"When it was time to make the new album, we booked four days in the studio because that was all our  budget allowed. After four days, we realized we had an album's worth of songs — and more."
The band's popularity continue to grow and the venues they played got larger. Then, they got the opportunity to open for the Rolling Stones. In 2014, The Temperance Movement opened for the Stones in in Berlin, Vienna, Zurich and Dusseldorf. Last year, the band was the opener for the Stones' show in Orlando.
"Someone got our music to the Stones," said Sayer. "Mick (Jagger) supposedly liked it but we didn't think anything of it. A few months later, we got call to open for the Stones. They were always an influence on our band. You can't escape it.
"We had all been listening to Stones music since we were kids. Some of our other influences have been the Faces, Black Crowes and Free. We all grew up in the 90s so there is also the influence of bands such as Pearl Jam, Blur and Oasis. Like those bands, we believe in the honesty of the music we make."
Video link for The Temperance Movement — https://youtu.be/ktLTPfl4Kss.
The show at the Chameleon, which has the Sheepdogs as the opening act, will start at 7 p.m. Tickets are $10 in advance and $12 at the door.