The one thing that's the same as century ago: face to face contact matters
By Mike McGann, Editor, The Times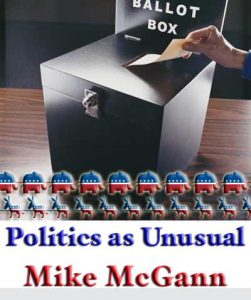 EAST MARLBOROUGH — For people not in politics, the process of running for office can seem like an endless series of rallies, speeches and moments of glamor in the spotlight. You know, cue the balloons and confetti.
The truth, though, is a lot different, especially for those running for the state legislature or Congress. For those candidates, 99% of the effort falls into two categories, raising money or voter contact. Both are time consuming, can involve, to put it politely, negative feedback, and are part of the grind that any successful candidate must endure en route to elective office.
Two local candidates were kind enough to invite me along on a recent canvass this past week — or as candidates and campaigns call it, "doors." The candidate or campaign generate a "walk list" — homes of people who meet certain criteria — and knock on their doors in hope of speaking with them. At this time of year, the most common criteria is "frequent voter" — those who have made it to the polls three or four out of the last four elections. In general, those folks tend to always vote, tend to care about elections and, at least some of the time, give you a fair hearing if you come to their door.
It is tiring, sometimes unpleasant work and yet, a crucial part of retail politics, the one on one contact with potential voters.
Christina Hartman — the Democrat seeking to win the Congressional seat of the retiring Joe Pitts in the 16th Congressional District — and Susan Rzucidlo, the Democrat seeking to replace the retiring Chris Ross in the 158th State House District invited me along on a canvass in the Willowdale section of the township, essentially going deep into the lions' den for a pair of Democrats. The neighborhood we walked in blistering early evening heat is all but within walking distance of both Pitts' and Ross' district offices and typically is a strong Republican-performing neighborhood.
The two candidates share a few things in their respective races: both seek open seats in districts long (as in forever) held by Republicans; yet both find themselves in races where polling data suggests a competitive race (despite at times, histrionic protests to the contrary by GOP leaders) and both now find themselves suddenly very attractive candidates to, respectively, the Democratic Congressional Campaign Committee and the House Democratic Campaign Committee, the former having highlighted the race in the 16th, while the latter is making noises about getting seriously involved in the 158th race.
One main difference: while Rzucidlo has been working doors all spring and summer, Hartman has had to pick her spots. Why? The sheer difference in size of their respective districts. While Rzucidlo's district is about 60,000 people — somewhere between 20,000 and 30,000 registered voters — Hartman's district is about 10 times larger. So while Rzucidlo can knock somewhere between 5,000 and 10,000 doors in a given cycle — and meet a big percentage of the electorate in the process — a similar effort by Hartman would be less effective. Still, the one-on-one contact offers input on issues from voters, crucial for guiding the campaign operation.
How often the two are on doors in evident in their preparation. Hartman is joined by an aide, has voluminous amounts of literature and a walk list — pretty much the normal standard operating procedure.
Rzucidlo — in her fourth campaign for state house — has a special belt (bequeathed by former state house candidate Fern Kaufmann, who came within a whisper of knocking off Tim Hennessey in 2008) with everything from organic dog treats to crayons, noting that such small measures tend to make a difference to voters, who notice she's ready and prepared to manage almost any situation.
Still, both are fighting uphill battles in trying to win in a traditionally Republican district, and hitting doors to make a personal connection is one way to pick up votes and generate word of mouth.
As can only happen when walking doors, things can be unpredictable. In the first half dozen doors we hit — a mix of Democrats, Republicans and independent voters, only Democrats are home to answer the doors, offering a mostly welcoming reception. Rzucidlo — as a house candidate, hitting doors is the bread and butter of campaigning — says that voters of all political persuasions have generally been friendly and often willing to listen this cycle, more so than in other years.
Typical of the enthusiastic reception is that of Micki Tilley, who speaks to the two candidates while trying to corral her four young children. A former Assistant District Attorney from Philadelphia, she is a relative newcomer to the township, but says she is acutely focused on issues in the area, including, schools. While the top of the ticket gets most of the attention, she says, it's these down ballot races that really make a difference. She expressed frustration at the state legislature's inability to manage finances — "I'd like to see them a pass a budget," she said.
Big concerns for her, she said, include the costs of college education and health care and infrastructure.
Others are less concerned. Mark Thompson, an independent voter who is recently retired, said he was mostly happy with how things are going and that he finds himself less focused on politics these days.
Winston Akoto, a long-time resident said he welcomed seeing a congressional candidate such as Hartman.
"In many ways, the congressional races are even more important than the presidential race," he said. "the last four years have been hard (to get things done)."
At the homes with no answer, both candidates leave literature — usually with a bit of a note written on them saying that the candidates were sorry to have missed them.
The time on doors is a tricky calculation — knock too early on weeknights and no one is home, knock too late and you're likely to anger people. Another concern as the year heads toward fall: less hours of daylight. As tricky as knocking doors is in the daylight, it's a much more difficult proposition in the dark. That's why unless there is a pressing event, you'll more than likely see Rzucidlo on doors during most of the daylight hours on weekends — it's the best time to catch people at home.
It's hard work, often lonely, decidedly not glamorous, but crucial to making direct contact with voters — arguably more important in these days of social media and information overload.
***
As a follow on to last week's note about candidate forums, State Rep. Harry Lewis Jr. (R-74) reached out to let me know he's working with the League of Women Voters to work out a date to meet with his Democratic challenger, Josh Maxwell. As we hear of more events, we'll pass them on.