Also: Rock the Park in Kennett this weekend
By Denny Dyroff, Staff Writer, The Times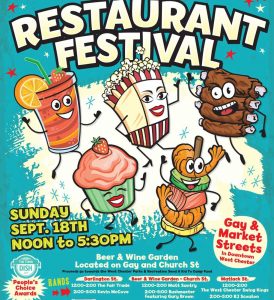 For almost four decades, the Chester County Restaurant Festival (Gay Street and downtown area, West Chester, 610-436-9010, http://chestercountyrestaurantfestival.com) has been treating visitors to the borough with the opportunity to sample a wide variety of gourmet treats.
This year, the free festival, which will be held on September 18 from noon-5:30 p.m. in downtown West Chester, is celebrating its 37th anniversary.
Many of the area's top restaurants — more than 65 altogether — will have booths where visitors can purchase samples of a mouth-watering array of culinary delights and gourmet food items. There also will be approximately 110 vendor booths featuring arts and crafts, three stage areas for live music and the "Church Street Café," where patrons can sit and relax with a pint of refreshing brew.
Some this year's participating restaurants are Gadaleto's Seafood Market, Gigi's & Big Caribbean American Soul Food, Hilly Billy Olive Branch, Ram's Head Bar and Grill, BBQ, Alberto Café – Teca, Avalon Restaurant and Bar, Barnaby's, Smokehouse BBQ and Grill, Split Rail Tavern, Benny's Pizza, Jaco Juice and Taco, Richie Lou's Food Service, Kildare's Irish Pub, Boxcar Brew, Taco Mondo, The Meat House, and Bucktown Grille.
Also featured will be Saloon 151, La Mamba BYOB, The Mediterranean, Ryan's Pub, Pita Pit, Mercato Ristorante & Bar, Lulu's Café, Calo's,  Arianna's Gourmet Cafe, Destarr's, Mas Mexicali  Cantina, Southbound BBQ, Root's Café, Pietro's Prime, Twenty 9 Restaurant and Bar, Landmark Americana, Levante Brewing Company, Liberty Union Bar and Grill, Buddy's Burgers, Carlino's, LaLocada II Go, and Margaret Kuo's Mandarin.
The very long and very diverse roster also features Captn Dick's BBQ, Sabatino's Grille, The Snack Shack, The Social Lounge,Gemelli Artisanal Gelato and Dessert Café, The Couch Tomato Café, Limoncello, Bees Knees, Amani's BYOB, Katja's LLC,The Classic Diner, and ZaJus Gourmet.
Live entertainment will be presented throughout the day with a line-up featuring The Fair Trade, Kevin McCove, Matt Santry, Bushmaster featuring Gary Brown, The West Chester Swing Kings and RJ Scouton.
Parking in all Borough of West Chester garages is $5 for all day.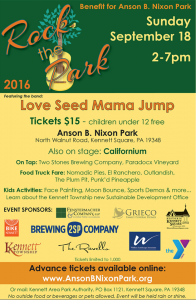 If you're looking for a rocking good time this weekend, head to Anson B. Nixon Park (North Walnut Road, Kennett Square, www.AnsonBNixonPark.org) on September 18 for "Rock the Park 2016," a live concert by local band favorite Love Seed Mama Jump. The rocking sextet from Dewey Beach, Delaware is celebrating its 25th anniversary this year.
Music in the park will get underway at 2:15 p.m. with a set by Born Sisters — Kristen and Kara Zack. Californium, an alternative rock trio will follow and then Love Seed Mama Jump will finish the show with a set slated to begin at 4 p.m. 
Beer from Two Stones Brewing Company and wine from Paradox Vineyard will be sold to adults. ID is required for those drinking alcohol. Food truck vendors Nomadic Pies, El Ranchero, The Plum Pit, Punked Pineapple and Outlandish will sell a variety of food. 
Activities throughout the afternoon include sports demonstrations by the Kennett Area YMCA and Bike Kennett.  Face painting and a moon bounce are planned for kids and a selection of Silent Auction items will offer temptations for all.
The Park gates at North Walnut Road in Kennett Square open at 2 p.m. Tickets cost $20 at the gate and there is no charge for parking.

One of the first will be the Chaddsford Winery Harvest Festival which will be held September 17 and 18 at the Chaddsford Winery (632 Baltimore Pike, Chadds Ford, 610-388-6221, http://www.chaddsford.com).
The winery will be celebrating its 2016 harvest with interactive tastings, food, tours and live music.  Features for this weekend include special, complimentary guided tours at 2 and 4 p.m. (featuring the rare opportunity to taste fresh-pressed grapes from the 2016 vintage and sample the current 2013 Cabernet Sauvignon ) and the standard progressive wine tasting ($10) that includes Chaddsford Hard Cider paired with Northbrook MarketPlace hard cider donuts.
Live Music will be performed on Saturday by Tino & Ashley from 12-3 p.m. and Drew & Colin from 3:30-6:30 p.m. The musical acts for Sunday are Neil McGettigan Duo from 12-3 p.m. and Hake & Jarema from 3:30-6 p.m.
Food will be available from local food trucks — The Pretzelria (Saturday only) and The Polish Connection (Sunday only). Admission to the grounds is free and all tasting programs and food selections are "pay-as-you go."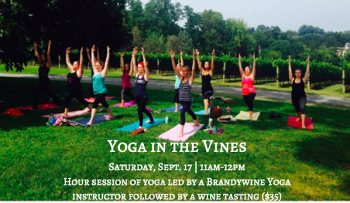 www.galerestate.com) also has a special event happening this weekend.
On September 17, "Yoga in the Vines" will be presented from 11 a.m. – noon. It will be the winery's final yoga event of the summer. There will also be an art display with sculptures by Lele Galer as the featured exhibit.
Participants in the event can begin their Saturday with yoga in the vines led by Brandywine Yoga. The one-hour session then is followed by a wine tasting and local cheese sampling. The cost for this activity is $35 per person).
The award-winning winery near Longwood Gardens will present live music on September 16. Nicole Zell, a talented singer-songwriter from Chester County, will perform from 5-7 p.m.
On the topic of the 2016 Halloween season, as hard as it may to believe, the first continuing Halloween attraction is arriving this weekend.
"Terror Behind the Walls" (Eastern State Penitentiary, 2124 Fairmount Avenue, Philadelphia, 888-763-NITE, www.easternstate.org), will celebrate the new season with its opening weekend on September 16 and 17.
The truly scary attraction, which is running through November 5, takes place at a penitentiary site that was once was an active prison and is now a National Historic Landmark. It is a scream-inducing event featuring laser and special-effect lighting, digital sound, sinister scents, animatronic creatures and 3-D illusions. Admission prices, which vary with the date, range from $19-$45.
This is the time of the year when you can treat your taste buds to a wide array of authentic cuisines from around the world and never have to step foot inside a restaurant.
When autumn arrives, there are ethnic food festivals almost every weekend. The schedule for the next week has events representing Mexico, Germany, Poland and Greece.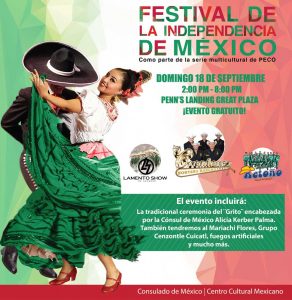 The 22nd Annual Mexican Independence Day Festival (The Great Plaza at Penn's Landing, Delaware Avenue, Philadelphia, 215-592-0410, www.mexicanculturalcenter.org), which features free admission, is scheduled for September 18 from 2-8 p.m.
The fiesta will include music, dancing, food, crafts and live entertainment for all ages. Special activities include a show of traditional costume, and entertainment programs featuring folkloric dance.
Entertainment acts slated to perform include Lamento Show and Retoño.
You can enjoy the tastes of Germany this weekend without ever leaving the tri-state area.
The Delaware Saengerbund's Oktoberfest (Saengerbund festival grounds, 49 Salem Church Road, Newark, Delaware, 302-366-9454, www.delawaresaengerbund.org) is running from September 16-18.
The Delaware Saengerbund's festival is a traditional Munich-style Oktoberfest featuring a wide array of tasty German food delicacies, including Bratwurst, Weisswuurst, soft pretzels, Rollmops (marinated herring served with rye bread), Kartoffelsalad (potato salad), sauerkraut as well as dessert items such as Torten and traditional plum cake.
On September 16, the opening parade will be held at 7 p.m. The lid-lifting event features the "Muenchner Kindl" (Munich Child — the symbol of the city of Munich) who is dressed in brown monk's garb with golden stripes, similar to that of the Benedictine order (founders of the City of Munich).
The "Enzian Volkstanzgruppe", the Bavarian dance group of the Delaware Saengerbund, will entertain throughout the three days of the festival. When the EVTG is not dancing, German music will be provided by "Almwind" on Friday and Saturday nights and again on Sunday afternoon. Additionally, "Heidi and Heimat Echo" will perform on Saturday afternoon.
There will also be concessions with an array of imported German gifts and souvenirs, as well as Oktoberfest souvenirs and Bavarian specialty clothes. Included in the admission price of $8 are unlimited free amusement rides. Hours are 5-11 p.m. on Friday, noon-11 p.m. on Saturdays and noon-6 p.m. on Sunday.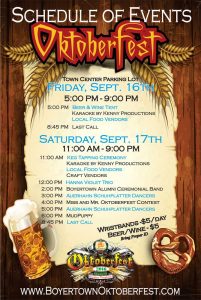 The Ninth Annual Boyertown Oktoberfest (Municipal Parking Lot, Reading Avenue, Boyertown. 610-369-3054, www.boyertownoktoberfest.com) is scheduled for September 16 and 17. The event will kick off with a "Homecoming Celebration" on Friday evening with karaoke and live music.
Activities on September 17 include the tapping of the ceremonial keg, German music and entertainment, food, and wine and beer. Live entertainment will be provided by Hannah Violet Trio, Boyertown Alumni Ceremonial Band, and the Auerhahn Schuplatter Dancers, and MudPuppy.
Hours are 5-9 p.m. on Friday, 11 a.m.-9 p.m. on Saturday. Wristbands are $5 per day.
If you like meat-heavy Eastern European cuisine, you'll also like St. Hedwig's Polish Festival (Frawley Stadium parking lot, Wilmington Riverfront, Wilmington, Delaware, 302-594-1400 or www.polishfestival.net) which from September 19-24.
The 59th annual staging of the festival offers a variety of Polish treats including  placki (pancakes), pierogis (dough filled with cheese and/or potato, holubki (stuffed cabbage), kielbasa (sausage) and chruschicki (bow cookies).
The free festival will feature a full slate of live entertainment featuring O'Such Rhythm & Music Band on September 19, The Serenaders on September 20, John Stevens' Doubleshot on September 21, TKO on September 22, Melody Sounds III Band on September 23 and The Golden Tones on September 24.
The Midway, which is a large full-scale carnival midway with more than 20 rides along with a variety of amusement games, will open at 6 p.m. each night and at 3 p.m. on September 24.
The 39th Annual Greek Affair at St. Luke's Greek Orthodox Church (35 North Malin Road, Broomall, 610-353-1592, www.st-luke.org) is running from September 21-25.
The free festival focuses on food — tasty Greek main dishes such as moussaka (eggplant dish), shish-ka-bob (meat and vegetables on skewers) and placki (fish) and Greek dessert treats including baklava (phyllo, nuts and honey) and kataifi (shredded wheat and nuts).
Other activities at the free popular annual event are midway rides, vendors with crafts and Greek items, live music by Greek-American bands and folk dancing demonstrations. Additionally, the Taverna will be open from 9 p.m.-midnight on Friday and Saturday and there will be live music by Neo Kymaon September 23 and Atlantis of Philadelphia on September 24.
There is never a lack of events on Chester County annual schedule of equestrian events. They usually start when the weather gets warm and end when the temperatures drop in late autumn. With the 2016 season approaching its conclusion, one of the final events on the calendar is slated for this weekend — but it may be one of the most anticipated, with many local competitors.
Now through September 18, the Devon Horse Show (Lancaster Avenue, Devon, 610-525-2533, www.devonhorseshow.net) is hosting the Devon Fall Classic Festival — an annual fall event that is very popular — and free.
Equestrian competition highlights are High Junior-A/O Jumper and Open Speed Stake on September 16, SJHF High Junior – A/O Classic and $25,000 Devon Fall Classic on September 17 and Low Adult Classic, High Adult Classic, Low Children's Classic, High Children's Classic, Pony Jumper Classic, Low Junior Classic and Low A/O Classic on September 15.
The festival part of the event features the Midway with a variety of amusement rides. There will also be pony rides, a petting zoo, amusement games, specialty shops and boutiques, the "What a Good Dog" contest and a special plant sale on Sunday at 5 p.m.
Live entertainment will be provided by Dave Saunders on September 16 and Dog Hill and Concrete Charlie on September 17.
In the western part of the United States, rodeos are fairly common. Rodeo action takes place every weekend in just about every western state. But, in the eastern part of the country, live rodeos are not a common occurrence.
But — If you want to catch a live rodeo performance locally, you can do it this weekend.
Now through September 18, the Liberty Pro Rodeo is being staged on the grounds of the LuLu Temple (5140 Butler Pike, Plymouth Meeting, 800-898-LULU, http://libertyprorodeo.com).
The 28th Annual Liberty Pro Rodeo features professional rodeo cowboys and cowgirls from all over the country competing in their respective events including bull riding, barrel racing and saddle bronco riding. At this year's rodeo, competitors from the national level as well as those from the local First Frontier circuit will compete for thousands of dollars in prize money.
The gates open at 6 p.m. and the rodeo gets underway at 7:30 p.m. on Friday. On Saturday, there are two shows with gates opening at 10 a.m. and 4:30 p.m. and show times at noon and 6 p.m. On Sunday, the gates open at 12:30 p.m. and show time is scheduled for 2 p.m. There will be live entertainment each day.
There will also be a number of concession booths with a wide array of carnival food, including funnel cakes, meatball sandwiches, hot dogs, cotton candy, ice cream, nachos and cheese, snow cones, pizza, walking tacos, popcorn, French fries, pickle-on-a-stick and soft pretzels.
Tickets are $24 for adults and $12 for children (age 11 and under).
Anyone in search of a howling good time this weekend should consider the "Full Moon Tour" at the Wolf Sanctuary of Pennsylvania (465 Speedwell Forge Road, Lititz, 717-626-4617, http://wolfsanctuarypa.org).
The Sanctuary offers this tour once a month on the closest Saturday to the full moon. This month, the date is September 17 and the full moon is known as the Corn Moon. This is an event in which participants are invited to create their own experiences.
Instead of following a tour guide from pack to pack at a regulated pace that fits within a 45-minute time line, you get to go at your own pace from pack to pack. There is also the option of talking to a tour guide who is stationed at each pack. You can listen to what they have to say about the wolves when stopping at a station or you can ask questions. 
With this tour, you move at whatever speed you find comfortable. If you get tired, you can go over and sit next to a roaring bond fire (weather permitting) and just relax. Visitors are requested to bring a blanket, a flashlight, a chair and maybe some hot dogs and marshmallows.
The tour starts at 7:30 p.m. Tickets are $20 and no reservations are required. Other "Full Moon Tours" this year will be Hunter's Moon on October 15, Beaver Moon on November 12 and Cold Moon on December 10.
One of the most popular annual events at the Hagley Museum and Library (Route 141, Wilmington, 302-658-2400, www.hagley.org) is the Hagley Car Show.
The historic site, which is located in Delaware just a few miles south of Kennett Square, will host its 2016 Car Show on September 18 from 10 a.m.-4 p.m.
Visitors to the show will be able to browse the site and check out more than 500 antique and restored cars that date from the early 1900s-1980s. The show features vehicle parades, motoring music, video and go-kart racing and a festival food court. Activities are on Hagley's upper property.
Tickets for the Car Show are $10 for adults and $5 for children (ages 6-14). Admission is free for Hagley members and children five and under. The event will be held rain or shine. Visitors are instructed to use Hagley's main entrance off Route 141.
Another event that takes a look back a different era in American history will take place on September 19 and 20 at the Colonial Pennsylvania Plantation (Ridley Creek State Park off Route 3, Media, 510-566-1725, www.colonialplantation.org). The historic site just outside Media will host its annual "Civil War Battle and Camp."
The South is invading Pennsylvania again. Visitors to the Colonial Pennsylvania Plantation will have the opportunity to observe firearm demonstrations, drills, a burial squad, camp life and use of herbs in the 1860s.
There will be a period fashions on display as well as glimpses at what civilian life was like during that era. Battles will take place on Saturday at noon and 4 p.m.  Sunday's battle will be at 2 p.m. In the skirmishes, the army of the North will attempt to defend the plantation against the invading forces from old Dixie.
The roster of participating military units includes 4th Texas, Company B "The Tom Green Rifles," 12th New Jersy Volunteer Infantry "Company K," Bell's Rifles, 10th Virginia Company B, Members of the Mifflin Guard, Civil War Heritage Foundation, Salem Flying Artillery, 97th PVI, First Pennsylvania Reserves, and Baltimore Light Artillery.
The Colonial Pennsylvania Plantation is an 18th-century living history farm museum located within Ridley Creek State Park. It is most easily reached via the park's Route 3 entrance just west of Newtown Square. The event will run from 11 a.m.-5 p.m. on Saturday and 11 a.m.-3 p.m. on Sunday. Admission is $10 for adults and $8 for children (ages 4-12).
The Rittenhouse Square Fine Arts Show, one of the city's top craft fairs, is scheduled for this weekend. Now through September 18, the Fine Arts Show will have with top-caliber vendors lining the streets all around Rittenhouse Square (18th and Walnut streets, Philadelphia, http://www.rittenhousesquareart.com/).
Founded by artists in 1928, and run by a board of artists today, the Rittenhouse Square Fine Art Show is the oldest outdoor art show in the country.  Steeped in rich history and tradition, there is absolutely no other show like it.
Twice a year, professional artists from across the nation — and occasionally from other countries — convene in the scenic park in Center City to share their art with Philadelphia right here in Rittenhouse Square.
The Fine Arts Show, which is free and open to the public, will focus on hand-crafted jewelry, contemporary furniture, functional and decorative pottery, designer clothing, fine porcelain, blown glass, limited edition photography, sculpture, paintings, watercolors, oils, graphite and pastels.
Fair hours are 11 a.m.-7 p.m. on Friday, 11 a.m.-6 p.m. on Saturday and 11 a.m.-5 p.m. on Sunday. Admission is free. Street and garage parking is readily available.
If you want to get an early start with your holiday shopping and are thinking about buying jewelry or gemstones for someone on your shopping list, you'll find a lot of gift ideas under one roof this weekend at the Greater Philadelphia Expo Center (100 Station Avenue, Oaks, 484-754-EXPO, http://www.phillyexpocenter.com.)
From September 16-18, the exhibition space is hosting the International Gem & Jewelry Show. The event will feature exhibitors from around the world who will be presenting a wide array of first-quality items at reasonable prices.
Visitors to the show will be able to shop for diamonds, silver jewelry, colored gemstones, watches and gold items in a wide range of prices — from $5 items to magnificent works in the $500,000 range.
The huge selection of jewelry will include rings, necklaces, earrings, pendants, bracelets and custom settings. The show offers one-of-a-kind jewelry creations, exotic gems, beads, pearls, exquisite fine jewelry, estate collections and much more.
Featuring more than 150 booths, the event will showcase an amazing variety of beautiful jewelry — all in one place. Visitors to the show also have the opportunity to bring along their own pieces of jewelry for on-site services such as jewelry sizing, cleaning and repair.
Show hours are noon-6 p.m. on September 18, 10 a.m.-6 p.m. on September 19 and 11a.m.-5 p.m. on September 20. Tickets for the event are $6.
The Greater Philadelphia Expo Center will offer more shopping activity this weekend as it is also hosting the Pennsylvania National Quilt Extravaganza now through September 18.
The event, which is billed as "the largest and most prominent textile arts event on the East Coast all under one roof," has been around so long that it now uses Roman Numerals to designate its vintage. This year's show is the Pennsylvania National Quilt Extravaganza XXII
On exhibit at the Extravaganza will be more than 600 quilts and garments presented in gallery style. There will also be more than 200 vendor booths with items including completed quilts and garments as well as the supplies and equipment used in making them.
The Pennsylvania National Quilt Extravaganza will also offer a wide array of lectures and workshops presented by some of the top professionals in the field of quilting and the textile arts, including RaNae Merrill and Robbi Joy Eklow.
Show hours are 10 a.m.-6 p.m. on Friday and Saturday and 10 a.m.-4 p.m. on Sunday. Tickets for adults are $154 on Friday and Saturday and $13 on Sunday. Children under the age 16 are admitted free.
On September 17, there will be a special event called "Family Picnic at Crow's Nest Preserve" from 3-7 p.m.at the Crows Nest Preserve (201 Piersol Road, Elverson,  www.natlands.org/events).
Visitors are invited to enjoy an evening of friends, fun, and adventure at Crow's Nest Preserve and join Natural Lands Trust staff and volunteers in exploring our picturesque preserve.
Afterwards, all participants will gather together for hot dogs and soup over a campfire, and tour the new wing of the visitor's center. Everyone is encouraged to bring a side dish or dessert to share.
Located in beautiful Chester County, Natural Lands Trust's 621-acre Crow's Nest Preserve boasts nine miles of trails winding through woodlands, meadows, and crop fields. French Creek, a designated "exceptional value" stream, flows through the preserve and connects it with French Creek State Park and Hopewell Furnace National Historic Site.
Crow's Nest serves as the gateway to the Hopewell Big Woods, a 73,000-acre expanse of forest that reaches north into Berks County.
Trails may be uneven, and are not suitable for strollers. Admission is $10 for entire family.
The Kitchen Kettle Village's "Tailgating Festival" is scheduled for September 16 and 17 from 10 a.m.-6 p.m. each day at Kitchen Kettle Village (3529 Old Philadelphia Pike, Intercourse, 800-732-3538, http://www.kitchenkettle.com).
Special activities include "Whoopie Pie Filling Contest," balloon twisting for the kids with the "Balunguy," sampling locally-made apple cider from Kauffman's Fruit Farm, touring a sports-themed scarecrow display and watching a "Tailgate Parade" through the Village. The "Tailgate Parade," which starts at noon, features the Pequea Valley Band, cheerleaders and other special groups.
Live entertainment is scheduled with continuous performances throughout the day with Banjo Jimmy & his Sidemen, The Happy Wanderers German Band, Eastern Standard Time, and Summitt Hill.
There will also be a "Tailgate Games" area featuring a bounce house, inflatable basketball hoop shoot, face painting and more. This area has a $5 entrance fee with all funds raised benefitting local sports teams and booster clubs.
This weekend, it's time once again for the Annual Scarecrow Festival at Peddler's Village (Routes 202 and 263, Lahaska, 215-794-4000, www.peddlersvillage.com). The festival hours are 10 a.m.-6 p.m. both days. 
Peddler's Village's Scarecrow Making Workshops on the Street Road Green have been a family favorite for decades! The workshop fee of $30 (maximum group of 4 people) includes step-by-step instructions and building materials.
Participants can choose from a variety of clothing decorations and use plenty of straw to construct their very own life-size scarecrow to take home. Workshop times are 10 a.m., noon, 2 p.m. and 4 p.m. on both Saturday and Sunday. 
Pumpkin Painting will take place on the Street Road Green on Saturday and Sunday from 11 a.m. until supplies run out.  Brushes, paint and pumpkins will be provided and a nominal fee will be charged based on pumpkin weight.  No reservations are needed for this first-come, first-served activity.
Visitors can also stroll around the Village to see the Scarecrow Competition and Display, which showcases more than 100 creative and colorful scarecrows. The Scarecrows are on outdoor display from September 12-October 30.
The public is invited to vote for the winners from September 12- October 10. Ballots are available in all shops and restaurants. The ballot boxes are located in the Hospitality Center at the Cock 'n Bull, Giggleberry Fair, and Buttonwood Grill.