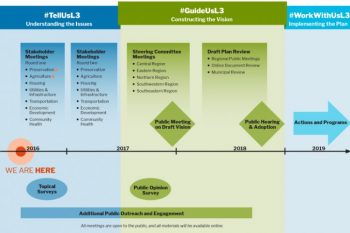 WEST CHESTER — The Chester County Board of Commissioners announced Tuesday the start of an update to the County's comprehensive plan.
County officials said that Landscapes 3 — the name of the new comprehensive plan — will be developed to continue the focus on growth and preservation established by the award-winning Landscapes and Landscapes2.
Landscapes3 will involve a two-year effort that begins with a series of stakeholder meetings this fall, to determine the issues and challenges facing Chester County over the next ten years.
"Twenty years ago, Chester County made a choice to redirect growth, to protect open space and to revitalize our towns and urban communities," said Chester County Commissioners' Chair Terence Farrell. "Landscapes and Landscapes2 have served us very well in doing that, but it is time to renew our vision and ensure that Chester County remains a highly attractive place to live, work and visit."
Officials point with pride to the track record of the previous two comprehensive plans, which they argue preserved open space and managed growth.
"The success of Landscapes and Landscapes2 is evident, not just in the many awards that each plan has won, but also in the many accomplishments that we can attribute to the comprehensive plan," Commissioner Kathi Cozzone said. "Now is the time to begin the groundwork to carry our vision on for another decade."
The Landscapes3 update will involve three phases: Understanding the Issues (#TellUsL3) will focus on stakeholder meetings to gather background data on issues and trends in specific topical subjects; Constructing the Vision (#GuideUsL3) will include regional meetings, a public opinion survey and the drafting, refining and adoption of the document; and Implementing the Plan (#WorkWithUsL3) will begin the implementation of the recommendations of Landscapes3.
Officials said it is crucial for residents to be part of the planning process of their county.
"Chester County's comprehensive plan has been implemented through permanently protected open space, an additional 10,000 residents to urban communities and by guiding our current 10-year economic development strategy, VISTA 2025," Commissioner Michelle Kichline said. "Public participation has been a key to the success of our comprehensive plan, and we strongly encourage all Chester County residents to provide feedback for the development of Landscapes3."
The public is invited to participate in the Landscapes3 update process through a series of activities including an upcoming public opinion survey, participating in on-line discussions and photo competitions, as well as through a series of town meetings to be held throughout the County.
The County Commissioners have tasked the Chester County Planning Commission with the update. A website has been dedicated to the plan in order to make the process inclusive and transparent.
Interested citizens are encouraged to go to www.chescoplanning.org for updates on the development of the Plan and how to participate. For more information, contact Susan Elks, Director of Planning Services, Chester County Planning Commission at 610-344-6285 or email selks@chesco.org with any questions or concerns.