One last warm weekend before school starts for many in the area
By Denny Dyroff, Staff Writer, The Times
With only a few summer weekends left in 2016, many area residents are taking advantage of the warm weather by driving east to the New Jersey shore or driving north to resorts in the Poconos.
This weekend, driving west is also a good option — heading west to Lancaster County for one of the area's special events this weekend.
The  17th Annual New Holland Summer Fest (New Holland Community Park, 400 East Jackson Street, New Holland, 717-669-1400, http://nhsummerfest.org) will be held August 26 and 27 and will feature the "Pennsylvania State Championship BBQ Cook-Off and Motorcycle Show."
The barbecue competition, which is sponsored by Meadow Creek Barbecue, is a major drawing card but the event also has all that you would expect from a country fair — food vendors, children's activities and souvenir stands.
For the kids, there will be face painting, "Tag-Along," a clown teaching how to make animal balloons and "Kid's Q" where they can learn how to barbecue. Entertainment for visitors of all ages will be provided by Horst Brothers Bluegrass Band on Friday and Adriano on Saturday.
The family-oriented event has an admission fee of just $1 and all proceeds benefit Garden Spot Fire Rescue Co. and Community Park. Hours are 8 a.m.-8 p.m. on August 26 and 10 a.m.-5 p.m. on August 27.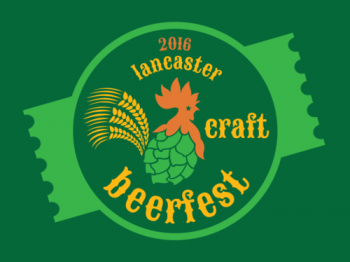 On August 27th, the Fourth Annual Lancaster Craft Beerfest (Lancaster Square and Binns Park, Lancaster, http://lancastercraftbeerfest.com/) is returning to the central district of Lancaster.
The festive beer garden features a site where visitors can drink, eat, and listen to music all in one place. The festival provides craft beer drinkers with an amazing selection of unique beers so they can discover new favorites and revisit old favorites.
More than 60 breweries will be participating in this year's Beerfest including Victory Brewing Company, Iron Hill Brewery & Restaurant, Sprecher Brewing Company, Goose Island Beer Company, Shock Top Belgian White and Uinta Brewing.
Live music will be performed by Vinegar Creek Constituency from 3-5 p.m. and Uzo from 5:30-7:30 p.m.
Tickets are $35 with designated driver tickets available for $12.
Another event in downtown Lancaster on August 27 is the 54th Annual Community Art Exhibit which will be held from 10 a.m.-4 p.m. at the Lancaster Museum of Art (135 North Lime Street, Lancaster, http://www.lmapa.org).
This annual juried exhibition celebrates the vast amount of artistic talent found throughout Lancaster County. Artworks by more than100 artists will be on view — including paintings, drawings, ceramics, sculpture, metals, carved wood and mixed media.
Awards include First, Second and Third Place as well as Honorable Mention and the People's Choice Award, voted for by visitors to the exhibit.
A short drive to Media is all that is needed to find one of the tastiest events of the weekend.
All through the summer, the calendar is filled with events focused on fruit in season including raspberries, blueberries, peaches and strawberries.
This weekend, another fruit-based festival is on the calendar of Linvilla Orchards (137 W. Knowlton Road, Media, 610- 876-7116, www.linvilla.com). On August 27, Linvilla will be hosting its annual Tomato Festival.
Silly Joe will be the host and will be making sure everyone keeps their eyes and ears open to the world of wonder. Live music will be performed by the Trinidad Steel Band at noon and 2 p.m.
"Meet the Beekeeper" and "Tomato Talk & Tomato Tasting with Farmer Norm" will take place from 10 a.m.-5 p.m. Linvilla's own Beekeeper Warren Graham will be displaying an observation beehive and discussing bees and beekeeping.
Norm Schultz, a local farmer, will discuss growing tomatoes at Linvilla Orchards and explain how and why Linvilla grows the many varieties found on the farm. A tomato tasting from heirlooms to plum tomatoes will be included.
There will also be "Summer Time Sampling with Judi" from 10 a.m. -2 p.m. Judi will be out front of the Farm Market making some of her yummy summertime favorites.
The event will also host a number of costumed characters including Tomato Dog, Traveling Train and Mystery Dog.
Other activities include hayrides, face painting, train rides on Linvilla Orchards Playland Express, pony rides, visiting the garden center and activities at the Linvilla Orchards Playland Playground.
The festival, which is free and open to the public, will be held at Linvilla Orchards' Entertainment Garden.
Another event that will tempt and treat taste buds is slated for this Sunday.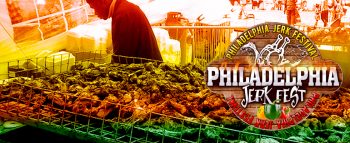 The Philadelphia Jerk Fest, which will be held August 28 in Fairmount Park (Chamounix Drive, Philadelphia, http://www.philadelphiajerkfest.com), is not a convention for obnoxious people — wrong kind of jerk.
This festival celebrates jerk cooking — a Jamaican barbecue style of cooking that starts with a powerfully flavored marinade and brine combination, followed by a low and slow smoke over smoldering allspice berries and bay leaves.
The Second Annual Philadelphia Jerk Festival, which is Philadelphia's only Jerk Festival, will run from noon-6 p.m. in scenic Fairmount Park. It is billed as "a multicultural celebration for patrons who want to experience the rich and diverse Caribbean and Jerk cultures and traditions thriving in Philadelphia and adjoining areas."
The Philadelphia Jerk Festival is a family-oriented festival that will showcase a broad variety of Caribbean Jerk foods, music, and culture, as well as providing lots of different activities, games and stalls.
The festival features a packed program of top quality live entertainment, outdoor stage, kids zone, costumed walkabouts, face paintings, souvenirs, arts, crafts, delicious authentic jerk cuisine, and an array of interactive fun for that ultimate festival experience.
The high energy event will also include a full day of live musical entertainment featuring Leadpipe and Saddis, Luciano, and Assassin. Tickets for the festival are $25.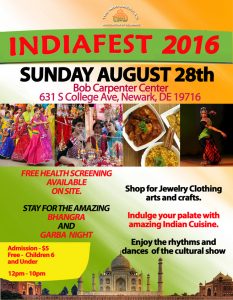 India will be celebrated at a special festival on August 28 — "India Fest 2016" (Bob Carpenter Center, 631 South College Avenue, Newark, Delaware, 302-494-1255, www.iaadelaware.org). The festive annual event is scheduled to run from noon until 10 p.m.
It will feature classical and modern Indian dance performances, cultural exhibitions, vendors with a large array of Indian items and mouth-watering Indian food items such as tandoori chicken, nan (bread) and an assortment of curry dishes.
Special workshops will be presented throughout the day featuring a variety of topics. Other activities include a beauty pageant, karaoke singing, a special evening cultural program, demonstrations on the use of spices, live music, and a special event called "Bhangra and Garba Night" from 8:30-11 p.m.
Admission to the festival, which is presented by the Indo American Association of Delaware, is $5 with children (6 and under) admitted free.
On August 28, the annual Ukrainian Folk Festival at the Tryzub Ukrainian American Sport Center (County Line and Lower State roads, Horsham, 215-343-5412, www.tryzub.org) will celebrate its silver anniversary from noon-8 p.m.
The event is billed as "A resplendent outdoor summer concert marking Ukraine's independence, the unity of her people, their struggle for freedom and dignity and Ukraine's entry into the family of advanced democratic nations."
The artists (dance troupes, musicians, singers and ensembles that have performed in previous years) have created a dynamic and integrated collaborative program. The artistic unity underscores the theme — "United Ukraine; United with Us."
Recent events in Ukraine such as the twilight struggle against unlawful Russian aggression have forged a unified Ukrainian national identity — both in Ukraine and in the Diaspora.
America's support of Ukraine's commitment to a self-determined democratic future — to life, liberty, freedom and justice — has created permanent bonds of friendship between the two nations. This year's festival honors these special relationships and developments.
The festival, which is one of the most popular late-summer ethnic festivals in the area, starts at noon with children's activities, vendor areas with Ukrainian crafts, food booths and live music by the Living in Song Chamber Choir and the Vox Ethnika Orchestra.
There will also be live re-enactments from Ukrainian history by "Banner of Jasna Gora."
The "Gala Festival Stage Show" is slated to get underway at 1:30 p.m. and run through 4:30 p.m. with performances by Voloshky Ukrainian Dance Ensemble, Iskra Ukrainian Dance Ensemble, violinist Innesa Tymochko Dekajlo and singer Yuliya Stupen.
From 4:30-8 p.m., it will be time for "Zabava," which is billed as a "Public Social Dance." The "Zabava" at this year's 25th annual staging of the festival, will feature the Vox Ethnika Orchestra performing a variety of eastern European dance music, including traditional, modern, ballroom and Polka.
There also will be vendors selling a wide variety of mouth-watering Ukrainian foods such as pyrohy (pierogies), holuptsi (stuffed cabbage) and kowbasa (kielbasa). Other items available for purchase include baked goods, picnic fare and cold beverages.
Video link for festival — https://youtu.be/H8Appd5u_aY.
Admission to the festival is $15 for adults, $10 for students and free for children (under 13).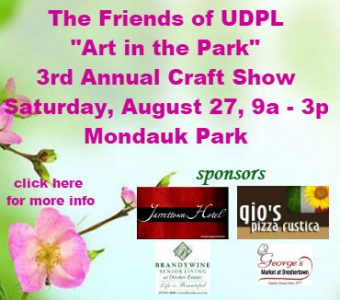 The "Third Annual Art in the Park Craft Show" is scheduled to run on from 9 a.m.-3 p.m. on August 27 at Mondauk Common Park's Central Pavilion (1451 Dillon Road, Fort Washington, 215-654-1679, upperdublinlibrary.org) with the rain date set for August 28.
The show will feature more than 70 craft artists with a wide selection of their art — including jewelry, candles, soaps, knitted and crocheted items, digital art, photography, greeting cards, hair accessories and more.
The festival will also feature performances of "Three Little Pigs" by the Upper Dublin Merry Marionettes featuring Miss Jenn. The family-oriented shows will be presented at 11 a.m. and 1 p.m.
The show is free to the public. Parking is available on site and sandwiches, snacks and cold drinks will be available for sale by The Friends of the Library. All proceeds benefit the Upper Dublin Public Library.
On September 1, downtown West Chester will be a happening place with a special event featuring live music and activities for the whole family. From 6:30-9:30 p.m., the final "Swingin' Summer Thursday" will take place on Gay Street between High and Darlington.
Visitors can stroll through downtown West Chester while listening to live music performances. Booths featuring favorite local restaurants and artisan craft vendors will be lining the streets.
In addition to food, crafters and music, the family-oriented event will feature clowns, jugglers, dancers, and more. Gay Street will be closed for this festival event, which is free but invited free-will donations. This event is produced by the West Chester Parks & Recreation Dept and sponsored by the West Chester BID.
The Allentown Fair (17th and Chew Street, Allentown, 610-433-7541, www.allentownfairpa.org) is one of the oldest festivals in Pennsylvania. It's an event that has been drawing large crowds ever since '52. If you think the fair is pretty old at 64 years — think again.
The popular Allentown Fair was first staged in October 1852 when the Lehigh County Agricultural Society held its first fair. The huge annual fair in Allentown is still one of the state's premier late-summer attractions. Now known as "The Great Allentown Fair", the 2016 edition opens on August 30 and runs through September 5. It will be the fair's 164th anniversary this year.
The Allentown Fair is a fun-filled event that spans generations and appeals to people of all ages. The multi-day event at the Allentown Fairgrounds features thousands of farm, garden and home exhibits and competitions along with thrill rides, amusement games, variety acts, international foods and some of the top entertainers currently on tour.
The Grandstand Stage hosts the headline acts — Kidz Bop (August 30), Jake Owen (August 31), KISS (September 1), Chris Stapleton (September 2), Meghan Trainor (September 3), Jeff Dunham (September 4) and J&J Demolition Derby (September 5).
All Grandstand shows are ticketed events but the fair also offers a wide array of free concerts at Agri-Plex Square, Harvest Patio, Centennial Stage, MainGate Bier Garten & Night Club and the RCN Farmerama Theater.
The fair's list of daily entertainment attractions also includes Marvelous Mutts," "Olympic Glory High Dive Show," "Robinson's Pig Paddling Porkers," "Lil' Farm Hands," "Melody Farm Follies" and the "4-H Petting Zoo."
As always, amusement games and rides are one of the fair's main attractions. This year, the Great Allentown Fair will again feature thrilling rides and games of skill and chance presented by Powers Great American Midways.
There will also be a wide array of agricultural competitions and exhibits each day at the fair. Tickets are $8 for adults with children under 12 admitted free.