Ex 'Men At Work' frontman back from 'Down Under'
By Denny Dyroff, Staff Writer, The Times 
MTV hit the airwaves in America in 1981. Right around the same time, Duran Duran was beginning its long musical career across the ocean in Birmingham, England in 1978.
A lot has changed since then. MTV is no longer a video-driven cable channel and synth-pop no longer rules. Most of the pop bands from that era have long faded into oblivion or else occasionally mount "Reunion Tours" with one or two original members.
Duran Duran, which will be bringing its "Paper Gods Tour" to the BB&T Pavilion (1 Harbour Boulevard, Camden, New Jersey, 856-225-0163, www.livenation.com) on July 21, is different.
The band — Simon Le Bon, lead vocals; Nick Rhodes,  keyboards; John Taylor, bass guitar, backing vocals; Roger Taylor, drums; Andy Taylor, guitar, backing vocals — released its eponymous debut album in 1981 and has released a new album at least once every three years since then.
Duran Duran released its 14th album "Paper Gods" last year and is now touring in support of the disc. Impressively, four of the five originals are in the current line-up with only Andy Taylor missing.
But, this has been slightly altered recently.
A little over a week ago, the band's website released the following — "Regrettably, keyboardist Nick Rhodes will be leaving the current Duran Duran tour tomorrow for a short period of time, to return to the U.K. to attend to an urgent family matter. Standing in for Nick will be long-time friend and collaborator, artist MNDR."
Rhodes added "I am devastated to be missing even a single date on this tour. We are having such an amazing time and the shows have been some of the most exciting of our career. I will be back as soon as I can but know, in the meantime, that I am leaving both the band and fans in great hands, with the fabulous MNDR."
Not surprisingly, the band's line-up went through a number of changes throughout the last 35 years with members leaving and returning.
"We did a reunion tour with the original members about 10 years ago," said John Taylor, during a recent phone interview from Los Angeles. "Simon was in L.A. with Nick. I bumped into Simon in a department store and my wife invited him over for dinner.
"Later, I was doing a show in New York. Simon came onstage and sang with me. The crowd loved it. We had great chemistry. We got Nick on board and then worked on getting Roger and Andy back into making music again.
"We got together for a tour and it felt like a good way to keep experimenting and composing.  It's been pretty full-on since then. This is our third album in the last 10 years."
The band still plays with youthful energy.
 "It was hard to re-establish ourselves," said Taylor. "On that reunion 10 years ago, I thought it would be magic right from the start and it wasn't that way at all. It was like five strangers. The people we had become didn't initially fit together."
Eventually, everything began to mesh and Duran Duran was once again firing on all cylinders.
"One of the things that keeps us going is that we have great belief in our potential," said Taylor. "We're very enthused about our collaborative abilities. The strength of the new album is in the collaboration. It really is what gives the album its power.'
"Paper Gods' was released in June 2015 on Warner Bros. Records. One of the producers on the album was Nile Rodgers, who will be sharing the bill with Duran Duran at the show in Camden.
"We hadn't worked with Nile in awhile," said Taylor. "It was great. And having guest artists such as Janelle Monáe come in to work with us on the album forced us to step up. When we were writing the songs, it was a very similar M.O. to what we've always had when we're in the writing room. We're like a jam band.
"I'm really excited to be coming back to Philadelphia. I've been on a Philly Soul binge — the O'Jays, Harold Melvin and the Blue Notes, MFSB, the Trampps, the Spinners. It's all I can listen to."
Video link for Duran Duran — https://youtu.be/5qFhSWA9Cz4.
The show at the BB&T Pavilion, which also features Tokimonsta and Nile Rodger, will start at 7 p.m. Tickets range from $19.95 to $150.
Another band which rose to international stardom through its series of hit songs and accompanying videos on MTV was Men at Work.
Almost any music fan over 30 and most fans of classic rock under 30 know that a "land down under" is "where women glow and men plunder." They know because Colin Hay told them so.
Hay, who will headline a solo show at the World Café Live at the Queen (500 North Market Street, Wilmington, 302- 994-1400, www.queen.worldcafelive.com), was the lead singer of the Australian band Men at Work. In the early 1980s, the band had major worldwide hits with a trio of songs — "Who Can It Be Now?," "Overkill," and "Down Under."
Hay was last in the area for a show at the Keswick Theater back in November.
"Since then, I've been touring as usual — a lot of touring," said hay, during a phone interview last week from a tour stop in Geneva, New York.
"I've been writing tunes with a friend of mine — Michael Georgiades. "I came back home a while ago and we seemed to hit a vein of things. We wrote about nine songs. I've been in the studio or on the road playing gigs non-stop. We will be making an album — probably in March.
"I don't really like doing demos. If I do a demo, I like being able to use the demo on a record. I have my own studio in the basement of my house. The rules that I give myself include writing a song before I start recording as opposed to getting it half done and then finishing it when I'm recording it."
Hay, who was born in Scotland and moved to Australia as a teenager, embarked on a solo career after Men at Work disbanded in 1985. He recorded 12 solo discs from 1987-2015 including "Next Year People," which came out earlier 2015.
"I recorded the album in the second half of 2014 and it came out in February 2015," said Hay, who has lived in Los Angeles for the last 25 years.
"I recorded it in my own studio. Sometimes, I'll be home for a week-or-two and I'll work on a song-or-two. I record them and then I have to leave again. Other times, I say — I really have to do a record and I'll focus just on that.
"This album was a combination of both. I had three or four songs already done before I sat down to make the album. My songwriting is pretty haphazard. Sometimes, it starts with a melody while other times it could start with a lyric.
"With the new album, each song came on its own. When I'm working on a song, that's all I think about. I just concentrate on the job at hand."
Hay knows that survival in the music business these days involves taking the music to the people — and that means a lot of touring.
"There are three things you do as a musician — write songs, record them and play them live," said Hay. "My album came out in February and I've been on the road since then in different parts of the world. I play rooms that I can do."
Men at Work songs still figure prominently in his sets lists.
"I still do those three songs ('Who Can It Be Now?,' 'Overkill,' and 'Down Under')  in my solo show," said Hay. "Obviously, they'll be a little different from how they'd be played with a band.
"I play the essence of the songs. I do a long set — two-and-a-half hours. With this band that I have at the moment, we do quite a few songs from the last album, some from Men at Work and some from my solo albums that I've made since then.
Video link for Colin Hay — https://www.youtube.com/watch?feature=player_embedded&v=EwfDXCcoavo.
The show at the World Café Live, which has Willie Nile as the opening act, will start at 8 p.m. Tickets are $35 SRO and $50 seated.
Other upcoming shows at the World Café Live at the Queen are Hockaday (BKA – Kae Hock) – The Bane of Fear Album Release Concert  on July 22, Future Stars Showcase with Gina Zo (Castanzo) from NBC's The Voice Season 10  on July 23 and Al Turner on July 23.
The area along Market Street in downtown Wilmington will be bustling with activity on July 21.
British comedian Eddie Izzard will have a show at the Grand Opera House (818 North Market Street, Wilmington, Delaware, 302-652-5577, www.thegrandwilmington.org) starting at 8 p.m.
Additionally, the area will also be the site of the Fifth Annual Ladybug Music Festival (theladybugfestival.com) with headliners Nalani & Sarina, Angela Sheik, Rachael Sage and Nadjah Nicole.
The free event, which will be held in the 2nd & LoMa neighborhood along Market Street downtown Wilmington, is a block party that will run from 5-10 p.m. and feature 40 talented music acts — all female.
This year, Third Street and the outdoor courtyard of Del Tech will also have vendors and live music. The music will begin around 5 p.m. and will be nonstop on multiple stages until 10 p.m.
Some of the other featured acts slated to play the 2016 Ladybug Festival are Caroline Rose, Vanessa Collier, Audra Mclaughlin, Joy Ike, SIRSY, Boomscat, Jerzy Jung, Lovebug & Me, The Coolots,  Sharon Sable, Andrea Nardello, Megan Knight, Giada J, Tara Hendricks, Hotsy Totsy, Swing That Cat, J and the 9s, Dirty Purple, Amanda Duncan, and Kira Alejandro.
The line-up also features Ladybird, Danielle & Jennifer, Dr. Rege & Global Rhythms, Kitty Mayo, Phyllis Chapell, Royal & Toulouse, Nicole Lyn, The Means, Mckinley Short, Alex Voegele, Midnight Mob, Taylor Tote, Lauren Kuhne, Lisa Malatesta, Lullanas, Lauren Marsh, Ava & Marlena Awitan, Aziza Nailah, Runners Revenge, Molly Mausolf, Becca Krueger, Heather Heather, and Cecilia Grace.
There will also be live music worth checking  out +on July 21 in Chester County when the Way Down Wanderers perform a show at Kennett Flash (102 Sycamore Alley, Kennett Square, 484-732-8295, http://www.kennettflash.org).
The Chicago-based alt-folk/Americana act is a five-piece group, headlined by Austin Thompson and 18-year old Collin Krause. The talented musicians, who started touring together at the young ages of 14 and 17, display an impressive brand of youthful energy and enthusiasm. 
The Way Down Wanderers — Austin Thompson (Vocals, Guitar), Collin Krause (Vocals, Mandolin, Violin, Electric Guitar), John Williams (Vocals, Upright Bass), John Merikoski (Drums, Percussion), Travis Kowalski (Banjo) — made their Philly area debut in January at the World Café Live in Philadelphia.
"Since January, we've toured from Florida to upstate New York and then went to Colorado for a few shows," said Thompson, during a phone interview Tuesday afternoon from a tour stop in Richmond, Virginia. "Then, we went to El Paso, Texas to record our full-length debut.
"We made the album at Sonic Ranch Studio. It's pretty secluded there — a nice space. We spent two weeks and worked with a really nice Neve recording console. Al the songs were finished by the time we got done with pre-production in January.
"We didn't write any new songs in the studio but some of the songs got changed a little when we were recording them. We never had a chance to play the song 'Changing' live. In the studio, it went to an electric rock and roll sound from the folky bluegrass song it was originally meant to be."
The Way Down Wanderers are young musicians just starting to hit their stride.
 "Initially, we were in different bands in our hometown," said Thompson. "We met in the music scene in Peoria, Illinois. Then, we had a couple bands together. There is a pretty good music scene in Peoria. We found it very supportive."
Before long, the decided it was time to relocate.
"About a year ago, the whole band moved to Chicago," said Thompson. "It's a better scene in Chicago than in Peoria. "We're all in this little apartment together — except for John Williams who lives with his parents in Chicago and Travis, who lives in Altina, Michigan."
Playing, performing and writing together for just over two years, the Wanderers have built an enthusiastic and fast-growing following across the country. A year ago, they received Deli Magazine's Readers Choice award as "Chicago's Best Emerging Artist, 2014." 
"Collin and I have been the core of the band ever since the start," said Thompson. "When Collin and I were together at Illinois Central College, he opened up bluegrass and Americana for me — the singer/songwriter style of music. The songs we were writing just had that sound.
"At the beginning, we also had a cellist and an electric guitarist. But, we found it wasn't good for the sound we were looking for — more of a folkish Americana sound than a really loud rock sound. We have the same idea now but we've opened up more to rock. We also have more grooves than just bluegrass rhythms.
"We're a five-piece band right now," said Thompson. "Hopefully we've gotten the right line-up — one that will stick. We released our EP 'Wellspring' in April 2015. In late February, we'll be recording our first full-length at Sonic Ranch in El Paso, Texas.
"Right now, we're focusing on this tour. We're getting the chance to play a lot of cities we've never played before. This will be our first time to play Philadelphia and we're excited about that."
Video link for the Way Down Wanderers — https://youtu.be/_ATPc2VVH0Q.
The show at Kennett Flash, which has Grady Hoss & The Sidewindersas the opener, will get underway at 8 p.m. Tickets are $12.
On July 22, the venue will present "The Flash Features Karter Jaymes, Jackie Verna, Mike McDevitt, and Wendell Woods" at 8 p.m. Tickets are $14.
On July 23, John Gorka, one of America's most respected folk musicians, will be the headliner at this weekend's edition of the Bryn Mawr Twilight Concerts (Downtown Gazebo, 9 South Bryn Mawr Avenue, Bryn Mawr, 610-864-4303, http://www.brynmawrtwilightconcerts.com).
The show will come one day after the official release by Red House Records of his new album "Before Beginning" — an album that is actually a very old album.
Gorka, a New Jersey native who got his start musically at venues in the Lehigh Valley, released his first album "I Know" in 1987 on Red House Records. His next five LPs were on Windham Hill/High Street Records.  He returned to Red House in 1998 and put out six more albums. The most recently-made is "Bright Side Down," which came out last year.
"I recorded an album in five days in Nashville in November 1998 and then ended up not putting it out," said Gorka, during a phone interview last week from his home in Minnesota.
"It was my first record and it wasn't what I wanted at the time. I wasn't sure who I was back then. It was a lot different than 'I Know.' I recorded it on a 24-track with producer Jim Rooney."
The album never saw the light of day for almost two decades. That is about to change.
"Back then, I had the tapes shipped from Nashville to my home in Bethlehem," said Gorka. "Then, they went to my manager's house in Michigan. A few years ago, he brought them to me here in Minnesota and they sat in my garage for a couple years.
"Being in a garage for three years through Minnesota winters could have ruined them. Fortunately, they were in O.K. enough shape that we could bake them. But, they were also in such a condition that had I not baked them, they would have flaked."
After being baked for hours at a low heat, the tapes were ready to be revisited.
"When I went back and listened to them, I realized they were pretty good," said Gorka.
Gorka will be performing quite a few songs from "Bright Side Down," his most recent album release.
"I started recording the 'Bright Side Down' in fall 2012 and finished it a year later," said Gorka. "It was my first time to do it this way — working a little bit at a time — seeing how the songs stand up to time. I think I recorded 17 and 12 made it to the record. The others will come out in some form. I just have to find the right setting."
Many singer-songwriters get wrapped up in the stories behind the song which at times can stretch the length of the song. This was something Gorka wanted to avoid when making "Bright Side Down."
"I wanted the album to be an album that people could listen to in one sitting," said Gorka, whose songs have been recorded by internationally-acclaimed artists such as Mary Chapin Carpenter, Nanci Griffith, Mary Black and Maura O'Connell.
"Bright Side Down" features guest vocal appearances by Red House labelmates Lucy Kaplansky, Eliza Gilkyson, Claudia Schmidt and Michael Johnson. But, the focus is clearly on Gorka's vocals and guitar work.
"Since people see me playing solo live, I wanted to have that on record — build around vocal and guitar performance," said Gorka. "I had a similar approach on this one and my last one ("So Dark You See") — focus on guitar and vocals.
"With my live shows, I'm open to suggestions. I don't have a set list. Instead, I have a rough idea of what I'll play and I also get requests. I'm open to suggestions. I'll even revive a song that I haven't done in awhile.
"I'll be performing as a duo at Bryn Mawr with my friend Russ Rentler, who plays mandolin. We've been playing together since we were in college at Moravian College in Bethlehem. We were in a band together in college called the Razzy Dazzy Spasm Band."
Video link for John Gorka — https://www.youtube.com/watch?feature=player_embedded&v=WVgysmtC1cc.
The show in Bryn Mawr will get underway at 7 p.m.  Mark Schultz will open the show. Tickets are $15
The 2016 schedule of Bryn Mawr Twilight Concerts also includes Lisa Willson Vocal Academy on July 29, Cheryl Wheeler w/Bruce Rits Gilbert and Matt Lyons on July 30 and Trespass – Genesis Tribute Band on August 6.
For music fans who are willing to brave the extreme heat and punishing humidity expected this weekend, a hot time can be had at the XPoNential Music Festival, which is running from July 22-24 at the BB&T Pavilion and Wiggins Park (Harbour Boulevard, Camden, New Jersey, http://xpnfest.org).
Acts performing on July 22 are Rosemary Fiki, Queen Of Jeans, White Denim, The Suffers, Billy Hector, Father John Misty (solo), Colvin & Earle, Tommy Stinson, Kurt Vile & the Violators, Ryan Adams and The Shining.
The line-up for July 23 features Kississippi, Esmé Patterson, Darlingside, The Record Company, David Wax Museum, Ben Arnold, The Revivalists, The Felice Brothers, Preservation Hall Jazz Band, Josh Ritter & The Royal City Band, Chicano Batman, Gary Clark Jr., and Alabama Shakes .
Performers slated for July 24 are Chicano Batman, Diane Coffee, Oliver-John Rodgers, Low Cut Connie, Eliza Hardy Jones, The Marcus King Band, The Districts, Mavis Staples, Femi Kuti & The Positive Force, case/lang/viers, Old Crow Medicine Show, and Brandi Carlile.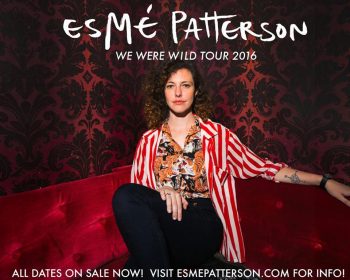 Esmé Patterson released her new album "We Were Wild" on June 10 via Grand Jury and then set out on a tour that lasts most of the summer.
Patterson got her start in music in Colorado when she co-founded the popular Denver indie-folk ensemble Paper Bird. After four acclaimed albums and perpetual touring with the band, Patterson set off on her own solo career.
 In 2012, she released her debut solo album "All Princes" and followed with the "Woman to Woman" album in 2014. "Dearly Departed," her hit collaboration with Shakey Graves, resulted in millions of streams, sold- out shows nationwide and performances on Conan and The Late Show With David Letterman.
"I recorded "We Were Wild' in Portland, Oregon where I live," said Patterson, during a phone interview last week as she travelled through West Texas on her way to a tour stop in Dallas.
"We made the album at Type Foundry Studio.  We used a combination of analog and digital. It was a long process — trying to get it perfect and realizing that nothing is perfect. One of the songs I had around for a couple years but most of the songs were written specifically for this record.
"They were written in the winter and the spring. I'm constantly writing. I get different parts if songs in my head all the time — usually some moment of inspiration. It comes in a lot of different ways but the melody and the lyrics all come together at the same time."
Patterson's new album has a lot of emotional depth.
"It's definitely a very autobiographical record — dealing with things that were happening in my life at that time," said Patterson. "I was working through them by writing songs. It had a great cathartic effect. It was a good emotional tool.
"I road test my songs all the time.  When you're writing songs, it does help you get inside the song in a different way. And, it helps you get outside the song at the same time.
"Now, the songs keep changing. I'm constantly tweaking things. I never think a song is ever complete — so they continue to evolve. And, I play with different players at times and different players bring different things to the songs.
"My band on this tour is a really great rock and roll band from Portland — bass, drums and guitar. I'm doing songs from my first two albums and mostly all the songs from the new album. I still have songs from my first two albums that I'm really proud of and still enjoy playing."
Video link for Esmé Patterson —
https://youtu.be/WQylnGUCASo?list=PLtKd6iRN2B_4tBpYTPHVVLOcsFb8W44NH.
The Felice Brothers just put out a new album. "Life In The Dark" first saw the light of day when it was released on June 24 on Yep Roc Records.
"We spent most of 2015 making the album," said James Felice, during a phone interview Wednesday from his home in upstate New York. "Then, we spent most of this year waiting for it to come out.
"We began writing the songs for the album in spring 2015 and did most of the recording last July. We recorded here in upstate New York in an outside garage. The studio was just a studio that we set up ourselves in the garage. We recorded the whole album there.
"This time, for a change, we didn't really have a producer or an engineer. There was a nice bunch of songs I had and everything was done in-house. Re cording it ourselves and not relying on experts was great. We have nine really good songs played live by the band — played with all of us together in a room.
"We wanted to do it quickly and efficiently. We didn't need a third party for this set of songs. We knew what we wanted to do and we knew how to do it. I tried to studio-trick some of the tracks and it didn't work. It wasn't right. We just had to do it in the moment. Most of the songs were done in three takes or less. A couple of them were first takes."
The Felice Brothers got their start in music playing shows at venues in the home area — New York's Catskill Mountains. After awhile, they spent time in New York City busking in Manhattan's subway stations. One thing led to another and before long they had a record deal with a label in the U.K.
"We had already put out two self-released albums," said James Felice. "Our first record for a real label was about five years ago. We were busking at a farmers' market in Fort Greene in Brooklyn. A guy heard us and introduced us to a record label owner from England — Tom Bridgewater. His label is Loose Records.
"We sent him some of our music and then he came over to America to hear us play. He signed us to his label and we released our 'Tonight at the Arizona' album with them in 2007. I think we put out three records altogether with Loose Records. We were just playing locally in the Catskills and in New York City.
"After that first record, we realized we could make music for a living.  In 2007, we did a tour around the country in a Winnebago. Then, we toured with Bright Eyes in fall 2007.
"Then, we recorded 'The Felice Brothers' album in 2008 and it was on Teen Love Records in the U.S. and Loose Music in the U.K. It was our debut album in the states. It was very exciting."
The Felice Brothers' blend of modern and traditional folk music styles established a solid fan base for them here and in England.
"We play country, folk, Americana, folk-rock — and just plain American pop," said Felice, who is joined in the band by his brother Ian Felice along with Josh "Christmas Clapton" Rawson, Greg Farley and David Estabrook.
"We have a lot of different types of people in our audiences — a lot of people our age which is late 20s. But, we also have a lot of older folk fans and we're getting college kids too. It sort of runs the whole gamut. We do a lot of folk festivals every year and that always brings in new fans."
Video link for the Felice Brothers — https://www.youtube.com/watch?feature=player_detailpage&v=-BZQ6iuJ2kM.
L.A.-based buzz band The Record Company signed its maiden record deal with Concord Music Group and released its debut album "Give It Back to You" on February 12, 2016. 
The rock/roots trio of Chris Vos (guitar, lead vocals, harmonica), Alex Stiff (bass, guitar, vocals) and Marc Cazorla (drums, piano, vocals) has already been hailed by LA Weekly for "making bluesy music that would sound more at home in a sweaty, backwoods Mississippi juke joint."
The band's roots are based in the blues — both original blues artists such as Muddy Water and John Lee Hooker and second generation blues bands from the 1960s such as the Rolling Stones, Jimi Hendrix and Canned Heat.
"We listen to all kinds of blues — and R&B," said Vos, during a phone interview Wednesday afternoon as the band travelled through upstate New York on its way to a show in Amagansett, New York.
"We listened to a lot of Jimmy Reed — also the Stones, Eric Clapton, Hendrix and Jeff Beck. There's no-one who can play like Jeff Beck. We also love early punk like the Cramps, the Stooges and the MC5. Our music is coming from all over the place.
"We're just a rock and roll band with a background in the blues. Bass and drums are important to us so we're influenced by modern stuff too — electronic dance music and early hip hop –anything that sounds exciting and new."
Vos and his wife moved to Los Angeles from Wisconsin six years ago.
"My wife took a job with the L.A. Times," said Vos. "We got there and I didn't know anybody in the music scene. I went on Craigslist and got hired by a couple groups as a side musician — hired mostly as a pedal steel player.
"I was jamming with some good people but I wanted a full-time thing. I met Alex through Craigslist. We hit it off as friends and he invited me to his place to listen to some old vinyl records and hang out. Marc lived in the place in front of Alex's place and they had been friends for years. We realized that we had the same music tastes, and enjoyed jamming together.
"One night, we were listening to the John Lee Hooker-Canned Heat album 'Hooker N' Heat,' and we got blown away. A few days later, we set up in the living room and recorded some songs. We recorded and mixed it on our own."
Just like that, The Record Company was on its way.
"We played together two months — writing and recording together — and then did a house show on New Year's Eve 2011/2102," said Vos. "Our first real gig was a few days later — January 5 at a club in L.A.
"We recorded 'Give It Back to You' in our living room too. We'd be out on the road, get home, cut a track and then go back on the road. When we write a song, we record it right away. There is something about that moment when a song is first written that is really great.
"We just set up and play live. That's how we record — all playing together in the same room at the same time. Maybe we'll go back later and add handclaps, backing vocals and tambourine but most of it is all live."
Video link for The Record Company — https://youtu.be/H8aNK3XMP5w.
Vos is just one of many rock guitarists who rank Jeff Beck at the top of their lists of best guitarists in the world.
Beck is one of three "Guitar Gods" who played in the Yardbirds. His stint as the band's lead guitarist was sandwiched in between those of original guitarist Eric Clapton and final guitarist Jimmy Page.
This year, Beck is celebrating his 50th year as a solo artist. He has been inducted into the Rock and Roll Hall of Fame both with the Yardbirds and as a solo artist. Beck, who has won eight Grammy Awards, just released his 17th solo album — "Loud Hailer" — on July 15 on Atco Records.
Area fans who want to hear the 72-year-old guitar master perform live are in luck this weekend.
On July 23, Beck and his new band will perform in New Jersey at the Borgata Event Center (One Borgata Way, Atlantic City, N.J., 609-317-1000 www.theborgata.com).
On July 24, he will play a show at the Sands Bethlehem Event Center (77 Sands Boulevard, Bethlehem, www.sandseventcenter.com/e).
Both shows offer a double treat for guitar fans because Beck is co-headlining with blues guitar legend Buddy Guy.
Video link for Jeff Beck — https://youtu.be/61wv9RPyPZw.
There also will be a heavy dose of blues being served up on July 24 when Ruf Records' 2016 Blues Caravan touches at the Sellersville Theater (24 West Temple Avenue, Sellersville, 215-257-5808, www.st94.com).
The tour features Ruf's Blue Sisters — three female blues vocalists….Tasha Taylor, Ina Forsman and Layla Zoe.
If you were asked what comes to mind when you think of a female blues singer, you'd probably say "American, "older and experienced" and "African-American." Ina Forsman blows all three stereotypes completely out of the water.
Forsman is Finnish. She has only been singing professionally for a few years and just turned 21. And, she is a Caucasian who is "Scandinavian pale."
It should be noted that her ability to belt out clues songs belies her years and her background.
The Finnish vocalist hit the radar aged 17 with a show-stopping rendition of Etta James's "All I Could Do Was Cry" on a TV talent show — "Voice of Finland." Since then, she's achieved international recognition, performed as a guest artist with blues heavyweights Helge Tallqvist and Guy Verlinde on the road, toured Europe on her own and represented Finland at the 2014 European Blues Challenge
Forsman has also demonstrated her skills at songwriting with a number of songs based on fiercely personal material. The Helsinki native  just released her eponymous debut album on Ruf Records.
"I've always been into music," said Forsman, during a phone interview Tuesday afternoon from a tour stop in Rochester, New York. "The first time I said I wanted to be a singer was when I was six years old. My first gig was when I was 17 and I've been doing music as my profession ever since.
"In the first band I was in, we were just playing pop covers. Soon after that, I got to know this harmonica player (Finnish harmonica legend) Helge Tallqvist. He took me with him to perform at blues clubs. Shortly after that, we started touring around — first Finland and then Europe.
"It became my life very fast. I've become immersed in the blues. I started searching for music and researching articles about the blues. I got into blues artists such as Magic Slim, Etta James and Muddy Waters.
"I just love all the variations of blues styles. I definitely listened to a lot of female blues vocalists. But, I think it's important to find your own sound. Each year, I get more comfortable with my own sound."
Forsman's career moved to a new plateau with the release of her debut album and now is elevating even more with the success of the Blues Caravan shows. When it came to the album sessions, Forsman came to America to record.
"The album came out in January," said Forsman. "I recorded it last July. When I signed with Ruf Records, Thomas Ruf wanted to have the record made in the states. So, we made the album at Wire Recording in Austin, Texas with Mark Kazanoff as the producer. That was my first time in the states.
"I wrote all the songs except for one Nina Simone cover. When I was choosing what songs to put on the album, I had 10 songs — all mine. I still needed a slow, stripped-down blues songs and I found Nina Simone's 'I want A Little Sugar In My Bowl.' That worked very well.
"On the Blues Caravan tour, all three of us share the same band — a trio with guitar, drums and bass. We all have our own 40-minute sets and we also perform together."
Tasha Taylor is the youngest daughter of R&B trailblazer and Stax icon Johnnie Taylor. She studied drama at Boston University and later performed in hit TV shows including "Ugly Betty" and "House." Taylor has composed soundtracks for shows like "Men In Trees" and "Lipstick Jungle" and has recorded a debut album titled "Taylormade."
Layla Zoe is a Canadian bandleader and a talented writer. She took the top prize in 2006's prestigious Blues Compo songwriting competition and received critical acclaim for her album "The Lily." At the Blues Caravan 2016 shows, Zoe will be previewing songs from this year's new release.
Video link for Blue Sisters — https://youtu.be/3-yMNdsS1d0.
The show at Sellersville will start at 7:30 p.m. Tickets are $21.50 and $29.50.
Other upcoming shows at the venue are Quinn Sullivan and Mojo Stu on July 21, Ted Vigil Performing The Music Of John Denver on July 22, The Willis Clan on July 23, Bethany Joy Lenz & Her Firepit Band along with Phillip-Michael Scales on July 26.
While the Blues Caravan show will be funky with its heavy blues vive, the show at the Ardmore Music Hall (23 East Lancaster Avenue, Ardmore, 610-649-8389, www.ardmoremusic.com) on July 27 will be ultra-funky with an entirely different vibe.
The sounds of New Orleans will be rocking the house when John "Papa" Gros takes the stage in Ardmore.
New Orleans native John "Papa" Gros (pronounced grow) has spent more than a quarter-century behind the piano championing the music of the Big Easy. His second solo album, "River's on Fire," is set for release August 26.  It's a record that mixes the sounds of rock and roll, funk and roots-based Americana into a genre-bending gumbo that carries on the tradition of New Orleans.
Inspired by hometown hero and longtime colleague Allen Toussaint, who died of a heart attack while touring Spain while Gros was recording the album on the Vermilion bayou in southwest Louisiana, "River's on Fire" is Gros' first release since his former band, Papa Grows Funk, disbanded in 2013.
"Allen passed away while we were in the studio," said Gros, during a phone interview Tuesday afternoon from his home in New Orleans. "We were in the studio making the album from November 9-13 last year and Allen passed away on November 10. He produced the last papa Grows Funk album.
"Allen was a great mentor to me. He's responsible for all New Orleans music for the last 30-40 years. He gave me validation for what I do. I was trying to incorporate this into the new record. His spirit is in every song — some obvious and some you'd never know. But, something that Allen taught me is in every song on the new album."
Papa Grows Funk, the band Gros founded in 2000, released five albums in an 11-year stretch.
"I've only had my new band together since the beginning of the year," said Gros.
"Papa Grows Funk was together for 13 years. We toured the East Coast and the West Coast — and Japan. We ended three years ago.
"I floated around for awhile as a sideman for different bands, including Bonerama. I got a new band together because I wanted to be my own musician again. I play piano and a Hammond B-3 (organ). With Papa Grows Funk, the B-3 was the band's main instrument.That's what I'm trying to do with my new band.
"I'm also playing a lot of New Orleans piano with this band. It's all New Orleans music. It carries on the tradition of my New Orleans keyboard heroes — Dr. John, Allen Toussaint and, of course, Fats Domino, who was the father of rock and roll."
Video link for John "Papa" Gros — https://youtu.be/HrMXCaZ_Mp4.
The show at the Ardmore Music Hall, which opens with Cris Jacobs from the band The Bridge, will start at 7:30 p.m. Tickets are $12 in advance and $15 day of show.
The venue's schedule for the next week also features Jah Works, Sonoma Sound, and Steppin' Razor (acoustic) on July 21; Broken Arrow (Neil Young Tribute) and Cabin Dogs on July 22; and "Back to Back To Black: A tribute to Amy Winehouse by Remember Jones (15-Piece Orchestra)" and Ginger Coyle on July 23.
Chaplin's (66 North Main Street, Spring City, 610-792-4110, http://chaplinslive.com) will present Egocentric Plastic Men, Andorra, Hartline, and Avenue Eight! on July 22 and Nothing Vital and Saint Phoenix on July 23.
Doc Watson's Public House (150 North Pottstown Pike, Exton, 610-524-2424, docwatsonspublichouse.com) will present Brazen on July 22 and the Tommy Froelich Trio on July 23.
The Candlelight Theater (2208 Millers Road, Arden, Delaware, 302- 475-2313, www.candlelighttheatredelaware.org) is presenting the classic musical "Music Man" now through August 27.
Performances are Friday and Saturday evenings (doors 6 p.m./show, 8 p.m.) and Sunday afternoons (doors, 1 p.m./show, 3 p.m.). Tickets, which include dinner and show, are $59 for adults and $33 for children (ages 4-12).