To The Editor,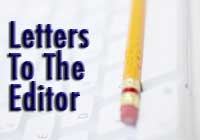 I would like the Chester County Correctional Officers to know that our community thanks them and stands with them, and I would like to thank Chris O'Donnell from Teamsters Local 384 for bringing to everyone's attention the ways in which Chester County's correctional officers and taxpayers are being unfairly treated.
As an attorney who frequently visits Chester County Prison, I can attest to the fact that our correctional officers have a difficult and dangerous job. They work hard for us, and they deserve to be fairly compensated for their hard work and the risks they encounter every day.
As a taxpayer, I expect our elected leaders to do business fairly, in a way that represents our community values. I am disappointed that they have failed to do so with regard to the correctional officers.
As a former elected official, I know that failure to take care of those who serve our community is not just morally wrong, it is fiscally irresponsible. Unfair compensation and bad working conditions lead to high turnover, which increases costs for all of us.
I encourage our Correctional Officers to stand up for themselves and seek representation through Teamsters Local 384. The Teamsters have a great reputation and strong track record of successfully representing correctional officers in a way that benefits everyone.
Tom Houghton
London Grove