June 24 Show benefits Oxford Arts Alliance
By Lele Galer, Columnist, The Times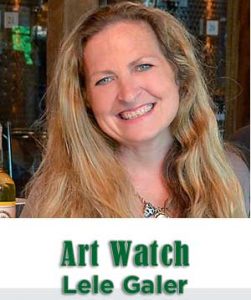 The go-to event for this weekend is the Oxford Arts Alliance's annual Garden Party fundraiser this Friday June 24th from 5-8pm at Galer Estate Vineyard and Winery, at 700 Folly Hill Road in Kennett Square.
The event is entitled "Steeling the Show" and offers  a very impressive lineup of 18 Chester County sculptors who will be exhibiting very large and medium sized sculptural works.
The beautiful and exceptionally talented metal artist Ellen Durkan will present a staged runway "Forged Fashion Show" as part of this fundraising event. Ellen creates one of a kind, show-stopping, forged steel wearable artworks, which she and her models will exhibit during the event.  Ellen will also be selling her smaller sculptures and laser cut steel hearts as a part of the fundraising effort.
Some of the very best Chester County sculptors will be exhibiting their large and small art works for sale and at the silent auction, including artists: Stan Smokler, Lisa Fedon, David Beck, Jill Beech, Lele Galer, Meghan Bergman, Helen Mason, Karen Delaney, Jeffrey Bell, Maggie Creshkoff, Katee Boyle, Henry and Erica Loustau, Karen Hurd, Steve Hastings, Hillary Faulkner and Rob Sigafoos. Food is catered by Brandywine Prime, with music and dancing and a great silent auction table of donated sculptures by the exhibiting artists. Tickets are $50 each and benefit the Oxford Arts Alliance.  Visit OxfordArt.org for tickets and additional information about this exciting sculpture "Steeling the Show" event.
The Oxford Arts Alliance is located on Third Street in the heart of Oxford, and offers classes in music and the arts, a gallery of monthly exhibitions, lectures, movies, and "Paint your own pottery" every Saturday from 11-4pm. The organization is very involved with the neighboring Oxford businesses, and has helped to create an increasingly vital art scene in this wonderful small town. Local art studios have started opening up, and many new eateries, coffee spots , a candy store , and the popular Flickerwood Winery tasting room have all helped to energize downtown Oxford.
The Oxford Arts Alliance started in 2008, when a local architect, Jahan Sheikholeslami, had the idea of creating an arts and culture organization in Oxford. He enlisted the help of town leaders, including the head of the library, Ken Pienkos, bookstore and gallery owner, Richard Beards, and Jay Eaton, who is the President of the Octoraro Art Association. They created the organization and Board, and OxAA has been exhibiting monthly gallery shows ever since.
Rather than compete with "First Friday" gallery walks that are throughout Chester County on the first Friday of every month, the Oxford Arts Alliance has "Third on Third", with openings and gallery walks throughout town on the third Friday of every month. The Garden Party is their largest annual fundraiser, and their "National Level Juried Art Exhibit" is their largest annual exhibition; which offers large monetary prizes and hundreds of entries from all over the country.
This year's Oxford Arts Alliance National Juried Exhibition deadline is coming up in July, so if you are an artist, remember to submit your application soon for this juried Fall exhibition. Last year there were 400 entries and $1850 in cash prizes.
Funds for the organization are raised through membership, grants, class fees and donations. As the popularity for the OxAA programming continues to increase every month, they are now involved in creating a strategic plan for possibly expanding their facility and programming to meet the current demands in Oxford.
It is a very exciting time for this young arts organization, and an exciting time for the town of Oxford as well! If you have not been there before, head to downtown Oxford, walk around Third Avenue and stop in to say hello to Chris Grove, the friendly and delightful Executive Director of The Oxford Arts Alliance, and check out their latest gallery exhibit. The Oxford Arts Alliance is living proof of the enormously positive effect that the arts can have on an entire community.