Thousands left without power, trees downed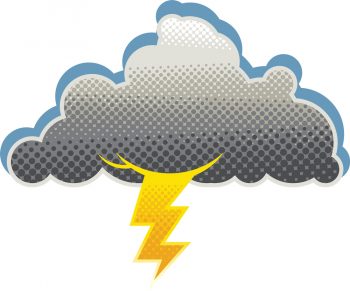 A powerful line of thunderstorms raced through Chester County at midday, leaving more than 10,000 people without power  some of whom may not see restoration until Thursday — and various trees and branches down on local roadways.
The morning's bright sunshine and clear skies suddenly gave way to blackened skies and strong winds, gusting up to 45 MPH as noon approached. The high winds and powerful downpours dropped visibility on county roads to next to nothing for a brief period.
As of Wednesday afternoon, PECO was reporting more than 11,000 customers in Chester County without power, including some large bundles in and around West Chester and in the Pennsbury/Kennett area. Other outages were scattered, as storm damage knocked out power in dozens of locations, often for five or less customers, the utility said. Much of the power was expected to be restored by Wednesday evening. At the peak of outages, more than 20,000 customers were without power.
There were numerous reports of trees and large branches downed by the sudden squall, including Route 926, near the Westtown/Birmingham border at New Road. Officials are urging caution while driving, as many branches have been knocked down onto roadways — and the higher than normal afternoon winds may lead to additional road debris.
The storm even managed to briefly interrupt graduation ceremonies for Unionville High School, taking place at the Carpenter Center in Newark, Del. When the storm ripped through, power blinked on and off at the arena, taking down the audio system, temporarily putting a halt to the proceedings. Things were put to right within a few minutes, allowing more than 300 Unionville High Seniors to graduate.
According to the National Weather Service, the weather pattern should return to normal on Thursday, with little in the way rain in the forecast (a possibility of thundershowers Saturday afternoon) over the next week.