To The Editor: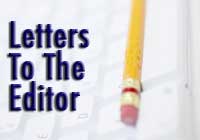 I am writing in response to the posting Mr. Knauss wrote in his response to Victor Dupuis' letter.  I have included direct quotes from the Citizens for Efficient Education home page – the organization launched by Mr. Knauss and Mr. Hellrung originally to defeat the referendum regarding funding of the high school renovation project a few years ago.  My replies are beneath the quoted portion of text.
"A proposal asking for 5.6% increases is not economically sustainable, not fair and not in the best interests of the community stakeholders."
Is this a majority opinion, Mr. Knauss?   Who are you to determine what is in the best interests of community stakeholders?  And what about the best interests of the students?
"Our current compensation package is already sufficient to ATTRACT and RETAIN excellent teachers. The evidence is overwhelming. The number of resumes submitted in response to an open position posting confirms the District's ability to ATTRACT excellent educators with the current compensation package. The response to our postings yields a significant number of applicants usually within 3 days of the initial posting. Some postings attract pools of candidates large enough to require teams of administrators to process and review the materials in a timely manner. The low turnover rate among existing teachers confirms the District's ability to RETAIN our excellent educators with the current compensation package. We may lose teachers because of personal reasons, but few, if any, of our dedicated teachers leave for financial reasons."
"Overwhelming evidence?"  Where are the statistics to  support this assumption/assertion?  These are tough times, Mr. Knauss, as you have correctly stated.  Sure you are going to see rapid responses to posts, but that is not proof of your assertion.  People need jobs and teaching jobs are hard to find.  As far as few teachers leaving for financial reasons, well, if your thinking and decision making prevails you may be able to claim responsibility finally for the first meaningful change in this district that could be attributed to you – the exodus of top notch teachers for those very financial reasons you espouse.
"Jeff and Keith are optimistic and determined to reach an agreement that is equitable to all parties. The School Board is very proud of the educational achievement of our students."
Interesting  juxtaposition here, Mr. Knauss:
"Jeff & Keith are the two man leadership team who will push both sides to an equitable agreement, but the entire school board is proud."
You either speak for Jeff & Keith, or you are designated the mouthpiece for the entire board.  Which is it?
It is revealing on many levels  that you found it necessary to write what amounts to a political attack on Vic Dupuis after learning that he is running for the open board position in East Marlborough Township.  Why?  Why should it bother you that a man who has shown a tremendous level of dedication to this community is, for some reason, still interested in trying to help our district remain strong?  One would think it would be easy with solely a rising junior to begin the process of detachment and start disengaging from his level of caring till it becomes background noise.
I would think that as one of the elected board members, you would welcome someone with perhaps a different view of things, as those differences bring balance as well as intellectual honesty to  the processes governing a school board.  And your critical tone in your response to his article, with your questioning format, is striking in its parallels to Mr. Dupuis' letter, as he asked questions as well while addressing the positives and negatives of budget cutting.  At least he seems to be someone who is willing to look at issues from different angles as opposed to the hard line conservative stance you seem to embrace.  Maybe it's time for you to vacate your position in favor of someone with clearer vision.
Daniel Block
E. Marlborough Township