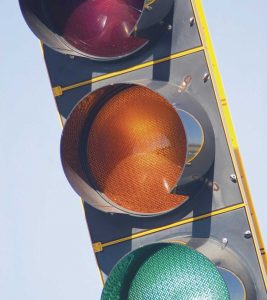 Municipalities across Chester County have been granted state funds for upgrades of traffic signals at various locations through the Green Light-Go Program, state Senators Andy Dinniman (D-19) and Tom Killion (R-9) announced Tuesday.
Nine municipalities in Chester County qualified for some $1.2 million in state funds to improve intersections and traffic signals.
As traffic has grown around the county after years of population growth, the upgrades are badly needed, officials said.
"These funds will go a long way in helping local municipalities upgrade traffic lights and other traffic control systems," Dinniman said in a statement. "The improvements mean a safer and smoother commute for motorists throughout our region."
By using state funds for these needed projects, local municipalities are able to focus limited financial resources elsewhere.
"These grants are incredibly helpful to our communities as they will help improve traffic flow and improve safety on roadways in our region," Killion said.  "Having PennDOT help fund these projects also reduces the pressure traffic improvement projects have on local municipal budgets."
The nine projects are as follows:
$514,167 for  East Goshen Township to install an adaptive traffic signal system that adjusts signal timing based on traffic conditions on Route 3 (West Chester Pike) at 10 intersections from East Strasburg Rd to Route 352 (South Chester Road).


 

$9,000 for East Pikeland Township to replace LED modules and improve the traffic signals at the intersections of Route 113 and Coldstream Road, Route 113 and Firehouse Lane, and Route 113 and Pothouse Road.

$165,000 for East Vincent Township to upgrade the intersection of Schuylkill Road and New Street by adding dedicated left-turn lanes.

$65,050 for Kennett Township to improve the traffic signals at the intersections of Route 82 and Hillendale Road, Route 1 and Exelon Way, Route 1 and McFarlan Road, and Route 1 and Kendal Drive.

$79,190 for Uwchlan Township to replace inductive loop sensors with a video detection system to control and improve the flow of traffic at three intersections along Route 100 and at nine intersections along Route 113.

$18,300 for West Whiteland Township to install generator hook-ups and install uninterrupted power supplies at the intersections of Route 30 and Springdale Drive, Route 30 and East Mall Entrance, Route 30 and West Mall Entrance/Iron Lake Boulevard, Route 30 and Whiteland Towne Center, Route 30 and Campbell Boulevard, and Route 30 and Oaklands Boulevard.


$22,000 for West Whiteland Township to improve maintenance at 27 signalized intersections throughout the township.
The Green Light-Go Program helps underwrite the costs of upgrading traffic signals to help improve local traffic flow and safety on roadways throughout the Commonwealth. Grants can be used for installing light-emitting diode (LED) technology, performing regional operations such as retiming, developing special event plans and monitoring traffic signals, as well as upgrading traffic signals to the latest technologies.