Coping with a cool, wet May in terms of fashion
By Kelly Hockenberry, Columnist, The Times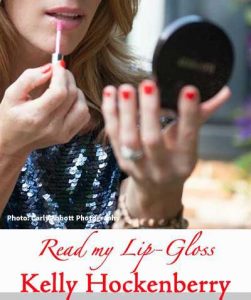 This weather is KILLING me. I do not know how people in Seattle can stand it. If I see a raincloud in the forecast for one more day, I may lose my mind.
Finding the motivation to get out of pajamas is difficult when it's grey, damp, and dreary. Fortunately, my solution is to turn my frown upside down with the thought of a shopping excursion. No better reason to leave the house in a downpour but to purchase some new items! Right?
We are really lucky to live in a cute, little town that's big on fashion. There's no need to drive 30 minutes to KOP when State Street is a hop, skip, and a jump away. Grab a latte from Philter and pop into No.109 for this gorgeous Ellsworth & Ivey Rain Cape. I love how it cinches at the waist and has a polka­dot lining. TOO adorable.
Next, waterproof mascara. This is probably my number one, must­have beauty essential. I do not feel dressed in the morning until my lashes are coated. And, in all of this damn rain, it makes sense to apply something that won't run down your face if you get wet. Bare Minerals Flawless Definition (in black, always) is a gentle, conditioning formula that lengthens and thickens my eyelashes. I'm obsessed. The girls at Houppette will help you select everything you need to freshen up your make­up bag for spring.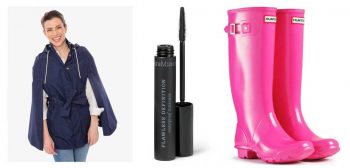 Last, but not least, Hunter boots. I know, they are expensive for something made of rubber…but, you will have them forever, I promise. I have a basic black pair, but I'm sort of longing for a more colorful version. Ashley Austin boutique carries the line and has a variety of options to choose from.
Rumor has it that we may see the sun this afternoon! That would make for a lovely Mother's Day present (in addition to the aforementioned items). I hope that you get out and enjoy the day with your loved ones and soak up some rays.
Happy Weekend