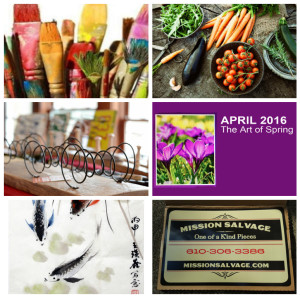 For the entire month of April , seven winery tasting rooms along The Brandywine Artisan Wine Trail will be celebrating the "Art of Spring" with a wide variety of Spring inspired art events. Earth Day in April, will be marked by art that utilizes "up cycling and recycling" and encourages us to look at old things and repurpose them in new and utilitarian ways. Spring is also a great time to start up new projects, take a stab at that new book idea, or follow through with a blog or Instagram concept. The warm weather is also a perfect time for art shows and getting outside to plant vegetables and paint "plein air". In the vineyards, the vines have been pruned and the first buds have appeared on the vines – a very exciting time in the vineyard. In the wineries and tasting rooms, the patios and porches have been made ready for guests to enjoy their wine outdoors, in the Spring sunshine.
The Brandywine Artisan Trail links the wineries in our region through a series of monthly themes that celebrate local arts. Wineries chose to opt in or opt out of a theme as their busy schedules permit. Visitors are encouraged to try wines at all of the wineries along the trail, and if they stop by these wineries during an artisan event, then they get to enjoy terrific wines and local arts as a double incentive to pop in.
At Ten Gallon Hat Winery, master carpenter and "Up-Cycler" Marc Buckwalter is creating an installation of found and repurposed artifacts for their tasting room in Chadds Ford. Mark specializes in making hanging light fixtures and cool, vintage inspired table lamps. He is the founder of M.A.D. UpCycle (Middle Aged Dude Upcycling), and loves to breathe new life into forgotten things. Visit the Ten Gallon Hat tasting room throughout the month of April, taste great wines, get creatively inspired, and buy some MAD objects to enliven your home. In addition to running with the theme of Spring and all things new and bright, Ten Gallon Hat will be featuring the promising, fresh, young artists of our county, with the works of West Chester Area School District's Art students gracing their walls. The student exhibition is made possible through a collaboration with Lisa Bryan, one of the amazing and talented Art teachers from the West Chester School District.
Kreutz Creek Vineyards will showcase the recycled and repurposed utilitarian art objects by Jen Harley, of Mission Salvage Company in West Chester.   Jen's work will be exhibited in both Kreutz Creek locations in West Chester and in West Grove. This artist finds "the beauty in all things, especially old rusty items and recycled barn materials" and will be exhibiting some delightful items this April at Kreutz Creek!
Flickerwood Winery recently closed its location in Kennett Square to concentrate its efforts at its popular Oxford location across from The Oxford Arts Alliance. To celebrate the merger of their Kennett Square and Oxford staff and customers, Flickerwood is having a Spring party on April 16th from 5:30-10:30 with food, music, and wine. Customers might also enjoy Flickerwood's Oracle Readings on April 8th 6-9pm, or words of insight by medium Kelly Kearney April 29 from 6-9pm. Both of those events should be very popular, so make reservations at 610-932-9498.
Penns Woods Winery is celebrating April's Earth Day with their First Session of "Organic Gardening Class" April 23 from 1-2pm. Topics will include container gardening for any size space, heirloom and hybrid seeds and plants, what to plant for mid-spring, and how to grow lettuce and other spring greens.​
Learn from third generation gardener Deborah Kates from Coatesville Area Arts Alliance. Tickets are $38 per person, which includes a glass of wine and a starter plant to take home.  Class size is limited to 35 people, so it is suggested that you purchase your ticket in advance.
Galer Estate Winery, located behind Longwood Gardens, will have several art events tied to the idea of making a fresh, creative start in the Spring. On April 17, 3-5pm, very popular local blogger Estelle Tracy will hold a free social media workshop at the winery. For the many of us who cannot keep social media platforms straight, or are fearful to take the plunge, Estelle makes social media understandable and approachable – even exciting. If you have ever wanted to write that book, or read a new author's prose, on April 24 from 3-5pm, 6 local authors will talk with customers about their writing and their commitment to the process of writing. Engaging and wise, this is a great Spring event to get your writer's block unblocked. Patsy Keller, fused glass artist, will be exhibiting her work for sale on April 22 from 4-7pm. Her bowls and pendants are all about color and light, a perfect Spring antidote for Winter's grey.
Paradocx Winery will be hosting "Earth Day Painting Class in the Vineyard" on Friday, April 22nd at 6-7pm (sign up online at paradocx.com) , which includes a glass of wine. In support of Earth Day, Paradocx will also be promoting their eco friendly cans and pouches with a buy one get one 10% off April 22-24th. Wilson Vineyards also has monthly outdoor painting classes, instructed by artist Sally Wilson. Check out their website for more information and signup details.
For more information about each of these events, please go to the Brandywine Artisan Wine Trail website (www.brandywineartisanwinetrail.com), or to the individual participating winery sites. In May, the Brandywine Artisan Trail will celebrate the Art of Chester County, in coordination with the fantastic not-to-be-missed Chester County Study Tour May 21 and 22.