Spring ahead for great local show lineup
By Denny Dyroff, Staff Writer, The Times
If the lead-off single "Lost Weekend" is any indication, Pete Yorn's brand new album "Arranging Time" is destined to be a huge success. 'Lost Weekend" spent four consecutive weeks in the Top 5 at Triple A radio.
"Arranging Time," which is Yorn's sixth full-length studio album and first for Capitol Records, was released on March 11. Now, Yorn is touring in support of the album — a tour that brings him to this area for a show on March 17 at the Theatre of the Living Arts (334 South Street, Philadelphia, 215-222-1011, http://www.lnphilly.com).
The music on "Arranging Time" ranges from elegant folk to hardcore blues to bouncy indie-rock. As usual, Yorn plays the role of observer and steps into the lives of a variety of characters.
According to Yorn, "I'm an observer. I'm into subtleties, the moments between moments, but I don't pretend to know where all the ideas come from. I try to clear myself, create a melody and let that emotion dictate what comes out."
The new album marks Yorn's first collaboration with producer R. Walt Vincent since 2001's RIAA Gold-certified debut "musicforthemorningafter," and its follow-up "Day I Forgot."
"Sometimes, I write a song and think it's about someone else," said Yorn, during a phone interview last Friday in a trans-Atlantic phone interview from a tour stop in London, England. "Then, a year later, I realize it's about me. I design songs so they can morph. The songs just seem to grow with me over the years."
Now, Yorn has a new batch of songs that can evolve at their own pace.
"I play most of the instruments — drums, bass, guitar — so that's a lot of what's going on with this record," said Yorn, a native of North Jersey who now lives in the Los Angeles area.
 "I hadn't seen Walt in awhile then I ran into him in 2012. He had just moved from Culver City to downtown L.A. He told me that he had a studio in his loft. I went down one day with a song and it reminded me real fast why I liked working with Walt. He helps me articulate musically what is going on in my brain.
"I funded the album with my own money. I didn't have a label. I did a song or two a week. After awhile, I had around 30 songs. I also started writing again with my buddy J.D. King, who worked with me on my 'The Olms' album.
"If I tend to play everything myself, I like to work with a few different producers. Sometimes, I'm at home and I have an idea for a song. I'll have a producer friend in mind and call them. I do most of my writing at my house. When inspiration hits, I grab my guitar."
Video link for Pete Yorn — https://youtu.be/GmWoKdnv_-g.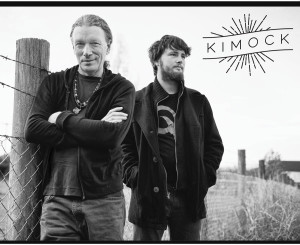 The show at TLA will get underway at 8 p.m. General admission tickets are priced at $31.
Guitar ace Steve Kimock has played a number of shows in the Delaware Valley over the years and keeps showing up with something new every time. On March 18, Kimock will return to the area for another show at the Ardmore Music Hall (23 East Lancaster Avenue, Ardmore, 610-649-8389, www.ardmoremusic.com).
Kimock, who just released a new album titled "Last Danger of Frost," will be performing with a seasoned quartet featuring his son John Morgan Kimock on drums, Bobby Vega on bass, and Leslie Mendelson on keyboards, guitars and vocals.
The album title might reflect one of the reasons Kimock recently moved to Sebastopol, California from his home in the Lehigh Valley. Kimock grew up in Bethlehem and then moved to northern California in the 1970s.  About 14 years ago, Kimock departed California and ended up back in Pennsylvania.
"It was time for another change," said Kimock, during a phone interview Wednesday afternoon from the barn/studio he still has in the Bethlehem area. "I was in for a five-year plan to see what was going on back on the East Coast and I've been here (PA) for 13 years.
"Finally, the winters got to me. And, I have an 8-year-old and a 12-year-old. They were in very good schools in Pennsylvania — academically — but I felt they were ready for a more progressive set-up.
"Also, I have a whole bunch of friends on the West Coast who do music similar to mine. And, I do a whole lot of consulting on guitars and amps and that work is in California. So, I decided to get back to the West Coast community. I feel most at home when things are more rural."
"Last Danger of Frost," which is officially released on March 18, features a wide variety of moods, sonic textures and musical vibes.
"I did most of the album in a fairly concentrated length of time at the end of last winter," said Kimock. "I recorded it at my barn in Pennsylvania and then uprooted and moved back to California.
"It's a documentary of me wandering around the studio improvising with sounds. Ninety per cent of the time on stage, my job description is lead guitar in a rock band — playing fretted electric guitar. It's a well-trodden path. I enjoy it — but it's not what I do at home."
Over the years, Kimock has built a legion of fans through touring and recording. His musical resume includes jamming with Jerry Garcia (the Grateful Dead guitar legend who, shortly before his death, called Kimock his "favorite unknown guitar player") and playing with musicians from the now-defunct Grateful Dead.
Kimock has performed with Bob Weir in Kingfish, with Vince Welnick in Missing Man Formation and with Phil Lesh in the Phil & Friends. He has also played in the Heart of Gold Band with Keith and Donna Godchaux and has toured with Merle Saunders and Bruce Hornsby.
He also has recorded with a number of his own bands, including Steve Kimock Crazy Engine, Zero, the Steve Kimock Band, Praang and Steve Kimock & Friends. His current line-up adds more versatility to the mix.
"The new album is very listenable but it's not a dictatorial listening experience," said Kimock. "At home, I play acoustic guitar, fretless guitar and Hawaiian guitar.
"What I keep going with at home is the personal thing. It's definitely different than the public thing. I just wanted to be myself for a minute. I plan to do a follow-up in May — continuing this process.
"There are a couple things on the new album that are unplayable live. I do play some of the stuff from the new album along with some stuff we've written along the way. I'll play some miscellaneous oldies of mine — and some cover cuts if I think it fits the mood."
Video link for Steve Kimock — https://youtu.be/nKqDQazgu0E.
Show time for Kimock's performance is 8 p.m. Tickets are $25 in advance and $30 day of show.
On March 19, the Ardmore Music Hall will present host Tom Hamilton's American Babies — "An Epic Battle Between Light and Dark" release show.
American Babies is the pseudonym under which Philadelphia-based songwriter, vocalist and guitarist Tom Hamilton can be found creating his most personal and idiosyncratic work. Hamilton also shares his time with bands including Joe Russo's Almost Dead, Billy & The Kids (featuring Grateful Dead drummer Billy Kreutzmann) and Electron. It's American Babies, however, that's the home to which he always returns.
"An Epic Battle Between Light & Dark" is American Babies' fourth studio album.  True to its title, the songs assembled for this latest effort seem to define epic in sound and spirit.
Although American Babies began as a side project for Tom Hamilton with a rotating cast of musicians, the lineup has recently solidified to include Hamilton's longtime partner-in-crime bassist Clay Parnell (Particle, Brothers Past), keyboardist Adam Flicker (The Brakes), drummer Al Smith, and rhythm guitarist Justin Mazer.
With American Babies, Hamilton has turned his focus to songwriting and crafting lyrics that share tales of trials and tribulations ranging from working class hard truths and political chaos to personal relationships gone sour.
"I was in (Philadelphia-based indie rock band) Brothers Past when I was in my 20s," said Hamilton, during a recent phone interview from a tour stop in Chicago. 'American Babies started as something else to do.
"Brothers Past was an electronic band and I wanted to focus more on songwriting. I wrote songs in that vein that the Brothers Past guys weren't into. American Babies was more of a recording project. Then, Brothers Past went the way of the dodo.
"I really enjoyed the way American Babies motivated me so I decided to make American Babies my main focus. It started in 2008 but I wasn't really serious about it until 2010. It's a rotating line-up because my tastes are rotating. My tastes change. I hate doing the same thing over and over again. Having a set line-up is something that can stifle your growth.
"The band was more traditional Americana when I started it five years ago. Having change keeps it interesting for me. It evolves when it needs to — when the writing is on the wall. The band that I have now — Tom Hamilton – Guitar; Justin Mazer – Guitar; Al Smith – Drums; Raina Mullen – Acoustic Guitar; Mark Sosnoskie – Bass — is the best version yet. It is a positive exciting group of people.
"I have a studio in Center City (Philadelphia) with my partner Pete Tramo. We started writing and recording the album there. Pete contributed a lot to the music. I wanted to go in with no material — to see what happens and let it develop organically.
"We spent about a year building the studio — go in every day and just talk — talk about life, our lives and everything. When Robin Williams passed away, that was a big moment for me. I love him and the way he approached comedy. It's a lot like the way I approach music."
Video link for American Babies — https://youtu.be/ldkyU8e0qQc.
The show in Ardmore will start at 8 p.m. with Cocktail Party Phenomenon as the opening act. Tickets are $17 in advance and $20 day of show.
Other shows at the Ardmore venue over the next week feature Royal Southern Brotherhood featuring Cyril Neville and Nolatet (Mike Dillon, Johnny Vidacovich, Brian Haas & James Singleton) on March 17, and Bonerama and New Pony on March 23.
Mary Fahl is a singer, a guitarist and a songwriter. More than anything, Fahl, who will play a show March 19 at the World Café Live at the Queen (500 North Market Street, Wilmington, 302- 994-1400, www.queen.worldcafelive.com), is a performer.
"Performing is my primary form of self-expression," said Fahl, during a phone interview Tuesday morning from her home in Upper Bucks County. "When I do a show, I want to take you on a complete journey. I want to transform you."
Fahl has been doing just that for years — ever since her days with the band October Project starting in the early 1990s. Once you've heard Fahl sing, you have her voice burned permanently into your memory bank. From that point on, if you hear a song by Fahl, you immediately know who is singing.
"I'm in the studio right now working on a new record," said Fahl. "But, I don't want to talk about it — to give anything away until it's time. It's really fun and different. It's not pop or folk — it's a classical folk record with a well-known guitarist."
Fahl has always been eager to travel down new paths.
In 2011, Fahl recorded her own version of one of rock's all-time classics — Pink Floyd's "Dark Side of the Moon." Fahl re-interpreted the songs on an album she titled "From the Dark Side of the Moon.
Fahl, who was a member of the October Project 20 years ago, went solo in 2001. Prior to this year, her recorded output as a solo artist has been slim — "Lenses of Contact" EP in 2001, "The Other Side of Time" album in 2003, "Classics for a New Century" in 2003 and "From the Dark Side of the Moon" in 2011.
In 2014, she released her new album "Love and Gravity" on Rimar Records and followed with "Mary Fahl: Live from Mauch Chunk Opera House" — a project that included a live album, a performance DVD and a PBS special.
Fans can expect to hear a number of tunes from the Floyd-influenced album and "Love and Gravity" when Fahl performs a solo concert at the Queen this weekend.
"My solo shows are a different kind of fun for me," said Fahl. "They are very intimate –and much more revealing. They can be very impromptu. With a full band, it always has to be more structured.
"When I'm playing solo, I can talk about songs and I can take the music in any direction I want. I have a really varied repertoire. I tell a lot of stories and people like that. You have a connection with the audience that is very intimate."
Many of Fahl's fans have been with her ever since her time with October Project which lasted from 1991-1996.
"October Project had a large body of work and I still perform some of those songs in my live show," said Fahl. "If I don't do some of those songs, fans get upset. I also do songs from the Pink Floyd record and several compositions from my solo records.
"I'll always have a new song I like to introduce. And, I like doing interesting covers. Putting together a set list can be difficult now and then because of the limited amount of time on stage. My sets usually are between 75 and 90 minutes."
For many artists, the task of re-inventing songs from an album as iconic as "Dark Side of the Moon" could have been too much of a challenge. Not so for Fahl who crafted a disc that honored its roots but established an identity all its own.
"After making the Sony classical album ("Classics for a New Century"), I wanted to do something that was fun," said Fahl. "An independent filmmaker I knew wanted to use me in a performance piece. I wanted to do something that I didn't have the ability to write.
"That's when I decided to do the 'Dark Side' recording. It's like a classical piece of music. I did not intend to make a cover record. It's my version and it doesn't sound at all like Pink Floyd's version. But, a lot of die-hard Pink Floyd fans have responded well. They like the album — and my live versions of the songs.
"When I'm playing live shows, I don't go out for weeks at a time. The demographics for my music are all over the place but my typical audience is a Friday-Saturday-Sunday audience. That works out well for me too."
Fahl's new album includes "Exiles", a song written for Anne Rice's new audiobook "The Wolves of Midwinter." Fahl and Rice are fans of each other's work. Rice mentions both Fahl and an October Project song ("Take Me as I Am") in the "The Wolves of Midwinter."
"A character in the book is haunted by a song I sing," said Fahl. "Then, Anne asked me to write a song for the audiobook version. I love writing for movies. I like getting into the minds of characters."
Fahl has written and performed songs for several major motion pictures, including the lead song ("Going Home") for the Civil War epic "Gods and Generals." Her music can also be found on the original soundtrack of the 2003 movie "The Guys."
Video link for Mary Fahl — https://youtu.be/VBuDLBYgeWI.
The show at the World Café Live at the Queen will get underway at 8 p.m. Tickets are $25.
Other upcoming shows at the Queen are Bumper Jacksons and Miss Tess on March 17 and Creem Circus on March 18).
There is plenty of variety — musically and geographically — on the area's music calendar for March 19 including Angel Du$t, a hard-rocking band from Baltimore, and Matt Andersen, a blues singer/guitarist from New Brunswick, Canada.
Following the release of its debut album "A.D." in 2014, Angel Du$t is back today to announce the release of its new album "Rock The F**k On Forever." The new album carries on the sound of "A.D." and is the inaugural release of the band's own label — Pop Wig Records.
Angel Du$t — Justice Tripp, vocals; Pat McCrory, guitar; Nick Heitman, bass; Dan Fang, drums — is touring in support of the new disc and will be in Philly on March 19 for a show at PhilaMOCA (531 North 12th Street, Philadelphia, 267-519-9651, www.philamoca.org).
"We recorded the new album last August and September in Conshohocken," said Tripp, during a phone interview Tuesday from his home in Los Angeles. "The rest of the band still lives in Baltimore but I like it here on the West Coast. I'm flying back east tomorrow.
"We did the album with Will as producer at Studio 4, his studio in Pennsylvania. It's a really great studio and Will is an amazing producer.
"I was a fan of his work. He's produced a lot of really great albums but he doesn't do a lot of hardcore punk bands. We hit him up and he liked our music. He put a lot of energy into the project.
"We had 16 or 17 songs to pick through. Will had been listening to our demos for awhile. We had two songs that we didn't think we wanted to record but he thought differently. One was the single 'Upside Down.'
"He will take demos and ten re-arrange them on his computer so we can hear what he wants from the song. When we heard those two songs the way he did, we definitely wanted to use them."
The new albums has as much punch as anything the band has done in the past — but the punches come from different angles.
"We just started writing," said Tripp. "Our tastes are always changing. The new album came out to be a lot more rock influenced — not as fast as our previous stuff. I do most of the writing and then bring it to the band. The emphasis this time was on writing a dynamic record that represented a lot of moods."
The band's fans will still have to wait a little while to hear the songs from the new album.
"We're pretty adamant about not playing songs live until we've recorded them," said Justice. "We've been working on a lot of the new material for a few years. The release date for the album is May 20 but we will play the two singles — 'Stay' and 'Upside Down' in our shows right now."
Video link for Angel Du$t — https://youtu.be/3oTKCxvL6ok.
The show at PhilaMOCA, which starts at 7 p.m., also features Higher Power, Soft Grip and Nightfear. Tickets are $12.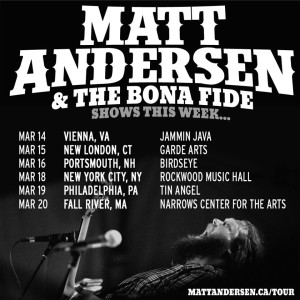 Matt Andersen, who will be performing on March 19 at the Tin Angel (20 South Second Street, Philadelphia, 215-928-0770, http://www.tinangel.com), just released his seventh studio album "Honest Man" via True North Records on February 26. It is a follow-up to his 2014 JUNO Award nominated album "Weightless."
According to Andersen, "'Honest Man" is a plea for people to avoid getting caught up in the circus of pounding fists and hollow promises, to search for the ones who are really out there to do the right thing and move forward, not backward. It was inspired by some of Donald Trump's campaign antics.
"I started recording the album last October," said Andersen, during a phone interview Wednesday afternoon from a tour stop in Portsmouth, New Hampshire. "I had been in the writing phase for a little while before that."
Recorded in New York last fall with producer Commissioner Gordon (Joss Stone, Amy Winehouse, Santana, Quincy Jones), "Honest Man" is Andersen's most accessible album to date, with Gordon adding a depth of production that previous records only hinted at. Matching this, Andersen has written 10 songs that explore both the political and personal.
In addition to the political cartoon-inspired title track, "Let's Get Back" has Andersen thinking about how his country as a nation has changed, but not for the better. "All The Way" takes a more personal approach as he sings about the decision to fully commit to a relationship while "I'm Giving In" deals with the moments leading up to that commitment.
"I was in the studio for about 10 days," said Andersen. "I didn't do very much pre-production. I wanted to keep it fresh. If you think too much ahead, you lose some of that freshness."
This tour will be an even sweeter treat for Andersen's stateside fans.
"I have a four-piece band with me," said Andersen, whose honors include the 2013 Euro Blues Award for Best Solo/Acoustic Act, three Maple Blues Awards in 2012, a JUNO nomination for Roots & Traditional Album of the Year, a CIMA Road Gold award, a Maple Blues Award for Male Vocalist of the Year and winning Best Solo Performer at the 2010 International Memphis Blues Challenge.
"This is the first time I've toured with a band in 10 years. I did the solo thing quite a bit and wanted to change it up this time. With a band, the songs take on a different life when they get on stage."
Video link for Matt Andersen — https://youtu.be/2otNCUbb1eA.
The show at the Tin Angel, which has Lee Harvey Osmond as the opener, will start at 8 p.m. Tickets are $12.
Rachel Taylor, former front woman of alternative rock band He Is We, has a new project called She is We and a new album titled "War," which is being released on March 18 on Vanguard Records.
Taylor and her band are now out on the road touring in support of the brand-new disc — a tour that brings them to the area on March 23 for a show at the Theatre of the Living Arts (334 South Street, Philadelphia, 215-222-1011, http://www.lnphilly.com).
 "Right now, we're on the seventh day of the tour and I can't stop smiling," said Taylor, during a phone interview Wednesday afternoon from a tour stop in Orlando, Florida.
"War" was produced by Steven Soloman and Taylor along with long time He Is We collaborator/producer and She Is We guitar player Adamm Mitchell. All songs were written by Taylor herself with Mike Elinzondo and David Hodges. The album was mixed by five-time Grammy winner Chris Lord-Alge.
"Some of the songs on 'War' — like 'Monster' and 'Heartstrings' — are four-and-a-half years old," said Taylor, who lives in the Seattle area. "The rest of the record was written in the last two years. Piano is my favorite instrument but my roots are in guitar. This record was very much piano-driven.
"Each song was an entity of its own. I went into the sessions wanting to keep everything organic — whatever raw emotion I'm feeling at the moment. The title of the album — 'War' — represents an overall theme. Each song is a battle — absolutely.
"The way I put the songs in order on the album was to show who I am right now and how I got here. It's my outlet. It's my diary — except that everyone gets to read it on iTunes. I believe I was given the thing where I don't have a filter.
"My dad was a military man — a Lieutenant Colonel in the Army — so we moved around a lot and life was like a boot camp. One thing he always said to me — if you're afraid to do something, you're doing it right. That's how it was with the new album. My skeletons are being revealed."
Not that long ago, Taylor almost made a very different career choice.
"I almost joined the Seattle Police Department a couple years ago" said Taylor. "I had passed all the tests and was ready to go. Then, I got picked up by Universal (Records) and stayed with music. But, I was ready. There are a lot of cops and military in my family."
Taylor is tough in a lot of ways.
In 2012, she was diagnosed with ankylosing spondylitis, a chronic inflammatory autoimmune disease of the axial skeleton with variable involvement of peripheral joints and nonarticular structures. In severe cases, complete fusion and rigidity of the spine can occur.
"The ankylosing spondylitis went into complete remission the moment I stopped eating grains and drinking alcohol," said Taylor. "I went on a 'paleo' diet and the karma pendulum swung my way.
Video link for She Is We — https://youtu.be/14Z5nVSeN88.
The show at the TLA, which starts at 6:30 p.m., also includes We the Kings, AJR, Elena Coats, and Brothers James. Tickets are $25.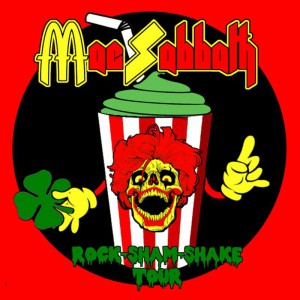 The word 'unique' is a word that gets misused and abused at an alarming rate. However, it works perfectly when used to describe the band Mac Sabbath. The L.A.-based band will come to the area on March 23 for at show at Underground Arts (1200 Callowhill Street, Philadelphia, http://undergroundarts.org).
Mac Sabbath — Grimalice, bass; Ronald Osbourne, vocals; The Cat Burglar, drums  ; Slayer MacCheeze, guitar — puts on a theatrical, multimedia stage show with a smoking grill, laser-eyed clowns, bouncing burgers and many more magical surprises.
Despite the obvious references to a multi-national fast food chain, the band has to be very careful not to verbally reference said food chain lest it be devoured by the a horde of "Mac Lawyers."
Mac Sabbath is an American parody/heavy metal ban that focuses on the music of Black Sabbath and employs lyricism and imagery based on fast food. In Mac Sabbath's hands, Black Sabbath's "Iron Man' becomes "Frying Pan" while Ozzie and the gang's "Paranoid" becomes "Pair-a-Buns."
None of the band members speak to the press but the task is ably handled by the group's manager Mike Odd, former lead singer of Rosemary's Billygoat and owner of a bizarre shop on Sunset Boulevard in L.A. called The Rosemary's Billygoat Odditorium.
"I used to run Odditorium in Hollywood and I chased down weird stuff," said Odd, during a phone interview Wednesday afternoon as the band travelled "somewhere in Tennessee" on its way to its next show.
"I got an anonymous call to meet this guy at a fast food place in Chatsworth, California. This mess of a clown burst through the door wearing a costume of bright yellow and red, and giant shiny shoes. His costume was trailed by long, tattered, hippie fringe that was dirty from scraping the floor and his face was caked in ghostly make up.
"He said his name was Ronald Osborne, and he that he was familiar with my band Rosemary's Billygoat. He said he had a concept I might appreciate — something he described as 'drive-thru metal.' He invited me to come to a secret 3 a.m. meeting to watch him and a cast of characters named Slayer Mac Cheeze, Grimalice, and the Cat Burglar perform.
"They played Black Sabbath songs that had been changed to lyrics about fast food and they screamed about Monsanto and GMOs. He wanted me to manage them. He said it was a secret project and he wanted me to bring it above ground."
Odd told Ronald that he would manage his band — even if it was a disturbed clown and a band of Monsanto mutants who refuse to reveal their identities because they think they came here from a wormhole in space time direct from 1970.
"We filmed one of our first public shows and then put 'Frying Pan' on YouTube," said Odd. "It got picked up by everybody. Even Black Sabbath pushed it. They got it. And, when they posted the video, it went out to 10 million Black Sabbath fans.
"Now, we're out on our 'Rock-Sham-Shake' tour. These Monsanto Mutants are tough. There are a lot of unconventional things about this project. For example, Ronald has told us that we have to go back to the 1970s when music and food was real — back to a pre-Orwellian time. He doesn't respond to any technology past the 1970s."
Video link for Mac Sabbath — https://youtu.be/m1wkfJY3AZM.
The show at Underground Arts, which also features a DJ Set by Perry Shall, will start at 8 p.m. Tickets are $15.
Kennett Flash (102 Sycamore Alley, Kennett Square, 484-732-8295, http://www.kennettflash.org) will have "Stand Up at The Flash" with The Legendary Wid, John Kensil, Sarah Bell, Tim Raymus, Noah Houlihan on March 17, The Vernal Equinox Ritual with The E.B. Hawkins Large Band & The Billy Penn Burger Band on March 18, and the Dukes of Destiny on March 19.
The Steel City Coffee House (203 Bridge Street, Phoenixville, 610-933-4043, www.steelcitycoffeehouse.com) will host "Philly in the Burbs" with Nate Allebach, Kalob Griffin and August John Lutz II on March 17, Damn The Torpedoes on March 18, and Jeremiah Tall, The Sun Flights and Linus The Moon on March 19.
Chaplin's (66 North Main Street, Spring City, 610-792-4110, http://chaplinslive.com) will have Time Gap, Seption and Josh Giannini on March 18 and The Barn Swallows and Porter & Sayles and Rivers on March 19.
Burlap & Bean Coffeehouse (204 South Newtown Street Road, Newtown Square, 484-427-4547, www.burlapandbean.com) will present Heather Pierson and Caleb Spaulding on March 18, and Jason Myles Goss and John Statz on March 19.
The Sellersville Theater (24 West Temple Avenue, Sellersville, 215-257-5808, www.st94.com) will host John Mayall on March 18, Melanie on March 19, and Roosevelt Dime and Bumper Jacksons on March 20.
The Grand Opera House (818 North Market Street, Wilmington, Delaware, 302-652-5577, www.thegrandwilmington.org) will host Invincible on March 18, Celtic Nights on March 19 and Joan Baez on March 23.
Doc Watson's Public House (150 North Pottstown Pike, Exton, 610-524-2424, docwatsonspublichouse.com) will present Jeff Dom nick and the Fraction on March 19.
Valley Forge Casino (1160 First Avenue, King of Prussia, 610-354-8118, www.vfcasino.com) will present My Hero Zero on March 19.
The Keswick Theater (291 N. Keswick Avenue, Glenside, 215-572-7650, www.keswicktheatre.com) presents The Temptations and The Four Tops on March 18.