Extreme cold can be a health hazard
By Mike McGann, Editor, The Times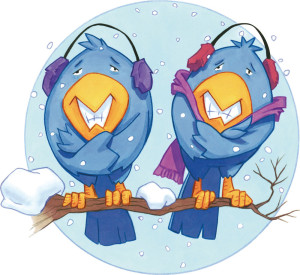 The National Weather Service is calling for frigid weather this weekend, with overnight temperatures expected to fall to around zero degrees late Saturday night.
The only good news: after the weekend blast of arctic weather, Chester County should see moderating temperatures (although a light snow may be possible Monday night), with positively spring-like temperatures in the 50s by mid-week.
Saturday's National Weather Service forecast suggests highs won't get above the teens, with a low of around 2 degrees in the overnight. Still, this is balmy compared to conditions expected to the north, with much of New England seeing lows of -10 and lower.
While for most residents of Chester County, this means folks will want to stay in, put another log on the fire and drink cocoa, the extreme cold is risk to those without shelter, pets and those with preexisting health issues. Local emergency management officials are warning residents to to take the proper precautions if they must be outside this weekend:
"Severe cold and winter weather is the number one cause of many health related injuries like frostbite, hypothermia, and falling or slipping on slippery or icy sidewalks and paths," said Robert J. Kagel, Director, Chester County Department of Emergency Services. "Cold weather can also put an extra strain on the heart. People should make sure to dress warm, keep outdoor trips brief and take breaks when shoveling or cleaning off cars."
State officials are making the same warnings.
"My advice to Pennsylvanians is to stay home if at all possible and don't risk the serious or life-threatening health problems that can occur in just 30 minutes or less if skin is exposed to these hazardous temperatures," said Pennsylvania Secretary of Health Dr. Karen Murphy. "Lower than normal temperatures and higher wind speeds, such as those we're expecting this weekend, can cause heat to leave your body more quickly than normal and result in severe health issues."
The Chester County Department of Emergency Services (CCDES) is reminding county residents to take care to stay warm and safe —  a little preparation and thought when it comes to colder temperatures can mean the difference between staying healthy and the possibility of serious injury or even death.
According to CCDES, when exposed to cold temperatures, the human body loses heat faster than it generates it. Prolonged exposure to cold eventually uses up the body's stored energy and can result in a serious condition called hypothermia.  Characterized by abnormally low body temperature, hypothermia is most likely to occur at very cold temperatures, but can occur even at temperatures above 40° F if a person becomes chilled from rain, sweat or submersion in cold water.
Frostbite is another injury to the body caused by freezing, and results in a loss of feeling and color in affected areas. It most often affects the nose, ears, cheeks, chin, fingers or toes. Frostbite can permanently damage the body, and in severe cases can lead to amputation. The risk of frostbite is increased in people with reduced blood circulation and among people who are not dressed properly for extremely cold temperatures.
If you have heart disease or high blood pressure, consult with your doctor for advice about performing other hard work in the cold, like shoveling snow. Otherwise, if you have to do active outdoor chores: dress warmly and work slowly. The body already is working hard just to stay warm and it is possible to get overheated as well.
ConnectPoints has initiated a code blue alert resource — see the information sheet at the bottom of this story. These resources include a place to stay, hot meals and other mass care information.  ConnectPoints is an assessment program that provides emergency shelter and housing resources to those facing homelessness and housing insecurity. They can be reached 24 hours a day, seven days a week at 1-800-935-3181.
CCDES officials recommend the following tips to help keep you and your family safe and healthy during extremely cold weather:
Try to stay indoors when weather is extremely cold, especially if winds are high
If you must go outdoors, make trips outside as brief as possible
When going outside during very cold weather, adults and children should wear:
a hat
a scarf or knit mask to cover face and mouth
sleeves that are snug at the wrist
insulated and waterproof mittens or gloves
several layers of loose-fitting, thermal wear or material that "wicks" moisture off the skin
a water-resistant or tightly woven coat
two layers of socks with boots or shoes that are waterproof and have a flexible sole
To find more cold weather safety tips, visit http://www.redcross.org/news/article/Top-Ten-Red-Cross- Cold-Weather-Safety-Tips