To The Editor,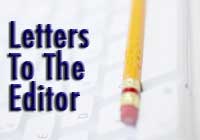 The UCF School Board has passed a preliminary budget for the 2016-17 school year to meet State legal requirements. There is no indication that the Board has yet considered any ways to increase non-tax income or cost savings in this budget.
There a several ways to increase non-tax income that include:
1) State laws that require students from outside our district must be enforced. These students should pay full tuition fess and all other fees associatedwith their attendance in our district. For the past several years this law has been ignored.
2) If the property taxes are increasing X %, then student parking fees, student participation, and all other participation fees should also be increase by X %
3) rental of facilities should also be increased X %
4) ticket prices for all athletic events and to all presentations in all auditoriums should also be increased by X %
5) we have a large participation in AP course that if successfully completed could allow these students to save large college tuition costs. UCF taxpayers should not be paying student college costs. A very large fee for these courses should be required.
The Board should adopt all these suggestions and stop putting the increased budget costs on the property tax payers in the UCF District .. Other property taxpayers are encouraged to show their support, and offer other viable ideals.
I will follow with cost cutting suggestions in a few weeks.
Bruce B. Yelton
Pocopson