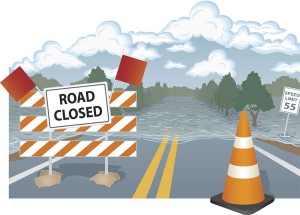 First, it snowed. A lot. And now a combination of warmer than normal temperatures and rain threaten to turn last week's snowstorm into this week's flooding headaches.
The Pennsylvania Emergency Management Agency (PEMA) is reminding citizens to monitor local forecasts this week for possible flooding due to snow melt and rain. Right now, widespread river flooding is not forecast. However, several waterways will move into the action or minor flood stage with the chance for one or two to move into moderate flooding.
While the flooding isn't expected to be major in nature — look for it in the spots that routinely flood in and around Chester County, including various lying crossing of Brandywine and Red Clay creeks, especially in southern portions of the county.
"At this point we're not expecting major flooding in Pennsylvania, but we all need to be vigilant because flooding can occur with little or no notice," said PEMA Director Richard D. Flinn Jr. "I also encourage people to have a plan in place for getting out of their neighborhood and maintaining contact with family members in case flooding occurs when they're not together."
Flinn said it is important for the public to understand the difference between a flood watch and a flood warning because each represents a different level of action to be taken.
A flood or flash flood watch means that flooding may occur. Residents should stay alert and watch rivers and streams, and be prepared to move to high ground quickly.

A flood or flash flood warning means that there is actual flooding. Residents should act at once and move to high ground.
To help ensure safety for motorists and emergency responders alike, state law mandates that motorists who drive around or through signs or traffic control devices closing a road or highway due to hazardous conditions will have two points added to their driving records and be fined up to $250. Penalties are higher if emergency responders are called to rescue motorists who disregard warning signs.
The commonwealth's ReadyPA campaign encourages citizens to take three basic steps before an emergency occurs: Be Informed, Be Prepared, Be Involved. More detailed information, including free downloadable emergency home and car kit checklists and emergency plan templates, is available online at www.ReadyPA.org. The free ReadyPA app is also available for both Apple and Android devices.