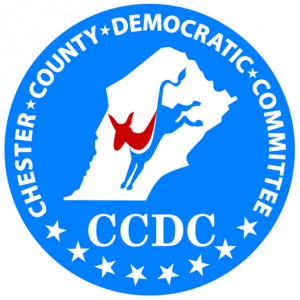 The county's Democratic Party made key endorsements in the U.S. Senate race as well in three local congressional races at its annual party convention, Wednesday night, backing Joe Sestak for Senate and Michael Parrish in the 6th District, Mary Ellen Balchunis in the 7th District and Christina Hartman in the 16th District.
Additionally, the committee endorsed Josh Shapiro for Attorney General over three other rivals including incumbent Kathleen Kane.
Although there were some spirited battles for endorsements, party officials said the time has come for members to work to elect Democrats this fall.
"On behalf of the entire Chester County Democratic Committee, I want to congratulate our 2016 endorsed candidates," Chester County Democratic Committee Chair Brian McGinnis said in a statement. "Now that the balloting has finished, it is incumbent upon all Democrats in Chester County to work tirelessly to elect the candidates who will move our commonwealth forward and fight for our shared principles of freedom, fairness and opportunity. I look forward to working with our endorsed candidates to secure victory both in the primaries and the general election this fall."
McGinnis said he would to continue working to recruit Democratic candidates for currently uncontested offices in Chester County — only four of the nine state house districts have Democratic candidates at this point — and to continue enhancing the party's ability to support Democrats throughout the county.
And while the Sestak endorsement — over Chester County's Katie McGinty and John Fetterman might have been a mild surprise — Parrish, Balchinis and Hartman all ran up impressive and dominant amounts of support to get their party endorsements. 55% of committee people in a given district is needed to earn an endorsement.
Parrish — who sought the 6th District seat in 2014 before giving way to Manan Trivedi for the nomination — polled more than 80% of committee persons over rival Lindy Li, who initially planned to run in the 7th District. He hopes to unseat freshman Republican Ryan Costello.
"It is an honor to have received the support of the Chester County Democratic Committee," Parrish said in a statement. "With this endorsement, the CCDC has demonstrated their faith in me to represent the families of the Sixth Congressional District and to use my broad experience, particularly my experience as a combat veteran, to bring real leadership to Washington, DC.  Rep. Costello has failed to lead, and in so doing has failed all of us, the people he's supposed to represent.  I am a member of this community.  I know what our community needs and I will be the experienced leader we deserve."
Balchunis, who ran against U.S. Rep. Pat Meehan in 2014, got more than 72% of the vote over Bill Golderer.
After receiving the endorsement, Balchunis said, "I am very grateful to the Chester County Democrats for their endorsement.  I know the dedication and commitment they put into electing good Democrats, year in and year out. I am proud to be their choice as the best candidate to take on Pat Meehan and Republicans in the Fall."
Hartman was the overwhelming choice over rivals Raja Kittappa and Gary Wegman in seeking what will be an open seat in the 16th with the retirement of U.S. Rep. Joe Pitts. 
"I'm both humbled and proud to have the support of the Chester County Democratic Party," Hartman said in a statement. "Their tireless efforts and their determination to make their voices heard are a reminder that victory in November begins today. I'm excited to work with them in the coming months and I'm confident that their organizational depth will strengthen our campaign's ability to reach voters in the 16th District."
In the other districts, candidates were endorsed by acclimation, as there were no challenges.
Marty Malloy was backed for the 9th State Senate district after Daniel Maisano withdrew.  Incumbent senator Andy Dinniman was endorsed for reelection in the 19th District.
In state house races, the committee endorsed Nancy Dean in the 13th District seat currently held by State Rep. John Lawrence (R),  Downingtown Mayor Josh Maxwell was backed to run in the 74th District against freshman Republican Harry Lewis, Jr., West Chester Mayor Carolyn Comitta was endorsed in her race against State Rep. Dan Truitt (R) in the 156th Hans van Mol won the endorsement for the 157th and Susan Rzucidlo was endorsed for the 158th District, which as State Rep. Chris Ross (R) retiring.